AMC+ is Jumping on the Ad-Supported Bandwagon
We may earn a commission from links on this page.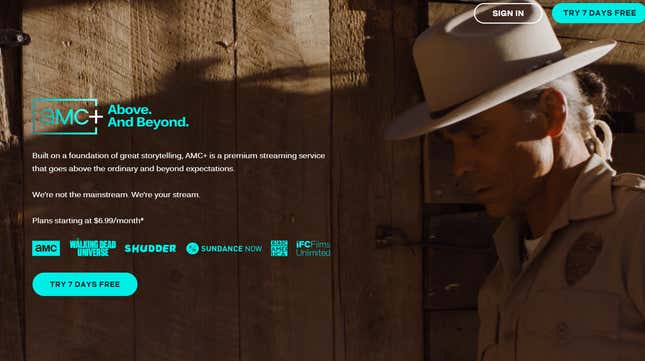 Streaming services are in their struggle season. An increasingly crowded field of offerings seems to have heightened competition and left would-be customers ambivalent and overwhelmed by the many and often less-than-comprehensive options. As varying streaming services strain to maintain and/or attract subscribers, Netflix and other companies are revisiting the question of ads in streaming.
A Transformer Is Headed to the Moon
The latest to hop on the ad-supported bandwagon is AMC, the network behind shows including Breaking Bad, Better Call Saul, Mad Men and The Walking Dead. The company's AMC+ streaming service will gain an ad-supported subscription tier by October 2023, according to a Monday press release. "The move will offer additional flexibility to subscribers and allow the company's advertising partners to reach viewers on its flagship streaming product," AMC said in its announcement.
Currently, the standard cost for AMC+ is $8.99 per month (plus tax) or $83.88 annually when signing up directly or through other streaming partners. Customers can also sign up for a subscription through their cable or satellite TV provider, and those costs may vary. With the forthcoming ad-supported tier, a subscription would be cheaper than the standard rate, through the company hasn't said by how much. Pricing "will be announced closer to launch," an AMC networks spokesperson told Gizmodo in an email.
The only certainty for now: Ad-supported AMC+ will still cost something. "There will be an ad-supported tier that is less expensive than the current ad-free version, but not a free tier with ads," the spokesperson explained. That plan would put AMC+ in
line with Netflix, Hulu, Peacock, and Disney+—all of which offer a paid, ad-supported tier. However, it would keep AMC distinct from its entirely
free ad-supported peers like Roku, Tubi, YouTube, and Google TV—which is an interesting choice considering some of AMC's most popular content is already available to stream free elsewhere.
Even more AMC-produced shows are available for a price
through other streaming services like Netflix.
Back in November, an internal memo signaled that AMC has been doing particularly poorly. James Dolan, the CEO of AMC's parent, MSG Entertainment, wrote that the the company's "mechanisms for the monetization of content are in disarray." There would be "large-scale layoff[s]," he noted at the time. The memo identified subscriber losses as a key reason for AMC's woes. In addition to its AMC+ streaming service, AMC also gains revenue through cable TV subscriptions and likely neither market is booming right now.
Given that AMC+ doesn't even have the monopoly on its own content, it's hard to imagine that an ad-supported option will be enough to entice new subscribers and fix the problem.