Amid mass delays and cancellations, Sunwing suspends operations out of Saskatoon, Regina until Feb. 3
The airline announced it will offer full refunds to affected customers within 30 days.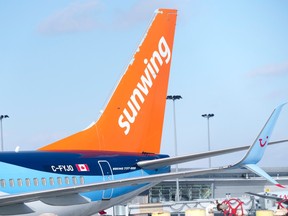 Sunwing Airlines will cancel its operations from Saskatoon and Regina effective immediately, up to and including Feb. 3, 2023, "due to extenuating circumstances," the company announced on Twitter.
"We know that, despite our best efforts, we have failed to deliver on our customers' expectations, and we deeply apologize for not meeting the standards of service our Saskatoon and Regina customers rightfully expect," the company wrote.
Saskatoon StarPhoenix Afternoon Headlines
We deliver the local news you need in these turbulent times on weekdays at 3 p.m.
By clicking on the sign up button you consent to receive the above newsletter from Postmedia Network Inc. You may unsubscribe any time by clicking on the unsubscribe link at the bottom of our emails or any newsletter. Postmedia Network Inc. | 365 Bloor Street East, Toronto, Ontario, M4W 3L4 | 416-383-2300
The embattled airline cancelled several flights recently, leaving some Canadian travellers, including passengers from Saskatchewan, stuck abroad for many days. The widespread delays and cancellations have left Canadians stranded in destinations including Mexico and the Dominican Republic, thousands of kilometres from home.
The airline said it is working to repatriate Saskatoon and Regina customers whose flights were cancelled and who are currently abroad, and will provide more information about rescheduled flights.
Sunwing promised full refunds within 30 days to affected customers who had departures booked from the two Saskatchewan cities.
The operator said in a statement emailed to the StarPhoenix that it had initially planned to supplement its seasonal demand for travel in Saskatoon and Regina with the help of temporary foreign pilots, but when that was not agreed to, it brought in subservices to sustain its operations.However, the conditions and schedule proved "too significant" for its subserviced aircraft partners, Sunwing said.
"We have attempted to reposition Sunwing aircraft to support but have been unable to do so as a result of flight delays and cancellations brought on by recent weather disruptions, and heavy demand over the peak holiday period," the company said.
"We recognize that, despite our best efforts, we have failed to deliver on our customers' expectations, and we deeply apologize for not meeting the standards of service our Saskatoon and Regina customers rightfully expect."
Sunwing said it expects to repatriate most if not all Saskatchewan passengers by Jan. 2.
Recently, Sunwing has had high cancellations, including return flights to Canada, said James Bogusz, president and CEO of the Regina Airport Authority. The airport authority was informed of Sunwing's decision on Thursday.
Typically, Sunwing would peak at about eight frequencies a week spread over six sun destinations during January, he said. The suspension of service is "quite impactful" and he estimates it will affect more than 1,000 departing seats a week, he added.
"A lot of frustrated customers."
Bogusz said the airport authority has heard from travellers who haven't been able to get back to Regina from a sun destination. He said Sunwing told them Thursday's news is meant to help shore up its capacity to get people repatriated.
"As much as it is a concern for the airport, I'm just more concerned about the travellers right now," Bogusz said.
The Saskatoon Airport, Skyxe, confirmed in an email that Sunwing informed it of its plans to cancel flights through Feb. 3. It said only repatriation flights will operate, to bring stranded passengers back to Saskatoon. Sunwing operates one to two flights daily from the airport in winter months.
"The airport has not received further information on the details surrounding this decision beyond what Sunwing has stated publicly," the airport said.
Sunwing's temporary suspension of service out of Saskatchewan's two largest cities comes less than a month after Air Canada said it would suspend direct flights from Calgary to Regina and Calgary to Saskatoon as of mid-January.
tjames@postmedia.com
Recommended from Editorial
Sask. travellers miss Christmas after Sunwing cancelled flight from Punta Cana

Sask. business, political leaders disappointed in Air Canada decision to axe Calgary-Saskatoon/Regina routes

Air Canada to stop service on Calgary-Saskatoon, Calgary-Regina routes in January
The news seems to be flying at us faster all the time. From COVID-19 updates to politics and crime and everything in between, it can be hard to keep up. With that in mind, the Saskatoon StarPhoenix has created an Afternoon Headlines newsletter that can be delivered daily to your inbox to help make sure you are up to date with the most vital news of the day. Click here to subscribe.