Big Noon Live: Oklahoma trails Kansas as game enters weather delay
No. 6 Oklahoma's quest for the College Football Playoff looked a bit shaky after its narrow win over UCF last week. On Saturday against Kansas, it took a major hit.
The Sooners fell behind quickly against the Jayhawks in the "Big Noon Kickoff" contest.
As if that wasn't enough, just as Oklahoma started gaining some momentum, the game was delayed after lightning was spotted in the region.
After the teams returned to the field, the game became a wild back-and-forth affair, with the Sooners ultimately falling after the Jayhawks scored in the final minute.
Kansas became bowl-eligible with the win, its first triumph over the Sooners since 1997.
Can the Sooners bounce back from this and reach the Big 12 championship game? How high can Kansas climb?
Follow our analysis of every big play from this wild contest.
Kansas 38, No. 6 Oklahoma 33
POSTGAME NOTES
Some additional thoughts from Lawrence:
This game had everything: an hour weather delay, multiple failed two-point conversions, Oklahoma committing three personal fouls on one drive, Heisman Trophy candidate Dillon Gabriel attempting just eight passes in the first half, winning quarterback Jason Bean going 15-of-32 for 218 yards, no touchdowns and two interceptions, and finally, an underdog in Kansas beating undefeated Oklahoma for the first time this century that resulted in fans storming the field.

It's too bad this is the last time these teams will meet for the foreseeable future … at least that's probably what the Jayhawks are thinking. Oklahoma had hoped its farewell tour of the Big 12 meant going undefeated and winning the conference one last time before joining the SEC next year. Now, KU gets the last laugh of this series.

What does this mean for the Sooners' path to the College Football Playoff? While it's technically still intact, things just got much tougher. OU must win out and win the Big 12 championship, which will probably be a rematch against Texas (who they beat a few weeks ago). But even if they do that, an Oklahoma team with one loss to 6-2 Kansas might not be as appealing to the CFP selection committee as another one-loss conference champion (depending on who it is) and especially not if there are four unbeaten teams at the top of the rankings. Even if the Jayhawks were to win out, they have an average résumé with no other meaningful wins over ranked teams so the caliber of this loss likely won't do OU any favors.
Highlights: Check out the amazing plays from Kansas-Oklahoma
FINAL: Kansas makes history and beats Oklahoma, 38-33
Wow. And for the first time in 19 tries, Kansas beats Oklahoma. With three seconds left and the game on the line, Dillon Gabriel's final heave into the end zone fell incomplete, clinching a historic victory for the Jayhawks. Kansas won with its backup quarterback Jason Bean, who went 15-of-32 for 218 yards, no touchdowns and two interceptions.
It was a wild game, a crazy finish and ultimately ended in a well-deserved field rush for Jayhawks fans.
Kansas fans storm the field after massive upset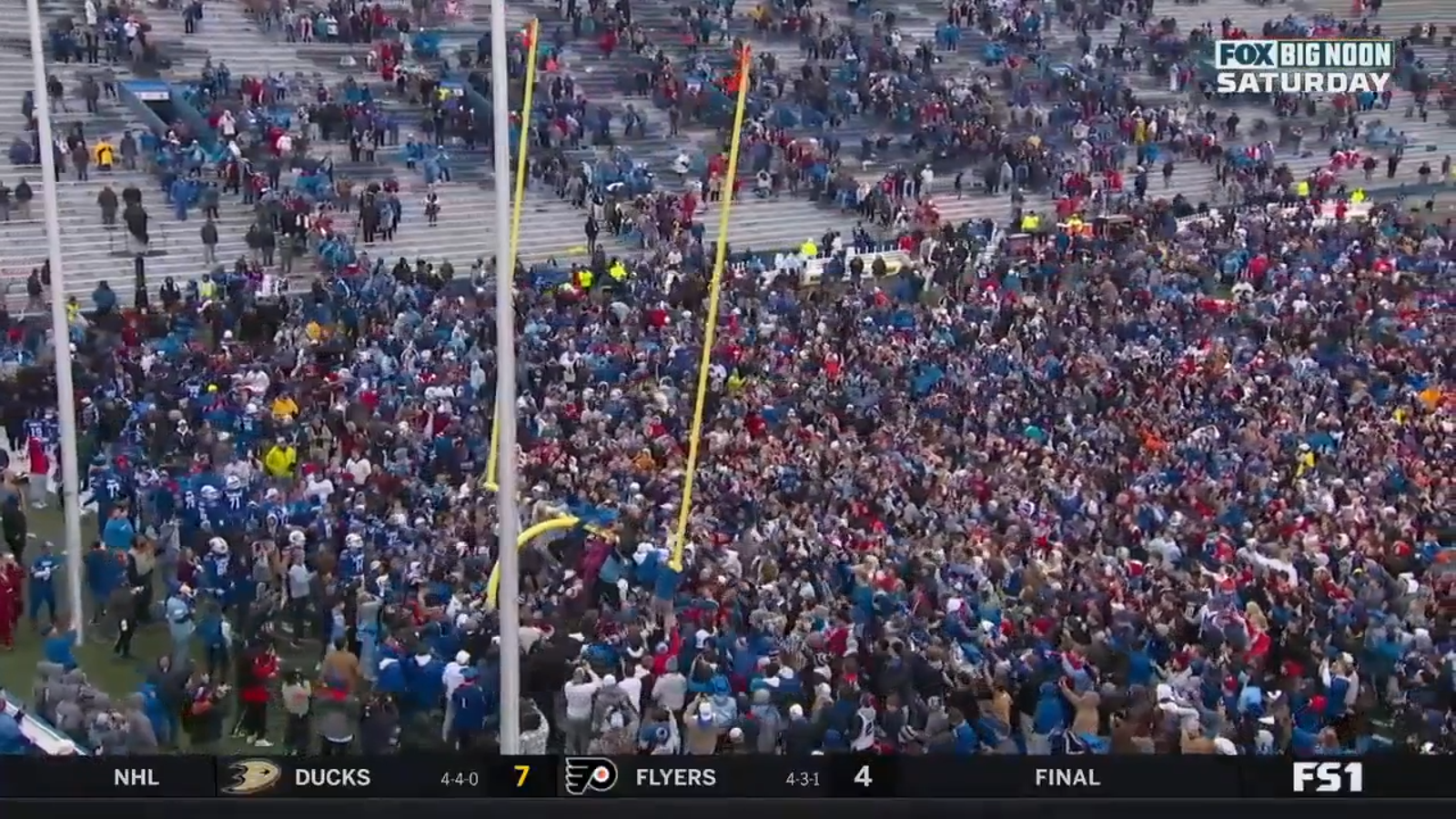 0:55 4Q: Holy moly Kansas might pull this off?
Kansas takes a 38-33 lead (after yet ANOTHER failed two-point conversion) and Jayhawks fans are losing their minds. However, did they score too quickly? Now we will see what Dillon Gabriel and this OU offense are really made of and if Gabriel can have another Heisman moment in this final minute.
2:15 4Q: OU giving the game away?
This is painful. Oklahoma was going to go for it on fourth-and-7 from the KU 35, but wide receiver Nic Anderson jumped and was called for a false start. Then Luke Elzinga's punt went into the end zone. Now Kansas has a chance to win the game with a score.
2:29 4Q: Oklahoma INT!
Oklahoma defensive lineman Ethan Downs intercepts Jason Bean on third down, giving the Sooners the ball back. Bean, who has been erratic this drive, may have just cost Kansas a chance at beating OU for the first time since 1997. That's only if OU can take advantage and put the game away now.
6:45 4Q: Bean turns it over, OU scores
Oklahoma catches a break here when Oklahoma DB Kendel Dolby tips Jason Bean's pass and DB Billy Bowman intercepts the ball on third down, giving the Sooners ideal field position inside the red zone. Four plays later, Dillon Gabriel muscles his way into the end zone for a 1-yard TD run. After another failed two-point conversion, OU leads 33-32.
8:12 4Q: Huge stop by Kansas
Oklahoma needed to respond on this latest drive, but failed to convert a third-and-7 when Dillon Gabriel tried to run it up the middle. This is a huge opportunity now for Kansas to potentially put this one away with a touchdown on the next possession.
10:43 4Q: Kansas missed opportunity
Thanks to a short kickoff that was muffed by Oklahoma's Marcus Stripling, Kansas got the ball back in OU territory. After a touchdown by Daniel Hishaw was called back due to a holding penalty, Kansas had to settle for a field goal, but then kicker Seth Keller pushed it to the right.
How will Oklahoma respond now?
12:25 4Q: Touchdown, Kansas!
The Jayhawks have a 32-27 lead after a 1-yard rush by Daniel Hishaw. The play was set up when QB Jason Bean nearly crossed the goal line on the previous play, but turns out, he started his slide a little too early and was ruled short. As Bean slid, however, OU defensive back Reggie Pearson was called for targeting, giving Kansas the ball inches away from the goal line. After the touchdown, Kansas tried another two-point conversion, and failed with an incomplete pass.
It's also worth noting that OU had three personal fouls on that drive.
0:35: Oklahoma responds, takes 27-26 lead
Well, this has been a wild third quarter! OU immediately responded with a seven-play drive that ended with Gavin Sawchuk rushing up the middle for a 3-yard touchdown. The Sooners tried their hand at a two-point conversion but also failed. Things are getting spicy as the fourth quarter nears — OU's undefeated record is in danger as this game is still very much up for grabs.
3:03 Q3: Oklahoma in trouble; Kansas takes the lead
Things are happening fast in Lawrence! First, Oklahoma WR Jalil Farooq fumbled on his own 38-yard line, giving the ball right back to Kansas. Then, on the very next play, Kansas QB Jason Bean ran for a 38-yard touchdown on an RPO to regain the lead for the Jayhawks. KU tried to go for two instead of kicking the extra point, but failed on the attempt. Much has been said about Bean's track star speed, and he showed it late in the third quarter. Now his team has the momentum and a five-point lead.
JB Brown's nasty forced fumble fuels Jason Bean's ELECTRIC 38-yard rushing TD
4:01 3Q: Kansas FG is good
Kansas QB Jason Bean hit Mason Fairchild for a 39-yard bomb to get into Oklahoma territory, marking the offense's longest play of the day. But the Jayhawks couldn't score a touchdown and had to settle for a 29-yard field goal. It's now a 1-point game, with OU holding onto a 21-20 lead.
5:23 3Q: Injury update on OU defensive star
Oklahoma linebacker Danny Stutsman has yet to play in the second half after injuring his ankle in the first. According to FOX Sports sideline reporter Allison Williams, Stutsman is on the sideline with his right ankle "heavily taped." He's wearing his helmet but has yet to see the field this half.
6:53 3Q: Momentum shift happening?
Kansas gets two huge stops on defense to start the third quarter, and now, after a low 31-yard punt by Oklahoma, the Jayhawks have good field position to start their next drive. It's not a must-score possession, but there's a sense that KU needs to put some points on the board here.
12:31 3Q: First punt for the Sooners
And on their first possession of the second half, the Sooners have to punt after failing to convert on third down from midfield. Facing third-and-3 from the Kansas 48, OU receiver Gavin Freeman caught a pitch from Dillon Gabriel and tried to beat the defender to the edge, but instead, Jereme Robinson tackled him short of the sticks.
Halftime notes:
This is the closest halftime score between these teams since 2004. Kansas jumping out to an early lead helped, but the crummy weather has favored the Sooners. While neither of these teams have the nation's most explosive running game, Oklahoma finished the first half with 16 straight rushes (before kneeling). The Sooners now have 170 rushing yards, led by running back Tawee Walker, who has 97 yards and a touchdown on 14 touches. Quarterback Dillon Gabriel has added 42 rushing yards and two touchdowns and OU leads 21-17. As we mentioned earlier, if the Jayhawks are going to make this a game after the break, they've got to figure out a way to stop the run.

Gabriel has completed six of eight passes for 41 yards. That may not be an eye-popping stat line for a Heisman hopeful, but OU doesn't need to risk turning the ball over in the rain.

Oklahoma gets the ball to start the second half. If OU can score fast, it's going to be an uphill battle for Kansas, which is without its injured star QB Jalon Daniels.
0:50 2Q: Kansas makes FG
Kansas looked like it was going to respond after that OU touchdown. Instead, the Sooners' defense made a huge stop on third down and forced the Jayhawks to settle for a 24-yard field goal with less than a minute remaining in the first half.
4:25 2Q: Oklahoma takes the lead, 21-14
And just like that, OU takes the lead. Five plays after Kansas fumbled the kickoff, Oklahoma quarterback Dillon Gabriel rans it in for a 9-yard score. If the Jayhawks want to get back in this game, they're going to need to stop the run. And as of right now, they have no answers. Gabriel has only attempted eight passes on this rainy Saturday, and OU has run the ball 29 times for 172 yards.
Dillon Gabriel rushes for his second TD as Sooners take lead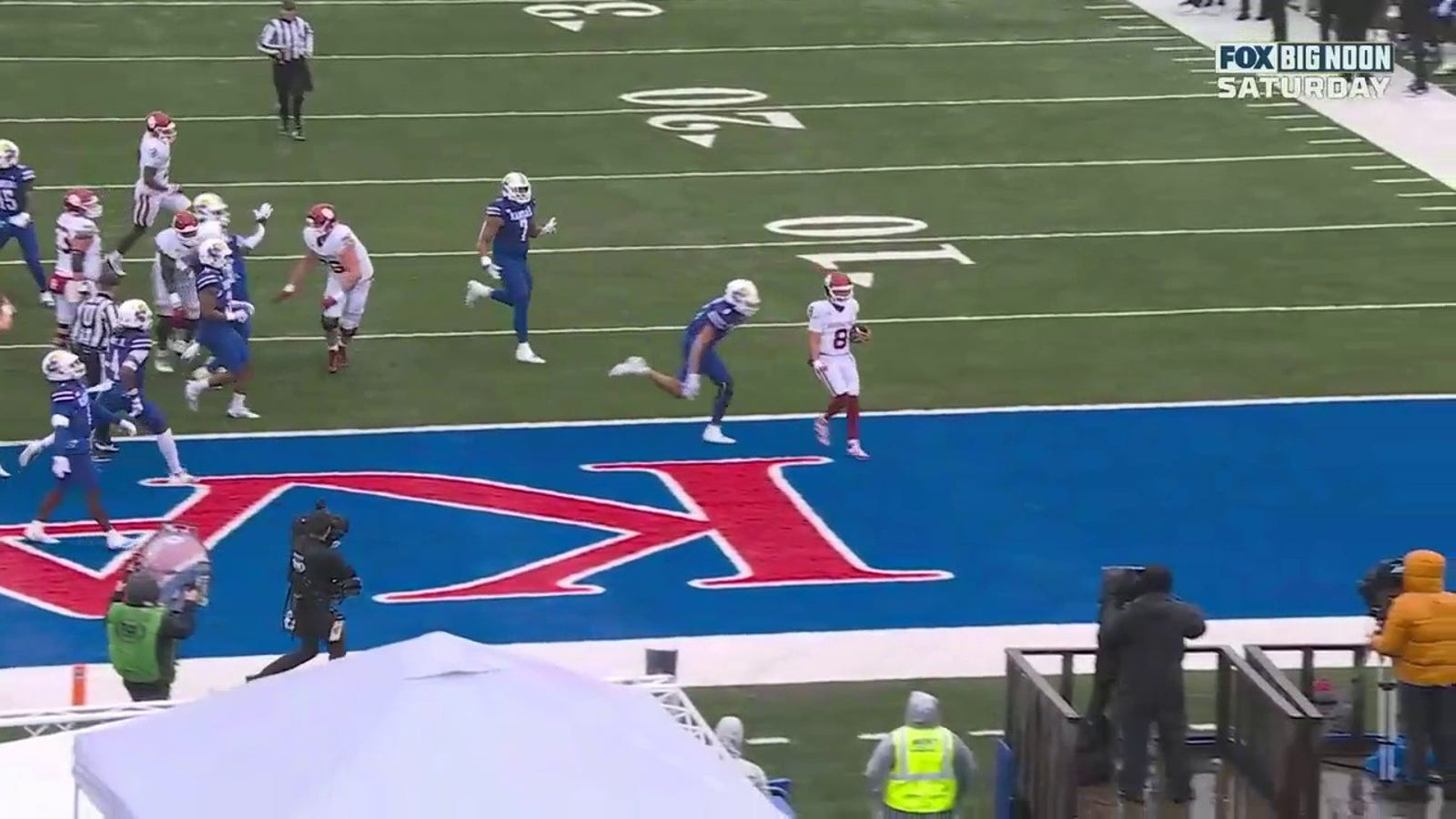 6:01 2Q: Muffed kickoff
And as if things weren't already taking a turn for KU, Trever Wilson dropped the kickoff return and Kip Lewis recovered it for OU, which now gets the ball back inside the red zone.
6:05 2Q: And we're back! And tied!
Annnnd we're back! After about an hour-long weather delay following a lightning strike in the area, play has finally resumed in Lawrence. Unfortunately, not all the fans decided to stick it out and the vibe at David Booth Kansas Memorial Stadium wasn't quite as electric as it was at kickoff.
That certainly didn't bother Oklahoma, which picked up right where it left off in the run game. After getting docked for a penalty, Tawee Walker made it all back up with a 28-yard run to the 5-yard line. Two plays later, he found the end zone on a 2-yard run. And we are tied!
Oklahoma's Tawee Walker rushes for 3-yard TD to tie score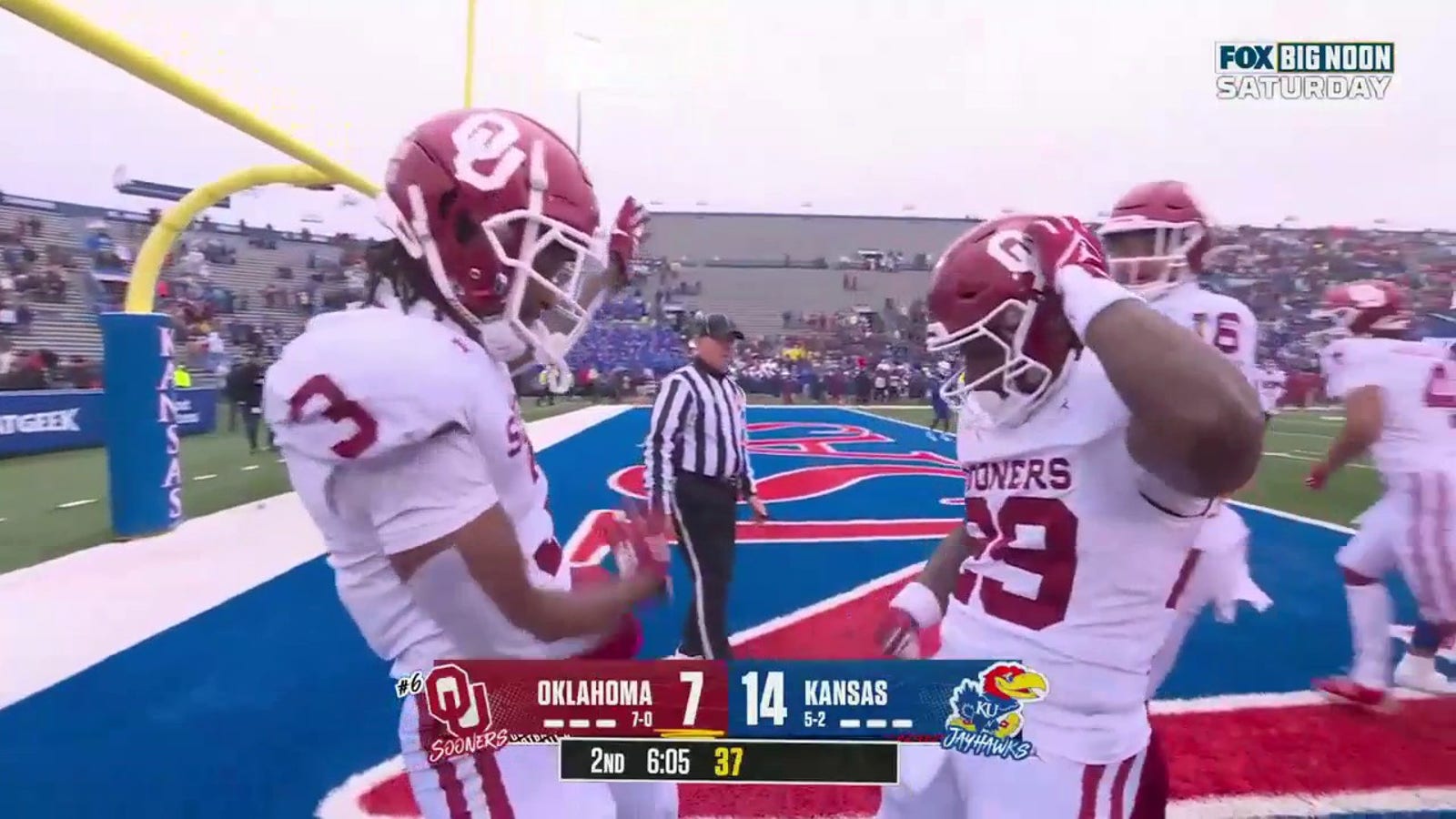 7:50 2Q: Weather delay
Yes, Kansas leads Oklahoma 14-7, but there was a feeling that momentum was swinging in the Sooners' favor. That is until officials suspended play due to lightning in the area. Perhaps this is a blessing in disguise for the Jayhawks? Lance Leipold's defense, ranked 96th nationally in rush defense, is having a hard time stopping the run. And OU is taking advantage, running the ball on 21 of 28 plays so far.
10:15 2Q: Oklahoma TD!
Oklahoma is finally on the board in Lawrence. On second-and-goal, Sooners QB Dillon Gabriel rushed for a 7-yard touchdown to give his team some life.
Oklahoma's Dillon Gabriel rushes for 7-yard TD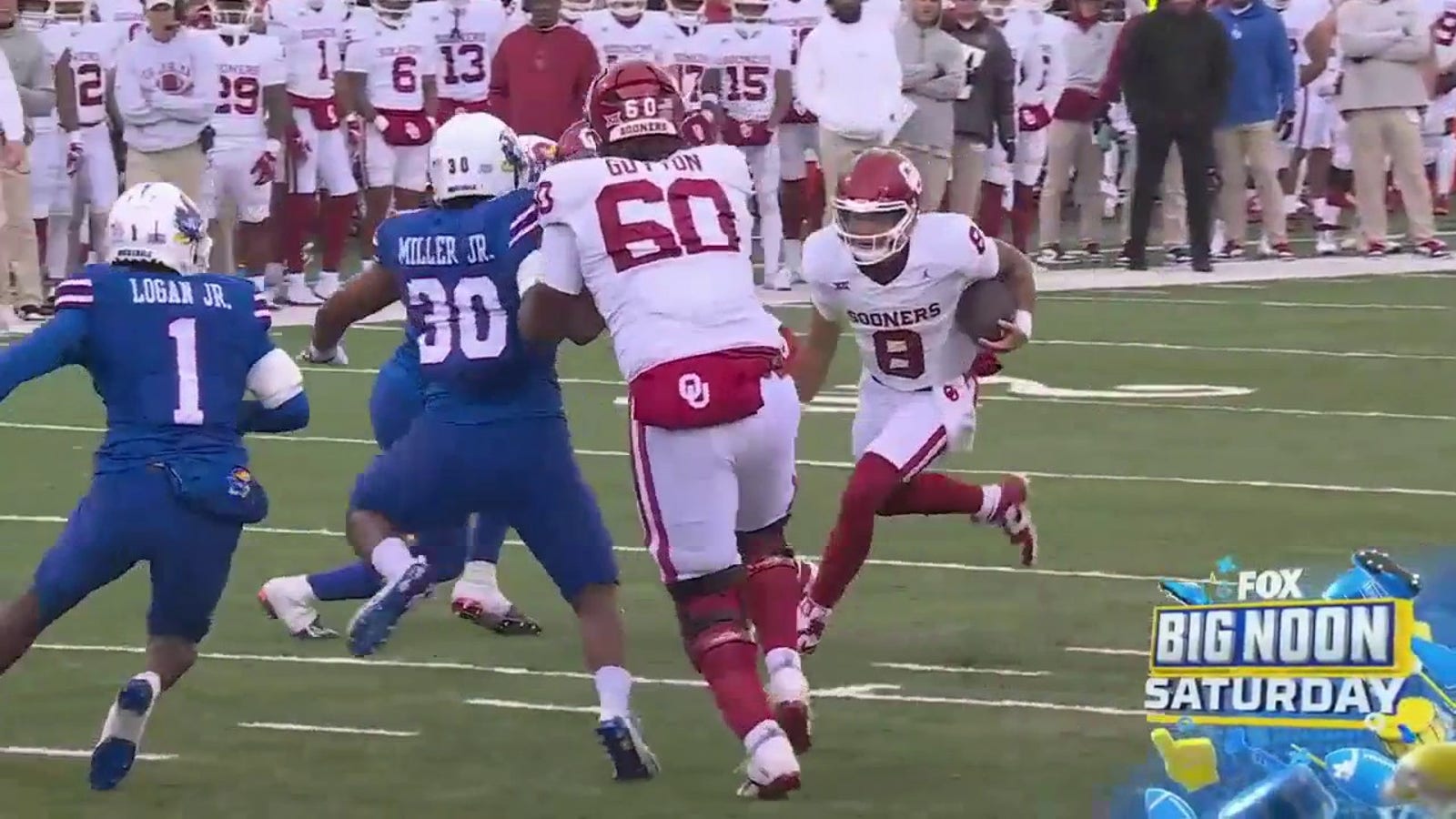 14:06 2Q: Kansas scores to go up 14-0
Trouble for Oklahoma? Two plays into the second quarter, Kansas went up by two scores after Daniel Hishaw rushed for a 9-yard touchdown. The Jayhawks have the nation's 13th-best rushing attack, and are showing it off today.
Daniel Hishaw Jr. rushes for 9-yard TD to extend Kansas' lead
END 1Q: Kansas is driving
After a couple of explosive plays by the Kansas offense — Bean's 25-yard pass to Lawrence Arnold and a 21-yard rush by Devin Neal — the Jayhawks have marched deep into OU territory.
4:26 1Q: Another big fourth down stop … this time by the Kansas D
This time, it was Oklahoma's offense being aggressive and going for it on fourth down. On fourth-and-3 from the KU 20, OU quarterback Dillon Gabriel tried to scramble out of a collapsing pocket and find a WR on the right side. Instead, defensive lineman Austin Booker wrapped him up for a sack, ending the Sooners' drive.
9:25 1Q: Kansas with the pick-six!
Huge play by the Kansas defense! Facing third-and-2 on Oklahoma's opening drive, quarterback Dillon Gabriel looked to his right and tried to throw a 6-yard hitch, but Kansas cornerback Mello Dotson jumped in front of WR Jalil Farooq for the interception, which he ran back 37 yards for the touchdown. This was just Gabriel's fourth pick of the season.
9:53 1Q: Oklahoma with an early fourth-down stop
Even though Kansas quarterback Jalon Daniels was warming up and nodding his head to music during pregame, it was Jason Bean who got the start again for the Jayhawks. And on their first possession, Bean led the offense into OU territory. But it was over after Sooners defensive lineman Trace Ford jumped up and made a two-handed block on fourth-and-3.
PREGAME SCENE
Want to know what makes Dillon Gabriel so good? Urban Meyer broke it down, and things got a little out of hand!
Speaking of Gabriel, Tom Rinaldi shared an emotional story behind the QB's partnership with the Taylor Haugen foundation.
How high can Kansas football rise? Urban Meyer shared his thoughts on what he sees as a winning situation, centered around coach Lance Leipold.
With the first College Football Playoff rankings set to be unveiled on Tuesday, the crew held a discussion on what fans should expect to see.
Who will be No. 1 in the first CFP rankings?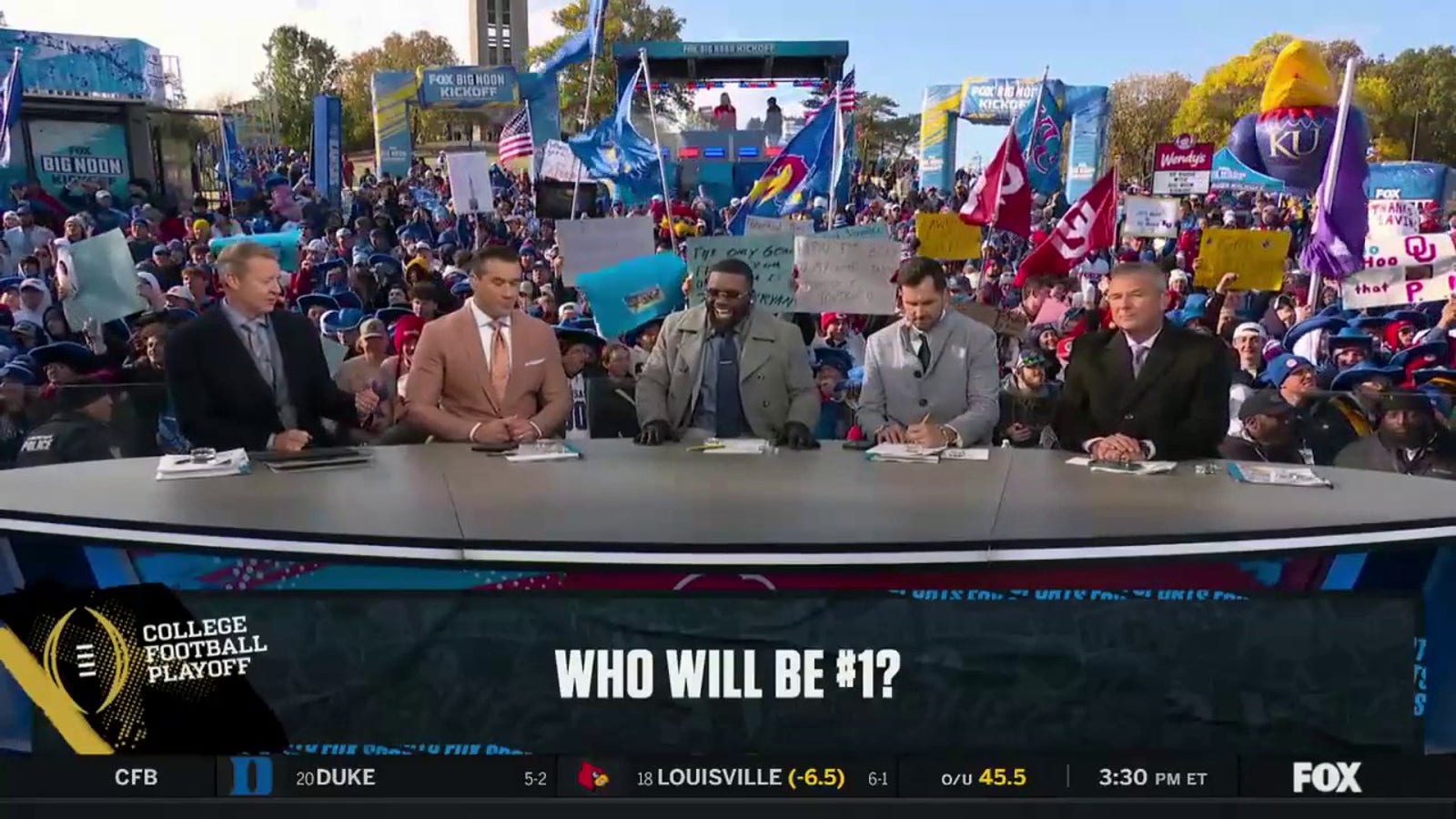 Bruce Feldman joined the show to share his latest reporting on the alleged sign-stealing scandal at Michigan. Talking to coaches around the nation, Feldman said that most are surprised at the paper trail Michigan has appeared to leave for NCAA investigators to follow. He also reported that it appears the NCAA is trying to move faster on this investigation than it normally does.
"This looks very damning for the Wolverines," Feldman said.
Bruce Feldman: Latest on Michigan sign-stealing investigation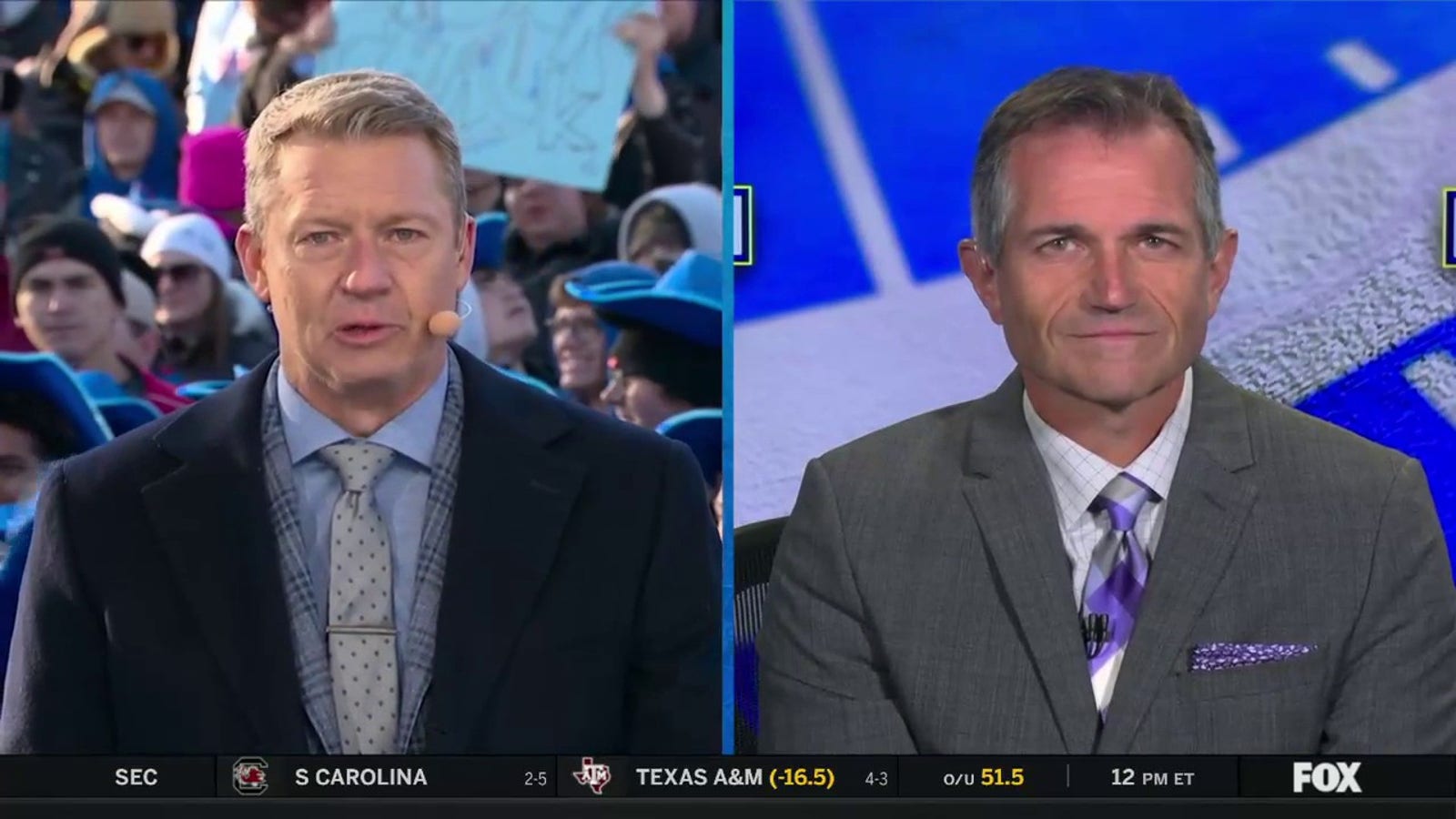 Devin Neal took viewers inside the Kansas football program.
Bo Nix or Dillon Gabriel? Brady Quinn and Matt Leinart shared their thoughts.
Who is the best QB on FOX in Week 9 of CFB?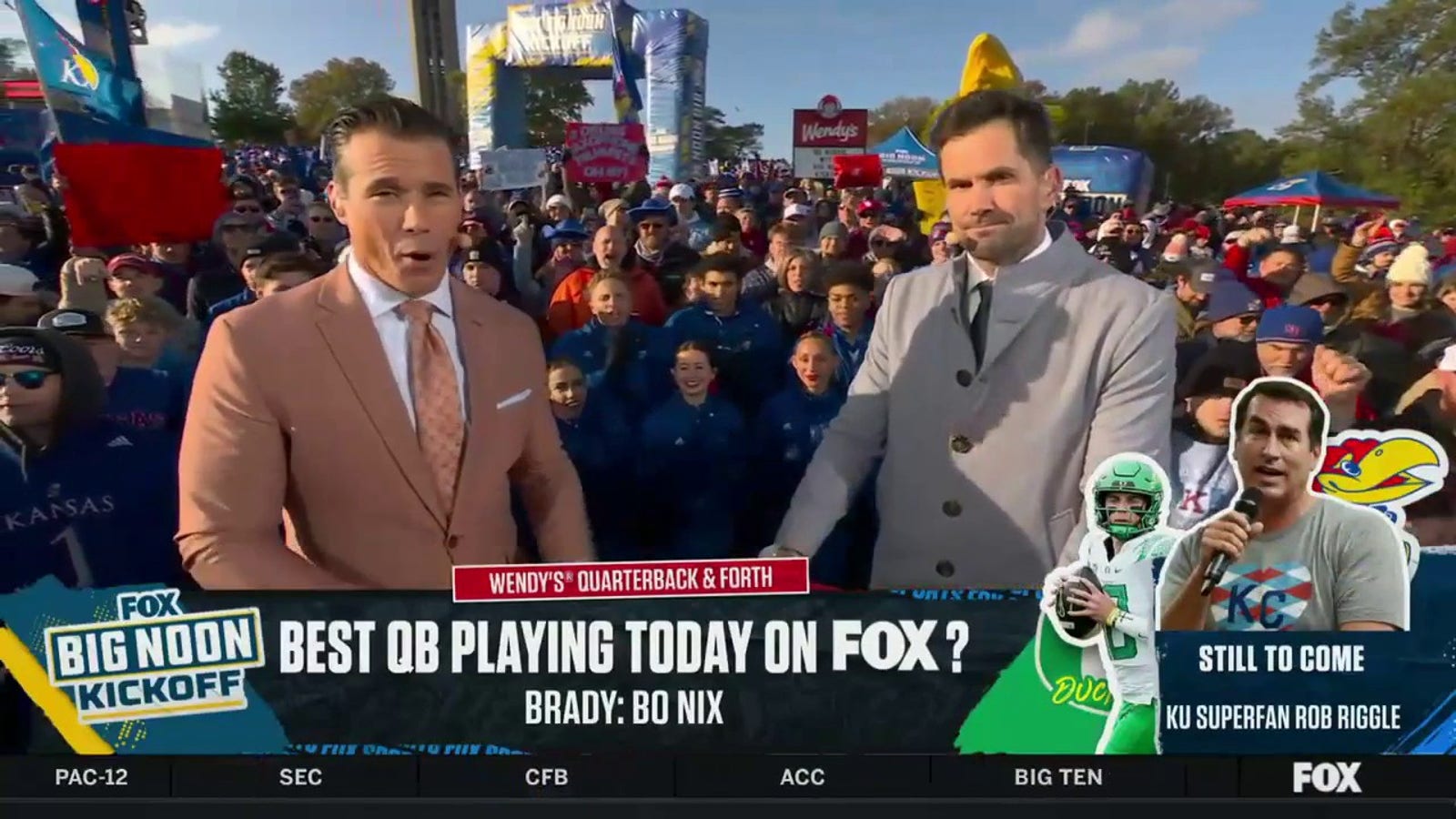 Comedic actor Rob Riggle offered an encouraging message for his beloved Jayhawks.
Time for some picks! Chris "The Bear" Fallica shared his favorite under-the-radar games to watch today, plus other picks.
Setting up another big game on FOX on Saturday between No. 8 Oregon and No. 13 Utah (3:30 p.m. ET), Ducks QB Bo Nix discussed his legacy with Brady Quinn.
Oregon's Bo Nix discusses his legacy ahead of matchup with Utah
Kansas coach Lance Leipold stopped by the set to talk about what he is building in Lawrence.
Kansas coach Lance Leipold joins 'Big Noon Kickoff'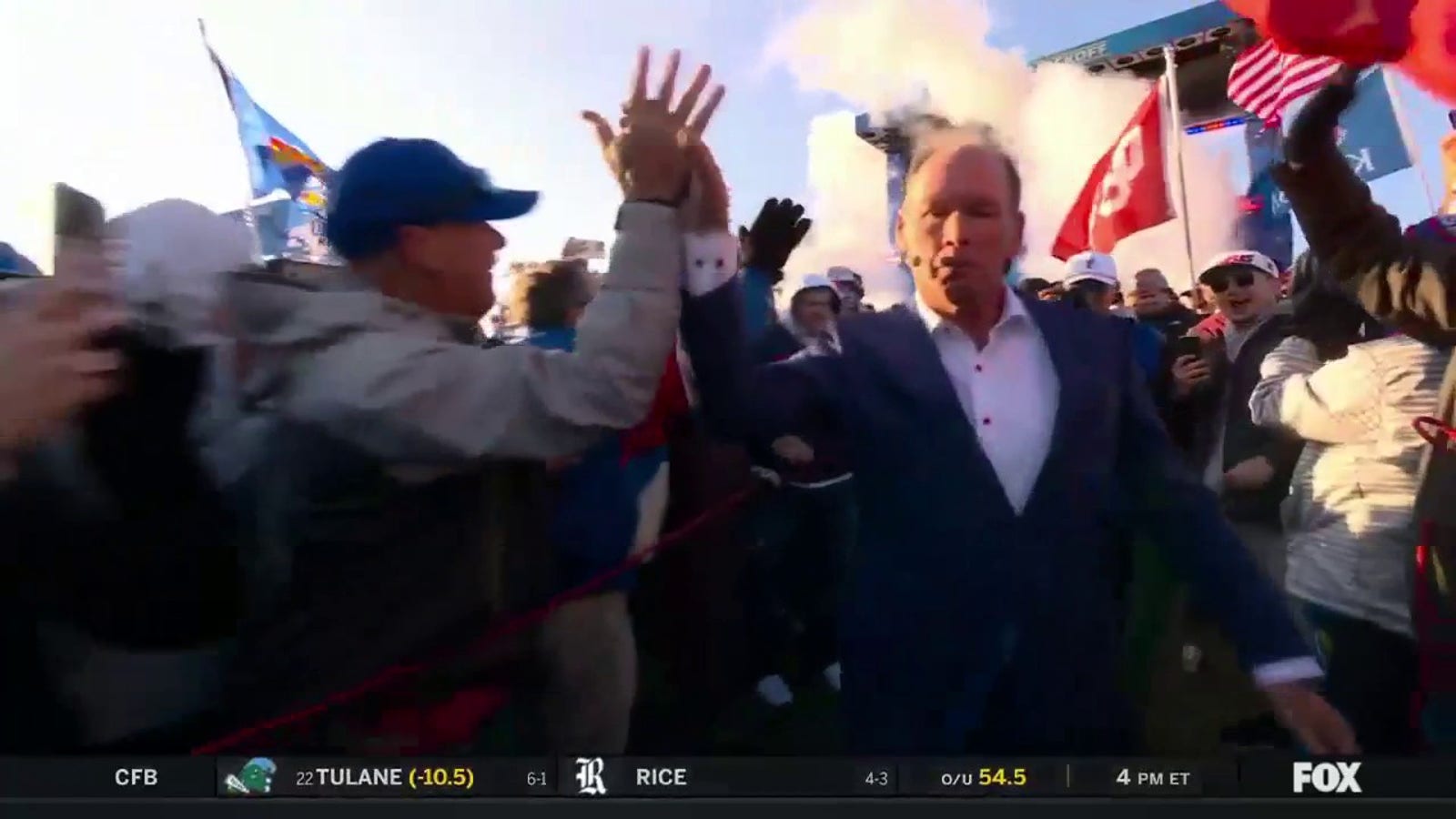 PREGAME READING
Oklahoma defense showing flaws: From missed tackles to odd lapses, the Sooners' defense has struggled of late after a strong start to the season. Coach Brent Venables knows he has some things to fix, but is this more of a blip, or a sign of a serious problem? Michael Cohen digs into the data.
What we're watching in Week 9: Oklahoma vs. Kansas is certainly a big game, but so is Oregon at Utah, and that's not all!: Our staff breaks it down.
Sooners, not later: The next two weeks are important for Oklahoma if the Sooners are to achieve their CFP goals. RJ Young explains why.
Is the Big 12 there for the taking?: With Texas down a quarterback and other teams regressing, the Big 12 seems to have opened up for Oklahoma. Can the Sooners take advantage? Bryan Fischer has the story.
BY THE NUMBERS
1997: The last time Kansas beat Oklahoma. The Sooners have won the last 18 meetings.
7: Oklahoma has the longest active winning streak in the Big 12.
43.1: PPG for Oklahoma this season. The Sooners have the No. 1 scoring offense and defense in the Big 12 this season (16.1 PPG allowed).
7.15: Kansas is averaging this many yards-per-play, which ranks second in the Big 12 this season, and seventh in the FBS.
12: Number of tackles needed by Jayhawks safety Kenny Logan to break the program record for most career tackles by a defensive back.
No. 1: Kansas ranks first in the Big 12 in third-down offense this season (53.4% conversion rate, fourth in FBS).
[More numbers to know about Week 9 matchups]
MORE TO KNOW AROUND THE NATION
2023-24 college football bowl projections: From the College Football Playoffs to the sleepy early December matchups, here are our picks for every bowl game matchup. Read more from Bryan Fischer.
Who will lead Texas?: With Quinn Ewers out, many fans are excited to see Arch Manning take the field. But it looks like Maalik Murphy will be the guy behind center — at least for now. Read more from Laken Litman.
Why Caleb Williams must play — and play well — to remain the No. 1 pick in the draft: USC's star QB has had a bumpy road these last couple of weeks, playing sub-par football and even appearing to be pouty at times. Rob Rang explains what NFL scouts are looking to see from him moving forward.
Getting defensive: Ohio State has a new strength it can lean on, in a defense that is "fast, strong, violent." Read more.
Laken Litman covers college football, college basketball and soccer for FOX Sports. She previously wrote for Sports Illustrated, USA Today and The Indianapolis Star. She is the author of "Strong Like a Woman," published in spring 2022 to mark the 50th anniversary of Title IX. Follow her on Twitter at @LakenLitman.
---
COLLEGE FOOTBALL trending
---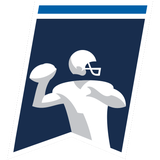 Get more from College Football Follow your favorites to get information about games, news and more
---