Bobi Wine Trended Most During Uganda's Internet Shutdown – Google Confirms!
Google results have shown how Uganda's 2021 elections presidential candidate Robert Kyagulanyi aka Bobi Wine was searched most during the internet shutdown in Uganda.
According to Google Trends, the National Unity Platform president was this year searched for mostly between January 10th -January 16th 2021 and it's within this period that Uganda's internet was switched off on orders of the Uganda Communications Commission(UCC).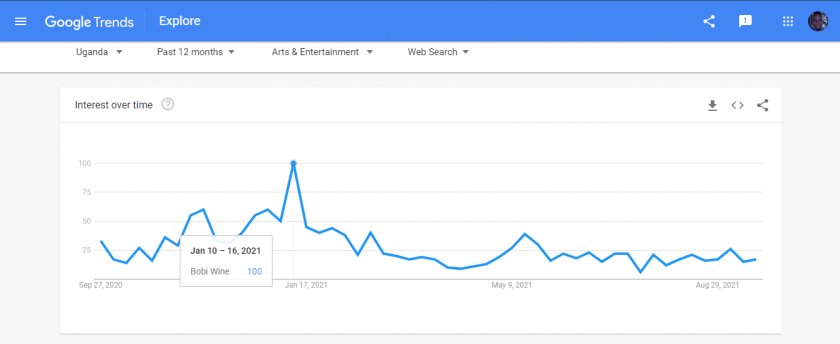 It was around this time that Uganda was having its national elections for various leadership positions in Uganda.
On 13 January 2021, a day before the presidential elections and a day after Facebook closed "fake" accounts it said were linked to the government, UCC ordered all telecoms firms to block access to social media and messaging apps in retaliation.
The Ugandan government denied the charges and accused Facebook of meddling in the election. "I think they are playing the usual games, we know that they have a side in this election perhaps." said the Executive Director, Uganda Media Center, also Government Spokesperson, Ofwono Opondo.
At 5 pm on 13 January, the government ordered a complete internet shut-down, which came into effect at 7 pm. The president's justification for the internet shutdown was in retaliation for Facebook taking down some pro-government accounts belonging to the ruling party's cadres; Ashburg Katto, Full Figure, Isma Olaxes among others.
His popularity was at its peak in November 2018 according to Google Trends. This was the time when Bobi Wine had gone to Arua to campaign for Kassiano Wadri in a by-election only to be arrested later with many other people on charges of unlawfully possessing firearms were dropped by the General Court Martial.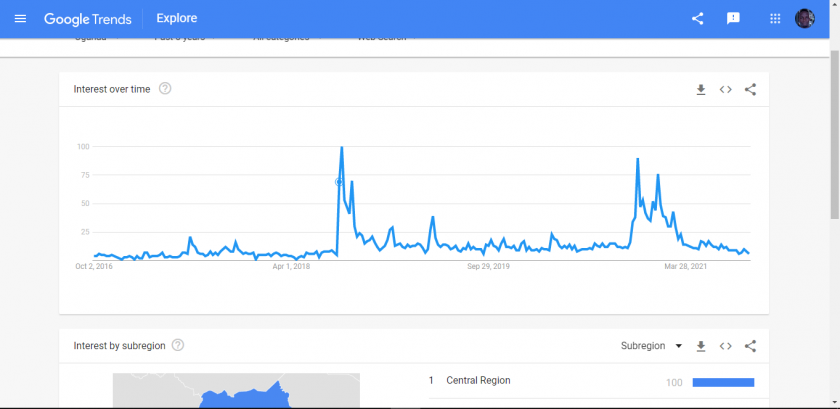 After being freed, Bobi Wine was told by his lawyer that he was under arrest again and he was put into a police vehicle with his wife to be taken to the Chief Magistrates Court.
The arrests raised tension across the country and sparked protests with Police sealing off the homes of a number of opposition politicians, and high-profile opposition figure Kizza Besigye getting arrested in the capital Kampala.
In our efforts to verify the statistics by Google Trends, EJazz News found out that out of the over 46 million people in Uganda, approximately 75% are youths with which Bobi Wine clearly relates. He has been described as a magnetic presence and a skilled orator, who has the potential to galvanise the country's youth.
Bobi Wine has also extended his popularity cover the whole world, through politics, music and building relationships.
About Google Trends
Google trends is a service that shows how frequently a given search term is entered into Google's search engine relative to the site's total search volume over a given period of time.