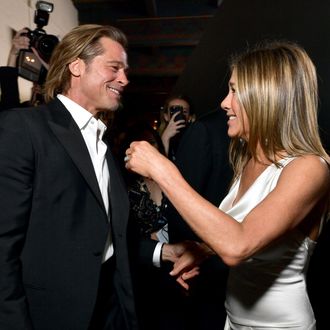 Photo: Emma McIntyre/Getty Images for Turner
Normally we'd say more than one celebrity couple reunion per year is overkill, but 2020 isn't your normal year, and "overkill" seems to be the watch word for Dane Cook's upcoming star-studded charity live reading of Fast Times at Ridgemont High. According to Deadline, Brad Pitt and Jimmy Kimmel are just the latest celebs to sign on for the comedian's "Feelin' A-Live" fundraiser for Sean Penn's emergency relief non-profit CORE, currently providing COVID-19 support, and the prison reform organization REFORM Alliance.
Because when you think of Cameron Crowe's iconic 1982 high school comedy, directed by Amy Heckerling, you obviously think of names like Jennifer Aniston, Morgan Freeman, Julia Roberts, Henry Golding, Shia LaBeouf, Matthew McConaughey, and, of course, Dane Cook. Penn, meanwhile, is taking part, but apparently won't be playing his breakout role, Jeff Spicoli. You can watch, and donate, on Friday, August 21 at 8 p.m. EST/5 p.m. PST over on CORE's Facebook page or TikTok.
Brad Pitt Reunites With Jen Aniston for Fast Times Reading
SourceVulture