BTS Admit Their New Album Is 'A Little Different' Than 'Dynamite'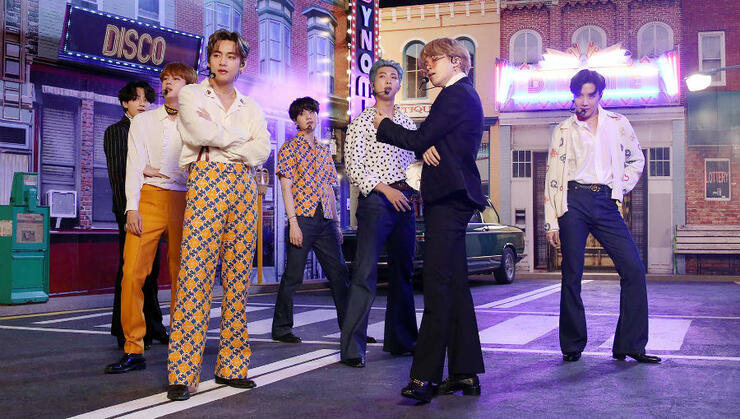 BTS had an uplifting, disco-influenced sonic agenda with their English language single, "Dynamite," but the K-Pop group's accompanying album will pivot in a different direction.
In conjunction with their performance at the 2020 iHeartRadio Music Festival, RM, Jin, Suga, J-Hope, Jimin, V,and Jungkook sat down for an interview with KIIS FM's JoJo Wright from Korea and revealed that their upcoming LP is still in progress. "It's going to be a little different than the single, so stay tuned," RM admitted of the project, which is scheduled to drop before the year wraps up. It'll serve as the follow-up to July's Map of the Soul: 7 – The Journey.
While "Dynamite" exploded at the top of the Billboard Hot 100, the septet admitted that the year hasn't been entirely positive on their end. "So, 2020 has been quite a rough year for so many people, including us, JoJo, many people," RM confessed, before admitting that the gloom of the pandemic is what prompted the group to create "Dynamite" in the first place. "We, too, felt desperate, to be honest with you, so we needed a breakthrough from that and focus on what we can do best and it was music and performance. We thought that the world needed some simple, positive energy to vibe, so we put some dynamic on it."
In addition to their remote performances, the band is focusing on activities that they've never had a chance to dive into. "I started to play the piano," Jin admitted, before RM rattled off a list of activities keeping the band busy. "Somebody's playing the piano. Somebody's playing the guitar, painting, drawing. Doing things they didn't use to do."
While they continue to occupy themselves, there's no denying that they miss performing for their ARMY. Asked if they were excited about performing at out 10th annual festival, the group shared enthusiasm, but admitted they should be doing it with their ARMY. "We should be there, ya know, to perform with the real people and real audience," RM declared, adding, "That's what makes us sad but we still are going to do our best."
In case you missed it, or just want to re-live all of the epic performances from this year's iHeartRadio Music Festival, tune in to the two-night highlights special on The CW on September 27 and 28 from 8-10pm ET/PT.
Photo: Big Hit Entertainment