Crypto Exchanges, Not Just FTX, Are All a Mess Right Now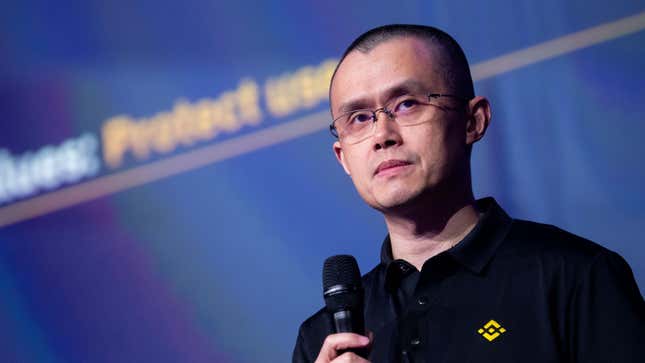 The founders of cryptocurrency exchanges face a mountain of regulatory challenges and billions in personal losses. Binance CEO Changpeng Zhao personally lost $12 billion this year as trading volumes on Binance declined, according to a Bloomberg report Friday. Meanwhile, the Winklevoss twins' Gemini sued their former partner, Genesis. Running a cryptocurrency exchange in 2023 continues to be an absolute mess.
Why Should Crypto Currencies be Called Securities? | Gizmodo Interview
Customers are trading a lot less cryptocurrency than they used to, and that's the main issue dipping into Zhao's wallet. Binance's trading volumes fell more than 30% this year, according to data from The Block. However, it's a problem for every crypto exchange, as volumes industry-wide have fallen 90% off their peak in May 2021.
Binance did not immediately respond to Gizmodo's request for comment.
Apart from crypto trading in a slump, Gemini sued its former partner Genesis to claim $1.6 billion worth of Grayscale Bitcoin Trust shares, according to CoinDesk Friday. The legal action comes one week after Attorney General Letitia James sued both Gemini and Genesis for defrauding New Yorkers. Genesis is currently working to pay off creditors from its bankruptcy filing in January.
"For the past 12 months, Genesis has been trying funnel this value away from Earn users to other creditors," said Gemini in a press release on X. "With this value, every Earn User can be made whole."
Legal problems, low volumes, and personal losses are the norm for crypto exchanges these days. Binance is facing a slew of regulatory challenges including a lawsuit from the Future Commodity Trading Commission that the exchange called "incendiary." On top of their lawsuit, the Winklevoss twins have lost more than $4 billion between the two of them in the collapse of cryptocurrency, according to Forbes.
The crash of FTX erased any credibility in the crypto market. However, it is possible that increased regulation could restore faith in the cryptocurrency system. There is speculation that the SEC approving a Bitcoin ETF will prop up the price of Bitcoin.