'Downton Abbey': How Many Weddings Are There in the Series?
The Downton Abbey series depicts the lives of the Crawleys, a fictional family living on an expansive Yorkshire estate between the years of 1912 and 1926. The Crawley family and their extensive domestic staff form the large cast, who provided 6 seasons of drama with Downton Abbey. Creator Julian Fellowes believes it's a show built on "love." Here are some of the most memorable moments from the series: the characters' weddings.
[Spoiler alert for Downton Abbey Seasons 1-6].
'Downton Abbey' is a series about love — and weddings
"The spine of the series is love," Fellowes told WLIW about Downton Abbey in an interview. "… I think on the whole love is a very key ingredient to all our lives, even if we haven't got any." Perhaps that's why weddings feel like such an important feature of the series.
Many of the beloved characters, from both the servant level and the aristocratic level, fall in love and marry on the show.  In Downton Abbey Season 1, the few things feel of higher importance than Lady Mary Crawley (played by Michelle Dockery), and her agreement to marry her second cousin, Patrick. Lady Mary's parents, the Earl of Grantham, Robert Crawley (played by actor Hugh Bonneville), and his wife, Cora Crawley (played by Elizabeth McGovern) have no sons. Therefore, the Crawleys have no male heirs to inherit their estate. Although Mary agrees to the marriage, Patrick tragically dies on the Titanic before that can happen.
The ups and downs of Lady Mary's love life — and her 2 weddings
Patrick's death leads to Lady Mary's next relationship on Downton Abbey — with the new heir apparent, Matthew Crawley (played by actor Dan Stevens). Lady Mary weds Matthew Crawley in the season 3 premiere.
As she descends the stairs, her father, Lord Grantham declares, "I'm so happy, so very happy, I feel my chest will explode."
Even more tragically, Lady Mary's husband late dies in a car accident.
At the close of the 3rd season, Lady Mary eventually moves on from her grief over her first husband's death to find love with Henry Talbot (played by actor Matthew Goode). The second time down the aisle, Lady Mary wears a beautiful 1920's silk suit, telling Talbot, "I love you. I believe I've met my match."
RELATED: Who is 'Downton Abbey' Star Elizabeth McGovern's Husband and Who Did She Almost Marry?
'Downton Abbey' Season 2 served up some heart-breaking episodes for the characters
Many Downton Abbey viewers will also remember the tear-jerking deathbed marriage in Season 2. Daisy, the kitchen maid, marries William Mason, a footman and WWI orderly. The hastily-arranged bedside ceremony is attended by the staff, Lady Edith and the supportive Dowager Countess (played by the legnedary Maggie Smith).
Downstairs, John Bates the valet (played by Brendan Coyle), and housemaid Anna, (portrayed by Joanne Froggatt) marry in a secret registry ceremony in Downton Abbey Season 2. However, Bates is quickly arrested for the murder of his ex-wife soon after the nuptials.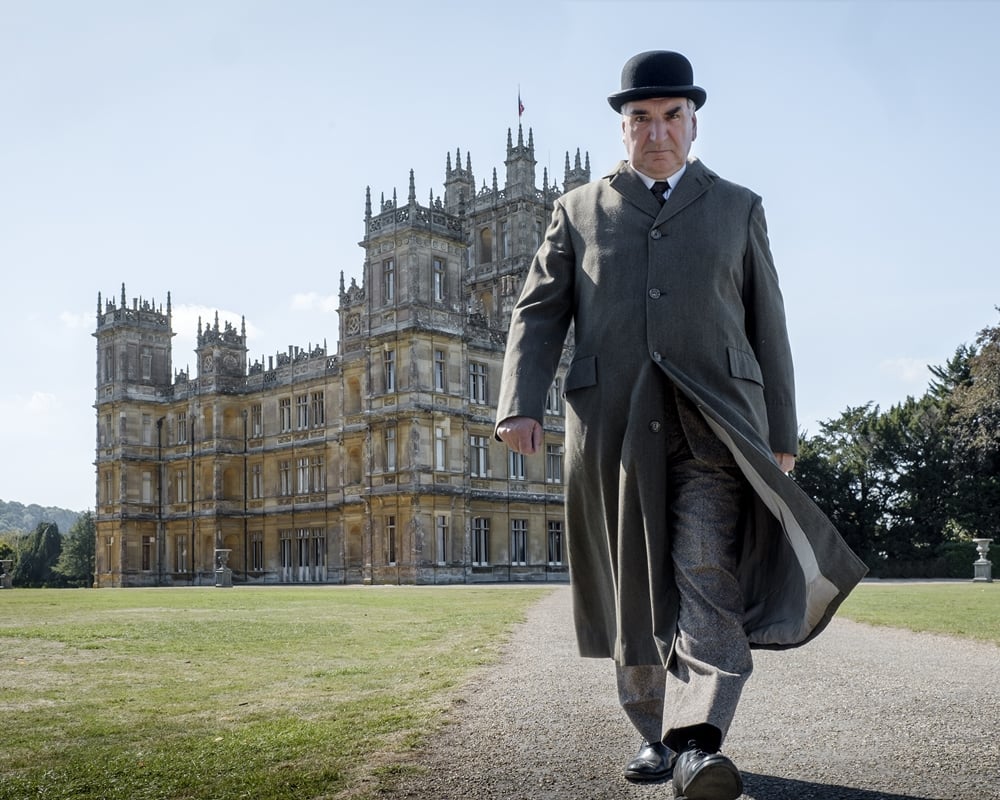 RELATED: If You Love 'Downton Abbey', You Need to Watch 'The Restaurant': What Is the Swedish TV Series About?
A cross between upstairs and downstairs also occurs in season 2, when Lady Sybil (played by actor Jessica Brown Findlay) declares her intention to marry the Irish chauffeur, Tom Branson, (played by Allen Leech). Downton Abbey's star-crossed lovers do eventually wed in Ireland, with only Lady Mary and Lady Edith attending.
Lady Rose (played by actor Lily James) also marries Atticus Aldridge in the Downton Abbey Season 5 Christmas Special.
The weddings that happened upstairs and downstairs at 'Downton' total up to 8 over the seasons
Back downstairs, Mrs. Hughes and Mr. Carlson finally say, "I do" with the entire village in attendance at the ceremony during season 6. 
Although the Downton Abbey writers did not originally intend for the two characters to marry, they eventually felt the pair were meant to be together — according to WLIW. After Mr. Carlson finally admits to Mrs. Hughes, "I do want to be stuck with you," Cora Crawley generously offers Mrs. Hughes a velvet coat for the bride to wear to the sweet, simple celebration.
RELATED: These 2 'Downton Abbey' Cast Members Have Been 'Married' on 3 Different TV Shows
Finally, Downton Abbey closed off season 6 with Lady Edith reconciling with and marrying Bertie Pelham. Lady Edith had previously been left at the altar by Sir Anthony Strallan. The once jilted bride, Lady Edith, weds the Marquess of Hexham, on New Year's Eve at Downton.
Her father Mr. Crawley celebrates his daughter's fairy tale happy ending by exclaiming, "Edith will outrank us all!"
Overall, we count a whopping 8 weddings over 6 seasons of Downton Abbey — a quarter of them being Lady Mary's.