Election 2022 results LIVE: Decision on Biloela family case expected today; Darren Chester to challenge Barnaby Joyce for Nationals leadership; Peter Dutton set to become Liberal leader
'We can't wait': NSW, Victoria demand urgent action on worker shortages
By

Lucy Cormack

and

Lucy Carroll
NSW and Victoria will work with Prime Minister Anthony Albanese to urgently address the skilled worker shortage plaguing the states, with education, healthcare and construction among the worst-hit sectors.
Premier Dominic Perrottet on Thursday said both states could not afford to delay addressing the worker drought, with delays of up to 18 months for accredited overseas workers to obtain a visa.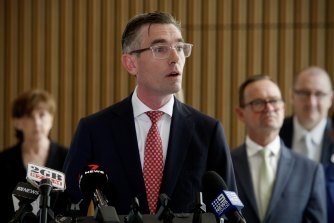 "I was speaking with Victorian Premier Daniel Andrews last night on this exact issue … we will be working very closely together with the prime minister to address that, and it needs to be addressed as soon as possible. We can't wait."
Perrottet said he had been told by the NSW Department of Education secretary that overseas workers who had been targeted to fill teacher shortages were being held back by lengthy delays in visa approvals.
Loading
"They have accredited so many people around the world, but the advice I'm receiving is it will take 18 months for their visa applications to be processed by Home Affairs. That needs to be addressed, and it needs to be addressed quickly," he said.
"We're in a very different place today than we were two years ago because we didn't have the shortages that we are seeing in many industries across our state and across our country … whether that's in construction, whether it's in teaching, whether it's in nursing."
Perrottet said he had already had a constructive discussion with the prime minister, adding that the Victorian premier was "completely on the same page".
'Like hospital ramping': Midwife shortage strains maternity wards
By

Timna Jacks
Women are giving birth in emergency departments and new mothers are prematurely discharging themselves from hospital in Victoria, as a worsening shortage of midwives hampers access to maternity ward beds.
We've already heard overnight that Ambulance Victoria was facing "extreme demand" at 1.30am in metropolitan Melbourne, with delays in ambulances reaching patients.
Labour inductions are being delayed each day at major Melbourne hospitals, along with routine pregnancy check-ups, amid warnings that legislated midwife ratios – one midwife for every four patients – are not being met.
"It's like ambulance ramping – the hospital can't actually move [the mothers]," said Liz Wilkes, the head of private midwife service My Midwives.
Loading
Wilkes said several of her clients had been forced to give birth in emergency departments as if they were "car crash" victims, while others were being prematurely "shunted out the door".
"Mothers are discharging themselves from the birth suite because they're going, 'Oh well, we haven't actually got a bed to go to on the maternity ward, so we'll just go home.'"
Victoria has 9842 midwives registered with the Nursing and Midwifery Board of Australia, which is only 624 more than in 2012. Nationally, there are only 981 more midwives than a decade ago.
Read the full article here.
Young and female voters 'don't connect' with the Nationals: Chester
By

Ashleigh McMillan
Victorian Nationals MP Darren Chester says his decision to contest his party's leadership was driven by feedback from young people and female voters who did not feel "connected" to the Nationals.
As Annika Smethurst reported late last night, the former veterans affairs minister Chester will challenge Barnaby Joyce for the Nationals leadership when the party meets in Canberra on Monday.
Chester spoke to ABC News Breakfast earlier today to further explain why he's running for the Nationals' top job.
He was somewhat circumspect about his chances of becoming the party's leader on Monday, noting that there hasn't been a leader of the party from Victoria for 50 years.
"I wouldn't be putting too much money on me at this point."
Here's a little of what he told the program below:
I'm concerned as I travel around my electorate and regional Australia I'm constantly getting feedback from younger voters and female voters they don't think we connect with them, we are not focused on the diversity of issues they are interested in.

There's no question in my mind that some of the comments by a few colleagues – only a few, which were quite extreme in their views – had an impact on the Liberal Party candidates in those more moderate parts of urban areas.

I'm not here to bag my colleagues, I'm trying to find a way our party can unite itself. We really are a difficult party to lead for anyone. We are loose coalition of independent minded people, from all parts of regional all with different views.

We have one shared passion, that is getting good outcomes for regional Australians.
NSW and Victorian COVID numbers are in
By

Ashleigh McMillan
NSW recorded 8690 new cases of COVID-19 and nine deaths on Friday morning.
The state has 1173 people in hospital and 34 people in intensive care with the virus. The number of people hospitalised with the virus dropped from Thursday by 31.
Victoria recorded 11,369 cases of COVID-19 and an additional nine deaths.
There are now 571 people in hospital with the virus in Victoria, with 33 in intensive care and seven people on a ventilator.
Victoria has 67,790 active cases.
Albanese says asylum seeker boat text message was an 'abuse' of proper processes
By

Ashleigh McMillan
Prime Minister Anthony Albanese says the Liberal Party's asylum seeker boat text message to marginal seat voters on election day was an "abuse of proper processes".
Speaking to ABC's AM program, Albanese said he was notified by the government about the arrival of the asylum seeker boat and he told Scott Morrison's office it would be "entirely inappropriate" for the issue to be politicised.
Loading
The Liberal Party however texted millions of voters in marginal seats on Saturday: "BREAKING – Aust Border Force has intercepted an illegal boat trying to reach Aus. Keep our borders secure by voting Liberal today."
Albanese said the Morrison government's decision to announce the Australian Border Force's interception of a Sri Lankan boat west of Christmas Island on Saturday morning was a "clear breach" of caretaker conventions.
"It was an entire abuse of proper processes and a disgraceful act from a government which was prepared to politicise everything and solve nothing," he said.
"It was extraordinary that this statement was made in order to enable those text messages to be sent to people. People were wondering what was going on when they were receiving that text message. It just showed the government had really lost perspective."
Earlier this week, Albanese confirmed his government would investigate the arrival of a Sri Lankan asylum seeker boat on the morning of the election after outraged senior Labor members questioned the timing of the announcement and the Liberal Party's immediate mass text messages to voters.
Decision on Biloela family case expected today: PM
By

Nigel Gladstone

and

Ashleigh McMillan
The Murugappan family from Biloela will have the outcome of their case decided today, according to Prime Minister Anthony Albanese.
As we reported last night, Albanese told Perth radio station 6PR a decision will be made on the family's case by interim Home Affairs Minister Jim Chalmers on Friday, with an announcement forthcoming.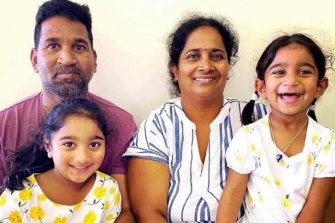 Priya and Nades Murugappan are Tamil refugees who came to Australia from Sri Lanka and were granted bridging visas before settling in Biloela in central Queensland. They have two daughters, Kopika and Tharnicaa.
In early 2018, the morning after their bridging visa expired, their home was raided by Australian Border Force. They were eventually sent to Christmas Island, before an unwell Tharnicaa was flown to Perth with the rest of the family.
Loading
Albanese said that in 2019 he went to Biloela and the community "wants this family home".
"Nade's worked at the local meatworks, a meatworker there imports temporary workers… Priya worked at the local St Vincent de Paul," he told the radio station.
"We are a strong enough society to say that we should not treat people badly to send a message to others. This has gone on at enormous cost – 10s of millions of dollars.
"We're better than that, Australia is a more generous and kind country than that."
Morrison and I are 'two different people': Dutton
By

Ashleigh McMillan
Liberal MP Peter Dutton says he's "never forgotten" his suburban roots and will advocate for families struggling with the cost of living if he becomes the leader of his party next week.
The Liberal Party is expected to pick their new leader on Monday, with Dutton currently running unopposed for the position.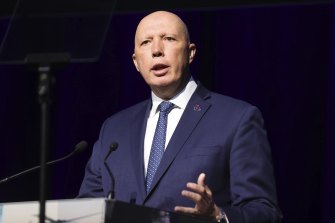 He told Today he "wants to support families who are struggling at the moment" while his party is in opposition.
When asked how he'd be any different to former prime minister Scott Morrison, Dutton replied, "well, we're two different people".
I have a lot of respect for Scott and all of my former leaders, but I grew up under John Howard and I was assistant treasurer to Peter Costello.

I have, I think, an incredible work ethic and I have a desire to do what is right by our country. I've had tough jobs in immigration, border protection and in defence…

I hope that people can see the complete picture of who I am and I intend to traverse the country over the next three years, and listen importantly to what people want.
Some NSW triple zero callers to be taken to GPs, chemists under plan
By

Lucy Carroll

and

Lucy Cormack
People who call triple zero but do not need urgent care would be transported to general practitioners or pharmacies under a proposal to help the state's ambulance network deal with unprecedented demand.
NSW Ambulance is reviewing "an alternate transport option" to health care services, such as general practitioners or pharmacists, for some triple-zero callers who are assessed as having conditions that do not need an urgent ambulance response.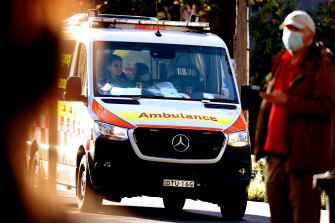 The state's ambulance service has reached its highest possible emergency response level multiple times in recent weeks, including on Thursday, with ambulances attending a near-record 116,000 cases in April.
Paramedics told the Herald a pilot program to use taxis to transport non-emergency patients to healthcare services was in its final stages of planning.
A NSW Ambulance spokesperson said: "This program would only be used for people who have called triple zero, who have been assessed by a clinician as not requiring an ambulance response and are unable to make their own way to a healthcare provider."
"This would help NSW Ambulance clinicians focus on patients who need an emergency response".
'Trust and respect': In call, Macron agrees to rebuild ties with Australia
By

Rob Harris
French President Emmanuel Macron agreed to start rebuilding a relationship with Australia based on "trust and respect" in his first phone call with new Prime Minister Anthony Albanese on Thursday evening.
Macron, who wrote privately to congratulate Albanese following his election victory on Saturday evening, reminded his new counterpart of the "deep breach of trust" which had occurred in an ugly chapter in Franco-Australian relations last year following the cancellation of a $90 billion submarine contract.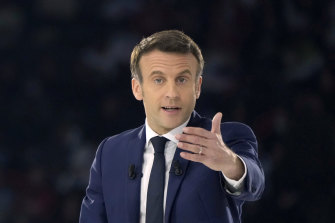 In a conversation that lasted more than 20 minutes, the pair agreed the two nations needed to repair the bond to jointly overcome global challenges, including the climate "emergency" and strategic challenges in the Indo-Pacific.
Loading
A new road map to structure a new bilateral agenda would be created, the pair agreed, with the aim of strengthening resilience in the region and contributing to peace and security amid a more assertive China.
Albanese said the conversation was "warm and constructive" in a social media post on Thursday evening, with the pair discussing a free and open Indo-Pacific, greater co-operation on climate and energy policy and support for Ukraine.
Read the full article here.
Darren Chester to challenge Barnaby Joyce for Nationals leadership
By

Annika Smethurst
Former veterans affairs minister Darren Chester will challenge Barnaby Joyce for the Nationals leadership when the party meets in Canberra on Monday.
Chester confirmed his intention to nominate for the leadership late on Thursday, telling The Age and Sydney Morning Herald it was "time for a change".
"We need to be honest with each other in the party room and take some responsibility for the Liberal losses in the city," Chester said.
"How we develop our policies, deliver our message, and work with our Coalition partners in the future will determine whether we can return to government and deliver for regional communities."
Following the Coalition's election loss, furious city-based Liberal MPs have vented their frustration over Joyce's comments during the campaign deriding the Coalition's net-zero emissions policy, which they claim damaged their election chances.
Three Nationals MPs, speaking to The Age and Sydney Morning Herald on the condition of anonymity, said they also expect deputy leader David Littleproud to mount a challenge on Monday.