Elizabeth Holmes Won't Report to Prison Today After All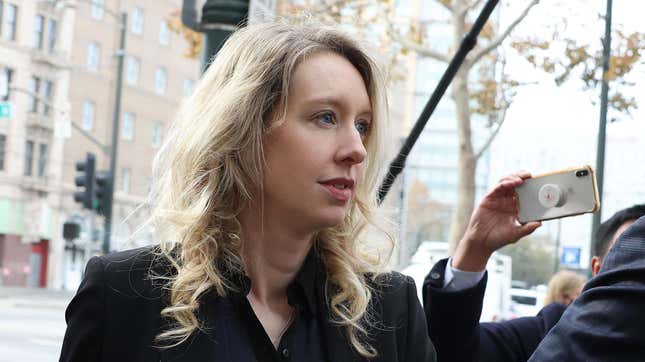 After being convicted of wire fraud for her dealings with her failed blood startup Theranos, Elizabeth Holmes has white-knuckled herself to freedom for just a little bit longer. A last minute legal filing on Tuesday has delayed her 11-year prison sentence, which was expected to begin today.
NPR Is Going Dark on Twitter | Future Tech
According to CNBC, Holmes' legal team appealed to the U.S. Ninth Circuit Court of Appeals in San Francisco claiming that U.S. District Judge Edward Davila's sentencing of the former CEO was riddled with errors. Holmes' team further argued that she should remain free while she appeals the conviction. The federal government now has 10 days to respond to the appeal. Davila sentenced Holmes to over 11 years in prison in November 2022, and the disgraced Theranos CEO was scheduled to begin her sentence today.
As Insider points out, Ninth Circuit Court rules state, "If the appellant is on bail at the time the motion is filed in this Court, that bail will remain in effect until the Court rules on the motion." Holmes is currently on bail, meaning that her prison reporting date has been indefinitely delayed while the court rules on this current appeal.
Earlier this month, Holmes and her counsel tried to push her prison reporting date while she appealed her sentencing. However, according to court documents filed at that time, Davila denied Holmes' Motion for Release Pending Appeal. Holmes argued in her appeal that the products she promoted through failed biotech startup Theranos were not faulty, while the court argues that this does not address why Holmes was convicted, which is for several counts of wire fraud.
Holmes founded Theranos as a startup in 2003 after she dropped out of Stanford during her undergraduate education. Holmes touted the company's ability to test a patient's blood with a single drop using the company's proprietary technology. The company eventually folded after whistleblowers from within Theranos tipped journalists at The Wall Street Journal in 2015, claiming that the company's blood-testing technology didn't work at all.
After a lengthy legal battle, Holmes was eventually found guilty on four counts of wire fraud and conspiracy to commit wire fraud against Theranos investors, as reported by The Wall Street Journal.