Everything Apple Announced at Its 'Scary Fast' Event
In a not-so-spooky event on Halloween Eve, Apple revealed the details of its latest MacBook Pro and iMac desktop computers. Both lineups have been refreshed with Apple's new M3 silicon, the company's first 3nm process outside of the iPhone.
Buy Now or Wait? How to Avoid Tech Buyer's Remorse
Apple promises significant performance leaps and energy efficiency with the M3 processor. It's tuned especially to handle AI and machine learning, all the buzzwords of the next generation of computing. And it does it all on a chip the size of the iPhone 15 Pro's A17 Bionic.
MacBook Pro 14-inch and 16-inch with an M3, M3 Pro, or M3 Max chip
The new MacBook Pro appears similar to last year's models. The material is still a custom alloy with 100% recycled aluminum, which Apple made a big to-do about during the event. There's a 14-inch and a 16-inch variant and a brand-new space black color with a dark aluminum finish that's resistant to fingerprints. The MacOS Sonoma is what brings it to life. The 14-inch MacBook Pro starts at $1,599, and the 16-inch is available for $2,499. The M3 and M3 Pro MacBooks will be available next week, while models with M3 Max will be available "later in November."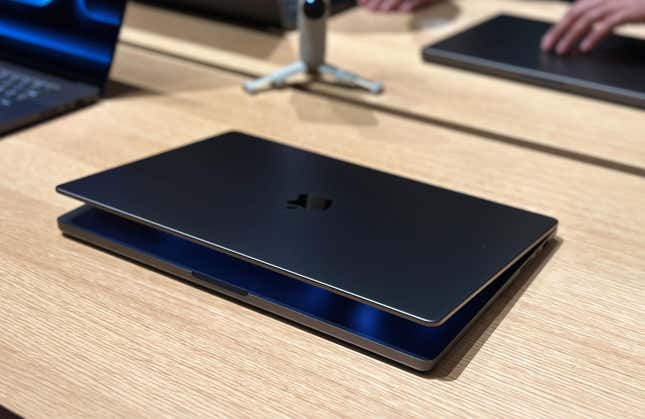 The M3 is expected to be 60% faster than the 13-inch MacBook Pro with M1. According to Apple, it's for students, entrepreneurs, or creators and is ideal for making models on Sketchup, interacting with SurgicalAR, or enjoying incredibly realistic shadows in games.
The M3 Pro is a 12-core CPU for users with more advanced workflows. It's made up of six high-performance blocks, six high-efficiency cores, and 18 graphics cores–it's about two cores more on the CPU and GPU than its predecessor and 40% faster than the 16-inch MacBook Pro with M2 Pro. Apple promises that you will feel the speeds in gameplay and graphics.
The 16-inch MacBook Pro with M3 Max is for power users. The M3 Max offers a whopping 16-core CPU, with four dedicated to efficiency for things like AI development or 3D art. According to Apple, it is 2.5 times faster than the 16-inch MacBook Pro with M1 Max. It sports two ProRes engines and can support up to three hi-res displays. You get 22 hours of battery life for portability and uninterrupted work.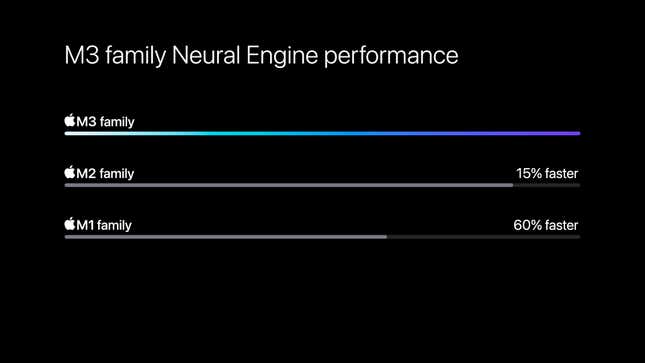 If you're switching from an older Intel-based model, you'll experience an 11 times speedier performance with a lot less noise from the fans. With a Liquid Retina XDR display of 1,000 sustained nits and 1,600 nits of peak brightness for HDR content, the display is 20% brighter. Macs with this processor can get up to 128GB of memory for movie editing and animation.
Colorful iMacs with an M3 chip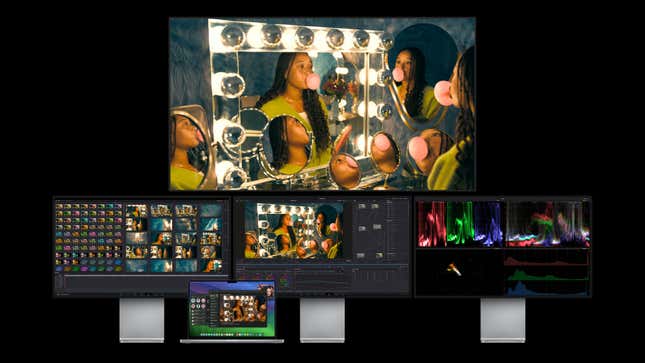 Apple also refreshed the iMac after three years, just in time for its 25th birthday. The newly designed iMac is available in seven pretty new colors (yellow, green, orange, pink, purple, blue, and silver) with an ultra-thin 11.5-millimeter chassis, but now it's powered by the M3 chip and is two times faster than the iMac with M1. The new iMac has a 500-nit display, a 1080p FaceTime camera, a six-speaker sound system with spatial audio, studio-quality mics, and an option to use the magic keyboard with Touch ID for secure payments and a fast log-in process. The iMac starts at $1,299 and is available for pre-order now to be shipped next week.