The Minister of Finance Grant Robertson won't be drawn on whether New Zealand is heading for a double-dip recession.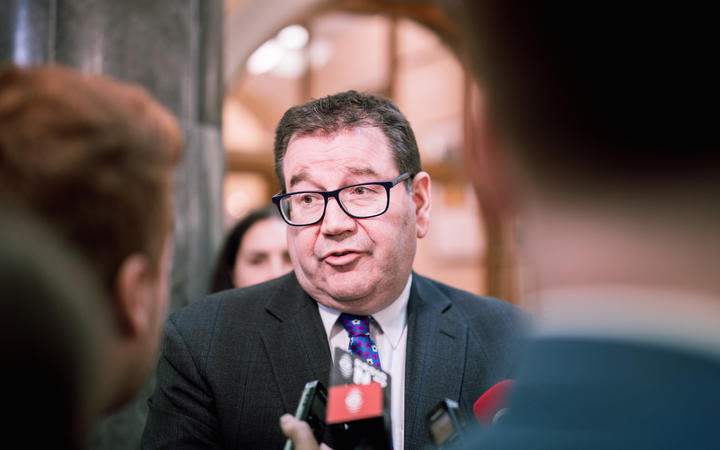 Minister of Finance Grant Robertson.
Photo: RNZ / Samuel Rillstone
Figures out yesterday showed GDP fell a seasonally adjusted one percent for the three months to the end of December, much worse than expected.
Robertson told Morning Report further economic volatility could be expected, and another recession could not be ruled out, though he was not ruling one in either.
"It's pretty hard to rule anything in or anything out at the moment… I think one of the bank commentators said it was like turbulence. I think we will see further volatility. The underlying economic momentum is still there…
"When we came out of the global financial crisis we similarly saw a double dip as well."
But New Zealand had come through the Covid-19 pandemic better than expected, he said.
Asked if he would tolerate a double-dip recession or if he would use government spending to offset that, Robertson said: "Obviously government spending is an important part of the economy and we still have significant resources flowing through the New Zealand economy, but the beauty from a fiscal point of view of what we did was… it didn't all get spent at once…
"There are other programmes, particularly in areas like construction and infrastructure where we are continuing to invest. We have got another Budget coming up so people will be able to see what we do there…
"We will continue to make sure that alongside monetary policy, we are using fiscal policy to support our recovery and rebuild," he said.
Economist: 'I personally wouldn't be concerned'
ANZ senior economist Miles Workman told Morning Report 2021 was expected to be a "sideways year" for the economy.
If the first quarter of 2021 saw contraction of the economy then we technically would be in an recession, he said.
"I think the data yesterday is a good reminder that positive surprises don't last forever and we will get negative surprises in the data simply because it is very volatile," Workman said.
"I personally wouldn't be concerned unless there was evidence in the data that underlying economic momentum and demand was beginning to turn, and I didn't see that in yesterday's data.
The Covid-19 vaccine programme and the construction industry both had the potential to help the economy in 2021, Workman said.
"The government is facing a pretty tricky situation here. The macro policy response or the fiscal policy response from them so far has been quite broad-based … I think what's need now from government is a more targeted approach to addressing some of these issues across the weak industries."
National Party criticism
Meanwhile, the National Party said the decline in GDP showed the government's "shovel ready projects" had failed to stimulate economic activity.
National's shadow treasurer Andrew Bayly told Morning Report: "Residential construction is up but we are not seeing the level of infrastructure spend that the government is undertaking and one of the big reasons for that is the $3 billion of shovel-ready projects that were due to have started by the end of next month – only 49 of the 205 projects have actually started… it's a major impact on why the economy has gone backwards.
"We need more construction undertaken by the government. They need to deliver on their promises."
Robertson said: "We saw a huge bounce in construction activity in the June (2020) quarter, probably a bit of a recoil in the September quarter, but I also note economists saying they don't expect that to be repeated.
"There's a lot of strength in the construction sector, we just have to make sure we help address some of the capacity constraints."