Google Assistant to Integrate Bard Chatbot and All the Other AI Features Coming to the Pixel 8
Google is touting its new Pixel 8 Pro phone as the "first phone built for the generative AI era." As expected, Google's premium smartphone is getting a whole smattering of AI features running on-device thanks to the Tensor G3 chip. Well, at least, maybe it will be, eventually.
No Google AI Search, I Don't Need to Learn About the "Benefits of Slavery"
At its Made by Google event, the tech giant announced several new AI additions coming to the phone over the next few months, including a new Google Assistant enhanced by the company's own chatbot, plus a whole bunch of new generative image capabilities coming to Photos.
Google said that later this year, some select users will soon get access to Google Assistant with Bard. This essentially combines the existing voice-activated assistant function with the company's proprietary chatbot. Google already made Bard interoperable with many of the company's most-used apps like Gmail, Maps, Docs, YouTube, and more, and now the chatbot is getting speech and image recognition features as well.
The company offered a few examples of how this would work. The assistant would have access to all of a user's Google apps. So if you ask Google Assistant with Bard where an event you planned to go to is taking place, the phone will dive into your Gmail to find the related messages and then respond with a location on Google Maps. The assistant can also take responses and export them to a doc or an email.
Assistant will also be able to recognize objects and words in a photo for use when responding to requests, though it's unclear if Assistant with Bard is also connected to the internet to reveal any up-to-date information. Google offered the example of using the AI feature to create a short, social media post about a cute dog—as if most people can't be bothered writing three sentences and a few hashtags about their own little pupper.
Google is playing a fair bit of catchup here. OpenAI, the makers of ChatGPT, already beat Google to the punch by adding voice recognition and speech capabilities to its popular chatbot. OpenAI's staff has already indicated the chat function was making it seem a little too human-like.
Unlike OpenAI, Google won't release these capabilities to the public immediately. The Assistant with Bard feature will only roll out to a few "early testers" for feedback before it is shared with the larger public. Users will be able to opt-in to this new beta feature. It's akin to how Google's done its Search Generative Experience which added AI to Google Search. Additional features like AI article summaries seen during the event are also being worked out through Search.
Google also said it will add summaries to the live transcription Recorder app, which alongside AI-generated smart replies should arrive in feature drops starting sometime in December this year.
Google Says Users Will Finally Be Able to Shout 'Enhance' and Mean It
Other than assistant AI, Google tried to share more generative AI photo features, all of which won't see immediate release with the new Pixel 8 phones.
One new feature coming to the Pixel 8 Pro will be familiar to anybody who's watched a cop show in the last 30 years. The new photo Zoom Enhance feature will let users zoom in on an image in Photos, which will then show up with a prompt to "Enhance" the image. This is simple pixel replacement technology, though it's using AI to fill in the blanks of what should be there. Zoom Enhance should arrive in one of the company's feature drops this or early next year.
Similarly, the oft-touted AI with Magic Eraser is getting a boost. Users should be able to move and remove objects inside a photo, and Google promised the tool will be much better at filling in the blanks left by people deleted from photos.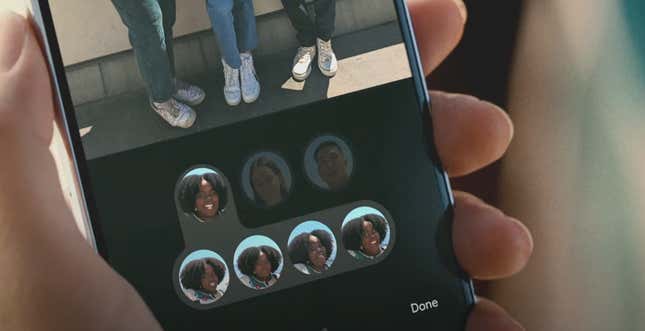 Google is also adding a new Magic Eraser-like "Best Take" feature to let users swap around the mugs of a photo's subjects. After users take multiple photos of the same people in a row, they can go into each photo and replace the person's head with the expression they want most. Google seems to think users will take advantage of this feature to make the ideal Christmas card. Google did say it may not work on all images, and it probably won't work to get the silliest expression from your dog, at least not yet.
A few transformative features to coming to video, as well. Users can use the Audio Magic Eraser to pick out background noise to either reduce or nearly silence them from videos. The system should automatically pick out if a noise is a dog barking, wind, or some other sort of white noise distorting the audio quality. And a "Video Boost" feature was demonstrated that appears to just increase the level of saturation present in a clip.
What's missing from all this is a full AI art generator, a feature that may be coming to Chromebook Plus models sometime in the future. Phones with Android 14 will be able to use a limited AI generator to create wallpapers, though prompts are boiled down to a few preset noun and color options.