Gretzky focused on affordability, heath care for term ahead
Windsor's veteran MPP is heading back to Queen's Park with a renewed focus on affordability and health care after her election victory last week.
Lisa Gretzky, first elected in 2014 to represent Windsor West for the NDP, triumphed over challengers Linda McCurdy and John Leontowicz on June 2 to secure the seat for the NDP. Gretzky is now the only MPP for her party in the region after Progressive Conservative candidates flipped formerly NDP seats in Windsor-Tecumseh and Essex.
"I'm incredibly honoured to have been given another opportunity to represent the people of Windsor West and to work with the community," Gretzky said.
"This wasn't just going to the doors at election time and saying, 'Hey, I'm your best choice. Support me.' It's actually doing that work in the community."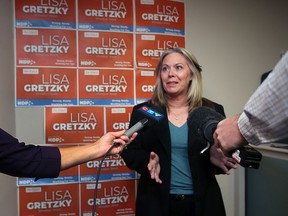 For the term ahead, Gretzky said she is keen to reintroduce key pieces of legislation, including her More Than a Visitor bill. If adopted, the bill would recognize the importance of essential caregivers to people in congregate care and ensure access for essential caregivers during emergencies and the COVID-19 pandemic, which were restricted early on.
"I fully plan on reintroducing that bill, among others," Gretzky said. "That was community-generated, knowing that when we, as a community, work together, we can make positive changes."
As the newest MPP when she was first elected in 2014 alongside Taras Natyshak and Percy Hatfield, Gretzky is now the region's most senior MPP, something she said she's still wrapping her head around.
Gretzky pulled about 42 per cent of the vote, with the PCs' Leontowicz pulling in about 35 per cent.
This term Gretzky will work alongside Windsor-Tecumseh MPP Andrew Dowie and Essex MPP Anthony Leardi, both of Doug Ford's Progressive Conservatives.
She said she knows it means the dynamics in the region have changed compared to the NDP stronghold the region used to be — but she's looking forward to working collectively to "bring the voice of the greater good for our region to Queen's Park."
"My hope is that the two newly elected Conservative members in Windsor-Tecumseh and Essex will continue to build on the work that Percy (Hatfield), Taras (Natyshak) and I did together … to keep those lines of communication open and to really be willing to listen to the concerns I'm raising on behalf of my constituents in Windsor West," Gretzky said.
"We're going to continue doing the work that we've always done, which is very, very much community-based."
Gretzky noted she is the only female elected representative in the region, either provincially or federally. She said she wants both the community and its politicians to look at how to engage more women, including young and racialized women, in running for office.
"We, as a community and as political leaders of all stripes, really need to have a good hard look … how we move forward to encourage more women to run… and how we give them those opportunities and support them through those opportunities.
"It's not just about talking about it, it's actually taking the steps necessary and doing the work."
Heading into her third term, Gretzky said she's hearing concerns about overall affordability — from hydro to housing — as well as worries about publicly funded heath care and education.
"Really looking at what people are struggling with today and to address the issues today. Those are really my key concerns," she said.
"We always need to be looking towards the future, but oftentimes, as we're looking towards the future, we're forgetting to address the problems that people are experiencing today."
ksaylors@postmedia.com
twitter.com/KathleenSaylors
Windsor Star Headline News
Sign up to receive daily headline news from the Windsor Star, a division of Postmedia Network Inc.
By clicking on the sign up button you consent to receive the above newsletter from Postmedia Network Inc. You may unsubscribe any time by clicking on the unsubscribe link at the bottom of our emails. Postmedia Network Inc. | 365 Bloor Street East, Toronto, Ontario, M4W 3L4 | 416-383-2300