Grimes Will Lend Her Voice to Your AI Song, But Only If You Split the Money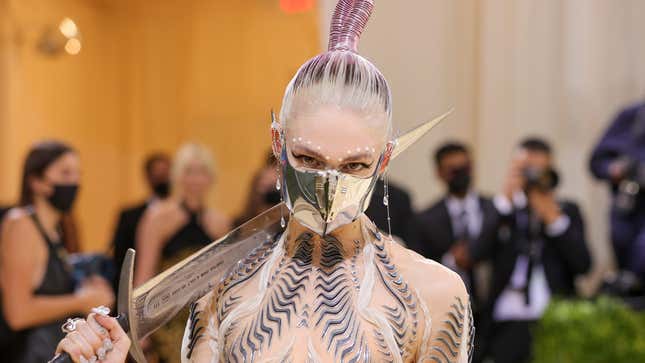 Pop singer-songwriter Grimes has an interesting proposition: You can use her AI-generated voice to make a song, but you'll owe her 50% of the royalties.
Time to Tackle the Taylor Swift Ticketmaster Turmoil | TechModo
Grimes announced the idea on Twitter earlier this morning, with a set of tweets citing a wholly AI-generated song featuring the vocal likenesses of The Weeknd and Drake that went viral last week. Grimes, known for her songs "Kill V. Maim" and "Oblivion," has always had a techno/sci-fi bite to her music, but having fans developing music for her using AI takes her thesis to a new level. Grimes says that she would be willing to split the royalties with the songwriter 50/50, which she claims is the same deal she would make with any collaborator, and that she is not currently signed to a label so there should be no legal issues.
"I think it's cool to be fused w a machine and I like the idea of open sourcing all art and killing copyright," Grimes tweeted. She added, "We're making a program that should simulate my voice well but we could also upload stems and samples for ppl to train their own."
In the replies to her tweet, Grimes elaborated that she has no idea what the collaboration would look like in terms of distribution (i.e. being listed as a featured artist on the song or the primary credit), and that she's interested in being a guinea pig for this new process. The singer also asked any would be AI programmers to not create any "toxic lyrics" or and "political stuff" with her voice unless it's a "small meme with ur friends." Those who fail comply will face copyright takedowns, despite Grimes previously besmirching the idea of copyrighted art.
Grimes' proposition comes as Universal Music Group—one of the largest music labels in the world—is grappling with how AI is encroaching on the music industry. Last week, after the AI-generated The Weeknd and Drake song blew up, UMG issued a statement about how upset the label was at AI's creepy rendition of the duet. The incident comes shortly after UMG reportedly asked streaming services like Spotify and Apple Music to stop letting AI train on their platforms.
Want to know more about AI, chatbots, and the future of machine learning? Check out our full coverage of artificial intelligence, or browse our guides to The Best Free AI Art Generators, The Best ChatGPT Alternatives, and Everything We Know About OpenAI's ChatGPT.