Hands-on: Microsoft Surface Laptop Studio 2
The new Microsoft Surface Laptop Studio 2 takes the lead as Microsoft's most-powerful member of its long-running Surface line of PCs. It also earns some extra credit for having a complex mashup of a name, drawing from both the excellent Surface Laptop line of high-end clamshells and the Surface Studio line of all-in-one desktop PCs.
Meet Microsoft's New Surface Laptops
That's because this system, like its predecessor, feels a little like a clamshell laptop and a little like an all-in-one desktop, thanks to its unusual (if not unique) horizontal hinged display. It also folds down to a full tablet mode, like the Surface Pro line. And it has the discrete graphics options once found in the now-discontinued Surface Book line, making this truly a mix of just about every Surface product that's come before.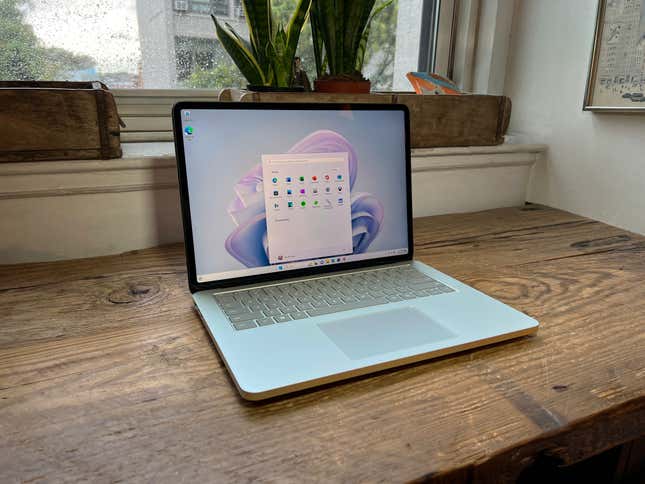 Read more: Microsoft's Surface Laptop Studio 2 in Pictures
I've only had the Surface Laptop Studio 2 for a couple of days, so consider this a preliminary hands-on. In those couple of days, however, I've used the system for office and productivity work, Photoshop editing, video watching and even gaming, all to good effect.
Price and configurations
Of course, I would expect that, considering I'm using the very high-end configuration of the system Microsoft sent us to test. The Surface Laptop Studio 2 starts at a reasonable $1,999, with a 13th-gen Intel Core i7, 16GB of RAM, a 512GB SSD and Intel Iris Xe graphics.
The configuration tested here is a whopping $3,299, with the same CPU, but also 64GB of RAM, a 1TB SSD, and an Nvidia RTX 4060 GPU. Several in-between configs are available, and you can go all the way up to $3,699 for a similar model with a 2TB SSD.
Meet Microsoft's New Surface Laptops
Meet Microsoft's New Surface Laptops
Design and hybrid options
All the Surface Laptop Studio systems work the same way, however. The screen is hinged horizontally at the halfway point, allowing you to pull the display forward over the keyboard, so it rests just in front of the haptic touchpad. This turns the system into a 14.4-inch kiosk-style display (with a 2,400×1,600 resolution), which is great for media consumption and gaming with a gamepad.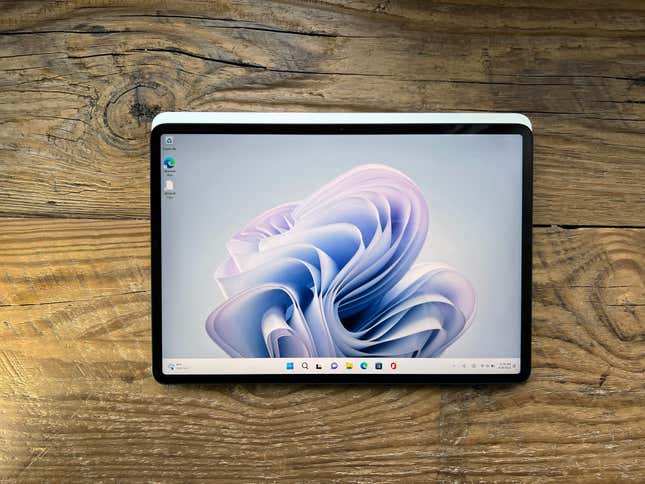 Pull the screen further down and it covers the keyboard completely, folding into a chunky tablet. In tablet mode, it doesn't lie entirely flat, like a Surface Pro or Lenovo Yoga would, instead it's slightly higher at the back end, similar to the original Surface Laptop Studio from a couple of years ago. At 4.37 pounds, it's a hefty tablet to carry around, especially if you're going to hold it in one hand and use Microsoft's Slim Pen 2 stylus to draw or take notes with the other.
One thing I appreciated about the design here is that unlike hybrid or 2-in-1 laptops that have 360-degree folding hinges, when this system is in tablet mode, the keyboard is entirely covered and out of sight. On something like a Lenovo Yoga, the inactive keyboard becomes the back surface of your tablet, which I find distracting, both tactilely and visually.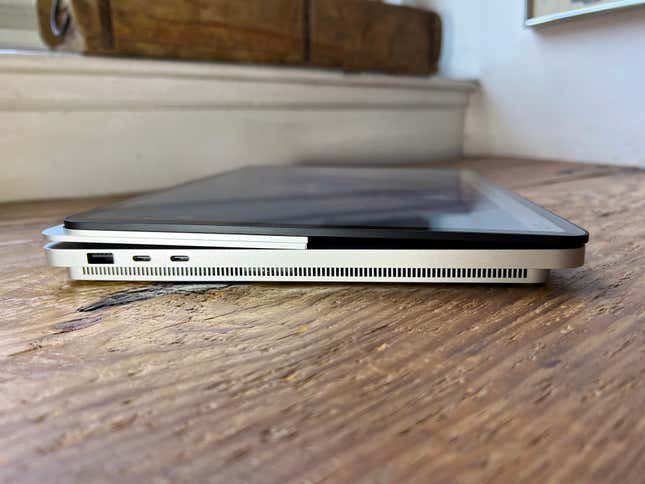 Even sitting on a desk in clamshell mode, this is a bulky system. It sits on top of a small riser, which is essentially fan vents and room for cooling, so the keyboard deck hovers slightly above your desk. The entire thing is almost 22mm thick when closed, which is more than a 16-inch MacBook Pro, which clocks in at just shy of 17mm thick.
Benchmarks and gaming
Below are some initial benchmarks of the system, showing that it is indeed a powerful system for both creativity and productivity. Plus, while the Nvidia 4060 isn't the most powerful laptop GPU out there, it's more than enough for current games, if you keep your expectations modest.
Naturally I had to pair Microsoft's latest high-end PC with its latest high-end game, Starfield. By setting the graphics presets to medium and the game's resolution to basic full HD, I was able to keep my frame rates in the mid-40s most of the time, and the results looked better and ran smoother than playing the game on an Xbox Series X, where it's locked to 30fps.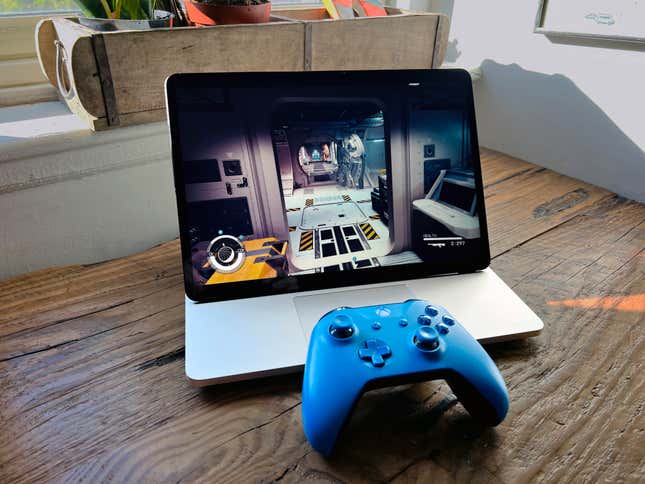 In this case, I played the game by pulling the display over the keyboard and using an Xbox gamepad connected via Bluetooth, which made for a very immersive experience. One thing to note, if you're not using the supplied Microsoft power connection, and instead using a random USB-C power adapter, you might drain power faster than it can be supplied when gaming. Using a modest 45W Lenovo USB-C charger I had lying around, I got about two hours of Starfield in before getting a low battery warning.
We'll continue to test the Microsoft Surface Laptop Studio 2 and update this initial hands-on into a full review with buying recommendations in the near future. Features we'll expand on include the improved haptic trackpad, the upgraded webcam, expanded ports and the inclusion of an NPU, or neural processing unit, which should help with onboard processing of some of the AI enhancements Microsoft says are coming soon to the Windows operating system.