How to Survive Halloween Horror Nights Hollywood
Let's get into it—clickers, M3GAN, Vecna, and Chucky led the way for a killer time at Universal Studios Halloween Horror Nights Hollywood in another year of not-to-be-missed scares.
Apple Unveils Its iPhone 15 and Apple Watch Series 9
Yes, it's only September but spooky season is here, as confirmed by a sold-out first weekend for Universal Studios' annual scare-fest. The cinematic horror event is now open select nights until October 31, and features haunted houses based on mega franchises like The Last of Us and Stranger Things, and inspired originals like Monstruos: The Monsters of Latin America. And that's not all; this year's HHN backlot tour overlay takes on an original gross-out idea with the nightmare infestation of Terror Tram…The Exterminatorz, with a Jordan Peele horror universe pit stop at Jupiter's Claim from Nope.
Gather up your scare squad and get a plan of attack in order to face clickers or Vecna in the most popular houses—you'll need one, because the lines this year for Stranger Things' return to HHN and The Last of Us' debut are no joke. Unless you're opting for Express tickets or the R.I.P. tour, you may have to prioritize your favorites and opt for lesser-known gems this year. io9 recently checked out the event—so read on for everything you need to know before you go.
Horror Nights Horror Movie TV Houses and Experiences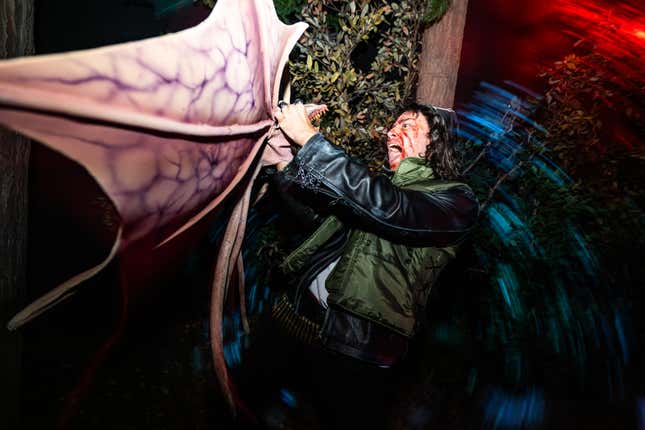 Sorry, that Stranger Things house image should have come with a trigger warning. The bright side is Eddie Munson Hellfire Club fans get to reunite with their king before he's taken away too quickly by those damn Demobats (though some of us hold out hope for the character's resurrection in season five). After attempting to do its own interactive experience tours, Netflix's Stranger Things is back to headline HHN 2023 with a house inspired by some of season four's greatest hits. Just going to say this upfront: it needed the Metallica guitar solo Upside Down moment (which HHN East was smart to include; sorry Westies), but overall this maze hits most of the other iconic scenes, like Eleven and Vecna's Rainbow Room origins.
However, as mentioned above: if you're both a fan of the Hawkins saga and The Last of Us, you're going to have to choose carefully which maze you're going to tackle first. Odds are not entirely in your favor to do both on the same night with a general admission ticket. The queue line that reigned supreme all night was definitely The Last of Us, inspired by Neil Druckmann's original video game and featuring the original voice cast returning as Ellie and Joel.
Again, we must emphasize: don't go in thinking you can do both big-ticket mazes, unless they're the only ones you plan to do all night. It's not impossibl,e but there's a number of ways you can do it outside of opting for Express right off the bat. My pro-tip is hit either Stranger Things or The Last of Us as your first house, then pick two or three other houses including Chucky (gory, hilarious, and puppet-filled) or Evil Dead Rise (gory as hell). Then, take time to eat and drink and maybe hit an experience like Blumhouse: Behind the Screams—which features a M3GAN dance horde—to kill time until 11 p.m., when the Express pass is half off. Then, you can power sprint to the other franchise fave, and maybe hit more if there's time left over.
Original Houses and Scarezones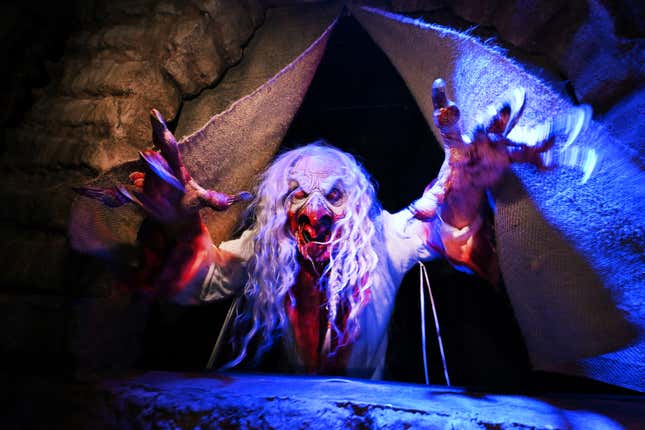 As one of your other options outside of the big IP house of the night, you have to do the hands-down best original maze, and that is Monstruos: The Monsters of Latin America. Featuring some mightily terrifying folklore creatures like La Lechuza, this maze is filled with some of the most creative creature designs and scares we've seen in a long time. If you're not familiar with the cryptids inside you're in for a treat. I'd even say if this one has a long line all night and you're not too into Stranger Things or The Last of Us, make this a must! You will not regret it, and a lot of fan support will show Universal Studios Hollywood that it's just as capable as Orlando at bringing in crowds with original ideas.
Then, there's the Universal Monsters: Unmasked house—which stars my favorite monster, the Phantom of the Opera. Technically, yes, this is an OG franchise, but every year the HHN team kills it at creating original concept houses inspired by the monsters. This year, it's a batshit mashup of four—er, five—monster bros mashing it out in Paris with the Phantom, the Hunchback, the Invisible Man, and Dr. Jekyll and Mr. Hyde doing so much violence within the catacombs of the city.
Overall this year packs a solid punch. If you're only able to visit for just one night, you'll just have to schedule your time efficiently if you're not opting for Express or the R.I.P. tour. If you're a Southern California local, I always suggest coming back with a Frequent Fear pass to experience all the event has to offer throughout the season. It's a great after-work hang, where you can catch a show or hit whichever attraction has a shorter line as you keep an eye out for a manageable wait for one of the big ones.
Universal Studios Halloween Horror Nights Hollywood is now running select nights through October 31. For more info and tickets visit the official HHN website.
---
This event roundup, which includes activations for major studio projects, was written during the 2023 WGA and SAG-AFTRA strikes. Without the labor of writers and actors currently on strike, the films and TV covered here wouldn't exist.
---
Want more io9 news? Check out when to expect the latest Marvel, Star Wars, and Star Trek releases, what's next for the DC Universe on film and TV, and everything you need to know about the future of Doctor Who.