HP Spectre Fold Review: Worse Than the Sum of Its Parts
If I get my hands on a $5,000 foldable laptop, I have certain expectations for it. It's got to have power, speed, and portability. The last thing on my mind is whether or not the thing is easy to open and close. However, this was the case when I first tried to crack open HP's new Spectre Fold 3-in-1, which pretty much set the tone for the rest of my time with the device.
Top Takeaways from the Apple Event
The Spectre Fold is HP's attempt to scale the foldable design to a laptop-sized product. The first time I tried to pry the foldable apart I realized there were no gaps to stick my fingers into. Instead, I needed to shove my fingernails in between the internal keyboard and top screen and pry them apart like the jaws of life. So much excellent engineering went into this luxury-priced folding laptop, but I wonder if they couldn't have created a notch to stick my fingers in?
The HP Spectre Fold: One Device, Three Modes, All Meh
The HP Spectre Fold: One Device, Three Modes, All Meh
With all the talk about foldable phones, there may be room for a thin laptop that becomes a tablet, which becomes a desktop. Lenovo tried a very similar thing back in 2020 with the X1 Fold, though that was much smaller and thicker than HP's design, with a starting price of $2,500. Then there was Asus with their ZenBook 17 Fold OLED that tried and couldn't quite manage to achieve the fabled 3-in-1 dream at $3,500.
HP has managed to implement a lot of smart design decisions that have realized some of Lenovo's initial promises, such as the flattened battery (for better weight distribution) and minimal crease on such a large screen. But while HP's $5,000 rendition of the foldable design is thinner and more robust than any other attempt so far, this isn't the realization of the foldable promise. It's an iteration, one that needs further refinement.
I'm a fan of the Spectre's design—it's truly a great proof of concept—but nothing ever works like expected for the end user. When it's not a small laptop, it's a somewhat finicky, oversized tablet. When it's not a tablet, it's a comparatively low-end desktop PC.
The actual foldable part of the screen is solid, and it has a less noticeable crease than some other foldable devices I've tried. Yet the software can't keep up. Snapping apps to portions of the screen isn't a smooth experience. The device is also not nearly as powerful as other devices priced $2,000 less than HP's 3-in-1. It feels like an over-expensive prototype that hopefully may be perfected in time.
Who Needs a 17-inch Tablet?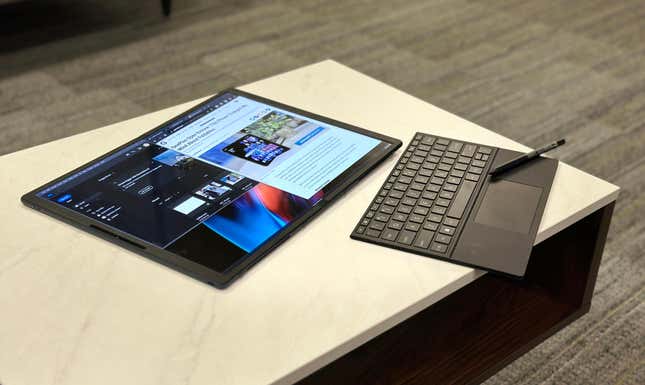 There's a lot to like about the Spectre. It's a compact if somewhat heavy, laptop when shut tight, but there's practically no seem or hole thanks to the U-shaped fold that fits snugly around the thin keyboard. The keyboard is charged through wireless induction coils when attached to the laptop, and both the touchpad and keyboard are very responsive, considering its thin footprint. Additionally, the OLED display on the Spectre is crisp no matter how you use it, though there is still a large crease when using the device that catches the light at odd angles. It is an issue for people like me who find a deep crease distracting.
To give more props to HP, there are some very strong magnets on the Spectre Fold. I never felt like anything would easily come loose during use. The digital pen that comes with the Spectre Fold also does the job, and it similarly attaches via magnet to either the keyboard or the Fold itself for storage or charging. I've stuck it in my backpack for over two weeks and never feared losing the pen or keyboard.
The ergonomics of the device are strange, leading to an odd experience whether you're using it with a shortened or extended screen. In its compact laptop mode, the device feels a bit small, even compared to the minimum-sized Chromebooks I've used in the past. It has a 12.3-inch screen, which isn't enough for most tasks. You can drag the keyboard back toward you slightly and add an extra two inches of display at the bottom, though I struggled to find any app or site that worked well when snapped into that half-screen portion.
When it's unfurled, the Spectre Fold is massive, with a 17-inch screen and large plastic bezels meant to keep the whole thing intact. I've never thought I'd find a tablet that's simply too big, but the HP Spectre might be it. It's weighty, too, at nearly 3 pounds without the keyboard. You can't comfortably lounge in bed and watch Netflix if you have to hold the tablet with two arms. I'm an average-sized dude, and I imagine somebody smaller than me would have to bear hug the tablet to keep it upright when on the couch.
Samsung's latest premium tablet, the 14.6-inch S9 Ultra, is one of the biggest tablets of its kind on the market. To put that in perspective, the iPad Pro measures 12.9 inches diagonally. We've heard rumors of Apple making a 16-inch tablet, but after trying to use HP's model, I'd be hesitant to go for anything that big.
The HP Spectre Fold Can't Compete on Power for its Price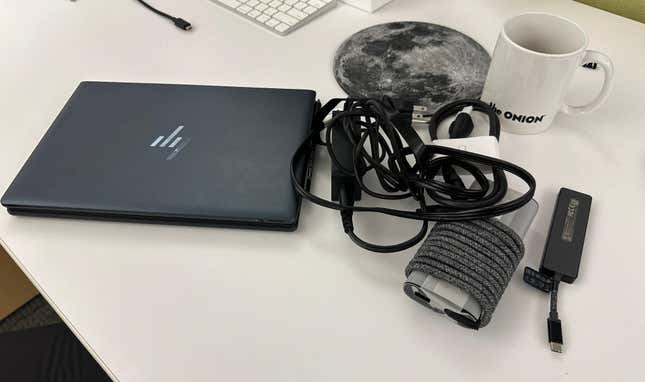 When I first wrote the news about the Spectre Fold's release last month, I wrote that "it screams premium in all directions." The box has a luxury braided power adapter, a USB to USB-C dongle, and a comfortable digital pen built specifically for HP's sensitive, foldable touchscreen. At $5,000, no other version of the Spectre comes with more than the standard 16GB of RAM and 1TB internal SSD storage. There are no other color options than the slate gray. HP is telling customers that this is it, take it or leave it.
What you're not getting for that exorbitant price is hardware power. The Spectre Fold uses a 12th-gen Intel Core i7-1250U with 16GB of RAM. It's also running an in-built Intel Iris XE graphics, so this is not a graphics powerhouse. Running GeekBench 6, the device performed worse than the budget-minded Microsoft Surface Laptop Go 3. It was a similar story with Cinebench, which calculates a CPU's power based on how well it renders a scene. It performed moderately well on the single core but failed to match the power of a $750 Dell Inspiron 14 2-in-1 on the multi-core settings. To compare, the Inspiron is running an AMD Ryzen 5 7530U, another low-power CPU.
And don't even think you'll be playing games natively on the HP Spectre Fold. Baldur's Gate 3 is a slideshow even on the main menu. It completely refused to load Cyberpunk 2077, and it took over 15 minutes to load the main menu for Halo: Infinite, which is a shader-intensive game. On the 3D Mark Wild Life Extreme benchmark, the Spectre scored better than Dell's recent 2-in-1 with its mere 8GB of RAM, but it simply can't hold a candle to other expensive laptops.
If you're dead set on gaming, download Geforce Now or another game streaming service for the $5,000 Spectre Fold. At the same time, it also means HP's 3-in-1 won't have much strength in the video processing department either. You can run Photoshop and draw with the magnetically attached e-pen, which works well enough. But don't think you're doing much else besides usual workplace tasks. Otherwise, the Spectre relies on the cloud for everything else.
Windows 11 Doesn't Always Agree With HP's UI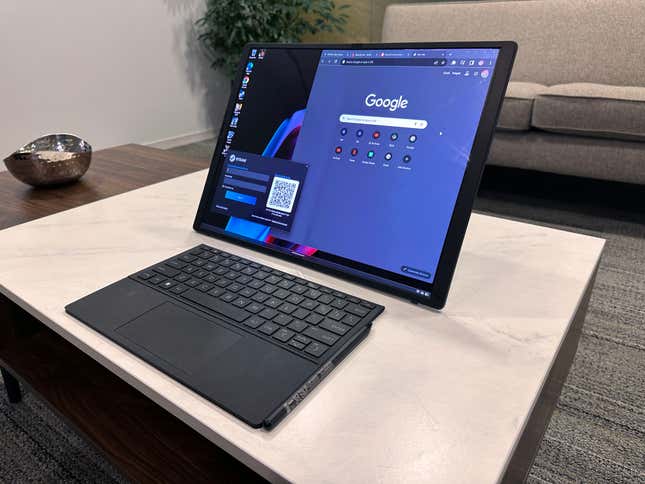 Foldables are inherently designed for multitasking. It's why the snappable windows are such a battleground in the foldable market and why the Galaxy Z Fold 5 and the new OnePlus Open have an edge over the Pixel Fold. Trying to multitask on an expanded screen on the Specter Fold can force the device to chug. I was watching a movie on Netflix and tried to move a separate window around, and the input seemed to lag behind by half a second while dragging it across the screen. Resizing and snapping around different apps and windows using HP's own Snap interface was slow and occasionally failed to resize windows properly.
Sometimes, I'd boot up the Spectre and find that it would start in tablet mode instead of laptop mode. In most cases, the laptop would reorient itself, but in some instances, I had to remove the keyboard and put it back on before it recognized its mode.
The Spectre Fold isn't designed for gaming or much hardcore use besides work. Of course, you could load up Xbox Game Pass or GeForce Now on it to take advantage of the large, portable screen, but at this price point, you could get an expensive gaming laptop or gaming PC. Hell, you could get both and have more power to run that and many other graphically intensive programs.
And with any foldable, there may be some things you simply cannot fix. The device isn't dust-resistant. It tells you that straight up, and if you put your keyboard down on a tabletop, dust, dirt, or wayward crumbs might hitch a ride back with you when the Spectre is folded back up. It's something that concerned me the entire time I was using it.
But let's face it, you're probably not buying the Spectre Fold. This is for someone who has money to burn and wants to show a unique piece of tech to their fellow execs or rich friends. It's better to think of the Spectre as a stepping stone to what might come next. Hopefully, the next big iteration comes with a price tag we peasants can even hope to afford.