iPhone 15: Launch Date, Features, and Everything We Know
We now know that the next iPhone will be revealed on September 12, 2023, thanks to an invite sent by Apple. The event, held at the company's headquarters in Cupertino, California, will also be streamed on Sept. 12 from the company's events website at 10 a.m. PT, 1 p.m. ET.
Is USB-C Finally Coming To iPhone?
We expect to see new Pro and Pro Max models, an A17 Bionic chip, a titanium frame, improved cameras, and maybe even—at long last—a USB-C port to replace the aging Lightning connection. That means it's time to start putting all those proprietary Apple cables in your personal museum; if you decide to upgrade later this year, you'll likely swap them out for Apple-certified USB-C cables. A new Apple Watch is also expected, but with a minor upgrade at most.
A few recent mockups based on leaks suggest the iPhone 15's titanium body will have a more matte look than the previous smooth aluminum. It might even have rounder sides. Other leaks reveal the expected chassis colors include Midnight, Starlight, Green, Yellow, Pink, and the classic Product (RED).
The jury is still out on whether Apple will infuse more AI into its new phones. Siri is already considered one of the least-impressive digital personal assistants, but Apple could start to lean in as bots like ChatGPT gain more prominence.
Lastly, we can't wait to see how the iPhone 15 interacts with Apple's upcoming Vision Pro headset, which we demoed earlier this year at WWDC.
The iPhone 15 will come in four models
Bloomberg's Mark Gurman, who has successfully predicted iPhone news in the past, has been saying there will be four models to choose from since the iPhone 14 launched. But, to sell a new "Ultra" moniker for its highest-end offering, Apple may do things differently this year with the classification of each model. The 6.1-inch iPhone 15 will supposedly come in a 6.7-inch iPhone 15 Plus variant, while the 6.1-inch iPhone 15 Pro is rumored to accompany a 6.7-inch "Pro Ultra" variant. The Ultra could come chock full of premium enhancements, like a Titanium-covered chassis akin to the Apple Watch Ultra.
Although Apple doesn't typically share memory configurations, there may be a difference in RAM between the four models. In an earlier report, Taiwanese supply chain research firm, TrendForce, claims that Apple has upped the RAM order on the iPhone 15 Pro. Apple could increase RAM from 6GB to 8GB on the Pro/Ultra model. The iPhone 15/15 Plus will likely stick with 6GB.
What will the iPhone 15 look like?
You can expect more of the same. The design language Apple's put out for the last few generations has remained unchanged for the most part. And there definitely won't be a notch: each model of the iPhone 15 is expected to have a Dynamic Island, which is believable considering Apple's already accommodated this part of the design on the higher-end iPhone 14s. At the very least, it will put all those little Dynamic Island apps and abilities available to good use.
The bezels around the iPhone 15's display may also get a bit of shaving—about 0.7-mm worth. Gurman reported the company is using a low-injection pressure over-molding (LIPO) technique to shrink the bezels on the device from 2.2-mm to 1.5-mm. Apple used this technology to tighten the bezels around the Apple Watch Series 8.
Will the iPhone 15 have solid-state buttons on the side rather than mechanical ones? The rumor has been percolating since last year. If true, each button would function as a mini trackpad, like the Home button on the current iPhone SE. However, a recent report from the same analyst who originally told us we were getting solid-state buttons is backtracking, citing that Apple has changed its mind. We'll find out soon enough!
How much will the iPhone 15 Cost?
There's no word on official iPhone 15 pricing yet. Noted leaker LeaksApplePro recently wrote for HowToiSolve that they expect the iPhone 15 Ultra to cost nearly $200 more than the iPhone 14 Pro Max. That would give the Ultra a starting price between $1,200 and $1,300. Apple's rumored to be paying greater attention to build quality to justify that price, but it's also being informed by "rising production costs and inflation."
The iPhone 15 will have USB-C
The iPhone 15 will have USB-C. Apple is mandated to follow EU law, which states that the company must adopt USB-C on its iPhone line by 2024. Multiple leaks since the October 2022 ruling pointed to this as an inevitability.
Of course, this situation has a caveat. We've also heard that Apple will encourage USB-C cables to go through the MFi program, originally named that way to indicate accessories were "Made for iPod." That's not to say you wouldn't be able to share USB-C cables with your Android-loving friends and family, but there will likely be a limit on charging and data transfer speeds on non-MFi cables due to this certification program.
At the very least, there's good news of faster wireless and tethered charging for the iPhone. 9to5Mac reports that "some" of the new iPhone 15 models will be compatible with up to 35W charging. Currently, the iPhone 14 Pro charges at 27W, and the iPhone 14 charges at 20W.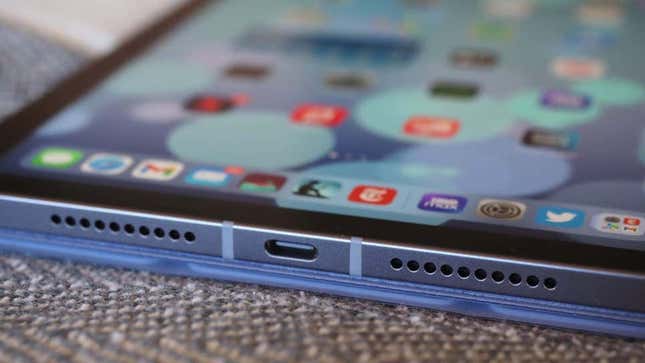 What will iOS 17 do for the iPhone 15?
Apple announced the next version of the iPhone operating system at WWDC 2023, its annual developer conference, in early June. When it's officially available to all, iOS 17 promises to be full of new features, especially ones that have to do with phone and video calls:
Custom contact cards for phone calls
Live voicemail transcriptions
Downloadable offline maps in Apple Maps
StandBy Mode, which functions as a smart home hub
No more "Hey Siri." Now it's just "Siri"
Special colors for the iPhone 15
9to5Mac has the lead on the color palette of the iPhone 15—you can check out rendered color swatches at the link. Apple could plan a darker red option for the iPhone 15 Pro/Ultra to join the deep purple iPhone 14 Pro Max. It might also go super pastel and adopt baby blue and pink variants, not unlike the periwinkle blue version of the iPhone 14.
9to5Mac's source cautioned that these particular colors could change when the iPhone 15 goes into full manufacturing mode. But it's easy to see the pattern based on the color offerings of the iPhone 13 and iPhone 14 series.
A periscope camera for the iPhone 15
Want to take better pictures even though your hand is shaky? According to MacRumors, the iPhone 15 Pro Max (or Ultra?) might help by adding a periscope-style rear camera. This rumor's been quiet since last summer, when noted leaker Ming-Chi Kuo wrote about the possibility of a periscope lens coming to the largest variants of the iPhone 15, with the smaller ones stuck with a regular telephoto lens for optical zoom.
The periscope camera system is a little more forgiving to physical movement, though it also lets you zoom in further, producing less of the "digital noise" in the final product. Samsung's Galaxy S22/S23 Ultra has similar hardware in its tertiary 10-MP camera lens with 10x zoom to help it stabilize faraway shots.
Apple's A17 Bionic Chip is next—right?
We expect Apple to grace us with the A17 Bionic in the iPhone 15 Pro/Pro Ultra/Pro Max. But rather than focus on increasing performance—the A16 Bionic still performs better in synthetic benchmarks than the latest Android chips—Apple will likely tune battery life and power efficiency.
The iPhone 15 Pro could be Apple's first 3nm processor, which Bloomberg reported headed into production right after Christmas last year. The Information recently followed up with a report that Apple was responsible for being TSMC's "largest customer," which manufactures its chips. If the 3nm makes its debut, Apple will have beat out Android's chipmakers to the punch.
How to Watch Apple Unveil the iPhone 15
The consensus among those keeping a close eye on Apple is that the company will hold a mid-September 2023 event to announce the next batch of devices. Some sources, like 9to5Mac, say the big day will be Sept. 13, which aligns with the word that Apple staff have been asked not to take time off around that date. Bloomberg's Mark Gurman, who is typically on the mark with Apple-based reports, says an event may be planned for "either Sept. 12 or Sept. 13."
Again, nothing has been confirmed. But history shows us that Apple usually starts its events at 10:00 A.M. PT / 1:00 P.M. ET. It will likely be hosted in the Steve Jobs Theater at Apple's Cupertino headquarters, as the past several keynotes have been.