Israel says troops push into 'heart of Gaza City'
Israeli Prime Minister Benjamin Netanyahu said there will be no fuel delivered to Gaza and no ceasefire with Hamas unless hostages seized by the Palestinian militants are freed.
In a televised statement marking the first month of Israel's war with Hamas, Mr Netanyahu also warned Iran-backed Hezbollah "it will be making the mistake of its life" if it opens a new front in the war from its base in Lebanon.
His Defence Minister Yoav Gallant said Israeli troops are "in the heart of Gaza City" as the nation marked one month of war with Hamas in the Palestinian territory.
Hamas' most senior leader in Gaza, Yahya Sinwar, was isolated in his bunker, he added in a televised news conference.
"We are in the heart of Gaza City," Mr Gallant said. "Gaza is the largest terrorist base ever built."
"We are going to destroy Hamas," he said.
The Israel-Hamas war started on 7 October when fighters from the Islamist group burst out of Gaza and into southern Israel.
According to Israel, Hamas militants killed some 1,400 people – mostly civilians – and seized more than 240 hostages, in the worst attack on the nation since its founding in 1948.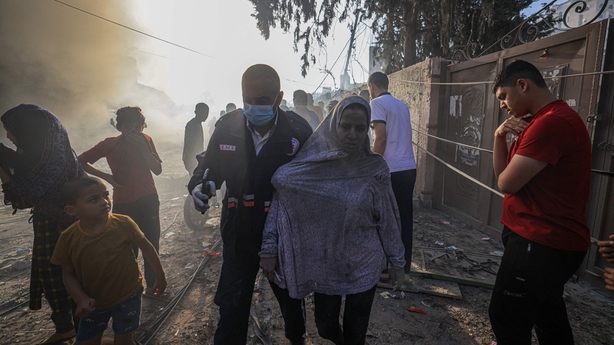 In response Israel has launched a withering assault on Hamas in the Palestinian enclave it rules, home to some 2.4 million people.
The Hamas-run health ministry there says more than 10,300 people – also mostly civilians – have been killed by Israel's offensive.
There have been increasing international calls for a ceasefire or "pause" in fighting as the conflict enters its second month.
But Mr Netanyahu said there would be "no entry of gasoline… no ceasefire without the release of our hostages".
Mr Gallant similarly said: "There will be no humanitarian truce without the return of the hostages."
Red Cross convoy hit by gunfire
The International Committee of the Red Cross (ICRC) said a humanitarian convoy carrying lifesaving medical supplies came under fire in Gaza City.
The convoy of five trucks and two Red Cross vehicles was carrying supplies to health facilities, including to Al-Quds hospital, when it was hit, an ICRC statement said, adding that two trucks were damaged and a driver lightly wounded.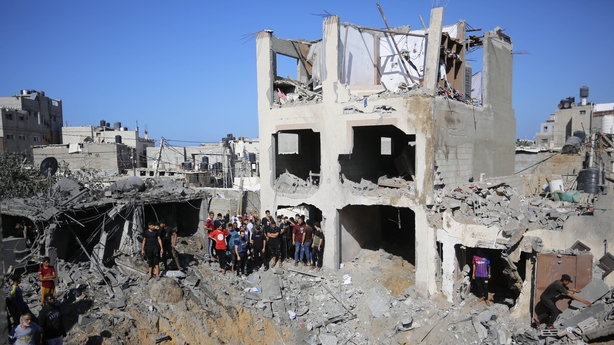 The ICRC did not specify who had fired at its convoy or from what direction the fire came.
"These are not the conditions under which humanitarian personnel can work," said William Schomburg, the head of the ICRC sub-delegation in Gaza.
"We are here to bring urgent assistance to civilians in need. Ensuring that vital aid can reach medical facilities is a legal obligation under international humanitarian law."
After the gunfire the convoy altered its route and reached Al-Shifa hospital where it delivered the medical supplies, the ICRC said.
Later the ICRC convoy accompanied six ambulances with critically wounded patients to the Rafah crossing to Egypt, it added.
US opposes Gaza occupation
Mr Netanyahu said Israel would assume "overall security" in Gaza after the war ends, while allowing for possible "tactical pauses" before then to free captives and deliver aid to the besieged territory.
However, Washington said it opposed a new long-term occupation of Gaza by Israel.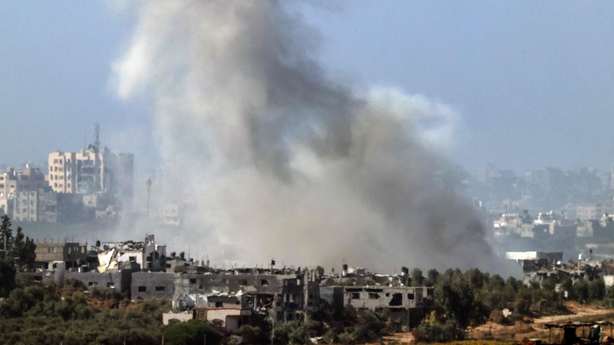 "Our viewpoint is that Palestinians must be at the forefront of these decisions and Gaza is Palestinian land and it will remain Palestinian land," said State Department spokesman Vedant Patel.
"Generally speaking, we do not support the reoccupation of Gaza and neither does Israel."
Israel withdrew from the territory, which it captured in the 1967 Six-Day War, in 2005.
UN rights chief Volker Turk called the month that followed the attack one marked by "carnage, of incessant suffering, bloodshed, destruction, outrage and despair".
Since the attack, Israel has relentlessly hammered Gaza with more than 12,000 air and artillery strikes and sent in ground forces that have effectively cut it in half.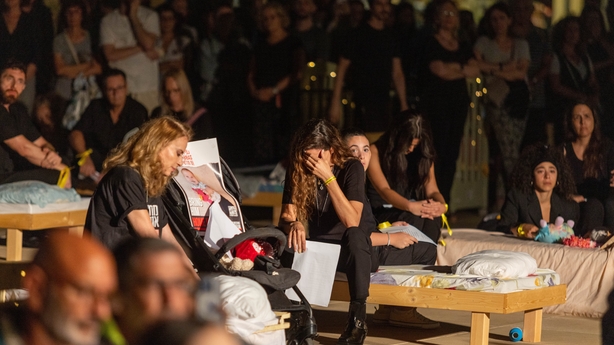 'Moral failing'
It has air-dropped leaflets and sent texts ordering civilians in northern Gaza to flee south, but a US official said on Saturday at least 350,000 civilians remained in the worst-hit areas.
Clutching one of her toddlers, Amira al-Sakani recounted how she left Gaza City after coming across the air-dropped Israeli flyers.
On the way, Ms Sakani said she saw "bodies of martyrs, some in pieces, people abandoning their cars and cattle to walk.
"Our life is tragic; we don't want war… we want peace."
The suffering in Gaza has been immense, with entire city blocks levelled and bodies in white shrouds piling up outside hospitals where surgeons operate on bloodied floors by the light of phones.
The World Health Organization said an average of 160 children are killed every day in Gaza by the war.
"The level of death and suffering is hard to fathom," WHO spokesman Christian Lindmeier told reporters in Geneva.
"It has been one full month of carnage, of incessant suffering, bloodshed, destruction, outrage and despair," UN Human Rights Commissioner Volcker Turk said in a statement at the start of a trip to the region.
ICRC president Mirjana Spoljaric said: "Children have been ripped from their families and held hostage. In Gaza, ICRC surgeons treat toddlers whose skin is charred from widespread burns."
"This is a moral failing," she added.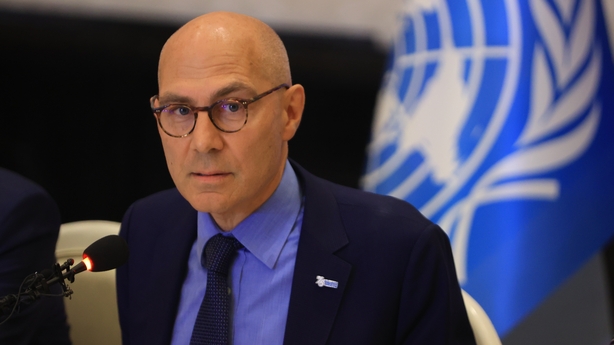 Military analysts warned of weeks of gruelling house-to-house fighting ahead in Gaza.
"Hamas has had 15 years to prepare a dense 'defence in depth' that integrates subterranean, ground-level and above-ground fortifications," said Michael Knights of the Washington Institute think-tank.
---
Read More:
Live: Updates as they happen
Ireland 'not politically neutral' on Gaza conflict – Israeli ambassador
Now we've got hope back,' says sister of missing Emily Hand
Taoiseach says he does not regret Israel 'revenge' comment
---
The operation is hugely complicated for Israel because of the hostages, including very young children and frail elderly people, who are believed to be held inside a tunnel network spanning hundreds of kilometres.
Israel's top ally, the United States, has backed it in its war on Hamas, but also urged restraint and facilitated some aid deliveries and the flight of several hundred refugees with second passports through the Rafah crossing with Egypt.
'Little pauses'
US State Department spokesman Vedant Patel said "more than 400 US citizens" have now left Gaza through Rafah.
Hundreds of Palestinians who hold foreign passports waited in Gaza to leave.
While most still queued nervously, the first arrivals were seen on the Egyptian side where paramedics transferred an injured woman on a stretcher into an ambulance.
We need your consent to load this rte-player contentWe use rte-player to manage extra content that can set cookies on your device and collect data about your activity. Please review their details and accept them to load the content.Manage Preferences
Today was the fifth day Gaza's sole land crossing not controlled by Israel has opened in the past week, to wounded Palestinians, foreigners and Palestinian dual nationals.
Mr Netanyahu told ABC News yesterday the war would continue until Israel had restored overall control of Gaza.
"Israel will, for an indefinite period… have the overall security responsibility," he said. "When we don't have that security responsibility, what we have is the eruption of Hamas terror on a scale that we couldn't imagine."
He stressed that "there will be no ceasefire – general ceasefire – in Gaza, without the release of our hostages.
"As far as tactical, little pauses – an hour here, an hour there – we've had them before.
"I suppose we'll check the circumstances in order to enable goods — humanitarian goods — to come in or our hostages, individual hostages, to leave," he added.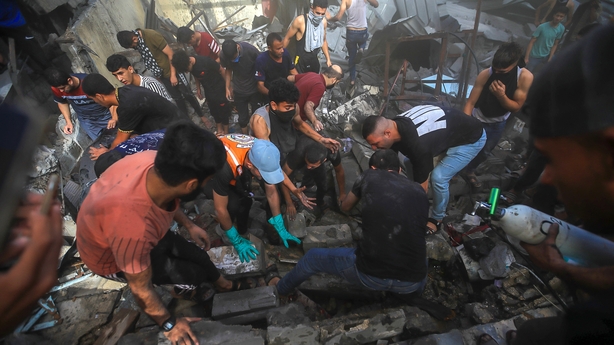 US diplomacy
Around 30 Israeli soldiers have been killed in the offensive, the latest yesterday, according to a report from the UN Office for the Coordination of Humanitarian Affairs, citing Israeli sources.
US Secretary of State Antony Blinken, after a Middle East tour of crisis diplomacy, was in Tokyo for a meeting of G7 foreign ministers set to seek a common line on Gaza as calls mount for a ceasefire.
In the occupied West Bank on Sunday, he suggested the Palestinian Authority under president Mahmud Abbas should retake control.
Abbas said the PA could return to power in Gaza in the future only if a "comprehensive political solution" is found for the Israeli-Palestinian conflict.