He is Just Stagnant Water – Eddy Kenzo lashes out at Bebe Cool calling him immature!
Singer Edirisa Musuuza aka Eddy Kenzo, the only Ugandan BET Award winner has come out to lash at Gagamel boss Bebe Cool calling him several nasty things.
Kenzo was responding to Bebe Cool's post where he named his best artistes of 2017. Bebe Cool's appears below.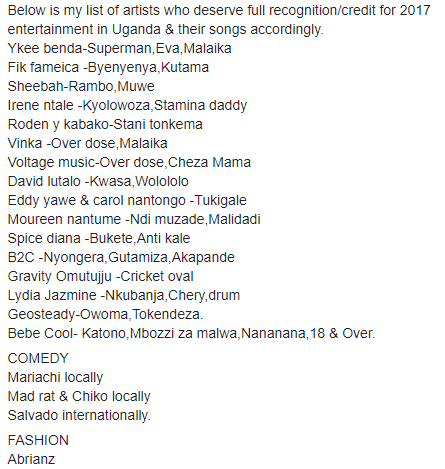 This, according to Kenzo was being fair, unrealistic and non-patriotic.
Kenzo says Bebe Cool's list was so biased and so misleading. "Radio and Weasel had Gutamiiza, he didnt name them, I had Jubilation he didn't name me" Eddy Kenzo said. "If his music was good let him go to Zambia, do Mbozi Zamalwa and see if they'll sing along." furious Kenzo added.
He, on that matter blames Bebe Cool for releasing such a war-causing analysis which he attributed to Bebe Cool's interest in beef amongest artistes. Kenzo could not hesitate calling Bebe Cool stagnant and an immature person. To Eddy Kenzo, Bebe Cool is a promnent figure whose words will be considered 100% true even when they are false. It is for this reason that he warns Bebe to  leave such tasks to the media.
Pissed Kenzo therefore advised Bebe to mature and get involved in patriotism. He also advised him to go and also judge, Tanzania, Rwanda ad Africa as a whole.