King Charles' Coronation Concert With Lionel Richie & Katy Perry
Artistes
Artistes

King Charles' Coronation
Concert with Lionel, Katy & More
… Spectacular Showcase!!!
5/7/2023 11:51 AM PT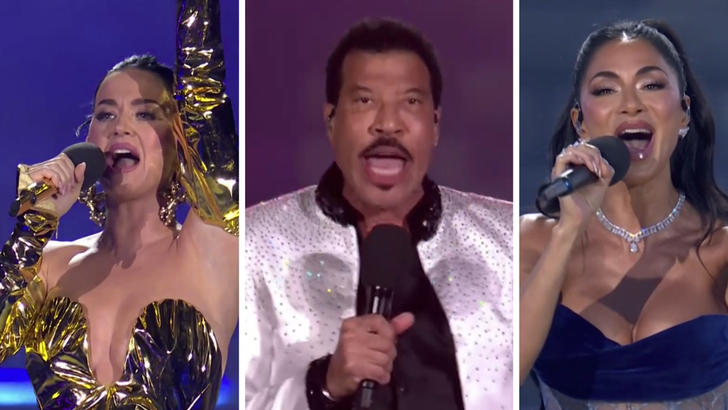 BBC
UPDATE
3:16 PM PT — That's a wrap for Charles' coronation weekend — which capped off with a big concert that went out with a bang … all thanks to the big-name acts, who sang their asses off.
UPDATE
Lionel and Katy crushed it, as expected, but the other musicians who were on the bill stepped as well … including Nicole, Steve and Take That. Take a look for yourself — you can see everyone in the crowd was grooving to just about each set, including the Royal Family.
UPDATE
Speaking of which, Prince William gave a speech at one point … and it was a poignant tribute to his dad. No Harry, of course, but all in all — pretty darn fabulous. Well done!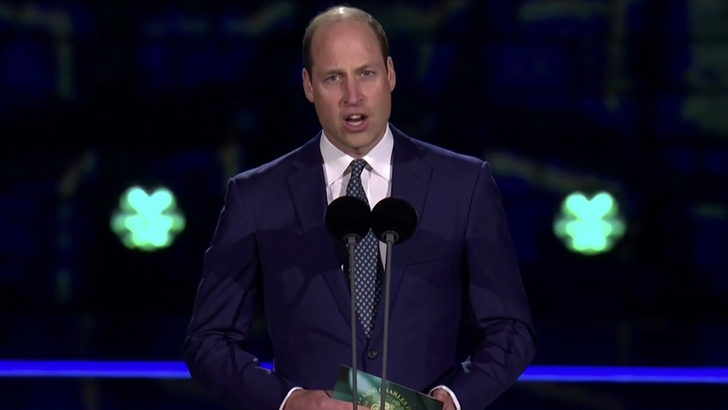 BBC
The Coronation of King Charles might be done, but the party's just getting started … because a massive concert with Lionel Richie and Katy Perry is about to kick off!
The big Coronation Concert, streamed by BBC, is almost underway … other than the 2 "American Idol" hosts puttin' on a show, it's going to be a packed lineup — with names like Andrea Bocelli, Steve Winwood, Nicole Scherzinger, and British group Take That jumping on stage.
The event supposedly is featuring prerecorded sketches with big names, too … like Tom Cruise, Bear Grylls, and Joan Collins.
Winnie the Pooh's even making an appearance — no doubt matching the same energy from Queen Elizabeth's Platinum Party when she had tea with Paddington.
As we reported, the big bash comes after Saturday's Coronation, which was observed by millions of folks … whether they were right outside those Westminster doors or halfway across the globe.
Some members of the royal fam had some parts to play throughout the ceremony … like Prince William, who pledged allegiance once Charles was crowned. 9-year-old Prince George had some big responsibilities, too — taking on the role of one of the Kings' 4 Pages.
Superfans even camped out ahead of yesterday's festivities, rocking some pretty awesome garbs in support of the big day. While there are certainly a lot of Brits out in support of their King this weekend — one person who is noticeably absent is Prince Harry … who made a very brief appearance during Saturday's coronation ceremony, only to bounce soon after.
Like we reported … the dude was relegated to the cheap seats, and didn't have any major role in it whatsoever. He didn't even get to wear his military uniform, despite having served for Britain. Instead, he was in and out … showing face, and skedaddling almost as quickly as he came. Reports say Harry wanted to make it back to L.A. to celebrate his kid's birthday.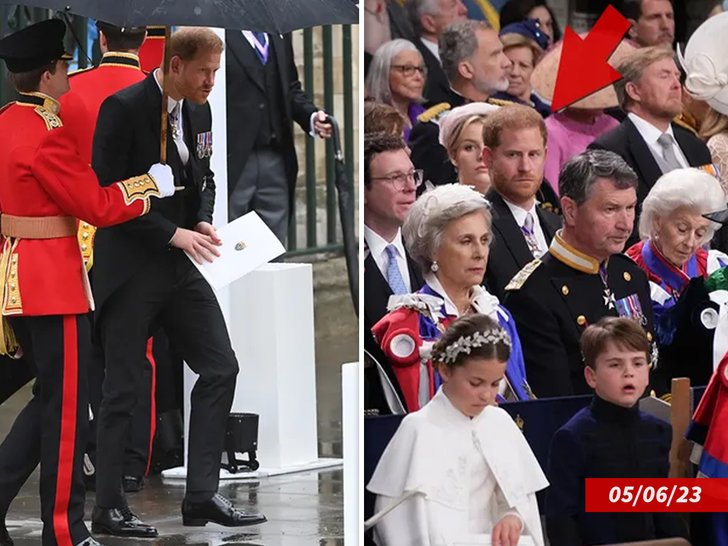 No matter … the show must go on regardless, and the performers are about to hit the stage.
Buckle up, we're sure to be guaranteed a solid few hours of music!
Originally Published — 11:51 AM PT