Korean Embassy in Uganda launches KPop Talent contest.
The Embassy of the Republic of Korea in Uganda is organizing the 2021 K-POP World Festival in Uganda. The festival will include an online K-POP singing or dancing contest open to both individuals and groups. The contest has been happening in several countries and has finally reached the matooke land.
Applicants have been gavin guidelines to follow including filling the application form at via https://bit.ly/39MEPwa.
They are then required to upload your K-POP video on their social media accounts with #2021KPOPUG and #KPOPCONTEST tagging the Embassy social media.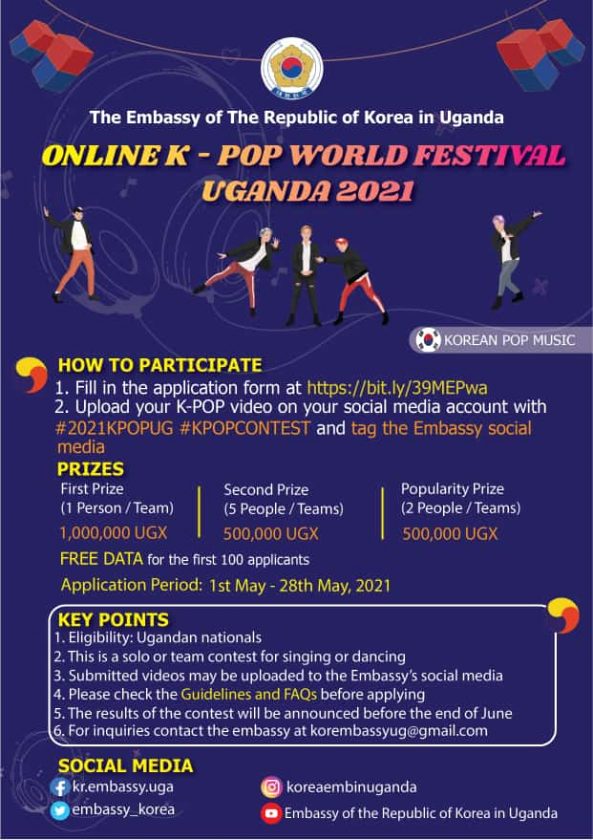 Organisers from the Republic of Korea will reward the first person/team with One million Ugandan shillings, the next five people/teams will win themselves five hundred thousand shillings and there will be a popularity prize for two people/teams will be still five hundred thousand shillings.
Commencement was 1st May and the Deadline for registration has been set for the 28th May, 2021.
Korea pop music's purpose is to lift up young generation with their talents  so that they can turn out useful to the .
Lip syncing has however been disqualified unless if except if done with dancing.
K-Pop stands for Korean Pop Music including all genres sung in Korean. The most famous K-Pop group is the dynamite hit-maker band BTS which is believed to be among those with most fans from all over the world.
Other K-Pop artists include; Gangnam Style hit-maker, PSY, 2NE1, Super Junior, BigBang, SNSD (Girls' Generation), BoA or HyunA.