Margot Robbie Only One on Pink Theme for 'Barbie' Press Shoot
Artistes
Artistes

Margot Robbie
Only 1 On Theme for 'Barbie' Press …
Everyone Else Missed Memo
6/25/2023 2:18 PM PT

Margot Robbie is about to play Barbie on the big screen — and in the lead-up to that, she's also the only one who apparently knows there's a theme to this … color-wise, we mean.
The actress showed up to a press shoot Sunday in Beverly Hills with a bunch of her costars from the flick — including Ryan Gosling, who's playing Ken. They all got together to pose for shots and to talk to journalists … but MR stood out like a sore thumb, in a good way.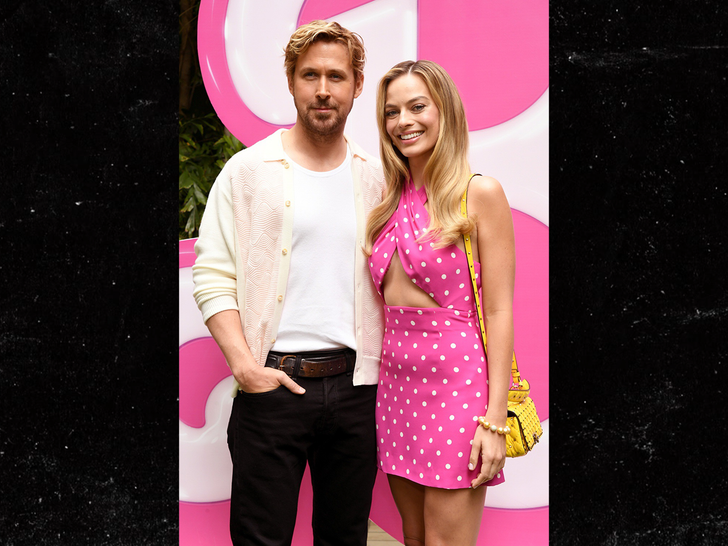 Take a gander … she's quite literally the sole person rocking pink, and the juxtaposition is jarring. Everyone else is in brown/beige/grey — as if they were there to promote "Dune 2" and not THE "Barbie" movie … which is all about girly-girl vibes and vibrant shades/tones.
As we said, Margot did her job and served as a good soldier for the promo … as she has been for the past several months now. She certainly knows how to telegraph Barbie.
A lot of people say she was born for this role … and by the way she's oozing Barbie-core of late, that's probably accurate. Plus, this flick stands to be a big bounce-back for her in terms of projected box office numbers … it's one of the most highly-anticipated films of the year.
In light of a couple of flops she was a part of last year, Margot could use a big opening weekend — and considering all the fanfare and chatter online … it's definitely got a chance.
Of course, she and the rest of the "Barbie" crew will have stiff competition that weekend … Christopher Nolan's new blockbuster, "Oppenheimer," is coming out the same day — and it too has a very starry cast, albeit a completely different tone.
Time will tell who snags more eyeballs. All we know is … Margot's doing her part and then some.