Netflix'sYuYu Hakusho is Here to Bring Some Spirit to Your Holidays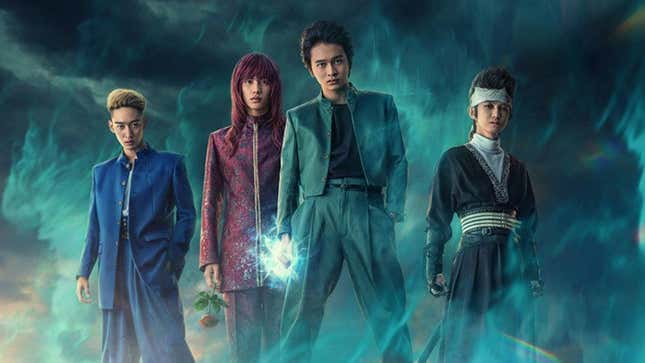 The 1992 anime adaptation of Yoshihiro Togashi's YuYu Hakusho is one of those series that hit at just the right time for a generation of animation fans, not unlike Dragonball Z. At a time of live-action adaptations of popular animated material, it wasn't entirely unexpected to hear the series would be getting one of its own courtesy of Netflix. Nearly a full month ahead of its release, Netflix has released a first look at the upcoming show, which hits on December 14.
The live-action series stars Takumi Kitamura as Yusuke Urameshi, a teenage delinquent who tends to get into fights, particularly with his rival Kazuma Kuwabara (Shuhei Uesugi). Despite how much of a jerk he is and how disliked he is amongst his peers, Yusuke shows a surprising amount of heroism by saving a kid from being hit by a car at the cost of his own life. But instead of passing on to the next world, he meets a woman named Botan who offers him the job of being a Spirit Detective for supernatural and apparition-involved cases. Pretty soon, Yusuke and his friends—Kuwabara, fox demon Kurama (Jun Shishon), and swordsman Hiei (Kanata Hongō)—are going up against demons and humans that want control of Heaven, Earth, and Hell.
Netflix Passwords, ChatGPT Can't Detect AI, and No More CoTweets | Editor Picks
Unlike Netflix's recent live-action adaptations for One Piece and Cowboy Bebop, this new version of YuYu Hakusho hails from Japanese production company Robot Communications, which is also behind the recently released Godzilla Minus One. It makes for a sizable difference since Japan tends to do live-action versions of popular anime like Fullmetal Alchemist and Alice in Borderland. That a Japanese company is behind this may provide some extra comfort or concern, depending on one's estimation of those other adaptations.
Netflix has earned some benefit of the doubt thanks to One Piece, but it's just as likely this YuYu Hakusho doesn't have the juice of its animated original. We'll know more when the show hits Netflix on December 14.
---
Want more io9 news? Check out when to expect the latest Marvel, Star Wars, and Star Trek releases, what's next for the DC Universe on film and TV, and everything you need to know about the future of Doctor Who.