D-Day arrives for Conor McGregor


live
All eyes are on Conor McGregor today as he aims to bounce back from a crushing defeat the last time he visited the Octagon.

Alcott's love letter after Wimbledon triumph



Dylan Alcott is two wins away from a 'golden slam' after winning his second Wimbledon quad wheelchair title.

Final Aussie troops pull out of Afghanistan



The war in Afghanistan is officially over, with the final Australian troops pulling out of the brutal war zone after nearly 20 years of combat.

How to watch McGregor vs Poirier



After a feisty build-up, Conor McGregor and Dustin Poirier will face off in their much-anticipated trilogy fight at UFC 264 in Las Vegas.

Ash Barty image hid a terrible lie



The sight of Ash Barty playing in front of a packed mask-free crowd at Wimbledon exposed a lie that's been told to Australia.

New royal feud erupts after Charles move



Prince Charles has kicked off a whole new royal family feud after a petty move reportedly against his younger brother.

What Ash said to Kate, Prince William



Ash Barty shared a special moment with the Duke and Duchess of Cambridge, and she didn't agree with everything Prince William said.

Horror way wife killed husband



A wife murdered her husband with boiling water and sugar after she heard allegations he had sexually abused her son and daughter.

Bad dog? Research suggests superbug link to man's best friend


New research could point to raw dog food as a source of antibiotic-resistant bacteria

Hidden message in Queen's letter can't be real



Some fans suggested even the Queen thinks "it's coming home" when England plays Italy tomorrow, but this sign is surely too much.

Big step forward in Britney's battle



Britney Spears is "seeking a new lawyer" to fire dad Jamie after he was accused of using her money in her conservatorship battle.

Harsher lockdown only option to save NSW



An expert has warned there's only one "real option" left to save Sydney – and it involves a raft of extremely harsh new restrictions.

Backstage clip reveals McGregor blow-up



Conor McGregor keeps sledging Dustin Poirier's wife and cameras captured his backstage run-in with another UFC foe.

Aussie's $4.8m idea to 'change the world'



A Gold Coast woman set out to tackle a "devastating" problem and pet loving Australians are also being rewarded.

'I'm not telling them until they're done'



A shocked family recorded the hilarious moment a group of builders turn up and re-landscape the wrong yard in a viral TikTok video.

Govt rejects $145m Simmons 'threat'



Basketball great Andrew Bogut has aired bombshell allegations against the Victorian Government over Ben Simmons and a $145m "threat".

Marvel hints at future in crucial scene



Post-credits teasers are a Marvel tradition and the latest one has a big clue about what's coming next. SPOILER WARNING.

Mike Larkan's property journey



The long-time weatherman has taken on a new career — and has a bright forecast in mind for his dream pad.

Unprecedented regional real estate boom



Victoria's official real estate report card for 2020 has revealed one of the state's biggest year's for property deals on record — with Geelong's total real estate sales value almost topping Melbourne's.

US city removes flashpoint statues including Confederate generals


A statue of Meriwether Lewis, William Clark and Sacagawea is removed from Charlottesville, Virginia on July 10, 2021

Baby killed by family dog



A five-week old has been killed after being mauled by his family dog while the parents were inside the home on the NSW central coast.

Abiy hails 'historic' Ethiopia election after landslide win


The elections took place on June 21 after being delayed twice

What are the Tokyo Olympics mascots?



Among all the athletes heading to the Olympics there'll be two new, distinct faces that will stand out pretty clearly in Tokyo.

Star's horror: 'Thought I would be dead'



Jennifer Coolidge was suffering crippling anxiety before accepting her latest TV role, revealing she "didn't think any of us were going to survive".

Real deal with Barty's Wimbledon dress



There's a really cool meaning behind the eye-catching outfit Ash Barty has donned throughout her Wimbledon campaign en route to the final.

Who will lead Haiti after president's killing?


The UN once had a strong peacekeeping contingent in Haiti but no longer, after multiple scandals

'Sit down': Fans filthy at Tom Cruise



The Hollywood star was in the house for Ash Barty's Wimbledon triumph and he couldn't stay out of the spotlight.

Model's regret over 'silly' night out mistake



For years Olivia Molly Rogers would wake up on weekends with a feeling of dread so intense it would "scare" her – until she discovered the confronting cause.

Dark new reality of Gossip Girl reboot



It's the much-anticipated TV reboot that has everyone talking. And the new Gossip Girl is tackling serious issues never explored in the original.

Ballistic new SUV headed to Australia



This European brand is preparing to launch in Australia and this sporty SUV is going to spearhead its charge onto Aussie roads.

Ranked: Conor McGregor's most savage moments



Conor McGregor's career is littered with bloody KOs, flying steel dollys and various other forms of savagery. As he prepares for his latest return to the octagon, here are his 12 greatest.

Barty's adorable moment with boyfriend



Tennis fans melted not once but twice as Ash Barty buried her head in the arms of her boyfriend after winning Wimbledon.

G20 endorses historic global tax reform


In Venice, G20 finance ministers are expected to reach agreement on a historic deal to tax multinational companies more fairly

Afghanistan to rush troops to border as Taliban extend gains


Afghan militia gather with their weapons to support Afghanistan security forces against the Taliban

Wounded wife of assassinated Haitian leader speaks out


Haitian First Lady Martine Moise — seen with her husband, President Jovenel Moise, in 2018 — has made her first comments since her husband's assassination

Barty wins first Wimbledon title on Cawley anniversary


Karolina Pliskova wept after receiving her Wimbledon singles runners-up trophy the defeat hurting so much she shed what she claimed were rare tears

Barty wins first Wimbledon title on Cawley anniversary


Winning moment: Ashleigh Barty celebrates her victory

'Doesn't cut it': New vaccine ad slammed


live
A government-funded ad campaign has been blasted by the opposition saying if this is the best we can do, the ad-makers need to go back to the drawing board.

Kate's court chat with victorious Barty


A beaming Duchess of Cambridge, fresh from covid iso, presented Ash Barty with her gong after she triumphed at Wimbledon.

Tactic sees seller make $800k in six months



A North Ryde homeowner has made an extra $800,000 and set a suburb record with the sale of their brand new luxury residence all because of one piece of advice they were given.

England and Italy count down to Euro 2020 final


England manager Gareth Southgate (left) will face off against Italy coach Roberto Mancini at the Euro 2020 final

St Kilda pulls off stunning AFL upset



St Kilda pulled off a huge upset on Saturday evening, becoming just the second team to defeat the Lions in Queensland this season.

Folau heckled on rugby league return



Controversial code-hopper Israel Folau received a frosty reception when he made his long-awaited return to rugby league on the Gold Coast.

NRL reject finds new home



The transfer saga of Matt Dufty finally appears to have reached a conclusion, with one side securing the flyer's signature on a one-year deal.

674-day wait over for NRL's unluckiest star



Billy Smith has had to wait a long while for his third NRL game, so he wasted little time getting his name on the scoring sheet on Saturday.

Heartwarming pic sends social media crazy



Australia's two grand slam hopes enjoyed a moment together before their respective Wimbledon finals, as the anticipation continues to mount.

Kyrgios' chemistry 'off the charts'



Nick Kyrgios quickly became a fan favourite among the London locals for his wildly entertaining gameplay and charming persona.

Coach pleads with AFL for huge change



Chris Scott had a message for the AFL after Geelong's comfortable win over Carlton at the MCG on Saturday afternoon.

Victoria may slam shut NSW border without warning



Victorians in NSW have been urged to come home immediately as the Covid outbreak remains "extremely volatile", while authorities warn the border could slam shut any time.

Origin III relocated again amid Covid drama



The NRL has backflipped on its decision to move Origin III to Newcastle, instead announcing another city would host the series' third game.

Ash's pre-final prep the most Aussie thing ever


Ash Barty is gearing up for her second grand slam final, but took some time to unwind by doing something that every Aussie loves to do.

Shock $151 winner ends trainer's long runs of outs



De Thorn's extraordinary turnaround after an inglorious debut stunned punters as well as trainer Alex Stra, who broke a seven-year city drought.

Barty reveals secret after Wimbledon win


Ash Barty survived a huge scare to win a rollercoaster of a Wimbledon final – then revealed what her team did to keep her in the tournament.

Rocky start goes to plan for Gai in Cup



Regal Stage delivered Gai Waterhouse a first Rockhampton Cup and jockey Matthew McGillivray is prepared to keep travelling with the tough stayer.

Cannes falls for 'The Worst Person in the World'


Hugely praised: Norwegian actress Renate Reinsve

Pliskova stands between Barty and emulating Cawley's Wimbledon glory


Karolina Pliskova may have less pressure on her than world number one Ashleigh Barty in the Wimbledon women's final as her main goal was simply getting into the second week of the major

Former AFL star proves he's 'still got it'



Hawthorn premiership player Paul Puopolo retired two years ago but proved he's still got it in a match on Saturday afternoon.

Chemist, tip among new exposure sites



A recycling centre, chemist and a butcher shop are among the new high risk venues of concern announced by NSW Health after 50 cases were reported on Saturday.

Why exercise is non-negotiable for Bonnie



Since leaving popular soapie Neighbours to pursue her singing career, Bonnie Anderson says she finally has time to prioritise her daily physical and mental health.

'Embarrassment' sledge does Black Widow a favour



Blade actor Stephen Dorff says Scarlett Johansson's new movie "looks like garbage". But in his desperate grab for publicity, maybe he's done the Marvel film a favour, Duncan Lay writes.

Italy in major Covid scare ahead of Euro final



Italy's hopes in the Euro 2020 final could be dealt a major blow, as three close contacts tested positive for Covid just days away from the match.

Red Can Man bounces back to form at Caulfield



Red Can Man rebounded from an unplaced Melbourne debut to show what he's capable of with a tough win in the Monash Stakes at Caulfield.

Murder charges laid over missing man



Two men have been charged over the disappearance of a Melbourne man as experts prepare to analyse suspected human remains.

Unlikely suspects caught up in Covid chaos


As the NRL scrambles to recover from Jai Arrow's bubble breach, two unlikely suspects are at the centre of their own Covid drama.

Swifts strengthen hold on top spot



The NSW Swifts have underlined their premiership credentials with an ominous win over the Melbourne Vixens on Saturday afternoon.

Coach blows up over refereeing hypocrisy



The Cowboys were in with a chance against the Rabbitohs until a controversial no-call went against them, leaving their coach fuming.

Protest fails as Snowzone staves off Axe



The jockeys of outsider Snowzone and favourite Axe insisted their mount was the rightful winner at Doomben before the matter was settled in the stewards' room.

Real estate royalty sell house in $10m mega deal



One of Brisbane's most prestigious estates has sold a week out from going to auction in a late night deal worth $10 million.

NRL star's heartbreak faces sad new twist



An NRL star could be forced to miss out on attending his brother's funeral, as Sydney's Covid crisis continues to spiral out of control.

Zelda game cartridge sells for 'world record' $870,000 at auction


The "Legend of Zelda" cartridge, dated to 1987, is still in its original packaging

Magpie Mentor joins 200 club



Geva Mentor is the most capped player currently signed to a Super Netball team and now she has another record to her name.

Bandersnatch's form temptation to keep going



After pulling off the Civic Stakes and Winter Stakes double, Bandersnatch is making a compelling case for Team Hawkes to attempt a unique treble.

Elon Musk in fresh bitcoin sledge


Tesla billionaire Elon Musk has thrown his weight behind the meme cryptocurrency dogecoin at the expense of bitcoin and ethereum.

Coach lost for words as team hits all-time low



The Crows were held to their lowest score in club history against Essendon on Friday night, leaving coach Matthew Nicks lost for words.

Three words that define new Marvel movie



Marvel movies are better known for high-flying adventures and gargantuan battles. Black Widow's director had other ideas.

Quaint Newtown cottage beats hopes by $385K



A chance to score the "cheapest property" in a Newtown street fronting the Barwon River sparked a fierce battle among buyers seeking a dream home site.

Lightning bounce back in style


Sunshine Coast Lightning have underlined their premiership credentials by edging out the West Coast Fever in Perth on Saturday.

Spain's Catalonia reimposes virus rules as Delta strain wreaks global havoc


Cuba approved its home-grown Abdala vaccine for emergency use, the first Latin American coronavirus jab to do so

'Happy to get involved': Aussies' historic act



For the first time, the Australian men's cricket side has taken a knee in solidarity with the Black Lives Matter movement.

Aussie's scintillating run creates history


A Tokyo-bound Aussie has created history by breaking his own record in the 1500m, cementing himself in national athletic folklore.

Drugs in mail leads to $40K find


A tip-off about a suspicious mail package has led police to uncover thousands of dollars worth of drugs and a large wad of cash.

Sydney faces tougher lockdown rules



More restrictions have been placed on NSW as health authorities lock the regions out of greater Sydney. This comes as additional infectious venues —including two major shopping centres — were released after 50 new cases were recorded overnight.

Grafton tips: Bugalugs record warrants more respect



Bugalugs has four wins at Grafton and has never miss a placed, but is rated a double-figure chance in the feature Maclean Cup.

61 Qantas passengers told to isolate



More than 60 Qantas passengers have been told to isolate out of caution after a Covid case emerged.

Guineas barrier redraw goes against unbeaten filly



Palaisipan's bid to remain unbeaten was made harder after the barrier draw was conducted again for the postponed Winx Guineas.

Corio auction market hots up with big sale



A modern makeover helped vendors score a $90,000 bonus as first-home buyers drove competition in Geelong's north.

Victoria hints at hard border with NSW


Victorian officials have hinted at a hard border with all of NSW and delivered a blunt message to any residents who have not yet returned home.

Sydney woman in ACT Covid breach



A Sydney woman has flown interstate allegedly in breach of Covid rules, then had guests at the hotel authorities ordered her to stay at.

'You always feel the losses and the hurt'



Dante Exum is a proven star when fit, so his inclusion in the Boomers' Tokyo Olympic team is a major boost for Australia.

'Horrible': Aussies implode in all-time choke



The Australian men's side has lost the unlosable, suffering an inexplicable batting collapse and gifting the West Indies victory.

Company busted over Photoshop fail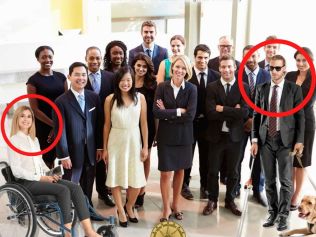 A US intelligence agency has been slammed for a blatant Photoshop job to include disabled people on its diversity report.

China antitrust regulator blocks Tencent gaming site merger


Plans for the merger of China's two largest video game live-streaming sites were initially announced by Tencent last October

Girl dies from home eyebrow piercing



A 15-year-old schoolgirl has tragically died from an infection caused by an eyebrows piercing she attempted to do from home.

Portelli believes Command has talent to Reign



Gary Portelli has likened Sky Command to his former Group 1-winning filly She Will Reign after another all-the-way victory.

Dellavedova's high praise for NBL



Matthew Dellavedova has done his research and he is 'excited' about joining Melbourne United on a three-year deal.

Glass ceiling well and truly shattered by 'low-key Jamie'



Jamie Kah shuns the limelight but her riding has made plenty of noise on her way to a century of wins, which will rank among the finest achievements by women in Australian racing.

Bikie boss charged with Bowden murder


Eight months after the Mongol-turned-Fink was gunned down, police have charged a man with murder, warning more charges will come.

Huge decision for Meghan, Harry's family



Meghan Markle and Prince Harry have won an award for making the "enlightened decision" to only have two children.