Qualcomm's Snapdragon 7 Gen 3 Doubles Down on AI for Android's Mid-Range Devices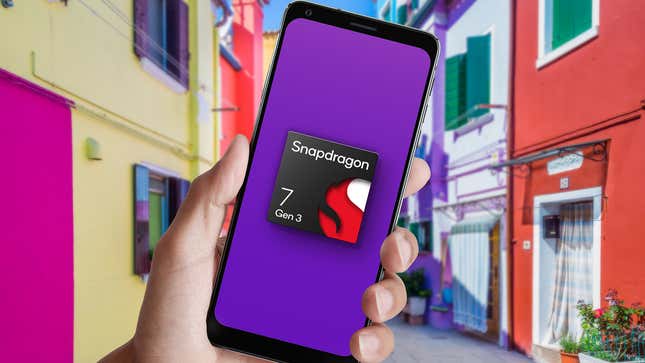 AI is the name of the game for this year's chips, particularly for Qualcomm's mobile processors. The chipmaker has announced the Snapdragon 7 Gen 3 processor for mid-range Android devices with promises of improved AI performance.
Should You Flip Out for This Samsung Phone? | Gizmodo Review
Keeping in line with its predecessors, the Snapdragon 7 Gen 3 is built on a 4nm process. It offers four dedicated performance cores with up to 2.63GHz clock speeds. Qualcomm says it has 15% improved CPU performance over the Snapdragon 7 Gen 1 and over 50% improved GPU performance for gaming and video editing. General power efficiency is also getting a 20% boost. Qualcomm claims that phones with this chip will have half an hour more of social media scrolling time while on the last leg of a battery and an extra hour of video streaming on the train ride home.
Artificial intelligence is a part of the 7 Gen 3's selling points. Things like the Qualcomm Sensing Hub, which houses the phone's ability to listen for your command or sense you nearby, have increased sensitivity and understanding of the device's surroundings. Phones with this chip will also access better camera algorithms, enabling better autofocus and color control. It could help improve the nighttime performance of videos.
Honor and Vivo will be the first manufacturers overseas to ship devices with the Snapdragon 7 Gen 3. Motorola is one of the few phone makers selling phones in the U.S. with Qualcomm's mid-range chips, as Samsung has migrated to using Exynos chips in its budget Galaxy releases.
This is the second update to Qualcomm's portfolio in the last two months. In October, the company revealed the Snapdragon 8 Gen 3 for flagship Android devices. We'll likely see phones with that chip debut sooner than this mid-range one. Qualcomm also focused on the AI performance of the 8 Gen 3, promising 40% faster processing and improved generative AI capabilities. The Snapdragon 7 Gen 3 seems primarily focused on overall budget performance and utilizing AI to enhance the baseline.