Spain talking a big game, backing it up with run to World Cup semifinals
No team is playing a bigger game at the Women's World Cup than Spain, all flashy speed and inspired thought and innovative purpose.
And no one is talking a bigger game, either.
Led by the midfield brilliance of Aitana Bonmati but supercharged in the quarterfinal by the nice-to-meet-you superstar breakout of teenager Salma Paralluelo, La Roja is a pure footballing force, built around technical templates of greater depth and intricacy than any other squad.
But the Spanish players also, in their own way, are emerging as the World Cup's loudest talkers too, toeing the very fine line that exists between confident projection and speaking smack. For now, heading into a semifinal against Sweden on Tuesday (coverage begins at 3 a.m. ET, with kickoff at 4 a.m. on FOX and the FOX Sports app), they're staying just on the right side of it.
Such things often start at the top, and so it is with the European side that came into the event as world No. 6 but was widely seen as a major threat. There is no brasher statement in sports than the simple line: "We are going to win," and those were the precise words of Luis Rubiales, president of Spain's national soccer federation, before his team's clash with the Netherlands on Friday.
The players, and coach Jorge Vilda to a lesser extent, are following suit.
"I don't think we have to stop the euphoria," forward Athenea del Castillo told reporters, when questioned about the exuberant celebrations in Wellington, New Zealand. "We have made history, and we want to keep doing it."
Alexi reacts to Spain's thrilling victory over the Netherlands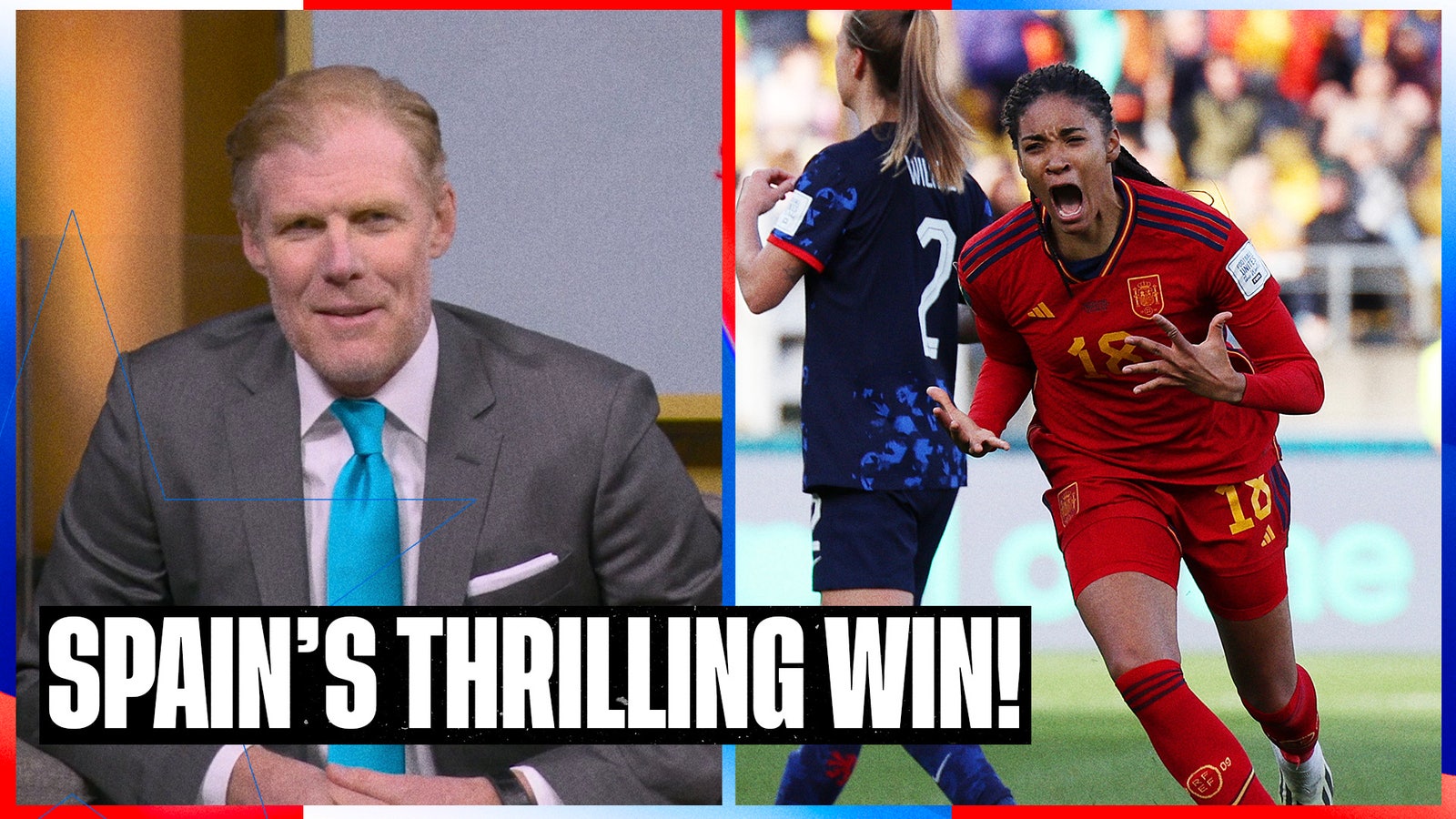 The belief has been unshakable from the start, and lingered even after a 4-0 thumping by Japan in the group stage, which is now heading home after it lost to Sweden in the quarters.
"We knew we could do great things," defender Olga Carmona said. "We are in the process of putting it into place."
Spain's public and press are jumping on the bandwagon. To the rest of the world, Spain is looking mightily strong but still has plenty of work to do to win it all after beating the Dutch.
In Spain itself, you could be forgiven for thinking the trophy was already secured, locked and loaded into the cargo hold of the return flight home.
The win over the Netherlands came in the game of the tournament, a see-saw battle in which Spain took a late lead after dominating throughout, coughed it up with an equalizer in stoppage time, then scored the winner in extra time against the run of play.
Salma Paralluelo's game-winning goal from every angle
Paralluelo was anointed as an instant icon in her homeland on the back of the goal, the media showing no reservation in anointing her as a bona-fide star.
"Salma with a cape," Jordi Quixano wrote in "El Pais," jokingly insisting Paralluelo must be blessed with superhero powers.
Spain had never before reached the last eight of a World Cup on the women's side but is very much at the beating heart of the game's evolution. Barcelona, boasting Bonmati, Alexia Putellas and Paralluelo, plays the most technically advanced women's soccer in the world.
So, what's with the big talking? Spain is getting away with what it is saying, in part, because none of it is directed at the opponent and most of it is through the spoken word.
While the USA's rivals — rightly or wrongly — drew inspiration from what was perceived as swagger (dancing, celebrating, selfies and sunglasses), Spain goes strong on the muscular poetry but is otherwise relatively understated.
"World Cup NOW" crew reacts to Spain reaching the semis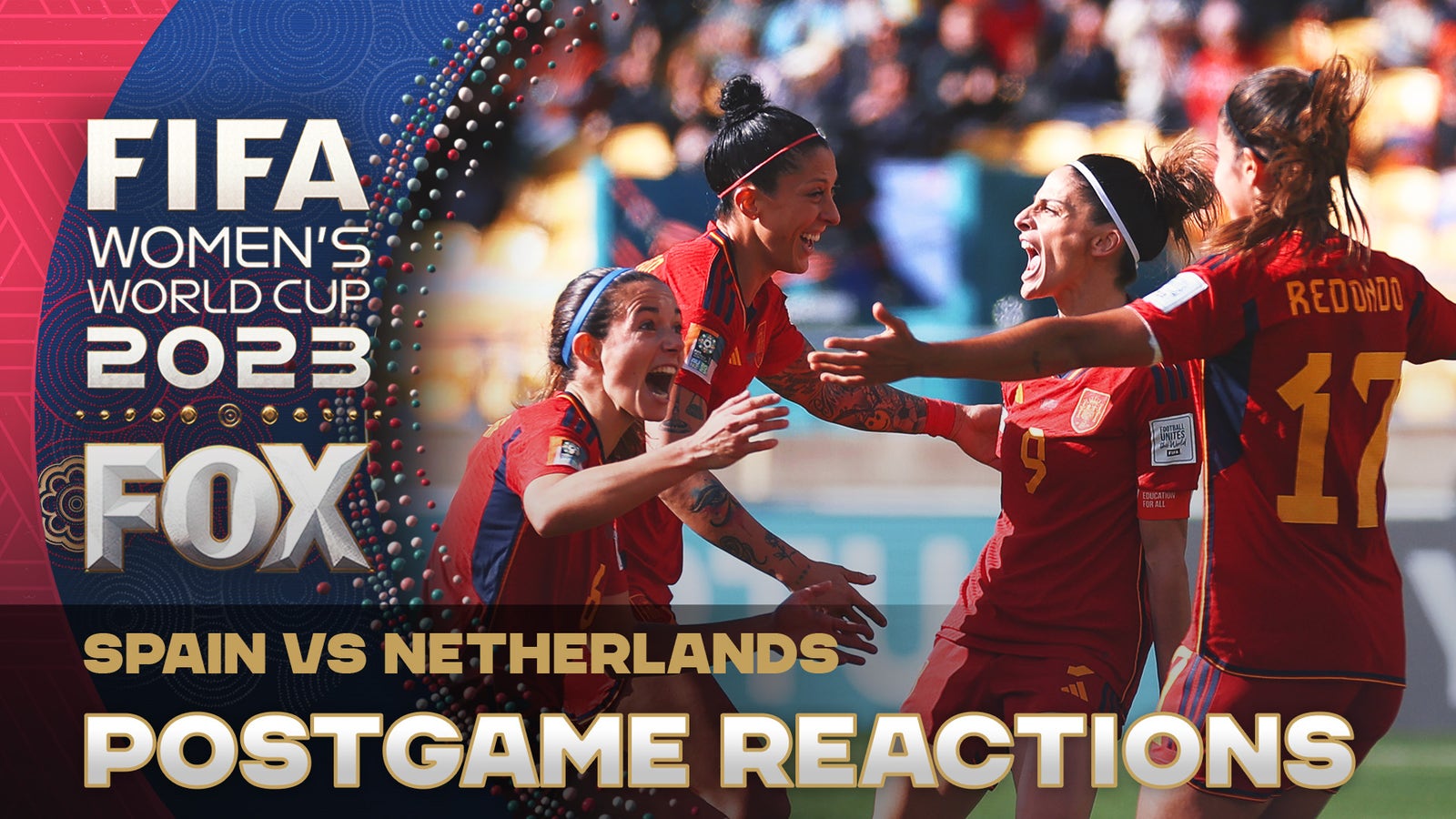 A World Cup has a sneaky way of cutting you down to size if things aren't handled well. Just a day after Dutch forward Lineth Beerensteyn gleefully said she was glad the Americans had been eliminated because they had "big mouths," her team was sent packing and Beerensteyn herself missed several clear chances to put Spain away.
[Sydney Leroux claps back at Dutch star who trolled USWNT over early World Cup exit]
It's not all cockiness for Spain, and there were tears aplenty after the Netherlands win and its thrilling conclusion. Spain might be steadfast in its confidence that it's headed for World Cup glory, but that doesn't stop it from embracing the emotion of success when it comes.
"We have left our hearts and souls on the field," defender Ivana Andres said. "And our claws."
Spain plays the beautiful game the way many would say it is supposed to be played, but it has a sharp edge too.
Watch, and you'll see it. Listen, and you'll most certainly hear it.
Martin Rogers is a columnist for FOX Sports and the author of the FOX Sports Insider newsletter. Follow him on Twitter @MRogersFOX and subscribe to the daily newsletter.
FOLLOW Follow your favorites to personalize your FOX Sports experience
Spain
Aitana Bonmati Conca
FIFA Women's World Cup
---
FIFA WORLD CUP WOMEN trending
---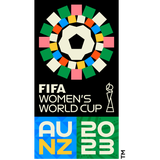 Get more from FIFA Women's World Cup Follow your favorites to get information about games, news and more
---