Sweden vs. United States live updates: Women's World Cup 2023 top plays
The 2023 FIFA Women's World Cup continues Sunday with the United States taking on longtime foe Sweden in the round of 16 at Melbourne Rectangular Stadium in Australia.
Coach Vlatko Andonovski made a couple of lineup changes — and some tactical tweaks as well — which helped the USA dominate possession in the first half, 62%-38%.
The second half settled into a physical back-and-forth affair, with neither team able to score in the second 45 minutes, nor in extra time. And so the game has moved on to penalty kicks.
The winner of this match will face red-hot Japan in Friday's quarterfinal (3:30 a.m. ET on FOX and the FOX Sports app).
Check out our live coverage below, featuring live analysis from FOX Sports' Michael Cohen!
Sweden vs. United States
PENALTY KICKS
Round 1: Both score
Andi Sullivan goes for power and pace and blasts a shot into the lower-left hand corner. Zecira Musovic guessed correctly but still had no chance to get there.
Fridolina Rolfo goes first for Sweden and curls a left-footed shot into the side netting. Beautiful placement.
Round 2: Both score
Lindsey Horan with a stutter-step run up and a calm, driven shot into the left side netting for the U.S.
Elin Rubenssen answers with a rifled shot into the left side netting.
Round 3: U.S. scores, Sweden misses
Kristie Mewis, the last-minute substitute, sends the goalkeeper the wrong way and scores. Big moment for a player who was hardly on the pitch.
Sweden blinks first. Nathalie Bjorn skies her penalty over the crossbar. Huge moment for the U.S.
Round 4: Both miss
Megan Rapinoe responds in kind and misses her penalty over the crossbar. She opened her hips and leaned back a bit too far. Sweden has life.
Rebecka Blomqvist has her right-footed shot blocked by a diving Alyssa Naeher. The shot wasn't far enough in the corner, and Naeher guessed correctly.
Round 5: U.S. misses, Sweden scores
Sophia Smith slashes her effort wide right. Wasn't terribly close. A big moment for the youngster goes awry.
Hanna Bennison calmly powers one into the roof the net, gambling that Alyssa Naeher would dive one way or the other.
Round 6: Both score
GK Alyssa Naeher steps forward for the U.S. and scores high up the middle, just like Bennison before her.
Magdalena Eriksson answers with a beautiful shot into the top corner. Gutsy finish.
Round 7: U.S. misses, Sweden scores
Kelley O'Hara, another late substitute, hits the right post. Another miss. Zecira Musovic guessed the other way.
Sweden has a chance to win it with Lina Hurtig. Alyssa Naeher saves the initial shot but the ball caromed up in the air and may have crossed the line. The referee makes a decision and rules the goal is good. The United States loses. Incredible.
120′ — Kristie Mewis, Kelley O'Hara in near the end of extra time
Last-minute subs from Vlatko Andonovski to get two of his preferred penalty-takers on the field. Kristie Mewis and Kelley O'Hara coming on to replace Emily Sonnett and Emily Fox.
116′ — Alyssa Naeher's turn for another pivotal stop to keep things scoreless
114′ — Going conservative late?
With a few minutes left in the second half of extra time, we've reached a point where teams really start calculating risk-reward in terms of how aggressive they want to be offensively. Pushing players forward in the attack also exposes a team to counters the other way, and some teams would prefer to go to penalties rather than allow a winning goal with just a couple minutes remaining. Secure the fort instead of making a potentially critical mistake.
108′ — Two more saves for Zecira Musovic
USWNT nearly converts on two shot attempts in extra time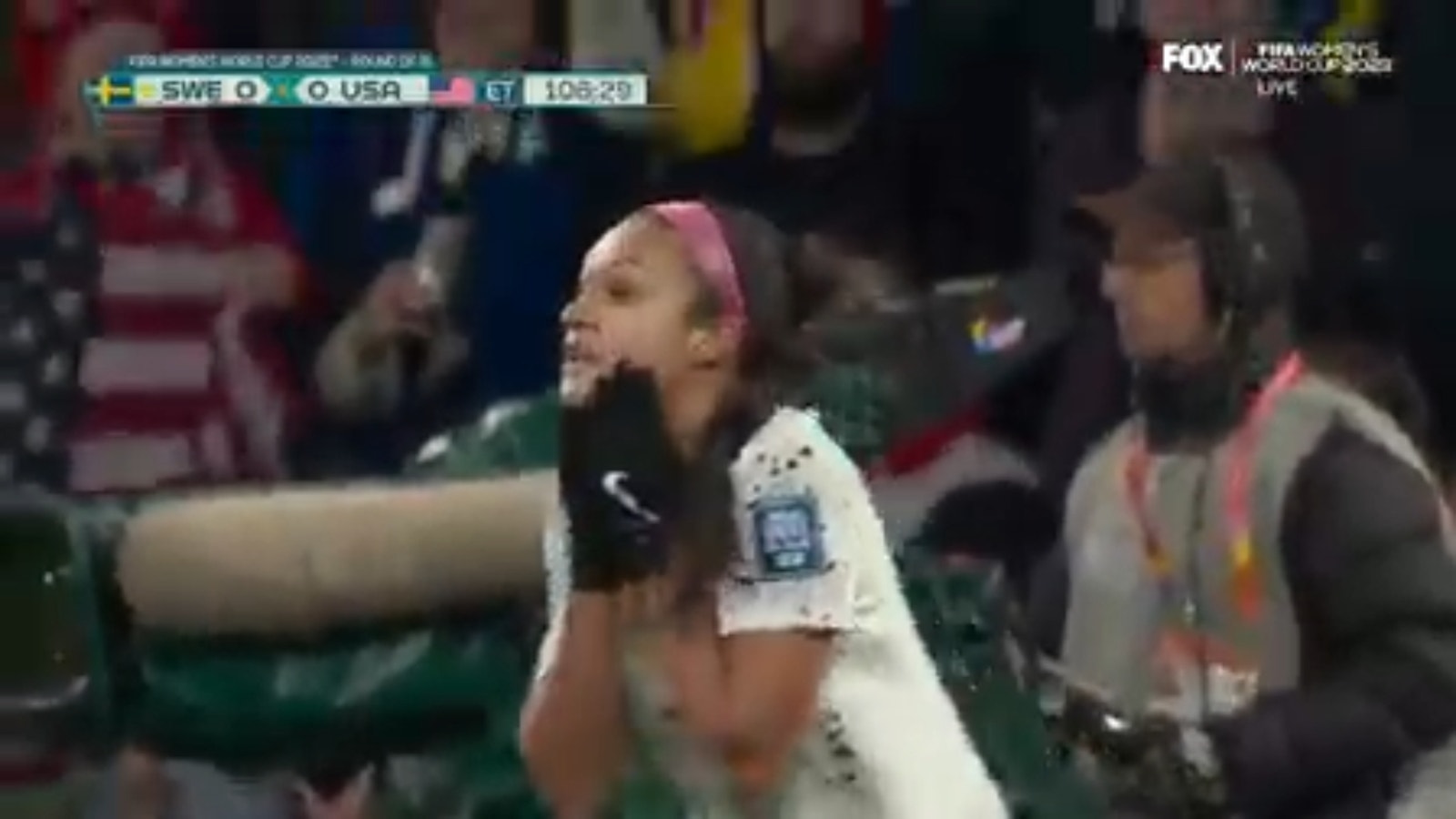 HALFTIME OF EXTRA TIME: Still nothing from either side despite USWNT, Sweden set piece chances
The possession numbers have flipped in what could be a sign of fatigue for the United States. The Swedes kept 61% possession in that first extra session and out-passed the U.S., 68-43. Sweden also had better passing accuracy (78% to 67%) and won more duels (12-7).
Also, what a performance from Sweden GK Zecira Musovic. She entered today's game somewhat untested with just 0.5 goals prevented in the group stage, a number that ranked outside the top 10 for goalkeepers in this tournament. But she's been unreal against the United States with eight saves, two high claims and one punch. Six of her saves came on shots inside the box.
101′ — USWNT STILL can't score with two more big chances
101′ — Shifting formation
Sophia Smith has moved into a central attacking role after Alex Morgan was removed. Megan Rapinoe now playing left wing/left midfield. We've seen this a time or two already in the World Cup. Smith has a little more burst than Morgan does through the middle, but she lacks the physical size and strength for hold-up play.
99′: One USWNT legend on for another
Megan Rapinoe on, Alex Morgan off. Sophia Smith moves to striker.
USWNT's Megan Rapinoe replaces Alex Morgan in extra time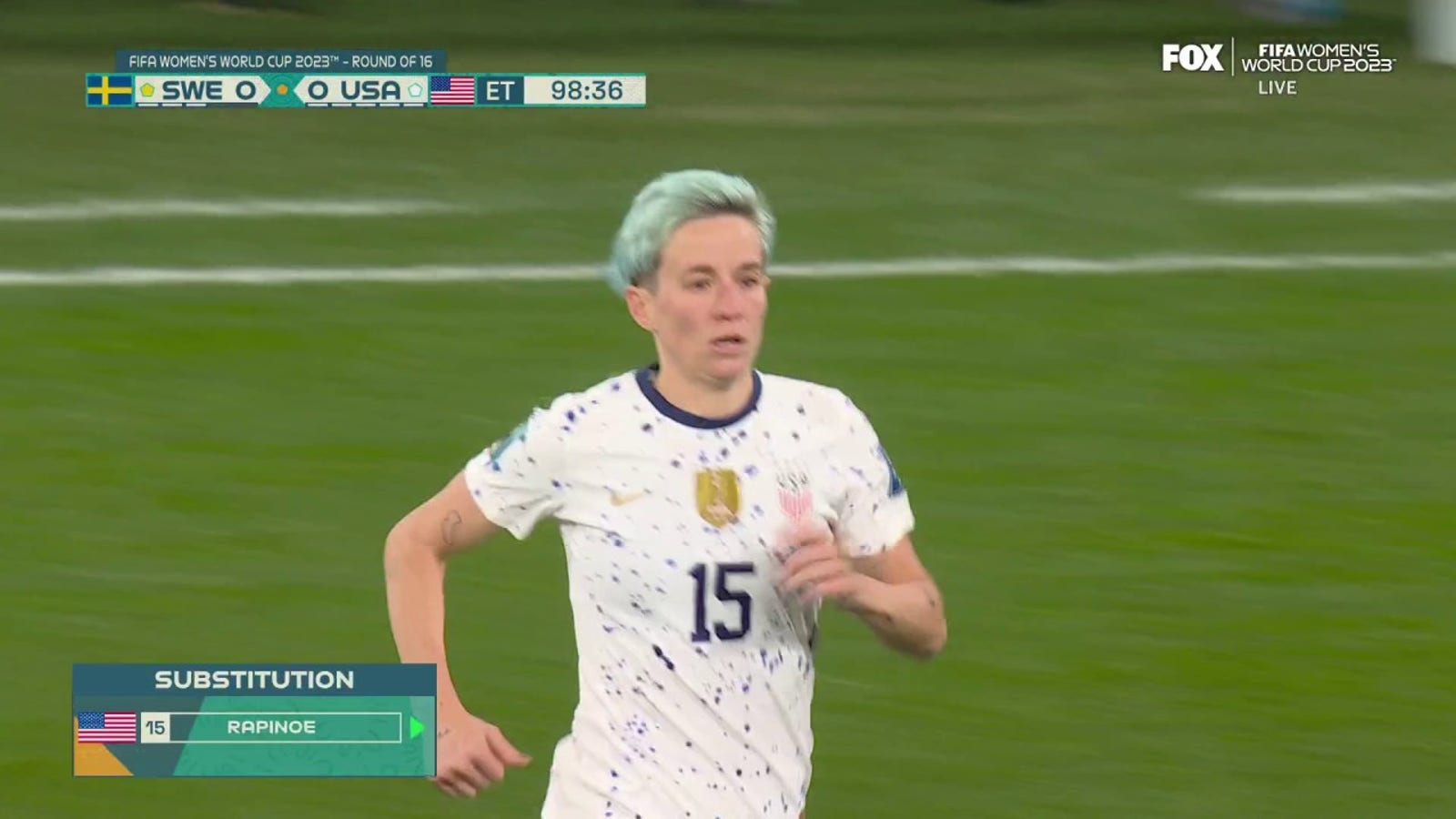 96′ — Another Alex Morgan shot on goal, another MASSIVE Sweden save
95′ — Could fatigue set in?
Good point by Aly Wagner regarding potential fatigue for the United States, which didn't have the benefit of resting key players in the final group stage game. Nine players entered today's game having played at least 240 minutes. Sweden has just two players who have logged at least 240 minutes.
FULL TIME — United States 0, Sweden 0
We move on to 30 guaranteed minutes of extra time. Penalty kicks after that, if necessary. Sweden has to feel pretty good about making it to extra time despite being so thoroughly outplayed. And for the U.S., will the breakthrough ever come? The Americans have a 14-7 edge in total shots, 6-1 edge in shots on goal. They kept 59% of possession in regulation.
All three previous extra-time matches the USWNT has played at the Women's World Cup have gone to penalties.
The big move by Vlatko Andonovski was to introduce CDM Emily Sonnett to the starting lineup. Here's how she fared over 90 minutes: 48/52 passes completed, 5/9 duels won, 2/2 successful dribbles, two interceptions, two tackles, two clearances.
89′ — Alex Morgan header SAVED by Sweden
Williams with another impressive cross, and Zecira Musovic goes full extension to save a header from Morgan to keep the game scoreless.
Sweden's Zecira Musovic makes a spectacular save
Updated look at average player positions to include substitute Lynn Williams (6) at right wing, courtesy of Sofascore. Williams is playing even higher than Trinity Rodman did. Where Rodman was eager to get on the ball and run at defenders, Williams has been more eager to use her speed to chase longer passes into space. Same concept of attacking down the right being accomplished in different ways.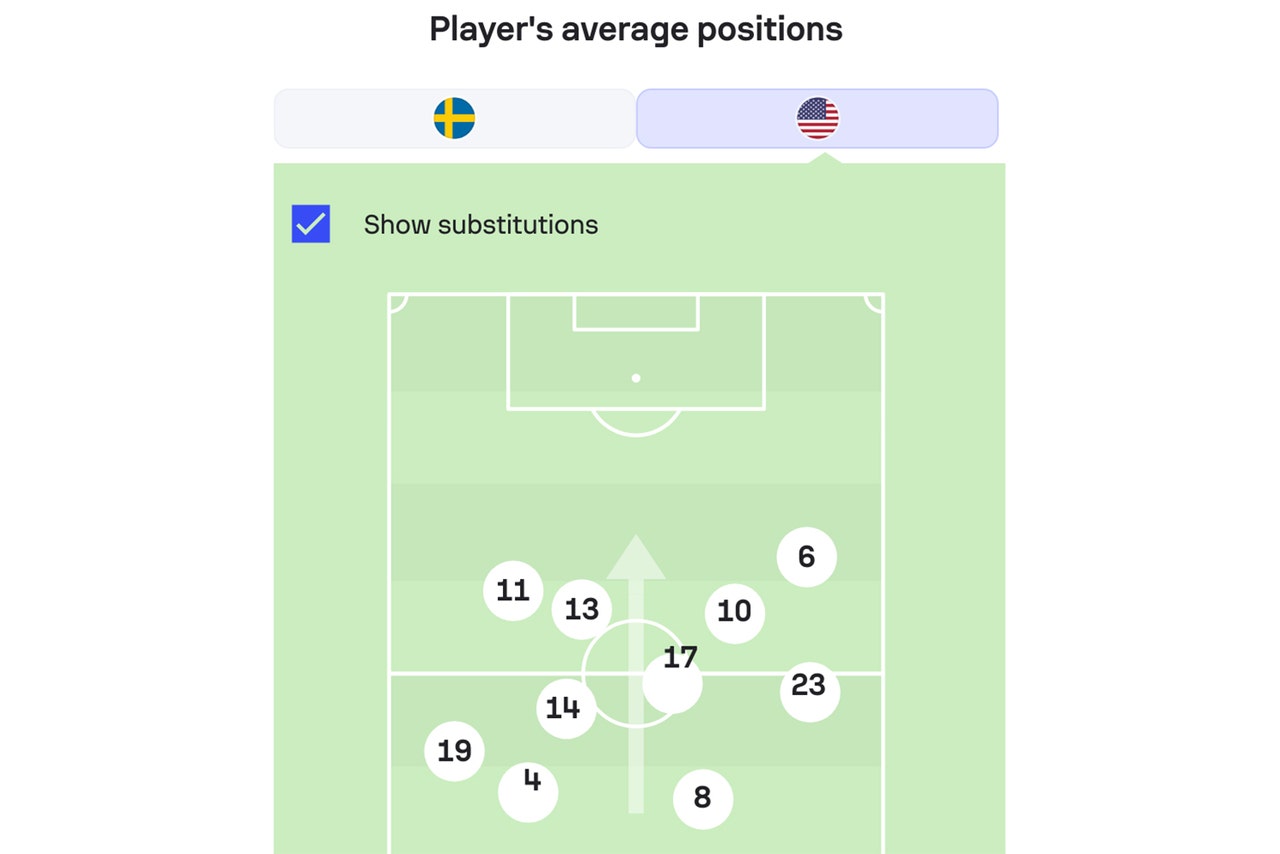 86′ — Fox in control
Pretty wild to see RB Emily Fox with more touches (91) than anyone else on the pitch. The United States had been so left-side dominant in the first three games with LB Crystal Dunn and LW Sophia Smith. Pretty significant shift to now be building down the right side so heavily. Trinity Rodman's strong game was a big part of that.
82′ — Sweden makes two subs
75′ — Pressing the attack
Updated average player positions for the USWNT with 15 minutes remaining, courtesy of Sofascore. Lindsey Horan (10) is pushing so high up the field that it's starting to resemble a strike partnership with Alex Morgan (13) at times. That's how comfortable the U.S. has been in possession.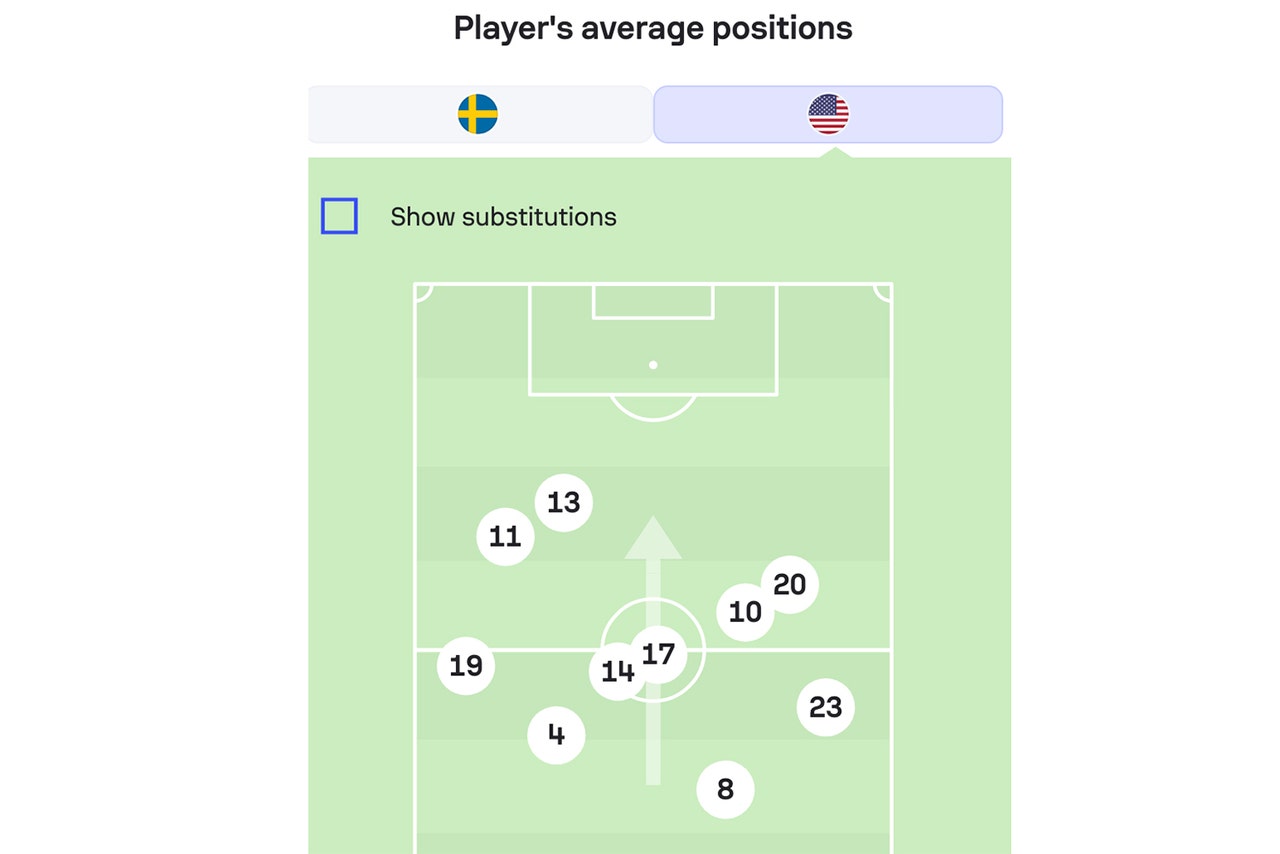 73′ — USWNT knocking on door
71′ — Sudden impact?
It will be interesting to see if Lynn Williams can provide a spark in the final third after replacing Trinity Rodman at right wing. Williams, who started against Portugal, ranks fourth on the team in xG (0.90) despite playing just 83 minutes in the tournament.
67′: HUGE save off Sweden free kick by Alyssa Naeher
66′ — Lynn Williams on for Trinity Rodman as U.S. makes first substitution
Final stats for Trinity Rodman vs. Sweden: 19/25 passes completed, 7/11 duels won, three total shots, two shots on target. Her best performance of the World Cup.
66′ — Three players who have stepped up
Five successful dribbles in seven attempts for Trinity Rodman. Three successful dribbles in six attempts for Sophia Smith. Three successful dribbles in three attempts for Andi Sullivan. The United States hasn't seen numbers like that in quite some time. Three players who were all questioned entering this game, and they've certainly risen to the occasion. But still no goals for the U.S.
57′ — It's truly a 4-2-3-1 for the United States at this point
Sophia Smith, Lindsey Horan and Trinity Rodman are playing in a clear line of three underneath FWD Alex Morgan. The defensive shape is much more compact, the pressing looks much more comfortable. Suddenly, the U.S. has bodies in midfield and passing angles galore. When Smith tucks into the midfield, LB Crystal Dunn pushes forward on the left wing to keep the width. Same on the other side with Rodman and RB Emily Fox.
Here's a look at the heatmaps of RB Emily Fox (top) and LB Crystal Dunn (bottom) as the U.S. attacks from right to left in this graphic. It shows just how advanced their positioning has been in this game, a product of the USWNT's ability to sustain possession for the first time since the opener against Vietnam.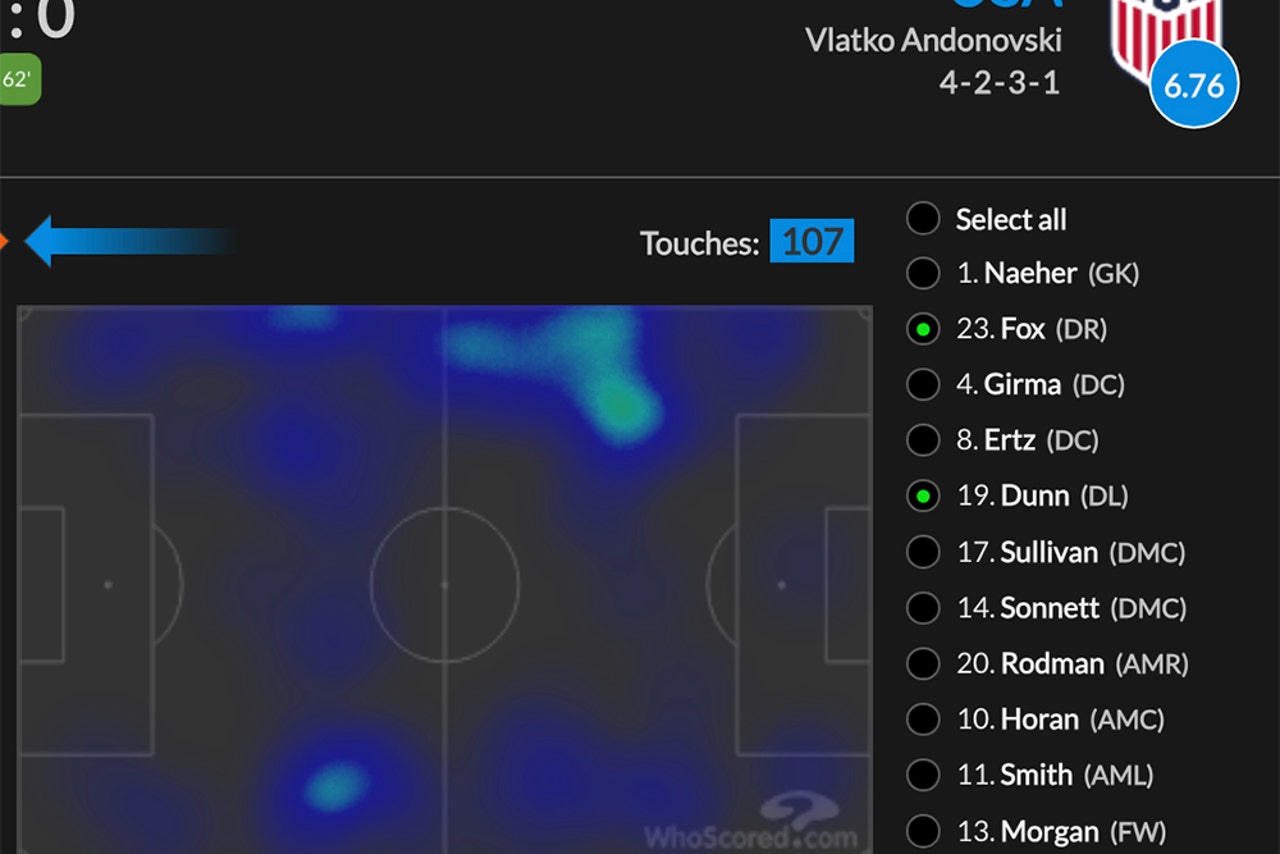 53′ — Lindsey Horan's shot BARELY saved
Sweden goalkeeper Zecira Musovic just gets her hand on a screamer from the USWNT co-captain, keeping this game scoreless.
52′ — Staying the course
No tactical changes from the United States in the first few minutes of the second half, which is to be expected given how well they played in the opening 45 minutes. Sweden appears to be pressing a bit higher than it did in the first half, forcing the United States to truly build from the top of the 18-yard box and then seeing if the Americans can move the ball between the lines.
49′ — Kosovare Asllani booked for hard tackle on Julie Ertz
Halftime thoughts
— Drastic improvement for the United States in passing accuracy and general possession play. Emily Fox, Julie Ertz, Emily Sonnett, Andi Sullivan, Crystal Dunn, Sophia Smith and Trinity Rodman all completed at least 79% of their passes in the first half. Sullivan (20/22, 91%) has been particularly impressive given how little she was involved in buildup sequences during the group stage. The insertion of Sonnett as a second holding midfielder has really opened things up for Sullivan.
— As a result, this is the first time since the opening match that the United States has held the edge in possession at the break … and it's a sizable one. The USWNT maintained 61.9% possession in the first half to establish a rhythm and operate on the front foot. They've completed 259 passes compared to just 154 for Sweden and held their own in duels (25-23 edge for the Swedes) despite having significantly less height on the pitch.
— So much of Sweden's success in this tournament has come from crosses, corner kicks and other dead-ball opportunities. Thus far, the U.S. has done an excellent job shutting down Sweden's supply (only seven crosses allowed) and stopping the Swedes from cashing in on those opportunities (only one successful cross allowed). Goalkeeper Alyssa Naeher has commanded the box on corners and punched away two dangerous opportunities, one of which might have been a direct "Olimpico" goal.
— Quite the statement for manager Vlatko Andonovski thus far. Smart enough to know his job likely hinged on today's result, Andonovski resisted the urge to make drastic formational or personnel changes and stuck to what the U.S. has done since he took over. The 4-3-3 formation was tweaked slightly to add a second holding midfielder, but aside from that he hasn't given his players a ton of new instructions. His trust in youthful wingers Smith and Rodman is paying off, as both players have created excellent chances thus far. Now the Americans just need a goal to show for it.
47′ — Spreading the ball around
In a reflection of how well the U.S. is moving the ball, FWD Alex Morgan is the only outfield player with fewer than 22 touches thus far. Morgan, LW Sophia Smith and LB Crystal Dunn are the only outfield players with fewer than 31 touches. Very balanced, very fluid for the USWNT.
40′ — Girma has been fantastic
Some general praise for Naomi Girma here. So much has been made of youthful USWNT players like Sophia Smith, Trinity Rodman and Rose Lavelle before — and during — this tournament. But Girma, who just turned 23 in June, has been the best of the bunch by a wide margin. She's tied for the most completed passes (28) in today's match and is becoming more and more involved in the buildup play. The U.S. holding a 60-40 edge in possession right now.
Here's a look at Naomi Girma's passing chart, courtesy of Opta Analyst. She's been critical to the left-sided buildup for the United States and is trying the occasional long ball toward Sophia Smith.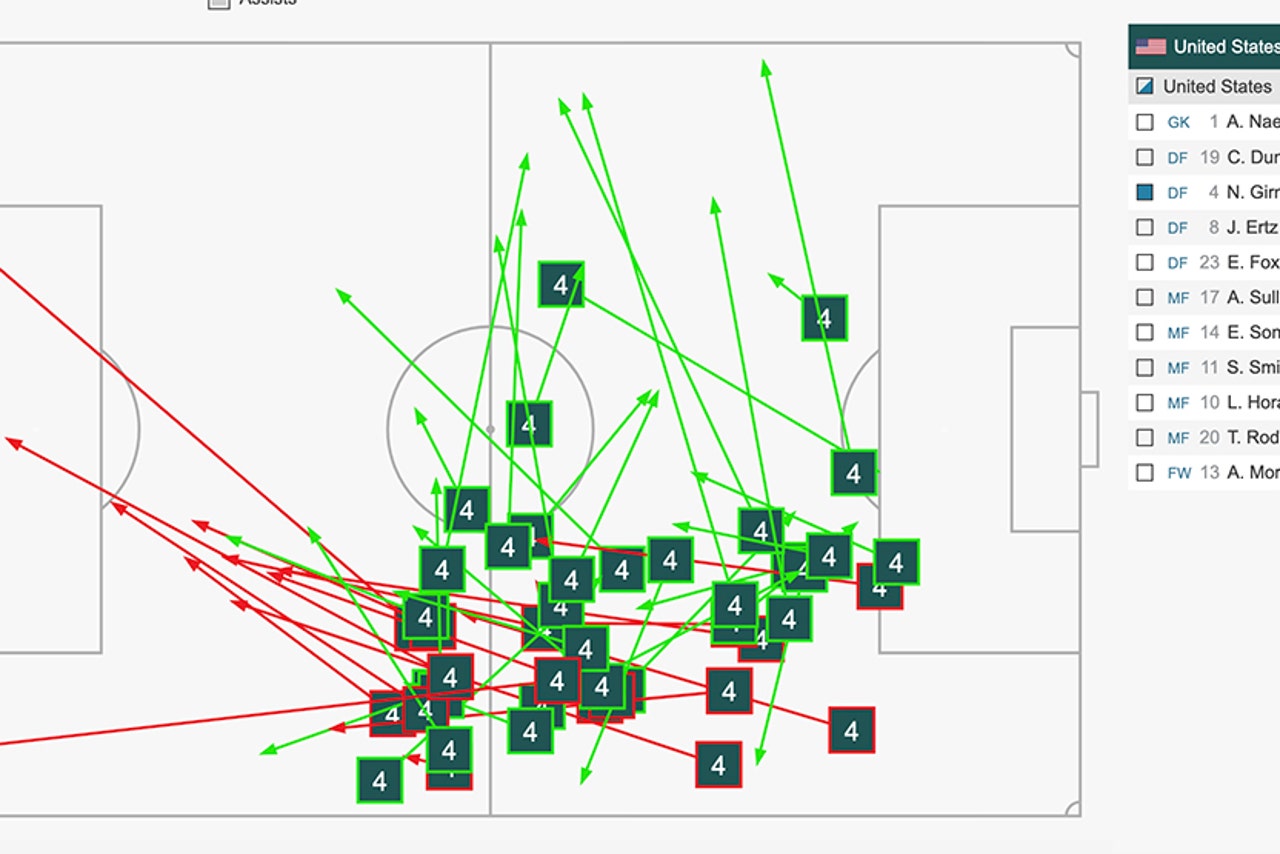 34′ — CHANCE!
For the second time in this World Cup, Lindsey Horan finds the ball on a corner kick for a free header. She scored that way against the Netherlands and hammered one off the crossbar just now against Sweden. That's a good sign for the U.S. if Horan can still find opportunities in the air against a Sweden side with much more height.
29′ — Smith, Rodman proving dangerous on wings
Impressive directness from wingers Sophia Smith and Trinity Rodman thus far. Plenty of questions have been asked about those two in this tournament, especially given their struggles to defend/press, but they've flown out of the gates with confidence. Rodman in particular has shown a willingness to take players on down the right side and already has three shots, two on goal. The U.S. is also doing a nice job of isolating Smith 1v1 on the left side by using Crystal Dunn to occupy a second defender.
First look at average playing positions for the USWNT, courtesy of Sofascore. Much different look than what we've seen in the first three matches. Emily Sonnett (14) is playing as the deepest of the three midfielders. Sophia Smith (11) pushing really high on the left-hand side.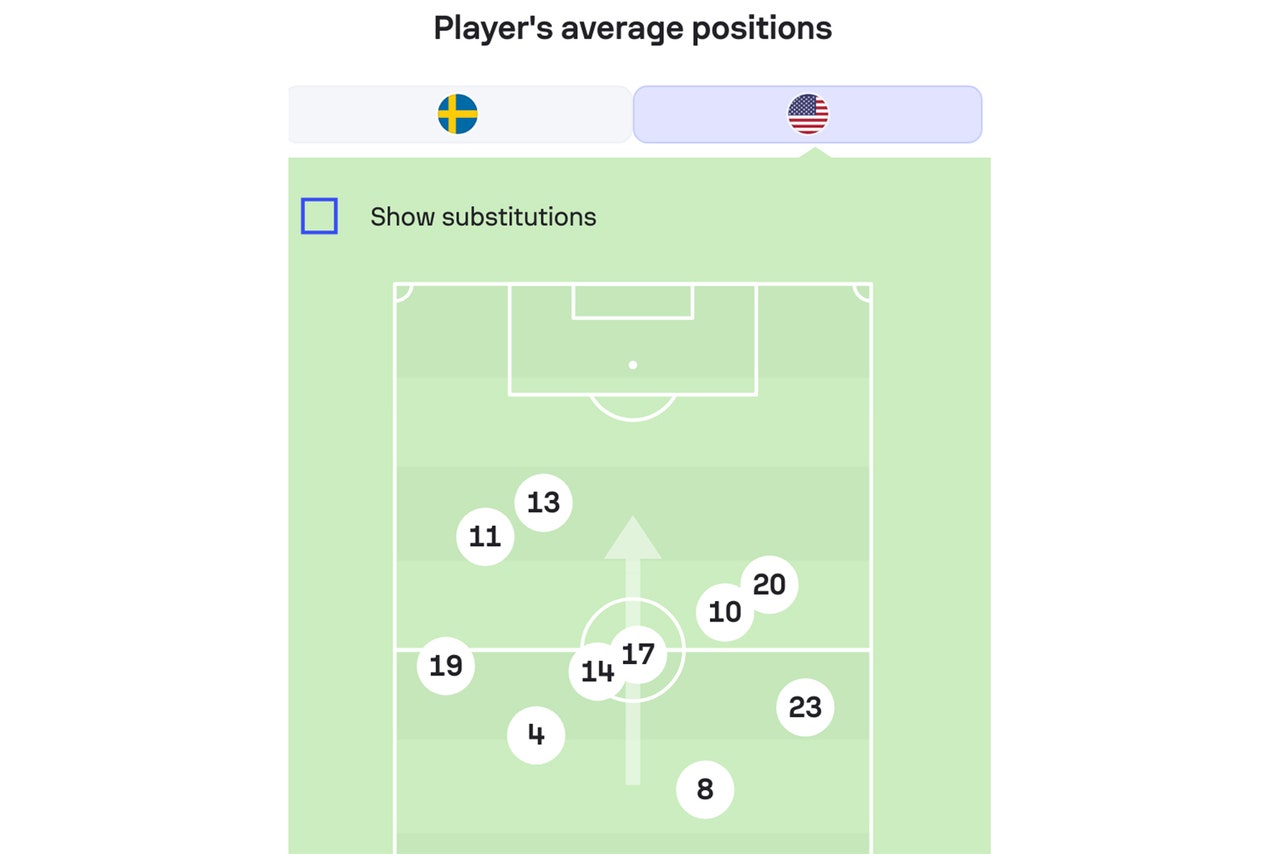 26′ — ANOTHER Trinity Rodman shot on goal saved
21′ — Naeher steady in net
Another set piece opportunity for Sweden. This corner kick from the left side was strongly bent toward goal, where GK Alyssa Naeher batted it away off the line. Impressive start for Naeher after she was shaky at times in the group stage.
20′ — Changes have had an impact on possession
As for what the USWNT is doing to address its struggles in possession, there are a couple of noteworthy changes thus far. The first is the double pivot of Emily Sonnett and Andi Sullivan, which immediately gives the U.S. defenders another option when building out of the back. The second is what seems like an instruction for the strong-side fullback to push high up the field and join the midfield/attack. In other words, when the ball is worked down the left-hand side, LB Crystal Dunn is offering a more advanced passing option. And when the ball is worked down the right, we've already seen Emily Fox make a couple of forward runs. Expect Dunn, who has done this at times throughout the tournament, to be the more offensive presence than Fox as the game continues.
18′ — Trinity Rodman shot on goal saved
14′ — A different look to the formation
A tweak to manager Vlatko Andonovski's defensive shape to help combat his team's problems in midfield: He's asking them to defend in a 4-2-3-1 formation by dropping Trinity Rodman and Sophia Smith into a line with Lindsey Horan. This effectively gives the USWNT five bodies in midfield (along with Andi Sullivan and Emily Sonnett) to match Sweden's identical 4-2-3-1 formation. The U.S. is still attacking in a 4-3-3 look.
9′ — Dangerous in the air
Here we go, the first corner kick/set piece opportunity for Sweden, which has been lethal in the air all tournament. GK Alyssa Naeher comes off her line for a bold punch that did just enough to clear the ball from danger. A nice job by Naeher to free herself from the swarm of bodies in the 6-yard box, a staple of Sweden's set pieces in the group stage.
7′ — USWNT's first shot goes wide
A nice run from Trinity Rodman created a chance for her midfield teammate, but Sullivan sent the ball wide left from the top of the box.
6′ — Sweden is big and physical
One thing to watch in today's match: This is the first time the USWNT will be the smaller side physically. Sweden's roster has eight outfield players measuring 5-foot-9 or taller. The Swedes have built their playing style of set pieces, plentiful crosses and aerial prowess around their height advantages. Before the game, coach Vlatko Andonovski talked about Sweden's physicality, and how his team would deal with it.
'It's nothing new to us' – USWNT head coach Vlatko Andonovski on dealing with Sweden's physicality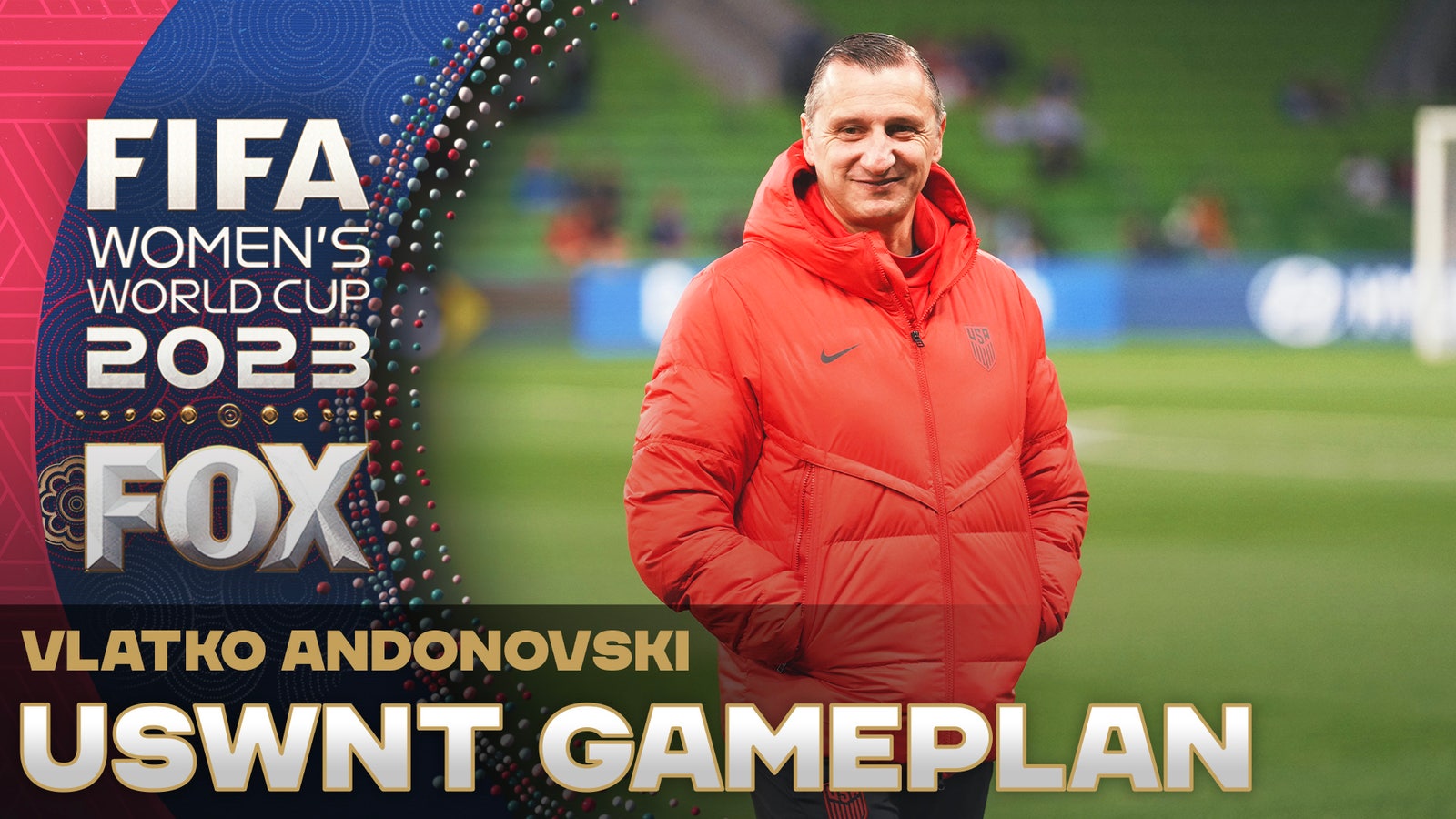 2′ — USA sticks with same formation
It's a 4-3-3 for the USWNT, as expected. Julie Ertz remains at center back, and newcomer Emily Sonnett slides into midfield. Sonnett is playing alongside Andi Sullivan in what appears to be a double pivot. That leaves Lindsey Horan as the lone attacking midfielder.
PREGAME
Will USA change its tactics?
— Despite debuting just one new starter for the round of 16 against Sweden, the change by manager Vlatko Andonovski has prompted significant discussion in the buildup to today's match. The addition of Emily Sonnett, who makes her first start of the tournament in place of the suspended Rose Lavelle, comes with numerous possibilities in terms of who lines up where for what is expected to be a continuation of the 4-3-3 formation the USWNT has used throughout the World Cup.
— The simplest option is to make a like-for-like change by sliding Sonnett directly into Lavelle's spot in midfield, pairing her with Lindsey Horan and Andi Sullivan, both of whom have started all three games thus far. But even this kind of swap comes with a potential caveat: There's a chance Andonovski inverts his triangle in midfield to play with two holding midfielders — Sullivan and Sonnett — and just one attacking midfielder. This would be the opposite of what the United States has done throughout the tournament.
— A second option relies on the same formational concept but alters the personnel to get there. It's possible Andonovski would swap Sonnett for center back Julie Ertz, who is a defensive midfielder by trade, and slide Ertz into the midfield spot vacated by Lavelle. This could allow Sonnett to play at her more natural position of center back and Ertz to play at her preferred position of holding midfielder. But a change like this is not without risk, either. The center back partnership of Ertz and Naomi Girma has been one of the lone positives for a U.S. squad that has drawn plenty of scrutiny from fans and analysts alike. Ertz and Girma have performed solidly in defense for a team that's allowed just one goal in its first three matches.
— Then there's the most radical option which, admittedly, is unlikely to happen but would certainly represent a massive swing. Andonovski could opt to insert Sonnett as a third center back — alongside Ertz and Girma — and change his formation to some version of a 5-4-1. In this scenario, LB Crystal Dunn and RB Emily Fox would serve as wingbacks and flank a central midfield grouping of Sullivan, Sophia Smith and Trinity Rodman. This would leave FWD Alex Morgan to play as a lone striker. There's a very slim chance Andonovski would make a move this drastic, but it's worth mentioning given the USWNT's struggles to maintain possession and control the middle of the park. A 5-4-1 formation would give the U.S. more bodies behind the ball and offer more chances to clog the midfield passing lanes.
Stu Holden and Heather O'Reilly discuss lineup changes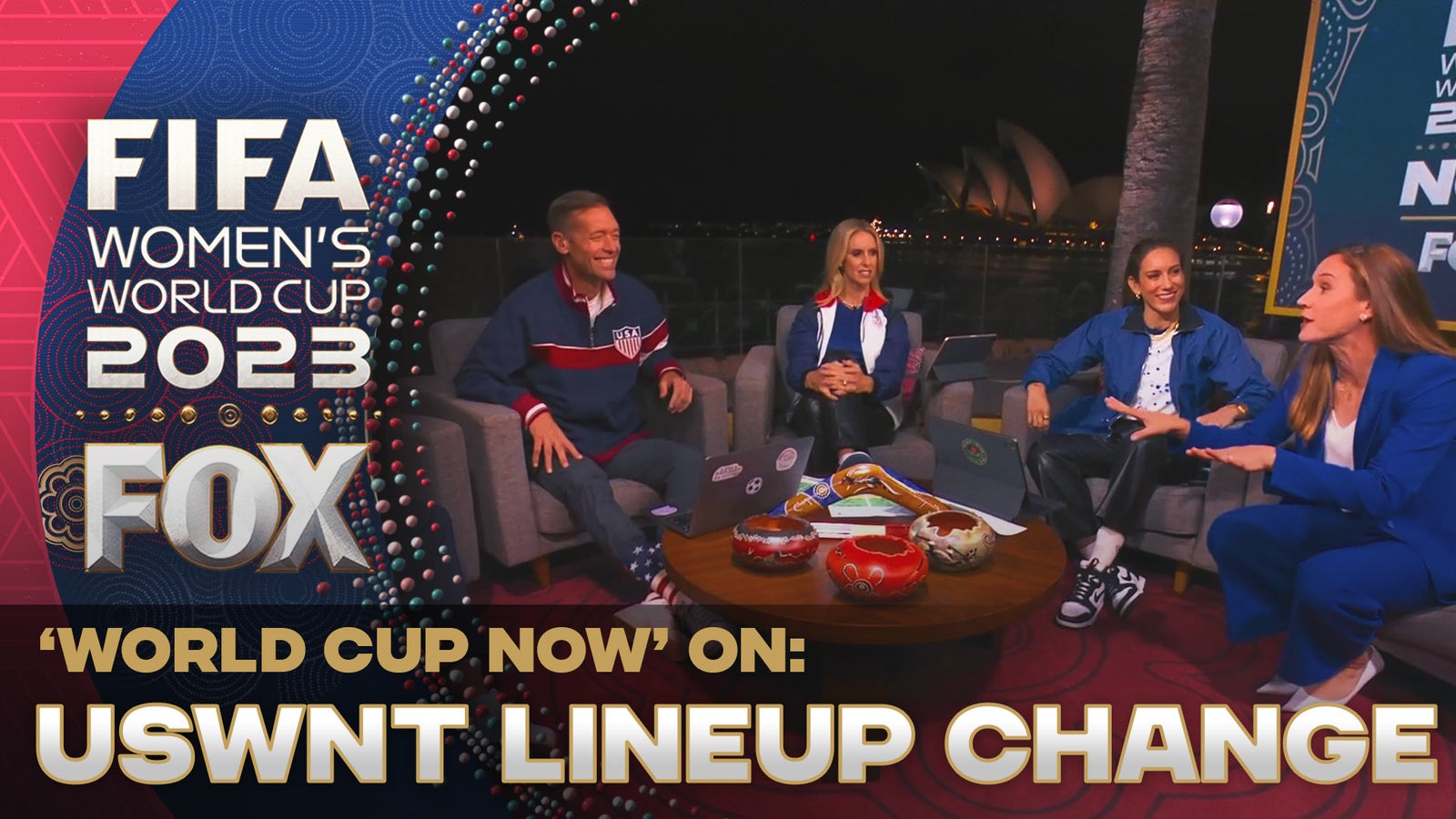 Lineup change
— Fans who hoped for wholesale lineup changes from manager Vlatko Andonovski were likely disappointed when they saw his selections for today's match against Sweden. Andonovski made just two alterations to the lineup that played poorly in the final group stage match against Portugal: He reintroduced right wing Trinity Rodman, who replaces Lynn Williams; and he brings defender Emily Sonnett into the mix for the second time at this World Cup with Rose Lavelle suspended due to yellow card accumulation.
— At 21 years and 78 days old, Trinity Rodman is the youngest USWNT player to start a women's World Cup knockout match since Cindy Parlow in the 1999 Final (21 years, 63 days). With an average of 83.7 caps entering today, the USWNT's starting 11 today is its least experience starting lineup for a major tournament knockout match since the gold medal match in the 1996 Olympics (82.0).
— The 29-year-old Sonnett, who plays for OL Reign in the NWSL, is making her first career start at the World Cup while earning her 77th CAP overall. She's appeared in two previous World Cup games, both as substitutes: in 2019 against Chile and the USWNT's most recent match against Portugal.
— GK Alyssa Naeher, LB Crystal Dunn, MID Lindsey Horan and FWD Alex Morgan all started the last time the Americans faced Sweden in a World Cup. That game, which occurred in 2019, finished as a 2-0 win for the USWNT. Horan scored what proved to be the winning goal in the 3rd minute. The same quartet also started for the United States' most recent match against Sweden in the delayed Tokyo Olympics on July 21, 2021. The Swedes prevailed 3-0.
By the numbers:
6 — The number of 10-plus pass sequences for the USWNT in this tournament, which is tied for the 11th fewest among the 32 teams at this year's Women's World Cup. By contrast, Sweden has 25 sequences with 10-plus passes thus far.
7.8 — The expected goals (xG) total for the United States through three games. That the Americans have converted those chances into just four actual goals speaks to the squad's poor finishing in the group stage. This includes a staggering 2.1 xG against Portugal in a match that finished as a 0-0 draw.
108 — The number of touches the USWNT had in the final third against Portugal, their lowest of the tournament. The U.S. finished with 267 touches in the final third against Vietnam and 191 against the Netherlands in a reflection of how its attack deteriorated throughout the group stage.
1.94 — The expected goals (xG) total for striker Alex Morgan, which ranks 11th among all players in this year's tournament and leads the USWNT. But Morgan is without a goal at the World Cup and missed a penalty kick in the opening match against Vietnam. Her poor finishing and suspect shot selection has been a problem for the USWNT. By comparison, Sophia Smith ranks second on the team with 0.99 xG through three games.
Setting the stage
The "World Cup NOW" crew previewed the match live on social media ahead of kickoff.
GOAT SIGHTING!
USWNT legend Mia Hamm is on hand to take in the game.
And speaking of legends, USWNT supporters ran into basketball star Sue Bird, who is on hand to support her partner Megan Rapinoe.
Soccer Dad
Mike Morgan never misses a game for any team his daughter Alex plays on, a habit that dates back to when the USA star was 14 years old.
"He racked up an incredible amount of Southwest [Airlines] miles within those four years," Alex says.
Tom Rinaldi shared the story ahead of Sunday's match.
'He's just the ultimate soccer dad' – Alex Morgan on father Mike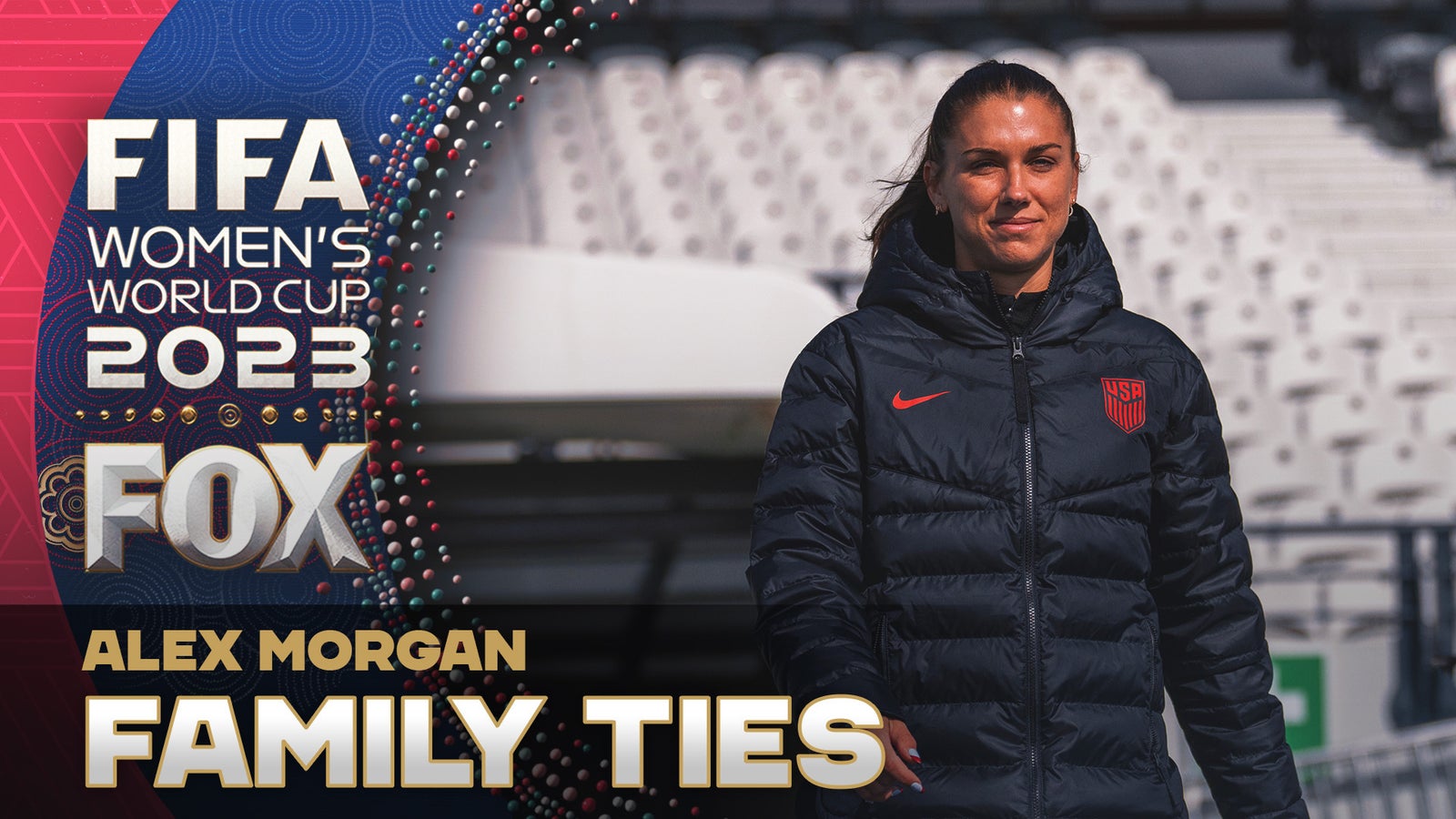 Check out the full Women's World Cup schedule and how to watch each match live here. Find the latest scores here.
FOLLOW Follow your favorites to personalize your FOX Sports experience
FIFA Women's World Cup
United States
Sweden
---
FIFA WORLD CUP WOMEN trending
---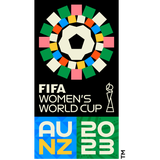 Get more from FIFA Women's World Cup Follow your favorites to get information about games, news and more
---