The Abxylute's Budget Price Makes It Actually Worth It as a Budget Steam Deck
When we reviewed the Logitech G Cloud last month, we loved its design and seven-inch HD screen, but its limited processing power and $350 price tag had us wondering why anyone would ever choose it over the Steam Deck. Pricing is also one of the biggest issues reviewers have had with the $400 – $600 Razer Edge, but the Abxylute could be an alternative worth considering, as it arrives at over $100 cheaper than the other leading streaming handhelds.
Like the Logitech G Cloud, the Abxylute (pronounced "absolute") features a large, seven-inch, 1920×1080 LCD screen running at 60Hz with a 16×9 aspect ratio. It also features a similar control layout to the G Cloud, although it's got a bonus in its pair of asymmetrical Hall Effect analog joysticks that should never develop drift (as well as its Hall Effect analog triggers on the back). It's also got a gyro for motion controls, a pair of vibration motors for haptic feedback, a 5,200 mAh battery promising up to eight hours of gameplay, a microSD slot, a pair of stereo speakers, and a headphone jack.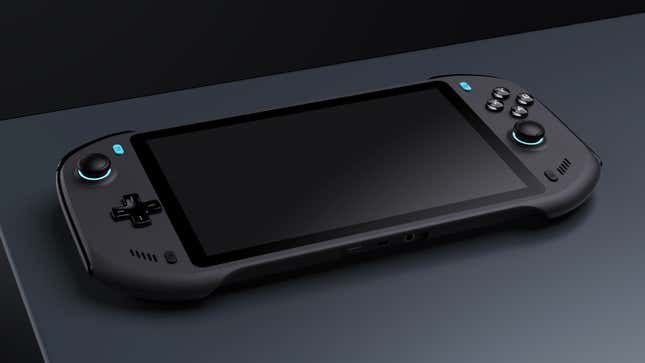 But the Abxylute also borrows some of the less than ideal features of the Logitech G Cloud, including a 2 GHz, quad-core ARM Cortex-A53 processor paired with 4GB of RAM. That processor has been kicking around since 2012, and it means the Abxylute isn't going to be a powerhouse when it comes to natively running Android games; however, that's also not the handheld's primary intended use case.
G/O Media may get a commission
Like the G Cloud and the Edge, the Abxylute is primarily designed for playing AAA titles through game streaming services like Xbox Cloud Gaming, NVIDIA GeForce Now, and Amazon Luna, or for streaming games from a nearby game system on the same wireless network using PlayStation, Xbox, or Steam Remote Play. That places the burden of heavy processing and rendering elsewhere, although the Abxylute can definitely still be used as a standalone gaming system playing either lighter Android titles or some retro titles through emulation. Just don't expect something like Dolphin to be able to run GameCube and Wii games spectacularly on it.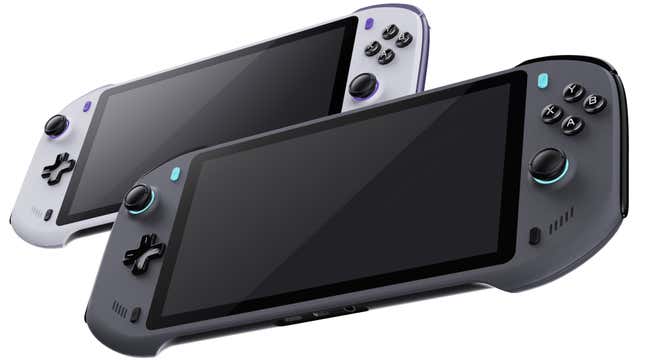 So if the Abxylute has the same performance limitations as the Logitech G Cloud and Razer Edge, why even bother considering it? Unlike the $350 G Cloud and the $400 Razer (or $600 Razer if you want the 5G model upfront) the Abxylute launched on Kickstarter today with the cheapest pre-order option being around $199, although only for a limited time. Even without the discounts for backing the Kickstarter, the Abxylute is still expected to have an MSRP of around $229, or $170 cheaper than the entry level Valve Steam Deck, making it a more appealing handheld if you want to focus solely on game streaming and low-end emulation.
As with any Kickstarter product, but especially those that are electronic, there are some risks with ponying up the cash to help fund it. Although we have already seen several reviews of the Abxylute, including Retro Game Corps weighing in today (which confirms the handheld definitely exists), there could potentially still be delays and issues as it moves into production, given the Kickstarter has already surpassed its funding goal. With crowdfunding, the real risk is on those who back it, so always be mindful that it could be a while before you see a product, or that you may never see it at all.
Update 3/29/2023: This article's original headline could be read to imply that the Steam Deck wasn't worth it for its price. That was not the intention. Rather, the goal was to point out that other streaming handhelds like the Logitech G Cloud and Razer Edge were too close to the Steam Deck in price to serve as budget alternatives. The Abxylute, meanwhile, does seem to fulfill that goal, although we'll have to review it first to see how reliable it is.