These 24 Members of Congress Paid for Twitter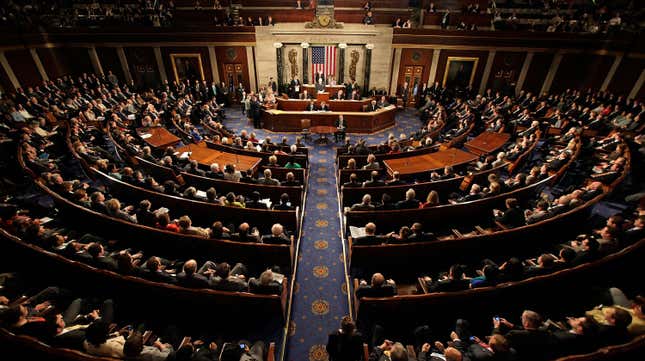 Twitter, now known as X, has seen Elon Musk panhandling for platform users to pay $8 toward X Premium (formerly known as Twitter Blue). Now, government documents reveal that some of Congress' best and brightest fell for the scheme by spending taxpayer dollars on the subscription service that ultimately does nothing.
Mr. Tweet Fumbles Super Bowl Tweet
The United States House of Representatives recently published its Statement of Disbursements, which is a summary of how the members of Congress have spent money from April to June of this year. The 3,400-page report specifically highlights some representatives that spent money on "Twitter paid features." According to the report at least 24 members of Congress spent money on Twitter Blue/X Premium—5 of those were Democrats while 19 were Republicans. The bills were either for multiple payments of $8 and some change for a monthly membership or over $80 for an annual membership.
Here is the complete list of representatives that purchased X Premium in alphabetical order:
Lauren Boebert (R-CO)
Josh Brecheen (R-OK)
Joaquin Castro (D-TX)
Michael Cloud (R-TX)
Andrew S. Clyde (R-GA)
Jason Crow (D-CO)
John Curtis (R-UT)
Brendan Doyle (D-PA)
Mario Díaz-Balart (R-FL)
Jeff Duncan (R-SC)
Brad Finstad (R-MN)
Brian K. Fitzpatrick (R-PA)
Mike Flood (R-NE)
Maxwell Frost (D-FL)
Mike Garcia (R-CA)
Jonathan Jackson (D-IL)
Bill Johnson (R-OH)
Darin Lahood (R-IL)
Debbie Lesko (R-AZ)
Barry Loudermilk (R-GA)
Guy Reschenthaler (R-PA)
John Rose (R-TN)
Victoria Spartz (R-IN)
Tom Tiffany (R-MN)
As Insider notes, some representatives, like Speaker of the House Kevin McCarthy (R-CA) have access to some paid features, such as lengthier tweets though they didn't report a Twitter expense in the report. Charges listed in the report also don't disclose whether these payments were made for representatives' official, personal, or campaign accounts—funds obtained through the House must be used for official business. A representative for Representative Boebert's office, however, told the outlet that her charges were made for the politician's official account.
Twitter Blue/X Premium is a much-maligned feature of the already crumbling social media platform. Verification checks, which were once heralded as a security measure to ensure a user's identity, have now become a badge of shame indicating support for Musk's right-wing political beliefs. Those checkmarks are so shameful, in fact, that Musk opted to allow users to hide them. But the platform's premium features have felt less and less like a bonus for users and more like a useless cash grab for the struggling company. All that said, it's not surprising that so many Representatives—let alone that many conservative Representatives—would be willing to use taxpayer dollars in order to align themselves with Musk's ill-conceived "free speech" mission.