UConn's dynasty restored: Dan Hurley connected past to present in dominant title run
HOUSTON — The ghosts of Connecticut's illustrious past waded through pools of blue and white confetti. They'd flocked to this sweltering city for the chance to witness a reclamation five years in the making, to say they were there when a wounded giant awoke, arose and proved to the college basketball world that its trail of blood runs blue.
To one side of the court stood Ray Allen, a founding father of UConn basketball whose three years on campus changed the pedigree of player interested in joining the Huskies. To the other stood Rudy Gay, a former McDonald's All-American lured to the farmland and frigidity of Storrs by what players like Allen had already achieved. Between them towered Emeka Okafor, the greatest center in program history with a national championship ring to prove it.
So many more were scattered among the crowd at NRG Stadium on Monday night. From Richard Hamilton and Jake Voskuhl to Caron Butler and Charlie Villanueva. From an old-timer like Chris Smith to arguably the most famous Husky of all time, Kemba Walker, whose concatenation of 11 postseason wins finally ended in 2011 when he cut down the nets in this very building, an inconceivable run immortalized.
They began their evening with a FaceTime call from the man who convinced them to be Huskies in the first place, the coach who transformed a regional suitcase college in the Yankee Conference into a national power by winning 625 games, 10 Big East regular-season titles, seven Big East Tournament titles and three national championships from 1986 through 2012. An illness was the only thing that kept Jim Calhoun from joining the coronation in Houston. Calhoun watched from home as his protégés who hauled Connecticut to the pinnacle extolled the newest set of coaches and players to do the same.
"We just let him know he started this, man," Gay said. "We're a dynasty now."
They're a dynasty because the program's latest fire-spewing, freakishly-competitive patriarch — Dan Hurley — sprung the Huskies from the rubble of a messy divorce with former head coach Kevin Ollie, who was Calhoun's handpicked successor, and then washed away the sludge of an NCAA investigation that saddled UConn with two years of probation.
Hurley ushered Connecticut away from the ghastly American Athletic Conference by reintroducing the Big East to one of its strongest brands. He overhauled and healed, retrained and retooled, until his version of the Huskies dripped with enough size, speed, strength, shooting and selflessness to blitz through the NCAA Tournament by 20 points per game. The level of play was so mesmeric in dismemberments of Arkansas, Gonzaga and Miami, among others, that Monday's championship against San Diego State felt ripe with preordinance. Sure enough, Connecticut led for more than 34 minutes of its 76-59 victory that secured a fifth national title in the last 25 years.
And so this is what a dynasty looks like: center Donovan Clingan and point guard Tristen Newton bounding into the bleachers to celebrate with fans; small forward Andre Jackson wandering around in a daze with a UConn flag draped around his neck and a championship hat worn backward; transfer guard Joey Calcaterra blowing a kiss to each side of the arena after clipping his portion of the net; movie star Bill Murray, whose son, Luke Murray, is an assistant coach at Connecticut, craning his arms and neck to snap the perfect celebratory photo; walk-on Andrew Hurley embracing his grandfather, the Hall-of-Fame high school coach, Bob Hurley, in a moment that spanned three generations of the family business; center Adama Sanogo, the Most Outstanding Player of this year's Final Four, choking back tears when asked about his family watching back home in Mali.
The celebratory din began to swell as the man who fused Connecticut's past and present climbed the ladder. Two snips with a pair of scissors detached what remained of the net Hurley promptly wielded and swung. His roars brought the ghosts to life.
"This was our vision," Hurley said. "This was our dream. This is what we talked about when we recruited these guys, that we could get together and do something big like this."
*** *** ***
The chairs in UConn's locker room were drenched with indiscernible liquids when reporters entered the fray Monday night. More confetti — rainbow, this time — stuck to the floor, to the players, to the footwear of passersby. Huskies past and present dotted the humidified hangout.
Near the center of the room was an assistant coach who spans the generations, who bridges the gap between everything Calhoun built and all that Hurley wants to achieve because he has worked for both of them. Tom Moore, 57, was there for Calhoun's first two championships, in 1999 and 2004, before leaving to become the head coach at Quinnipiac, a private school on the other side of the state. He joined Hurley's staff at Rhode Island in 2017 and then followed his new boss to Storrs two years later.
Moore and Andre LaFleur, another former Calhoun assistant, have drawn comparisons between this year's group and the '99 squad led by Hamilton and Khalid El-Amin. There are natural similarities, they said, in the way both teams exceeded the sums of their parts because both sets of players were ready and willing to accept whatever roles the coaching staff designed.
"The pieces fit so well on this team," Moore said. "And the pieces fit like a glove on that team, too. That team was just perfectly constructed and the way things fell into place. This team is perfectly constructed, too."
In both cases, the seeds of cohesion were planted during transformative offseason experiences that laid important groundwork for the months ahead. In 1998, Calhoun organized a foreign tour for the summer after his team lost to North Carolina in the Elite Eight. The Huskies traveled to England and Israel for six games against local professionals without the services of Hamilton, their leading scorer, who was recovering from offseason ankle surgery.
Two weeks abroad incubated the chemistry for a team that entered the 1998-99 season ranked No. 1 in the country with expectations of challenging for the school's first national title. And for the coaching staff, which included Moore and two of Calhoun's former players, a conversation outside the team hotel in London helped solidify the expectations for each player.
"We might have stood out there for two hours or so just talking about the personalities of the team," said Dave Leitao, an assistant at UConn from 1986-94 and again from 1996-2002. "That was really a watershed moment in discovering certain guys, how to approach them, how to communicate with them about helping them define their roles."
Hurley initiated a similar process the Monday after an embarrassing loss to 12th-seeded New Mexico State in last year's NCAA Tournament. He met with the only three players certain to be part of the 2022-23 roster — Jordan Hawkins, Sanogo, Jackson — and explained what he would expect the following season. From a basketball perspective, Hurley challenged them to develop into the best players in the country at their respective positions: a 3-point specialist, a low-post menace, a unicorn facilitator. And from a leadership perspective, Hurley tabbed Jackson to accelerate the relationship-building efforts for a roster that was infused with four transfers the coaches hoped would bolster UConn's lackluster perimeter shooting: Newton from East Carolina, Calcaterra from San Diego, Nahiem Alleyne from Virginia Tech and Hassan Diarra from Texas A&M.
Jackson shouldered his responsibility by organizing social activities on a nightly basis when athletes were some of the only students on campus over the summer. They gathered to watch NBA playoff games and went out for hibachi dinners. If certain players wanted to stay in their apartments or dorms, Jackson forced them to interact with the team instead. By the time everyone reconvened for practice later that summer, strong friendships were already in place.
"You don't see that often in this day and age when everyone likes to stare at their phones, and they're on their laptops, they have earbuds in and stuff," Moore said. "He was like, 'No, we're going out. We're doing this.' It got us through that stretch, six of eight (losses in January), whatever it was, you know?"
*** *** ***
January was rock bottom, when a 14-0 start and a No. 2 national ranking teetered, wobbled and crashed amid wide-ranging criticism.
Beginning with a loss to Xavier on Dec. 31, the Huskies dropped six games in 19 days as their intensity waned, their defense evaporated and an offense that had looked more potent than at any point in Hurley's tenure was stymied by opponents who decided Jackson wasn't worth guarding along the perimeter.
Players-only meetings were held in which certain members of the team issued personal challenges to others. It wasn't infighting, according to director of player development Mamadou Diarra, but the criticisms were blunt.
In addition to regaining the team's defensive edge, Hurley and his staff searched for ways to maximize Jackson's contributions even if opposing teams dared him to shoot. They encouraged him to set more screens, to roll toward the rim, to make more baseline cuts. At first, it wasn't appealing to Jackson, who still thought of himself as more of a guard than a forward. But when he finally "surrendered that ego a little bit," as Jackson described it, he recognized how valuable his non-scoring contributions could be. With Hurley's help, Jackson channeled the high-level court vision he'd honed in youth leagues when scoring was so easy that passing became his primary goal.
"I think prior to that stretch in January, we were really skilled and talented," Jackson said. "We had a lot of different weapons on the offensive end. But we weren't as tough as we needed to be to make it to this point. In that stretch, we really learned how to be a tough team and how to come through adversity, how to come together and not splinter when adversity hits. That really has made us the team we are today."
Hurley made changes, too. A period of self-reflection led him to conclude that his never-ending arguments with referees — and, of course, the ensuing phone calls with the Big East's head of officiating when he searched for additional explanations — were damaging to the team. That his in-game behavior began to improve around the same time he took up painting might or might not be coincidental. (Hurley's first painting became a gift for Murray. His second painting, which depicts a New York City skyline in winter, is earmarked for assistant coach Kimani Young, but is so poorly done, Hurley said, that he's embarrassed to share it.)
Still, the sideline tantrums were cutting against the way Hurley prefers to divide his emotions between practices and games. Hurley is so demanding and vicious in practice that there are times when Andrew Hurley apologizes to the players on his father's behalf, making sure they know that any pointed criticism comes from a place of love.
On game day, Hurley often refers to himself as a "cornerman" or "hype man" whose job is to inject the roster with confidence.
"Coach Calhoun was, I think, a little more calculated in practice and a little more mellow in practice," Moore said. "But in games, Coach (Calhoun) was a lion in terms of challenging guys and yanking them from the stage. I think Coach (Calhoun) built toughness in games a little more. Dan builds the toughness in practice."
Hurley's unrest resurfaced Monday night when San Diego State trimmed a 17-point deficit to single digits on more than one occasion in the second half. As UConn's offense stumbled, Hurley watched an entire wayward possession with his hands glued to his head and a twisted grimace screwed to his face. He berated the referees for not calling a shooting foul when Hawkins missed a mid-range jumper and was dumbfounded by their general indifference toward potential hand-check violations. The expression he made when Newton was pick-pocketed for an easy layup landed somewhere between utter disbelief and merciless disdain.
Even in the waning seconds, by which point the Huskies had pulled away for a win, Hurley pleaded and screamed for his players to align themselves at the proper depth defensively.
"I've got to tell you, I think it was probably the most physical (and) one of the toughest teams we played this year, certainly one of the best," Hurley said. "And I just got so much admiration and respect for how they play, their culture and their coach."
*** *** ***
The player who ultimately calmed Hurley's nerves was also the one responsible for much of his dismay when the Aztecs were clawing their way into the game. A year ago, Newton was Connecticut's most important and most high-profile addition in the transfer portal after three standout years at East Carolina. The 6-foot-5, 190-pound guard averaged 17.7 points per game last season to become one of the most coveted players on the market.
To UConn's coaches, it was obvious Newton knew how to score and get to the free-throw line, where he shot 88% last season, but how quickly he could — or would — adjust to running the offense as a point guard was unclear. Hurley and his staff decided to gamble on Newton not once but twice: They entrusted him to run the offense from the minute he arrived on campus; then they increased his workload in the postseason by cutting Diarra out of the rotation.
"The thing I just kept talking to Tristen about at the end of the year was just be mentally tough," Moore said. "Keep battling because you're what we have. You're what we have when teams are pressuring us and they're denying on the wings. … And (if) you've got like a pit bull up in you for 94 feet, that will grate on you. And we don't give him defensive breaks at the other end. We have him guarding real players at the other end. So he's fighting through screens at the other end and trying to get over ball screens, and he's fighting on that end, and he's being hounded as soon as he turns and picks the ball up. I have all the praise in the world for how he's grown and handled it, how his toughness has grown from January to February to March."
Monday's championship game developed into the full Tristen Newton Experience. He scored a game-high 19 points, grabbed 10 rebounds, sprayed four assists and made four critical free throws in the final four minutes — all while committing more turnovers than anyone else on the floor.
But on a night when Jackson, Clingan, Calcaterra and Alex Karaban combined for just 15 points, the Huskies needed everything Newton and Sanogo (17 points, 10 rebounds) gave them. Newton hung in the air and finished at the rim through contact while shooting an efficient 5-for-11 from the field. He made all eight of his free throws in the moments when defenders proved overexuberant, and a personal run of seven consecutive points in the first half pushed UConn's lead to 16.
"The vision we had when I came here was to win a national championship," Newton said. "Get to the Final Four and win a national championship. And I came here just to do that. Just real blessed and thankful for these guys around me."
The guys around him include a high-profile cheering section that breathed extra life into the Huskies' season. His first cousins, Alvin and Aaron Jones, were football stars at Texas El Paso and now play professionally in the CFL and NFL, respectively. Aaron Jones plies his trade for the Green Bay Packers and ranks among the league's best tailbacks.
Together, the Jones and Newton families have shared in each other's athletic achievements since the future UConn point guard was still in diapers. Newton attended his cousins' youth football games before he knew how to walk, and the Jones brothers returned the favor by traveling to his AAU basketball tournaments. Excitement coursed through the family when Newton committed to UConn last April, a move Aaron Jones likened to "My Career" in the popular NBA 2K video game series. He flew to Connecticut during the Packers' bye week to watch the Huskies dismantle Long Island.
A few weeks later, on Jan. 9, Aaron Jones filmed an Instagram video for the company Invisalign. The marketing team asked him to make three bold predictions while wearing his clear aligners, and that's when he proclaimed that UConn, which had lost two of its last three games and was in the early stages of a two-week tailspin, would win the national championship. The Jones brothers were in attendance again Monday night, just as they have been for five of the Huskies' six NCAA Tournament games.
"I just think it's crazy how it comes back full circle," Aaron Jones said during an interview with FOX Sports a few hours before tipoff on Monday. "Didn't get recruited by any Texas schools and now look: He's playing in the biggest game of the year in Texas. So you don't forget those things, you keep that chip on your shoulder."
*** *** ***
And it was only when the ball settled into Newton's hands with under a minute remaining that Hurley allowed himself to acknowledge what he was about to accomplish. He turned to a section of NRG Stadium that was bursting with fans clad in blue or white or both and then, with the clock still ticking, unleashed a defiantly cathartic fist pump.
It's easy to imagine how sweet that moment must have felt for Hurley, the son of arguably the greatest high school coach of all time and the younger brother of arguably the greatest point guard in college basketball history. He was the basketball lifer from the basketball family whose list of personal accolades was far shorter than the rest. And then his Huskies cut down the nets.
"I can tell you the Greenville section of Jersey City, where we're from, will be the wild west tonight," Bob Hurley said. "They are going to be enjoying what just happened here because he's one of the guys from the neighborhood, and we couldn't be prouder of him."
As Bob Hurley's grandson dribbled out the final few seconds, his son embarked on a procession of hugs. There was a rollicking embrace for Hawkins and another for assistant coach Kimani Young. He was engulfed by Sanogo and Karaban at the same time with Murray waiting in the wings.
Chants of 'Dan-ny, Hur-ley! Dan-ny, Hur-ley!' washed over UConn's bench as the reality of yet another national championship set in. Hurley turned to face the crowd and blew kisses before the final buzzer sounded.
Many of the fans whooping, applauding and hollering were former players who reached or neared the same pinnacle under Calhoun. They've been welcomed back to Storrs with open arms since Hurley took over in 2018, and he commissioned a wooden slab in the shape of Connecticut for visiting alumni to sign. It's prominently featured outside the locker room in UConn's practice facility.
And down the hall from Hurley's office, where this year's championship trophy might soon reside, sits a photo of Calhoun to commemorate his induction into the Naismith Memorial Basketball Hall of Fame in 2005. A similar photo of Allen, the program's other inductee, hangs by its side.
Three years ago, Hawkins and his father were walking through that hallway to speak with Hurley during a recruiting visit. Hawkins liked the Huskies but hadn't yet committed. His father stopped and referred to Calhoun as royalty before genuflecting on the spot.
"I'm a Husky, and that's not going away," Calhoun said. "I'm incredibly proud in my constant fight to have people truly understand that we're more than a blue blood."
Hurley connected the past to the present and proved it.
Michael Cohen covers college football and basketball for FOX Sports with an emphasis on the Big Ten. Follow him on Twitter @Michael_Cohen13.
Read more:
FOLLOW Follow your favorites to personalize your FOX Sports experience
UConn Huskies
College Basketball
---
CONNECTICUT HUSKIES trending
---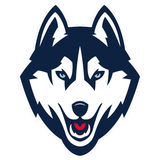 Get more from UConn Huskies Follow your favorites to get information about games, news and more
---