Vince Vaughn Drops Movie References During 'College Game Day' Picks
Entertainment
Entertainment

Vince Vaughn
Hilarious Movie References …
For 'CGD' Football Picks
9/23/2023 11:39 AM PT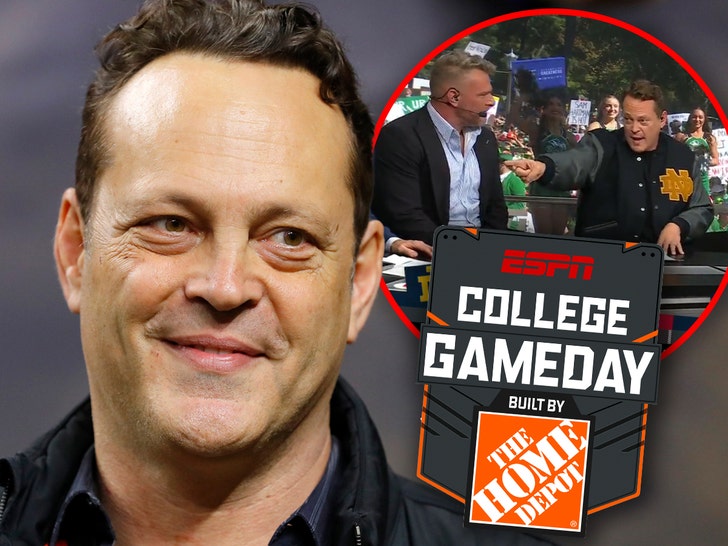 Vince Vaughn was definitely in movie mode this weekend ahead of some big college football games — and you can tell by the iconic references he made during his televised picks.
The legendary actor was the featured celebrity guest Saturday on ESPN's "College Game Day" … which made sense considering they did the show from Notre Dame's campus, this as the university was set to face off against Ohio State.
VV showed up locked and loaded … rocking a ND letterman jacket as he sat up on the stage alongside Pat McAfee, Lee Corso, Desmond Howard and the others. Of course, the reason him wearing the Notre Dame jacket was relevant was because of … "Rudy."
Indeed, Vince starred in the famous sports flick … way back in 1993, opposite Sean Astin and Jon Favreau. Of course, he played college QB Jamie O'Hara — and made sure everyone remembered that when he picked ND to win over the Buckeyes on live TV.
Check out how Vince put it. He said, "The Buckeyes are for real, always. You can never doubt them. That being said, I played for Notre Dame — I threw a pass. If I had half the heart of Rudy, I would have been All-American instead of picking games up here with you guys."
Vince wasn't done dropping famous lines from his movies, though … he snuck a quick one in from another fan fave of his — and that would be "Wedding Crashers."
Not perfectly sports-related, but certainly captures the mentality of a champion. No question about that.
Gotta love the guy … Vince has spoken!