Watch Live as NASA's OSIRIS-REx Spacecraft Returns Asteroid Samples to Earth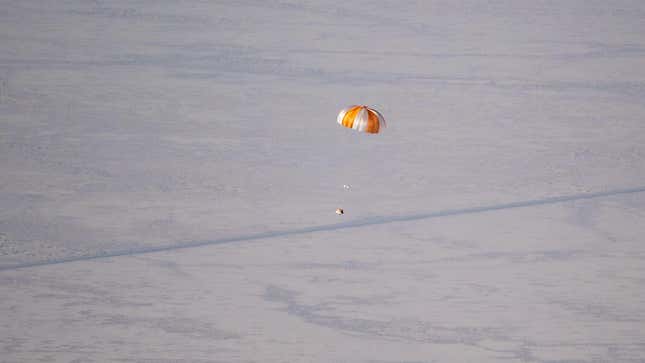 The OSIRIS-REx spacecraft is on its way to Earth to drop off rocky samples from asteroid Bennu on Sunday, marking NASA's first attempt to retrieve a piece of a pure space rock.
Vizio's Latest TVs Go All Quantum
The highly-anticipated drop-off has been seven years in the making, but the wait is finally over. OSIRIS-REx is scheduled to drop off the capsule containing the asteroid sample on September 24 at 10:55 a.m. ET. You can tune in to the historic moment live through NASA TV, the NASA app, and the agency's website, or by following the feed below. Coverage will begin at 10 a.m. ET on Sunday.
The plan is for the spacecraft to drop off its precious cargo during a close flyby of Earth, after which the capsule containing the asteroid samples will perform a parachute-assisted landing at the Department of Defense's Utah Test and Training Range. The capsule has to land within a 37-mile by 9-mile ellipse (59 km by 15 km) about 13 minutes after it is released by the spacecraft.
OSIRIS-REx launched in September 2016, and reached asteroid Bennu in December 2018. The spacecraft spent nearly two years observing the space rock before landing on Bennu and snagging a sample from its surface in October 2020. On May 10, 2021, OSIRIS-REx bid farewell to Bennu and began making its way back home to drop off its precious cargo.
This is NASA's first attempt at retrieving a sample from an asteroid and it's been a long time in the making. Bennu is a small, near-Earth asteroid that makes a close pass to Earth every six years or so. Scientists believe Bennu might have broken off from a much larger carbon-rich asteroid about 700 million to 2 billion years ago, and drifted much closer to Earth since then.
By bringing the asteroid sample to Earth, scientists will be able to closely analyze the space rock to help uncover clues as to how life may have originated on Earth and whether asteroids carried the building blocks of life to our planet.
After delivering its sample to Earth, OSIRIS-REx will begin making its way towards its next mission, exploring asteroid Apophis. Accordingly, the mission will be renamed to OSIRIS-APEX (OSIRIS-Apophis Explorer).
For more spaceflight in your life, follow us on Twitter and bookmark Gizmodo's dedicated Spaceflight page.