Water diversion project drives environmental improvements and provides new jobs for locals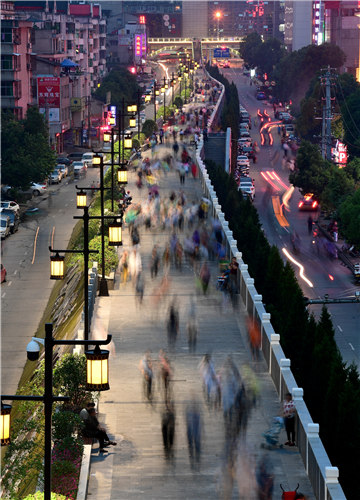 Tuesday marks the third anniversary of the start of operations of the central route of the South-to-North Water Diversion Project, a massive infrastructure program designed to transport water from the south of the country to the arid northern regions via three separate channels.
So far, more than 10 billion cubic meters of water have been carried to North China via the central route, benefiting more than 53 million people.
The environmental improvements that have resulted from protection efforts in the regions that supply the water-the provinces of Henan, Hubei and Shaanxi-have attracted investment and brought new job opportunities in green industries, including tourism and ecological agriculture, benefiting people in the areas that supply the water.
Xia Qinghua is one of them. The 43-year-old was employed in a small toy factory in Shenzhen, Guangdong province, for 12 years before he returned to his home, Chenjiawan, a village in Hubei's Shiyan city, in June.
He had long wanted to return, but was prevented by a shortage of jobs. However, the situation changed after Hubei Beidouxing Eco-agriculture and Forestry Co began investing in the area in 2014, lured by the cleaner environment.
"Great improvements have happened to the environment in my hometown. When I left at age 17, I had never seen an egret. Now, there are birds everywhere. They are beautiful," he said.
Though he earned more than 5,000 yuan ($756) a month in Shenzhen, Xia often had to work until 11 pm.
"The salary was good, but I felt lonely and helpless because I had no family around me," he said.
In 2011, he attempted to return to Chenjiawan, but the move wasn't successful. "There weren't many business opportunities in the poverty-stricken area at the time," he said. Xia had spent 50,000 yuan on a small truck and started a transportation business, but he lost his investment and was 20,000 yuan in debt after a year, so he was forced to return to Shenzhen.
After that, he only returned home once a year, for the Spring Festival holiday, and leaving his family was always a tearful affair.
"I remember very clearly leaving home on the evening of the fifth day of the Lunar New Year in 2013. My wife, my daughter and I cried in each other's arms. They all didn't want me to go," he recalled, tears glinting in his eyes.
Now, he works in the warehouse at a farm operated by Hubei Beidouxing, making about 2,000 yuan a month. Even though he earns less than he did in Shenzhen, Xia is much happier because he is close to his family and can care for his 70-year-old father, who is unwell. He supplements his income by leasing 0.5 hectares of farmland to Hubei Beidouxing, which brings in an extra 4,000 yuan a year.