We Tried The Muppets Pickle Milkshake at Walt Disney World
Fans of The Muppets know that representation of the Jim Henson Company's famed icons at Disney Parks or on Disney programming (The Muppets Haunted Mansion forever!) comes few and far between all the Marvel and Star Wars blockbusters. So when a presence was announced for Disney Parks' International Food and Wine Festival at Epcot, we had to check it out.
We Rode the New Disney Coaster Guardians of the Galaxy Cosmic Rewind
At the Brew-Wing Lab in the Odyssey Pavilion at Walt Disney World's Epcot park, you can participate in your own Muppets food challenge shenanigans. Behold the Pickle Milkshake, straight out of Muppet Labs and made with Muppety-sound science by Dr. Bunsen Honeydew and his assistant Beaker. As a fan of the Muppets, pickles, and shakes—separately, at least—I was initially intrigued by the creamy green slime creation.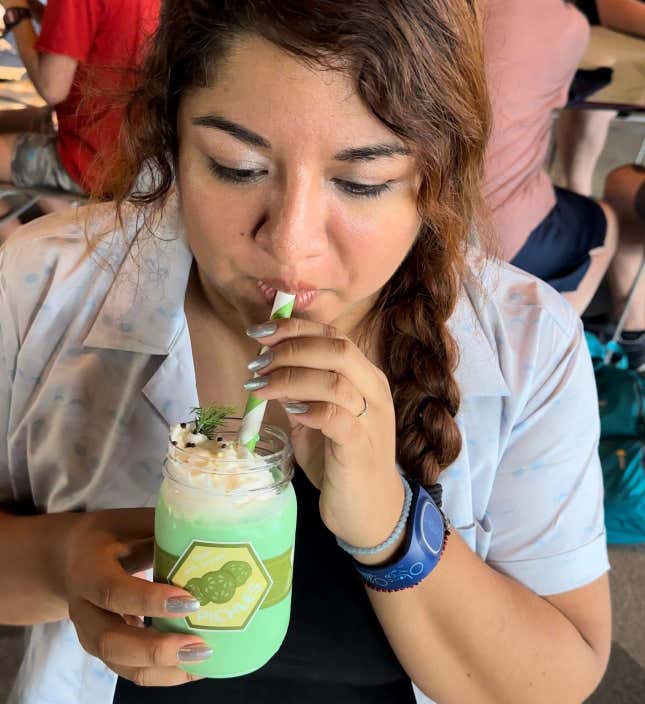 I've recently been a bit more adventurous with food and this wasn't the first time I'd tried a weird frosty-treat based concept. When I went to Coachella to see Danny Elfman headline in 2022, I tried a ice cream from Van Leeuwen that was inspired by Kraft Mac & Cheese; it tasted like sweet cheesecake cream with the bright orange cheese powder folded in. It wasn't bad and after a few bites I was satiated by its oddly sweet and savory flavor, which was fortunate because ultimately my tummy stopped me from eating too much of it.
Thinking if I could handle radioactive orange cheese ice cream, then a green pickle shake should be no sweat, right? Reader, I was wrong—it was very much a lot of sweat and regret. Just see my reaction for yourself below.
Feeling betrayed by my Muppet idols, I am now forsaken to always remember the taste of dill pickle but mostly dill aromatics in shake form. I gave it two tries; the first small sip really gave off potent flavors that reminded me of Irish Spring soap blended in with ice cream. Upon my second attempt with whipped cream, it was somehow worse—like candy corn, but only if it was pickle-flavored by way of forest car air freshener. I'm not into candy corn so it was a "no" from me and unfortunately into the trash it went. Although, I have to say there's been a pretty mixed reaction online from folks who tried it—so I wonder if candy corn people tend to like it more than non-candy corn folks. It will be months before I'll even consider eating anything mint green again. I hope to be cured by Christmas, when the Muppets will return to Walt Disney World to host a live holiday special during Jollywood Nights at Hollywood Studios in Walt Disney World.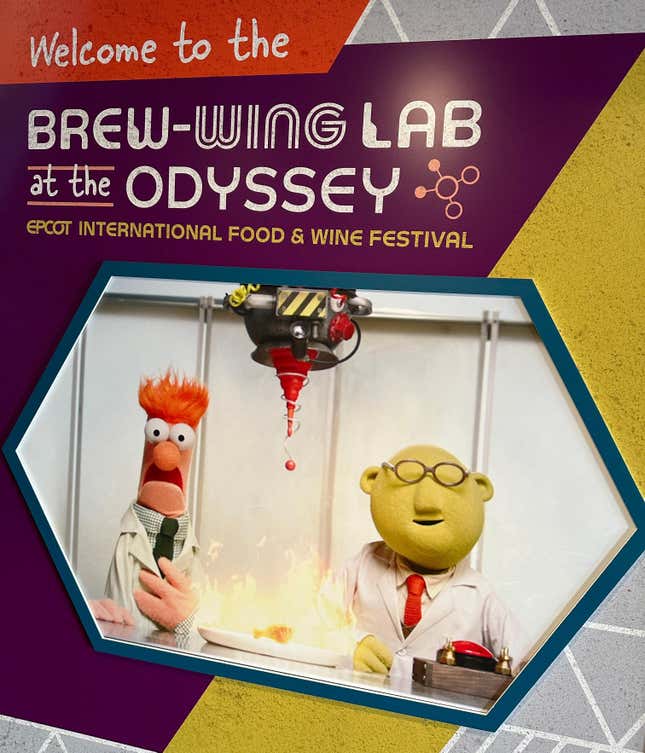 If you want to taste the Pickle Milkshake for yourself (godspeed!), it's available for a limited time during Epcot International Food and Wine Festival at the Brew-Wing Lab in the Odyssey Pavilion from now until November 18. If you've tried it, let us know in the comments below what you thought—or if you'd even give it a shot.
---
Want more io9 news? Check out when to expect the latest Marvel, Star Wars, and Star Trek releases, what's next for the DC Universe on film and TV, and everything you need to know about the future of Doctor Who.