Wendy's Wants to Use Underground Robots to Fetch Your Order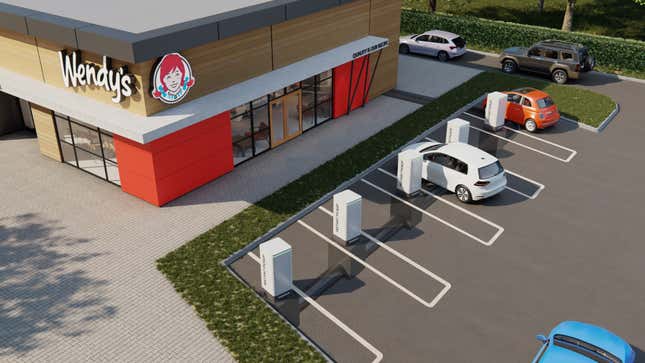 Fresh off the heels of Wendy's announcing it would be using AI in its drive-thrus, the fast food franchise is hoping to add another piece of technology to its dining experience. Specifically, it wants to add a subterranean system of autonomous robots to bring customers their food beneath its parking lot.
Does Beyond Meat's Plant Have a Mold Problem?
Wendy's announced the new fleet of tunnel-dwelling, self-driving robots in a press release today. The fast food franchise will pilot a robot system from Pipedream, a hyperlogistics company, to bring mobile orders from the kitchen to the customer. After ordering on mobile, customers will be able to pull up to an Instant Pickup kiosk and check in with the restaurant using a speaker. The temperature-controlled robots will then transport the food underground from the kitchen to the customer's car.
"At Wendy's, we are consistently innovating to meet our customers however they choose to engage with us," said Wendy's senior vice president and CTO Matt Spessard in the press release. "As mobile ordering preferences increase, we're thrilled to be the first quick service restaurant to partner with Pipedream, leveraging their unique delivery technology and system with the goal of reinventing digital pick-ups to bring more Wendy's to more people as quickly and efficiently as possible."
Wendy's believes that mobile and online ordering is on the rise—the company told Gizmodo in an email that 11% of its March 2023 orders were digital. Therefore, this new system is an attempt at enticing customers to engage with the company's digital offerings without having to leave their cars. Wendy's plans to integrate the tunnels into an existing restaurant sometime this year.
Earlier this month, Wendy's said it would test AI in its drive-thru in a partnership with Google. Software engineers at the fast food chain have been working with Google to build an AI on top of the tech company's own large language model that will recognize Wendy's menu vernacular and dialects and accents. Wendy's Chief Information Officer Kevin Vasconi told The Wall Street Journal that the chatbot is "probably on average better" than the company's best customer service rep and the AI is apparently programmed to upsell customers by asking for larger sizes, add-ons, or meals.