Whatever life throws at us, these top chefs know there is a right citrus for every occasion
Experiences
Trust some of today's top chefs, the likes of Anne-Sophie Pic, Jeremy Gillon, Denis Lucchi, Nobuhiro Nishi and John-Paul Fiechtner, to reignite and even challenge our unique taste for the acerbic, while celebrating the delectably multifarious world of citrus fruits.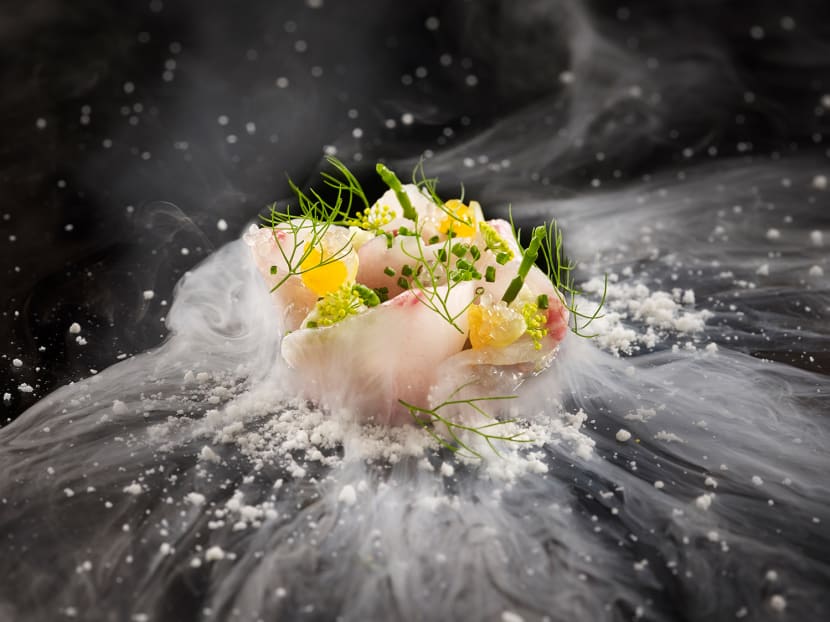 Many are no doubt familiar with the proverbial expression about optimism that famously references what I must assume is some well-made lemonade. What some might find surprising, though, is how the drink has been enjoyed slightly differently for millennia across Asia, Europe and the Middle East.
Indeed, there are those who might choose to write this off as a simple case of happenstance. The astute consumer on the other hand will argue that the global enjoyment of citruses, in all their piquant assortment and not only in their fruitful association with a little sugar and water, exemplifies mankind's complex embrace of gastronomy. I'd add that our species' odd but not entirely unique craving for acerbic and acetic foods ─ of which we choose to consume purely for pleasure ─ is at the very least an inspiring truth. As is our desire to have the bitter with the sweet, give and take some considerable variations in taste and intensity preferences, of course.
FLAVOUR ENHANCERS
Of course, it's hard to say what made the first people to encounter citruses presume that these made for good eating. But we are certainly grateful they were optimistic about the possibilities.
Granted, it took a little longer for some to come around to their amazing variety and inherent versatility. But today's top chefs will affirm that it is more important to acknowledge how our introduction to citruses will vary according to our circumstance and upbringing, and thus will inspire us differently.
"Citrus fruits originated in Asia ─ in the regions of southern China, north-eastern India and Thailand ─ and were cultivated in this region for thousands of years; and it took 12 centuries for orange and lemon trees to be present in the gardens of the Mediterranean," shared acclaimed modern French chef Anne-Sophie Pic, who recalled a somewhat indirect encounter during her teenage years discovering teas, one that sparked her affection for bergamot (or bergamot orange), the fruit of the citrus bergamia plant that is native to southern Italy. She had learned of its essential role in the creation of Earl Grey tea and noted how she was particularly taken by the fruit's "rich, green and very heady aroma". "Since then, (the bergamot) never ceases to exert its fascinating taste on me; its relaxing benefits are well recognised ─ and it has become indispensable to me," she mused.
Pic has coincidentally grown into a bit of a celebrated pundit when it comes to citrus fruits. "I love citrus fruits in general since I learned about them at the citrus conservatory in San Giuliano, Corsica and in Eus near Perpignan in France," she clarified. To boot, the collaboration with the scientists at the same citrus conservatory led to a handsome book on citrus ─ simply dubbed Agrumes ─ that boasts botanical and historical information on 130 citrus varieties, backed by recipes from Pic and some of the best of her peers, the likes of Pierre Hermé, Yannick Alléno and David Toutain.
She added: "I enjoy using (bergamot) in the Berlingots, one of my signature dishes, and it goes very well with matcha, watercress and ginger. The innovation of the "berlingot" lies in its (pyramid) shape, which guarantees a good balance between the quantities of pasta and stuffing, resulting in a soft, creamy and very tasty filling. Bergamot emphasises and magnifies the vegetal notes in this dish and (adds) depth and freshness. It works equally well with both herbal and spicy notes such as coffee. It is a natural flavour enhancer, and one of the most beautiful citrus fruits."
Uniquely aromatic and rich, citrus fruits such as bergamot and Japanese citruses are also often featured on the menu at her Singapore outpost, La Dame de Pic at Raffles Singapore, shared the restaurant's chef de cuisine Francesco Di Marzio, who highlighted how they reflect Pic's culinary philosophy, one that champions a "powerful combination of flavours and aromatic complexity". He added: "Currently on our menu, yuzu is used to add a bright flavour to the sushi rice and sencha in The Blue Lobster from Brittany (dish) that is further enhanced with a genmaicha and Madras curry bisque. In another example, konatsu (aka hyuganatsu, a natural hybrid of yuzu and pomelo) is cooked confit and plated together with Taïnori chocolate mousse and jasmine panna cotta and ice cream for a dessert course."
BEYOND COMPLEMENTARY
While a wider variety of citruses are being appreciated, and in delightful new ways, the popularity of Japanese varieties such as sudachi and yuzu have already earned their place in several other cuisine styles. The latter in particular is as popular as its lemony cousins in almost as many similar drink recipes and confection. The prized qualities of its rind and juice, both in and out of season, have also inspired many Japanese chefs to feature the fruit more creatively.
In winter, though, during the peak of the yuzu season, chef Nobuhiro Nishi of premium kappo restaurant Nishikane looks forward to preparing a more traditional showcase of the fruit ─ which he also prefers to source from The Kito Area, Naka-cho in Tokushima, Japan. Described as a salad dish served in a hollowed out yuzu, the yuzu-gama is first filled with a culinary cocktail of ground Japanese turnip, black fungus, shrimp, and fresh seasonal fish, and then steamed to achieve a more well-rounded and complex showcase of citrus flavour. It's worth noting that each of these revered examples of Japanese yuzu is harvested in a unique microclimate, in an area famously known as "The Golden Village of Yuzu" for obvious reasons. Nishi also uses the flesh of the fruit to make a yuzu kosho (a popular condiment), as loves how the flavour of yuzu is able to lend an "umami finish" to many of his dishes.
Speaking of elevating the enjoyment of an already delicious ingredient, Australian native John-Paul Fiechtner, the executive chef of 1-Arden (a multi-concept F&B and lifestyle destination by the 1-Group), likes his Sydney Rock oysters prepared over coals and served topped with lemon aspen cream. And guests can have just that to kick off their meal at 1-Arden's restaurant Kaarla, which specialises in Coastal Australian Cuisine. Fiechtner explained: "Citrus pairs well with oysters as it enhances the latter's briny flavours. The strong and sharp flavours of lemon aspen are muted by adding it to an oyster emulsion base of dried oyster, smoked vinegar and cream. This highlights the flavour of the citrus as opposed to just its acidity."
Still, why lemon aspen? Well, it could be its unique combination of an "intense lemony flavour with herbaceous tones reminiscent of eucalyptus and honey". Sometimes referred to as the "rainforest lemon", this variety is native to Far North Queensland, Australia, but will grow as far south as along the coast of Sydney, Fiechtner asserted. We do however suspect he's more interested in the fact that it tastes like "a cross between a lime and a grapefruit", and that it can be eaten raw, cooked with seafood and poultry, or made into syrups, jam, sauces, juices, dressings, puddings, cakes, and biscuits. Not surprisingly, Fiechtner also enjoys pairing lemon aspen with an extra-large woodfire-grilled Australian marron. Here at the restaurant he serves it with white corn and miso mustard, white corn kernels cooked in embers, dried white corn crisp, lemon aspen butter sauce, and hand foraged seablite.
IDEAL COLLABORATORS
Interestingly, the cedrat or citron, is not only one of the original citrus fruits but also one of the most delicately fragrant, with a balanced flavour profile inspired culinary professionals such Jeremy Gillon, chef and co-owner of contemporary French fine dining outfit Restaurant JAG, truly appreciates. "I use cedrat for its nice, rounded flavour; it is a very aromatic citrus with a light bitterness," he shared, noting in particular how he can use the entire fruit. This is cleverly showcased alongside a combination of Brussels sprouts and ortie (nettle) vinegar that he likes to pair with seafood such as surf clam, depending on the best availability of the season. Here, raw leaves of Brussels sprouts are tossed with mâche salad and finished with Brussels sprouts powder. The cedrat is featured three ways: confit, pickled and in a citrus paste. Gillon enlightened: "Brussels sprouts are very nutty in flavour with a light bitterness, and the cedrat complements these characteristics with its floral aroma; and candied citrus flavour expressed through a wonderful balance of sweet, bitter, and acidic notes."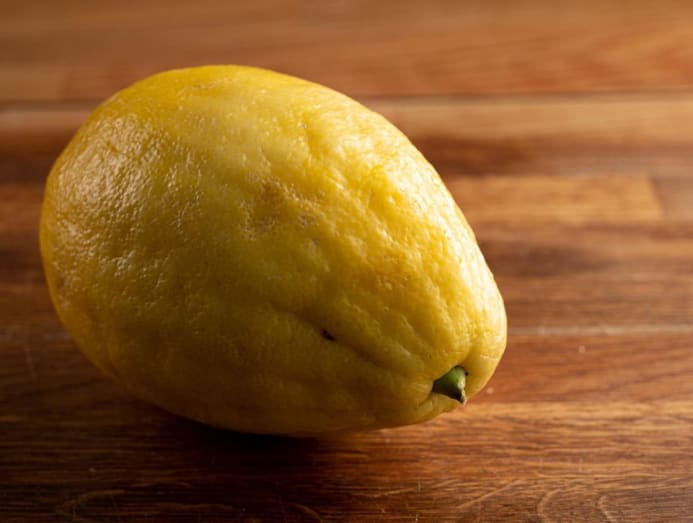 He shared that to bring this candied citrus flavour and acidity to the dish, thin slices are blanched three times to remove any bitterness. They are then immersed in a sugar syrup infused with ortie and nori. Thinly sliced cedrat are also pickled for two to three days in a precise cocktail of boiled Brussels sprouts juice, white vinegar, white balsamic vinegar, cloves, bay leaves, sugar, salt and yeast. This pickled element he noted adds a rounded acidity and aroma to the dish. Finally, lemon and cedrat are blanched then simmered in salted sugar syrup for two days before being blended into a paste.
Now, suffice it to say, the cedrat is not the prettiest citrus in the grove, but it is certainly not the oddest looking of the lot either. That honour goes to the Buddha's Hand, a citron variety that some have also christened the "fingered citrus" after its amply unusual shape. It is nonetheless one of resident chef Denis Lucchi's preferred citrus that goes into his Carpaccio dish from Buona Terra's winter menu. "The rind is waxy and full of essential oils with a one-of-a-kind citrusy floral scent ─ almost like a blend of lemon, yuzu and grapefruit with hints of lavender," he said, noting as well how the fruit doesn't have pulp or seeds like conventional citruses. "Instead, the inside of the Buddha's hand is a white bitter-sweet and crunchy pith ─ unlike others that tend to be generally bitter," he added. It is however the variety of citruses in question that really elevates the dish. Pieces of Buddha's hand are confit to achieve a subtle candied and fragrant profile, while Calabrian mandarin orange segments add bursts of sweetness. Lemon juice, he continued, is mixed with olive oil for the yellowtail marinade. And to make an accompanying lemon puree, lemon rind is first blanched 15 times to remove any bitterness and to soften, before it's blended to a creamy consistency and enhanced with the zest of orange or mandarin orange. Yuzu or orange juice is used in the orange "snow" topping (prepared using liquid nitrogen). And to finish, there is citrus caviar for extra acidity, and the zest of black lemon (which is actually dried lime) for a deeper, rounded flavour.