When Evil Lurks Oozes Dread in Every Detail
In 2018, a skin-crawlingly eerie horror movie from Argentina called Terrified hit Shudder after debuting at Fantastic Fest. Writer-director Demián Rugna is following a similar path (with a theatrical release in between) with his latest, When Evil Lurks, a film which proves Terrified was no fluke while unfurling its own uniquely bleak nightmares.
Spoilers of the Week | June 3rd
Terrified set its tale of supernatural horror in a nondescript Buenos Aires neighborhood; When Evil Lurks shifts the action to a more rural area, but finds ordinary folks who're no less distressed to find otherworldly goings-on in their midst. Brothers Pedro (Ezequiel Rodríguez) and Jimmy (Demián Salomón) live and work together on a farm, an arrangement precipitated by Pedro's traumatic split from his wife and kids a few years prior. One night they hear gunshots peppering the countryside, and upon investigation discover a stranger's mutilated body surrounded by a pile of mysterious instruments. Following clues to a neighbor's house, they discover "a possessed one," a young man so infected with evil he's become less a person and more a bloated, hissing, puss-dribbling mountain of sentient flesh. The brothers learn the dead stranger was coming to perform the proper ritual that would prevent "the rotten" from spreading, but he was cut down by someone or something before that could happen.
With that opening sequence, When Evil Lurks establishes some important story points. There are rules, you see, about dealing with possession; the first one is that you can't just kill the vessel and end the problem, because "you don't kill evil like that." Possession is a known (albeit rare) occurrence; there are people known as "cleaners" specifically skilled to fight against it; and the police are tasked with summoning them to handle outbreaks of evil. There's a notable absence of any religious elements—usually, exorcism tales hinge on Catholic priests, but in When Evil Lurks, characters remark that "God is dead" and "the time of churches has ended." Law enforcement is also curiously checked out; despite the general feeling that having a "possessed one" hanging around is very, very undesirable, the local cops have dragged their heels doing anything about Pedro and Jimmy's neighbor. And since "the rotten," we soon learn, is contagious, things soon begin to spiral—a situation made much worse when the brothers and a third neighbor decide dumping the possession victim's somehow-still-alive wheezing carcass a few miles beyond their property lines is the best solution.
It doesn't take long before the viewer becomes acclimated to When Evil Lurks' twisted version of reality, and Rugna continuously increases the levels of dread as the brothers (especially Pedro, who's determined to reunite with his kids) realize the only way to escape the evil is to outrun it. Even that proves daunting, however, because the possession curse is not unlike a zombie virus, seeping out from its patient zero and infecting everyone it encounters—and the brothers both feel increasing levels of guilt, knowing they encouraged this by dragging "the rotten" out into the open. Most distressingly, the infected behave in startling, cruel, manipulative, and violent ways, with Rugna expertly turning the screws. There are genuinely shocking jump scares and subtle moments of chilling agony, both conveyed with imagery that will compete for screen time in your nightmares.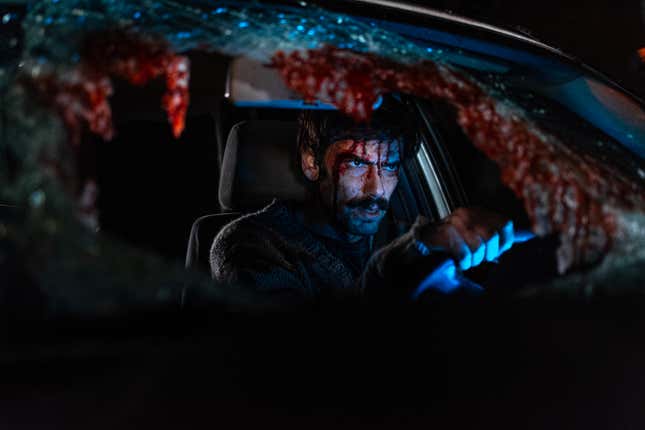 Despite its gory horrors, perhaps the most chilling part of When Evil Lurks is that it conveys such a sense of inevitability and helplessness. For all the rules its protagonists learn they must follow to ensure their survival, and all the seemingly elaborate rituals that "cleaners" are capable of performing, there's an underlying feeling that the darkness can never be defeated, especially in a world where "evil likes children and children like evil" and "evil knows more about your fears than yourself." These are sentiments that many possession-themed movies aim to explore, but When Evil Lurks comes at them from its own grim, gritty, disturbing, and completely unpredictable point of view. If you want an unforgettable date with a demon on Halloween, this is the movie to choose.
When Evil Lurks hits theaters October 6; it arrives on Shudder October 27.
---
Want more io9 news? Check out when to expect the latest Marvel, Star Wars, and Star Trek releases, what's next for the DC Universe on film and TV, and everything you need to know about the future of Doctor Who.