Wolf Like Me Shares a Season 2 Peek, Premiere Date, and New Cast Member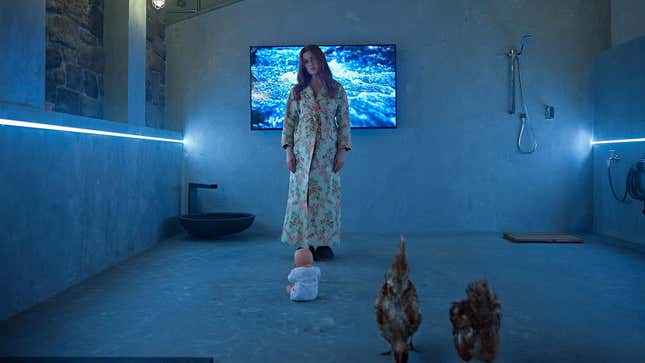 What happens when a human knocks up a werewolf? Season two of Peacock's Wolf Like Me will explore that uniquely bizarre situation when it returns October 19, dropping all seven episodes of the Isla Fisher-Josh Gad series at once.
Here's a synopsis of season two, which explains more about new cast member Edgar Ramirez: "In the second season of Wolf Like Me, Mary (Isla Fisher) and Gary (Josh Gad) leap into the next phase of their relationship and face their biggest challenge yet: pregnancy. As much as they try to have a 'normal' pregnancy, it seems impossible with so many questions looming over them. Will their child be a baby or a wolf pup? Just how long can they keep things secret from the rest of their family? And will what happened in the outback come back to haunt them? But when Mary's former professor, Anton (Edgar Ramirez), suddenly reappears in her life, new secrets from Mary's past are revealed, leaving Mary and Gary to question whether they're even meant to be together."
According to a press-release statement from series creator, writer, director, and exec producer Abe Forsythe (which notes Wolf Like Me season two was completed as of April 5, prior to the start of the ongoing WGA and SAG-AFTRA strikes) "Mary and Gary's universe is expanding and is rife with a wealth of new characters, interactions and threats … This season, humor plays an even larger role as we explore the inherent absurdity that ensues when their secrets spill into the open … you can truly expect the unexpected."
Scroll through for first-look images Peacock released of Fisher, Gad, Ramirez, and Ariel Donoghue (who plays Gary's daughter) from season two of Wolf Like Me. It premieres October 19.