World Series Game 5 highlights, trophy ceremony: Rangers win first title in team history
The Texas Rangers have done it.
They entered Wednesday as the oldest team in Major League Baseball without a World Series to their name and left as 2023 World Series champions, beating the Arizona Diamondbacks 5-0 in Game 5 to clinch their first title in the 63-year history of their franchise.
Nathan Eovaldi continued to live up to his big-name pitcher reputation, working into and out of jams over six scoreless innings. And the Rangers needed all six of those innings, as Arizona ace Zac Gallen threw six perfect innings before the Rangers finally got their first hit — and run — off him in the seventh.
Aroldis Chapman and Josh Sborz then kept Arizona off the scoreboard over the final three innings and the Rangers taked on four more off Arizona closer Paul Sewald to seal the historic victory, which also capped off an unprecedented 11-0 road record for the Rangers in the playoffs.
Corey Seager won World Series MVP after three home runs in the five-game series, including a game-tying homer in the ninth inning of Game 1. Seager is now the second player in MLB history to win World Series MVP with multiple teams, having also done so with the Los Angeles Dodgers in 2020.
Texas Rangers' Corey Seager wins World Series MVP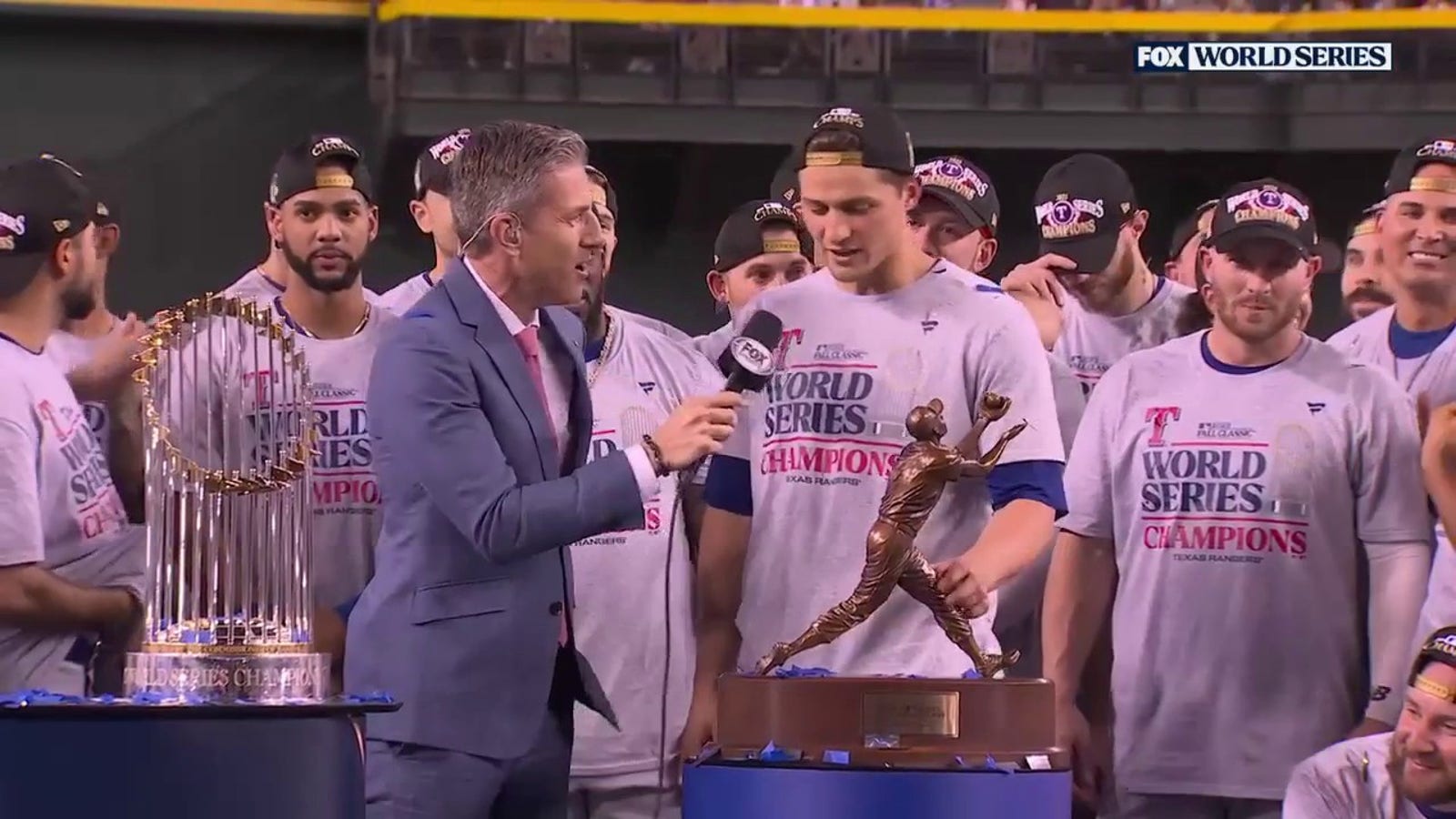 Reggie Jackson — who Seager has been compared to during this series as this generation's "Mr. October" — is the only other to do so.
Check out all the highlights and best moments from the trophy celebration below!
Rangers win first World Series in franchise history after defeating D-backs 5-0 in Game 5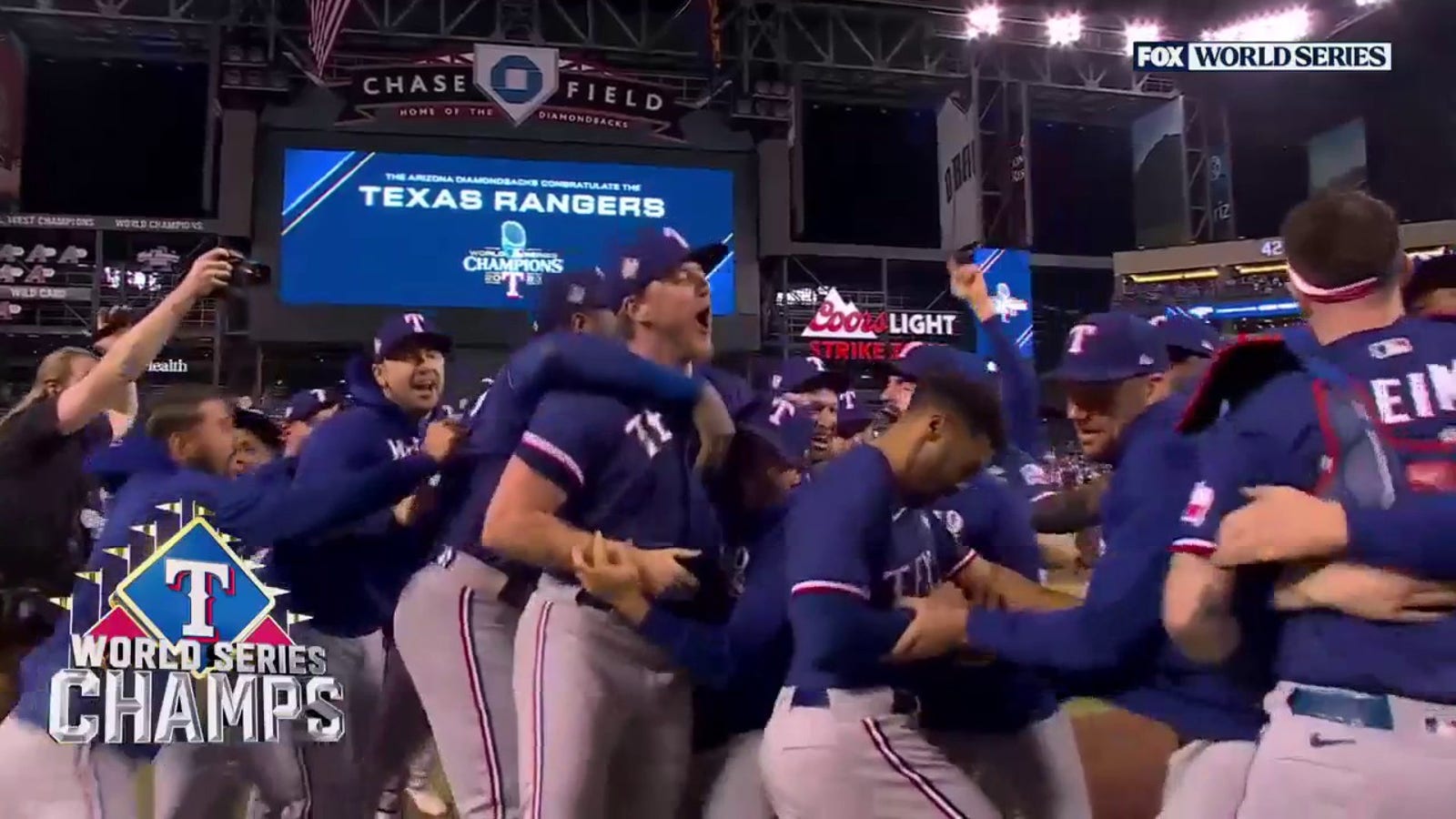 Rangers defeat Diamondbacks to win the franchise's FIRST World Series Championship | MLB on FOX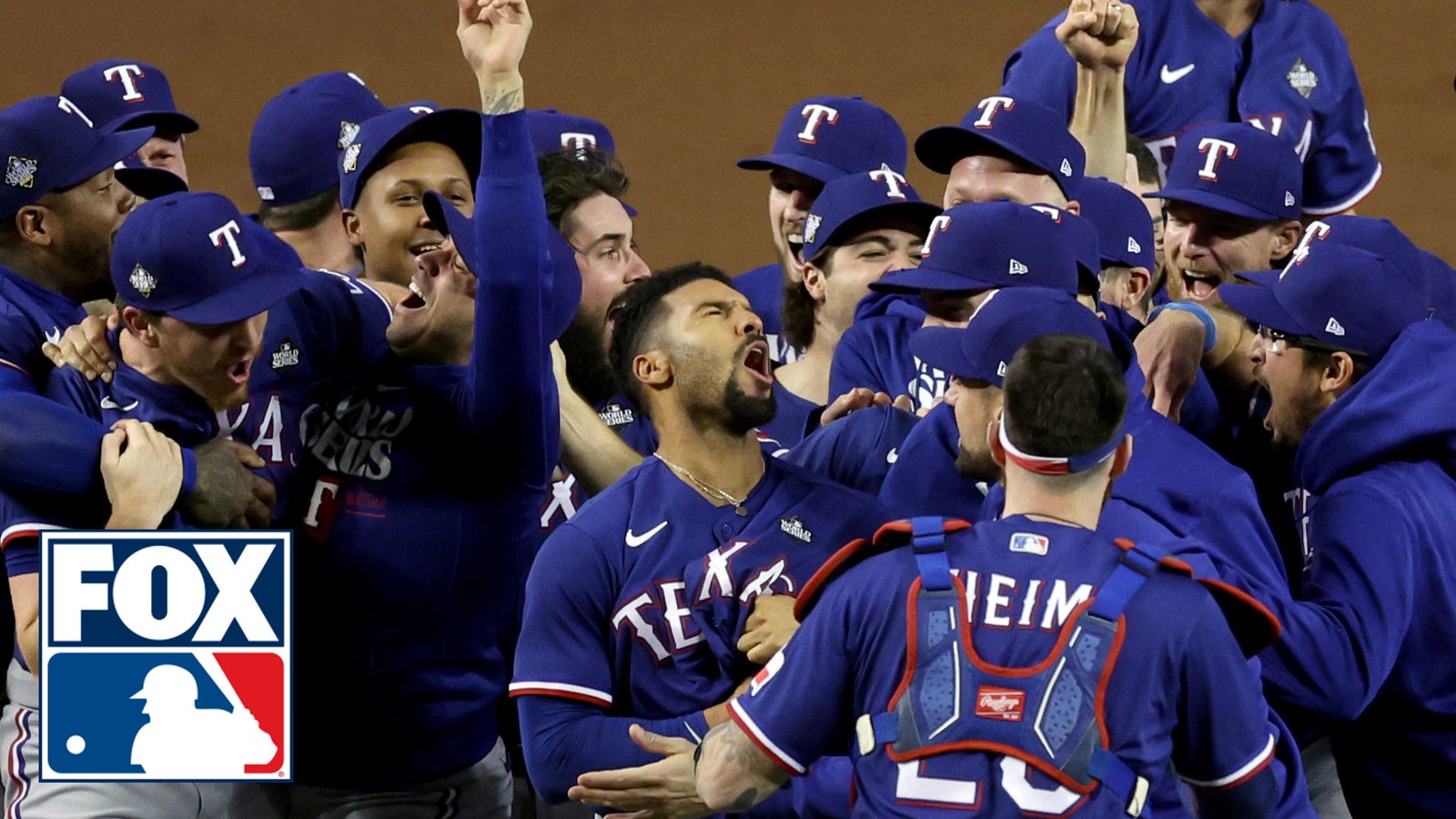 Manager Bruce Bochy lifts World Series trophy after Rangers win first title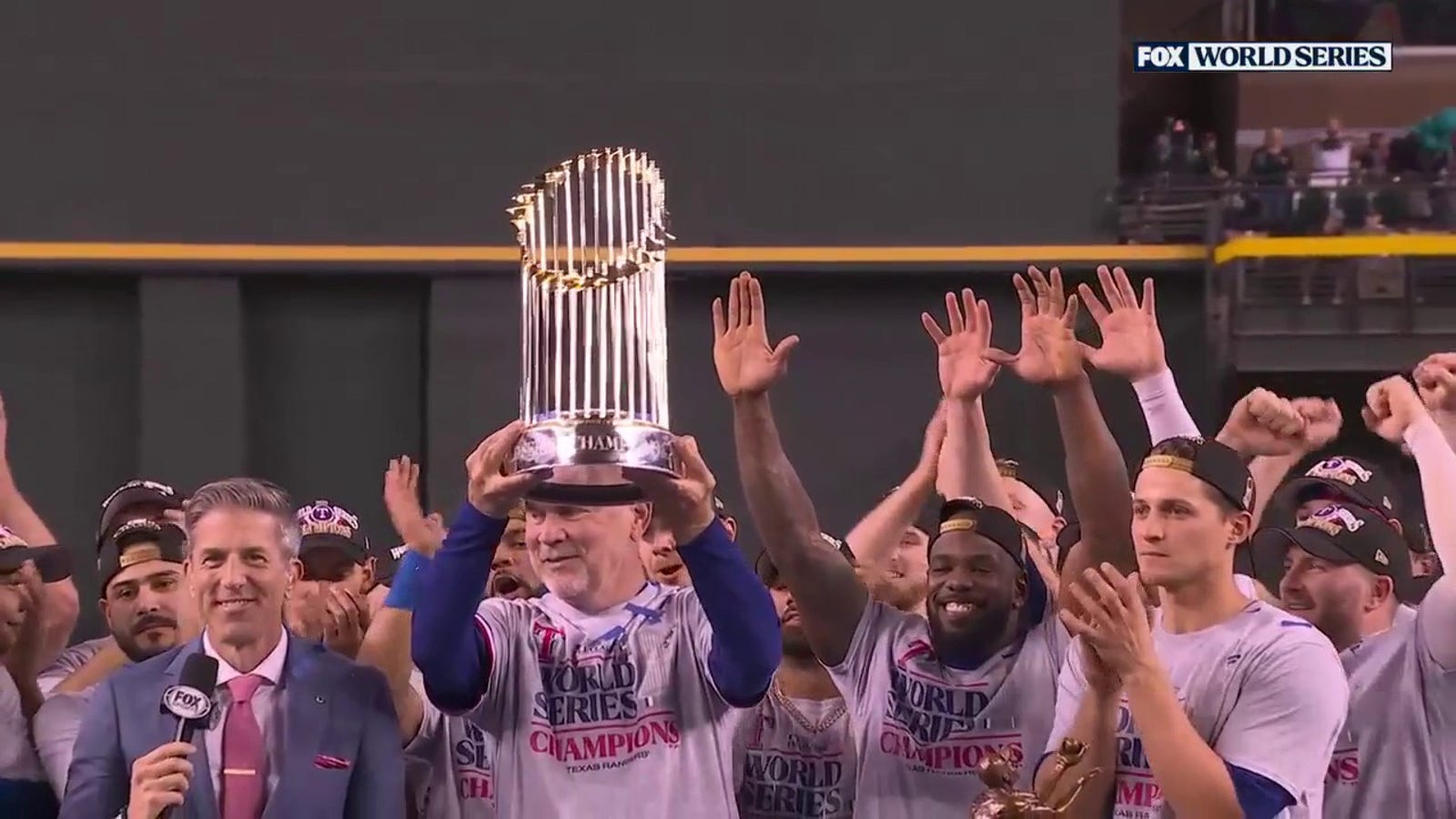 Rangers' Corey Seager on bond with Marcus Semien and winning WS MVP with two different teams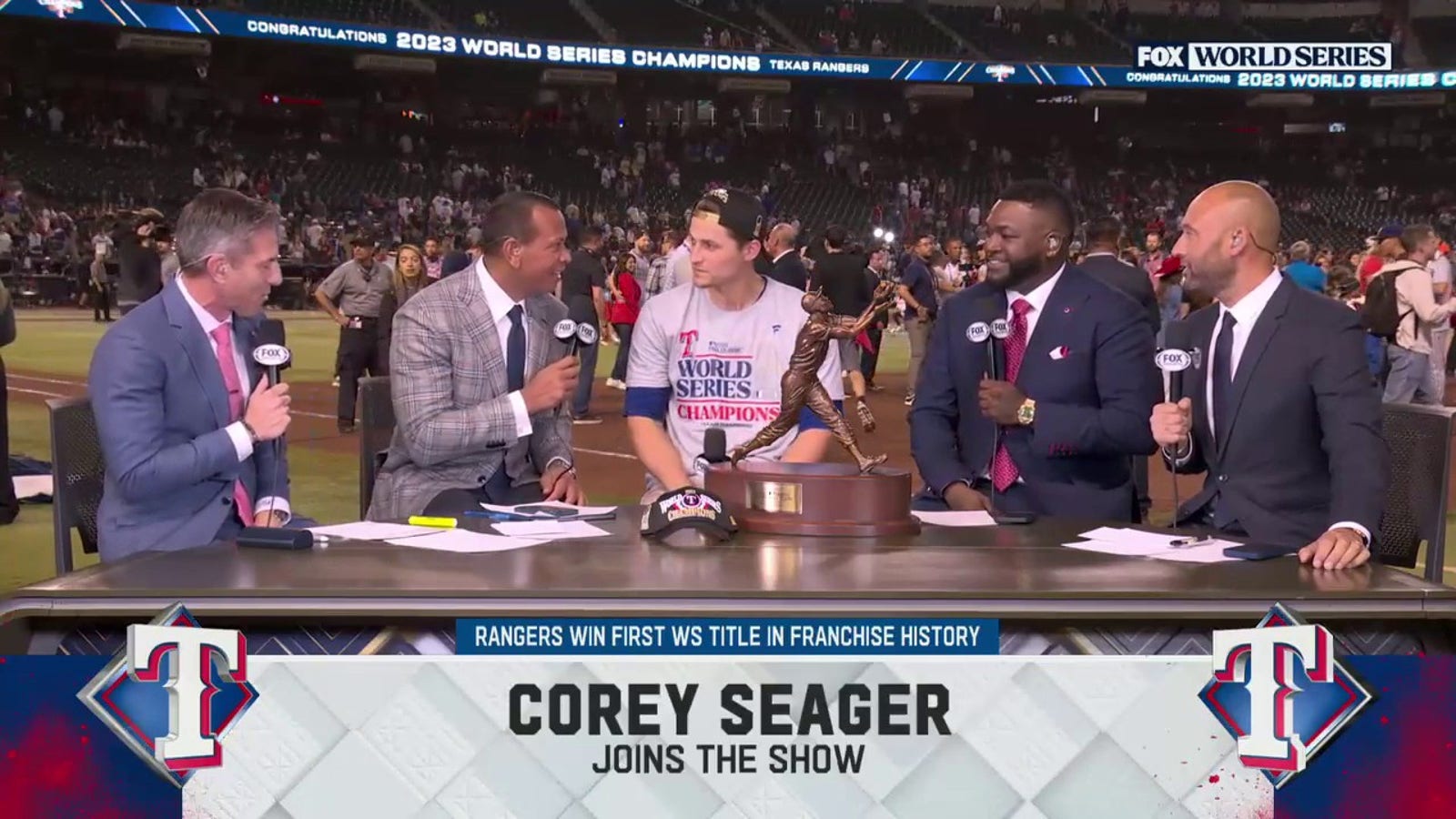 'This is the biggest moment' – Marcus Semien reflects on his home run in the Rangers' first World Series win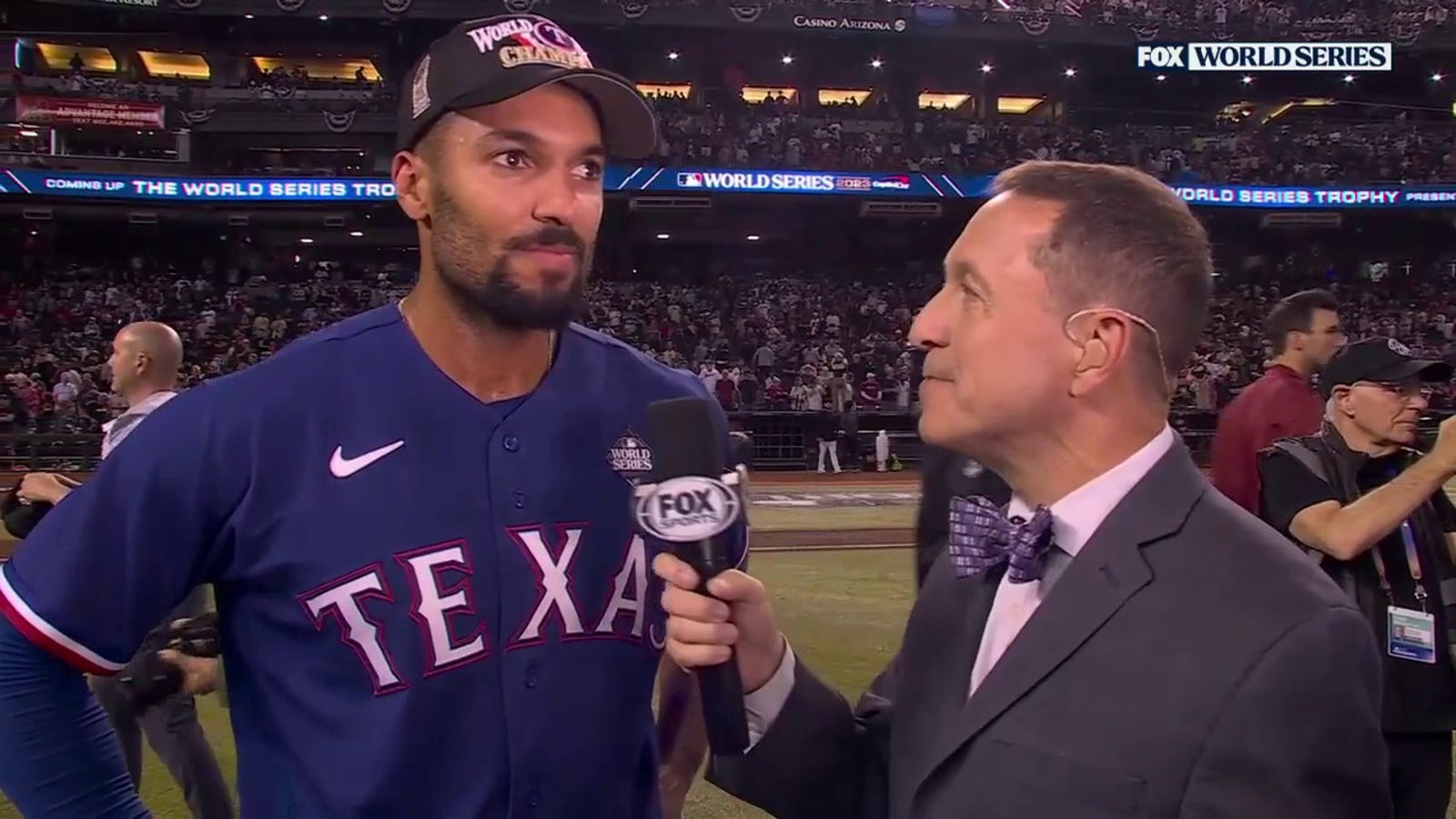 'One of the coolest moments of my life' — Rangers' Jonah Heim on catching the final out to win the World Series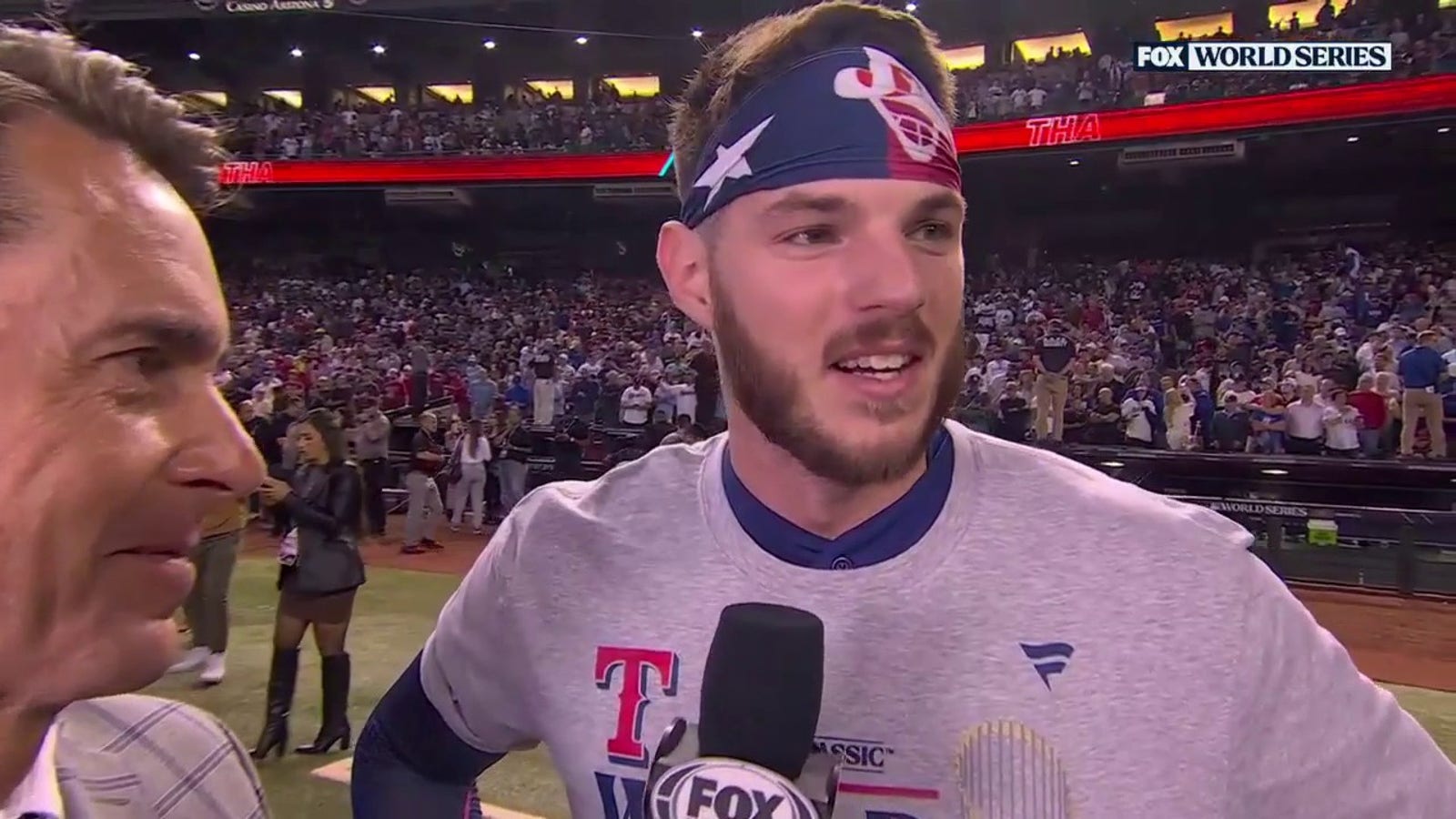 'We just got a group of winners' — Nathaniel Lowe tells Ken Rosenthal how special the Rangers' team is after winning World Series
'I don't know how many rabbits I have in my hat left!' – Nathan Eovaldi talks emotions of clinching World Series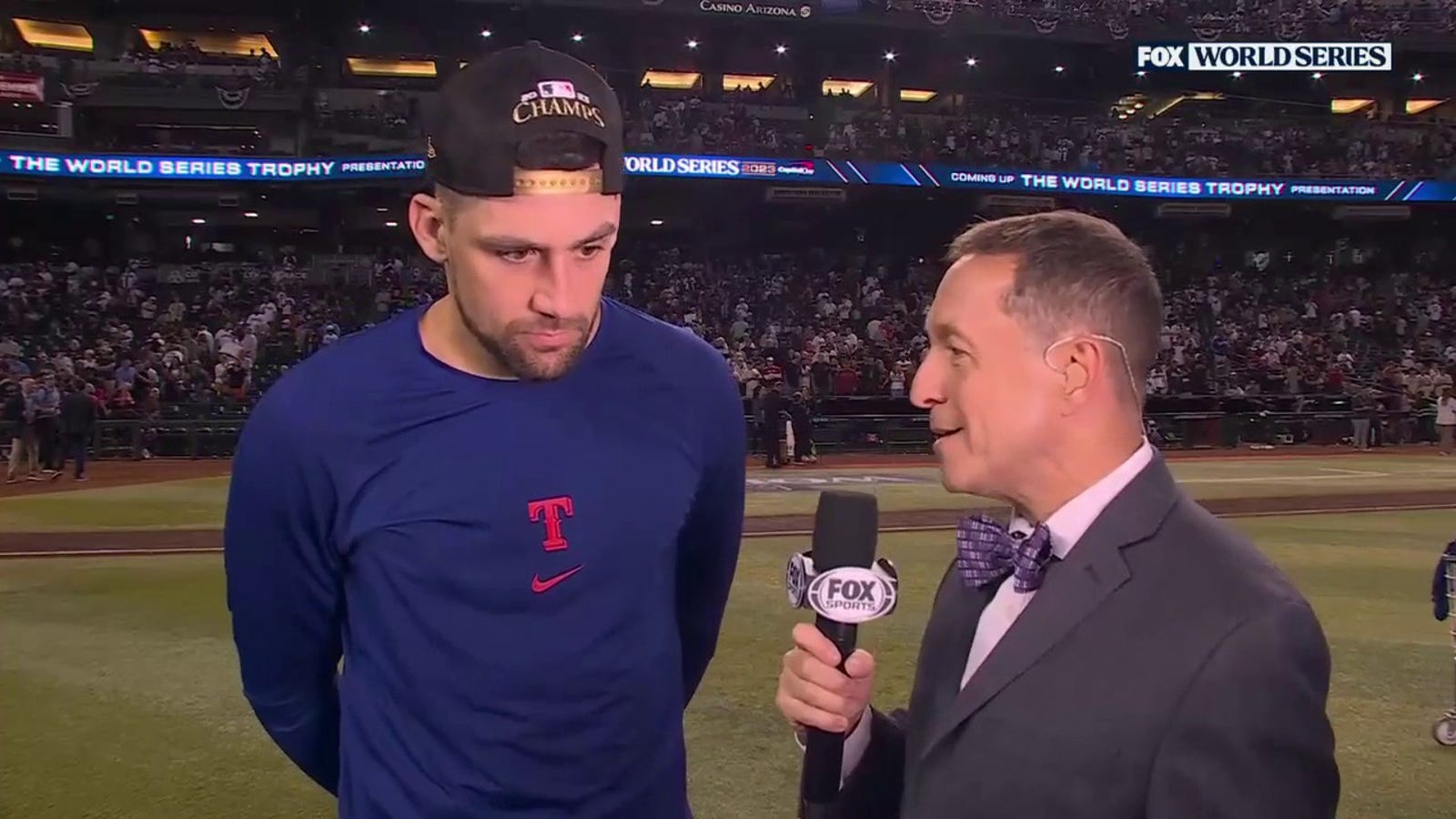 'You guys just wrote history' – Bruce Bochy gives locker room speech to Rangers after WS win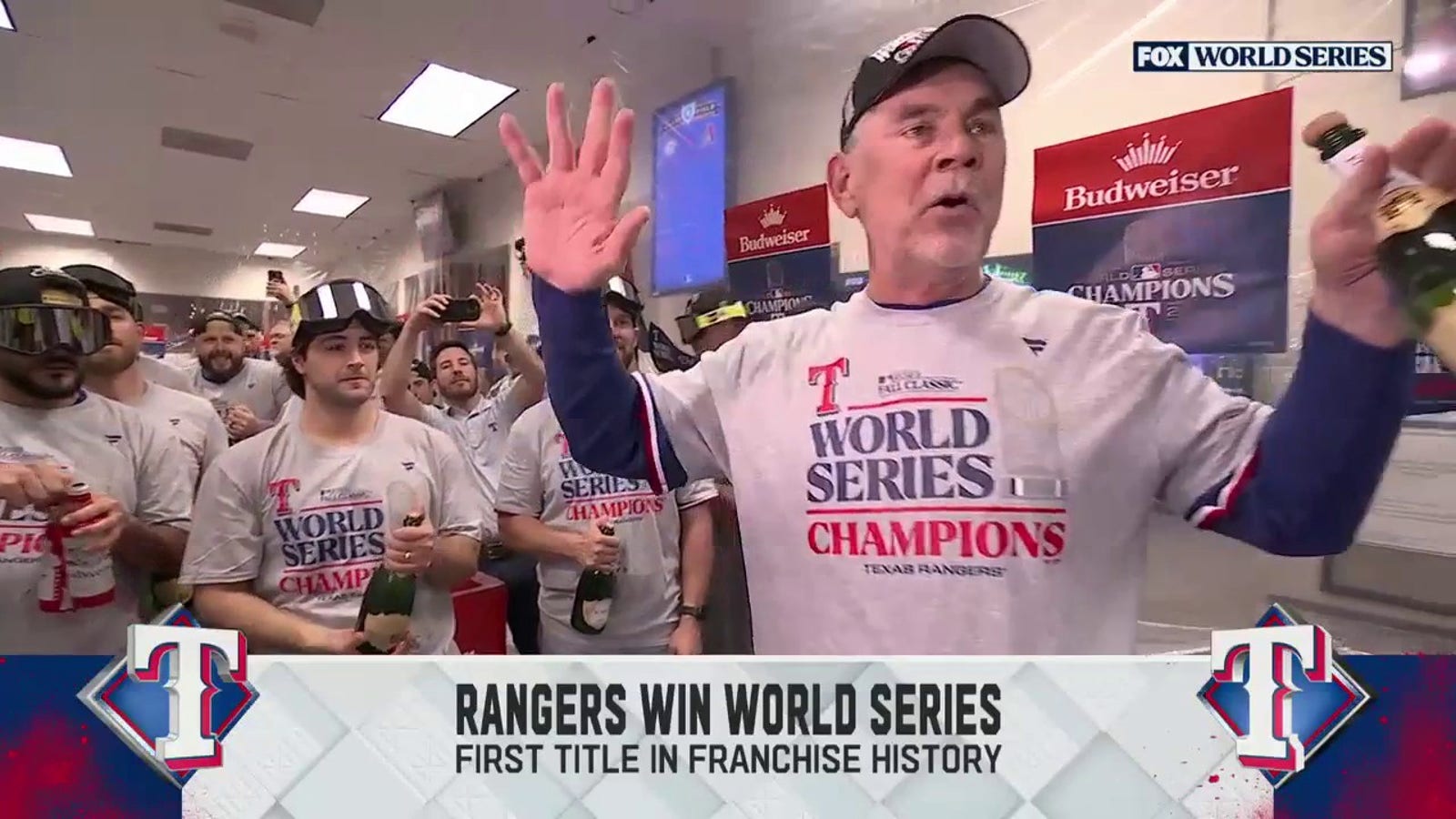 'This is why I came back' – Bruce Bochy talks Texas Rangers' thrilling World Series victory | MLB on FOX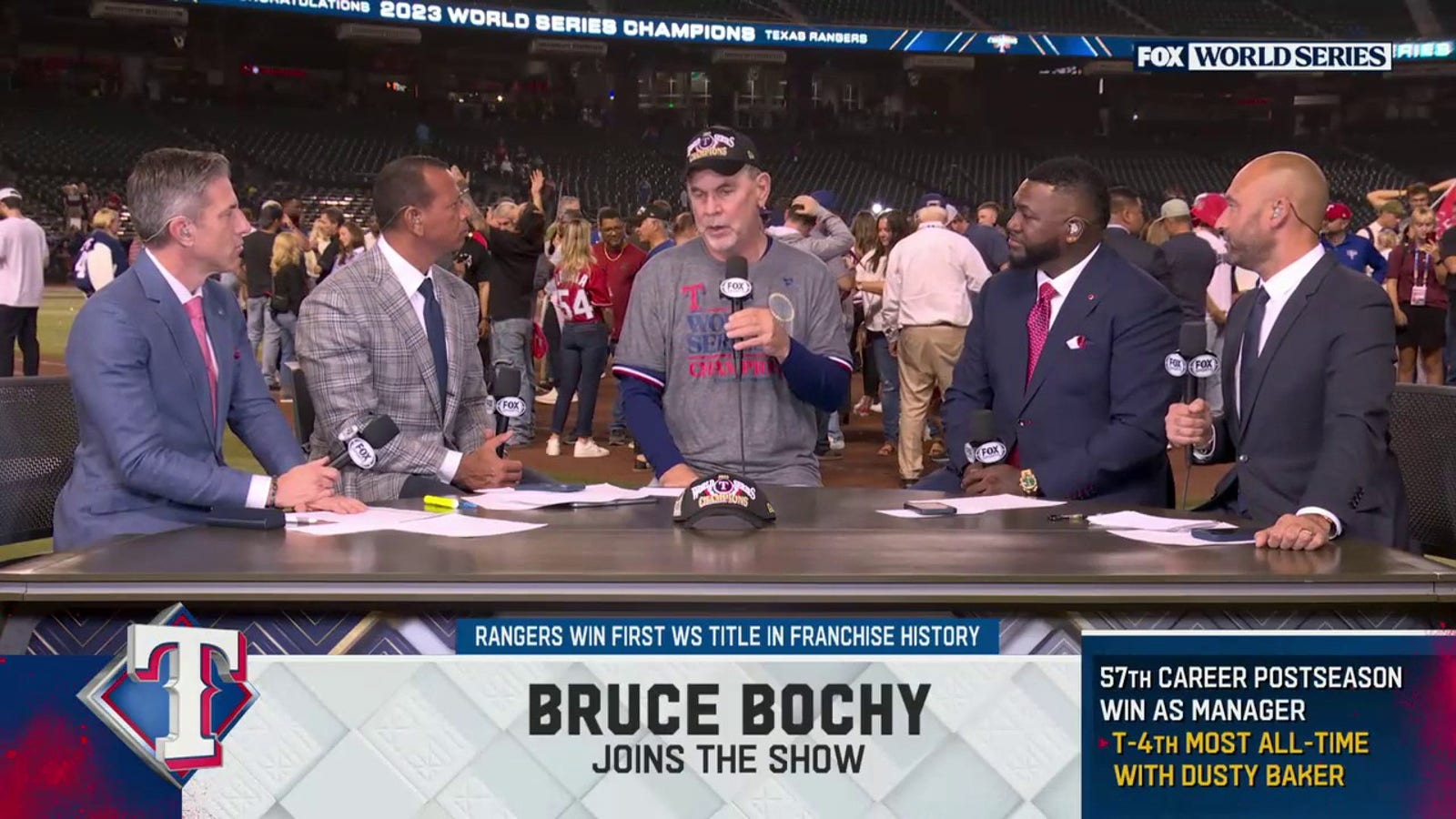 'Not every player gets to experience it!' – Marcus Semien opens up on Rangers clinching the World Series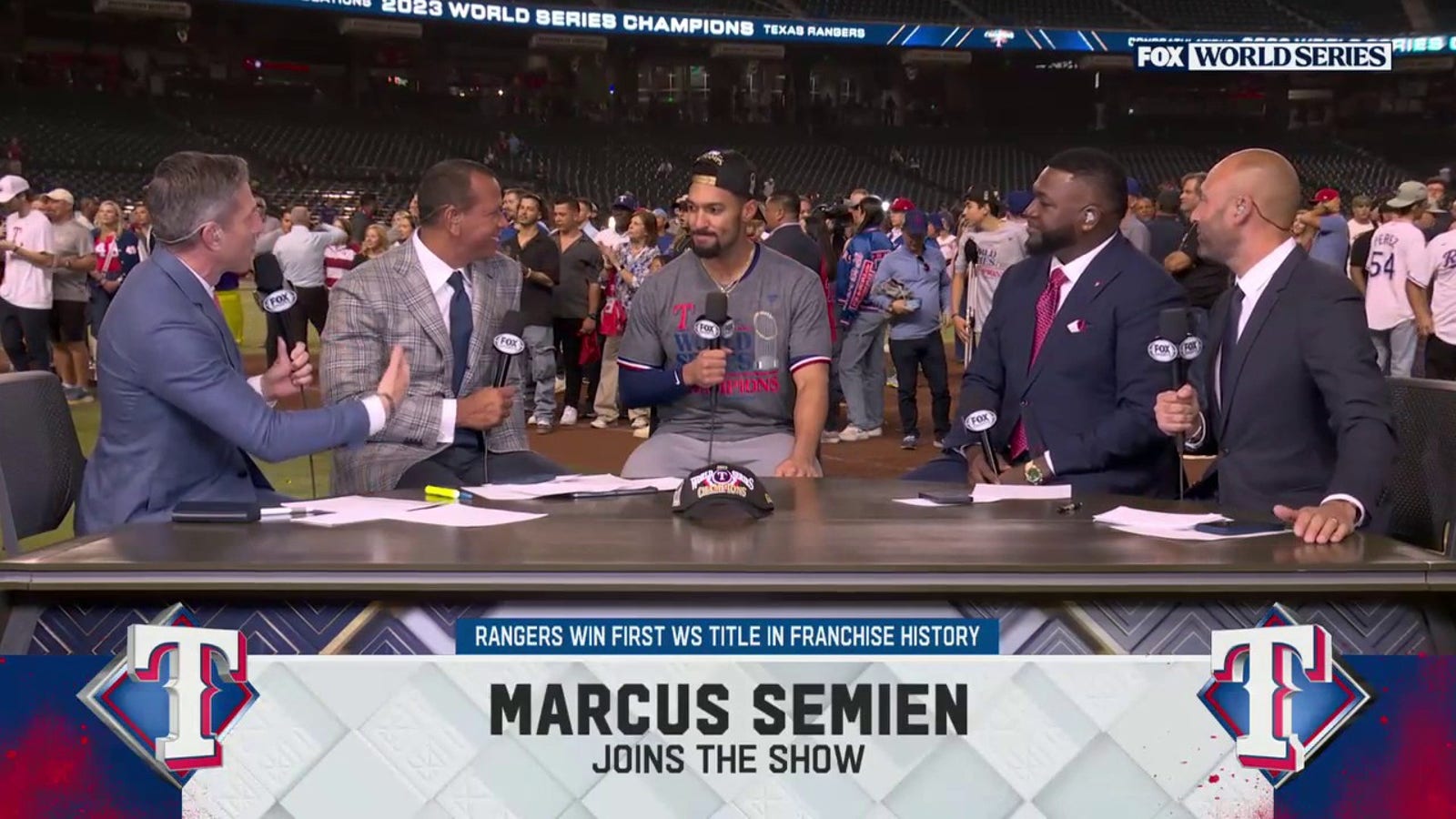 'I want to be one of the best' – Nathan Eovaldi reflects on winning five postseason starts with the Rangers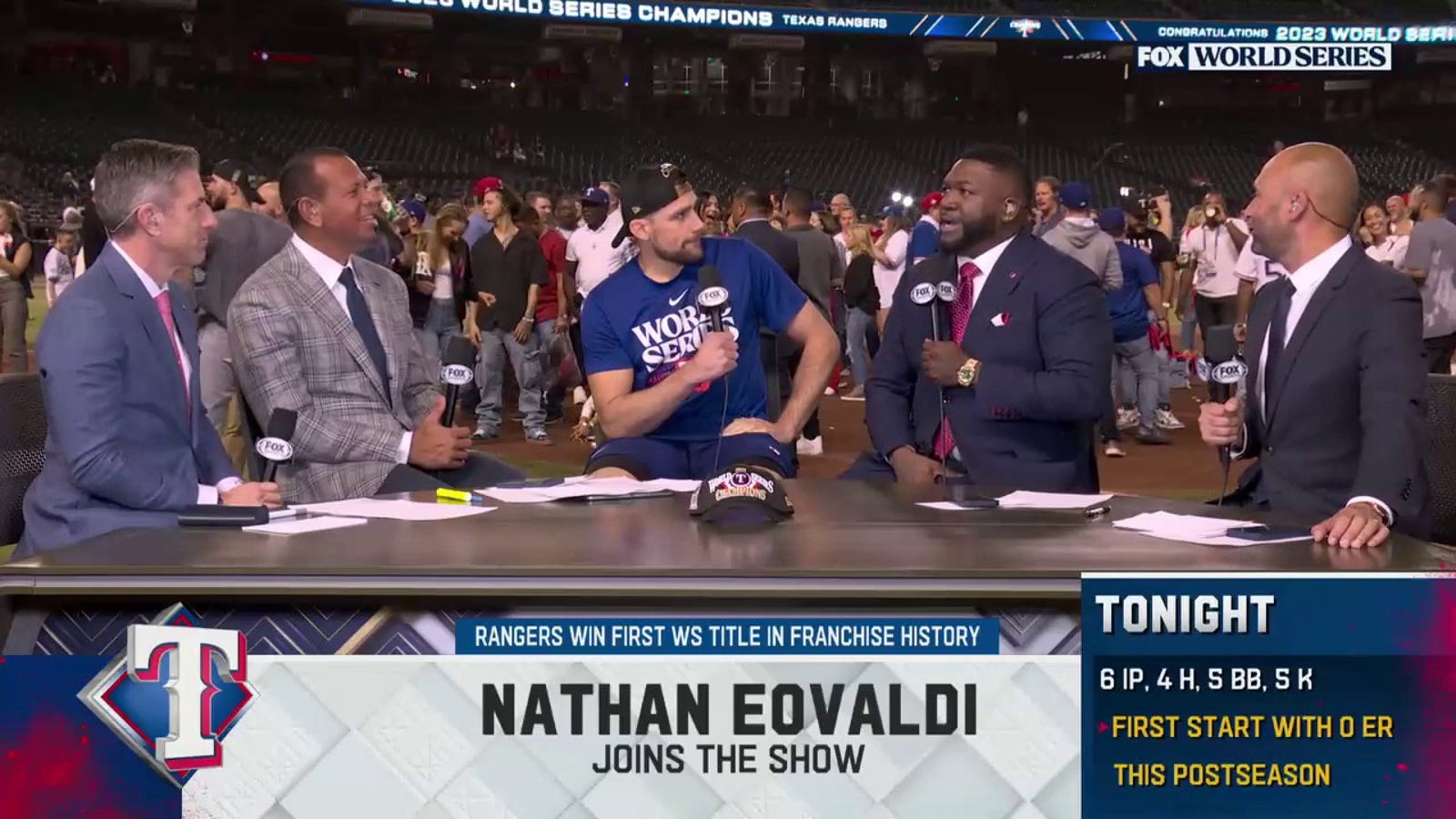 Rangers' Nathaniel Lowe shares heartfelt message to his mother after winning the World Series
Texas Rangers 5, Arizona Diamondbacks 0 (TEX wins World Series 4-1)
Good start for Gallen!
A 1-2-3 inning against the fearsome top of the Rangers' order gets us underway in Game 5.
Carroll's SPEEDY stolen base
Corbin Carroll was ultimately stranded on third base, but the D-backs rookie still showed off his incredible speed on this steal of second.
What a catch!
Evan Carter's incredible sliding play in the left field may have saved a run as Eovaldi worked around a leadoff single to keep the game scoreless.
Ken Griffey Jr. in the house!
The sports photographer and baseball Hall of Famer is in attendance for Game 5 in Arizona.
Eovaldi escapes again!
The Rangers right-hander has not been as sharp as his D-backs counterpart, but kept the game scoreless by striking out Christian Walker and getting Tommy Pham to ground out with runners on second and third, keeping the game scoreless.
Rangers' Nathan Eovaldi gets Tommy Pham to ground out, leaving two Diamondbacks stranded in the third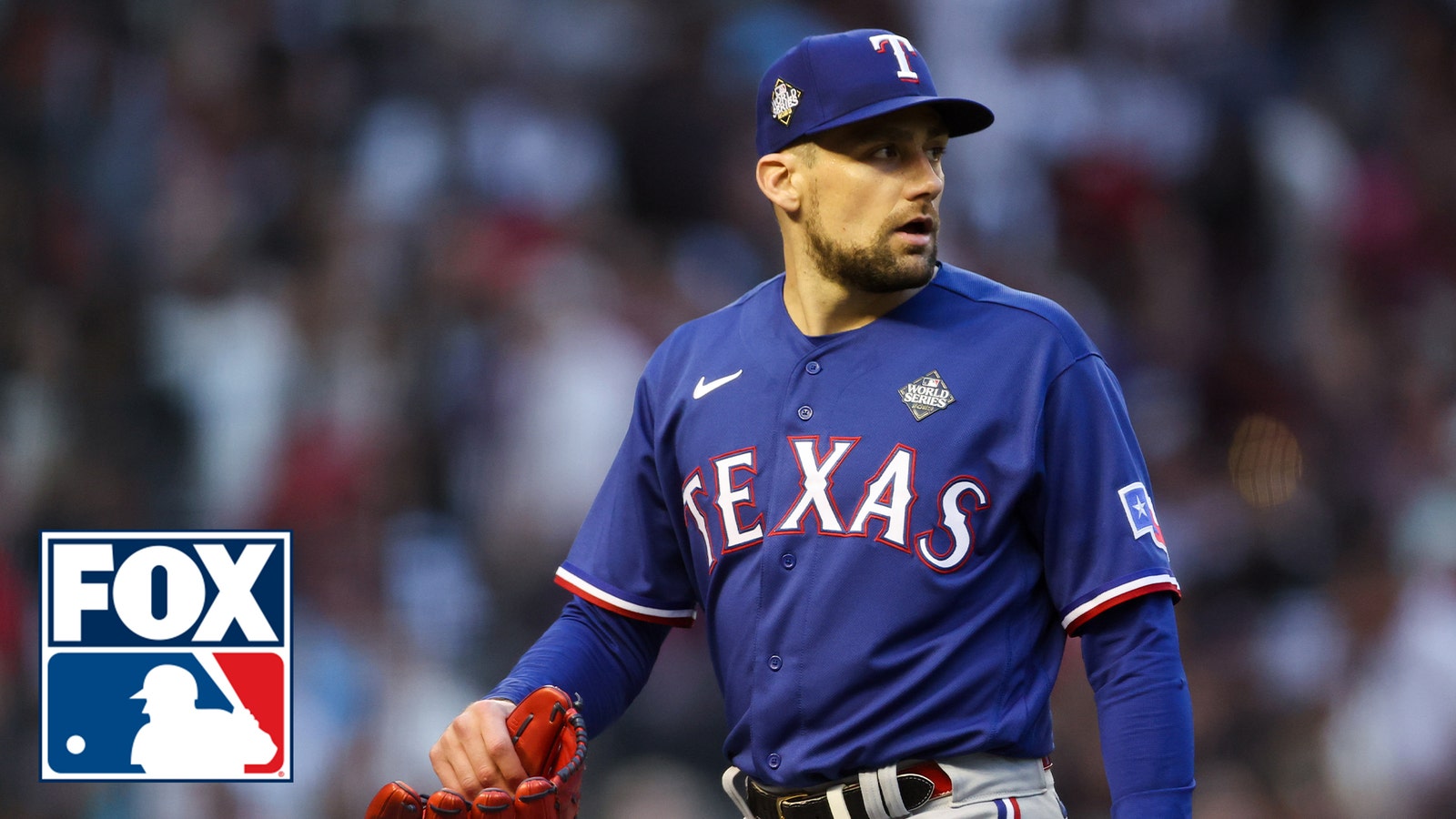 What a play, Perdomo!
Geraldo Perdomo diving stop against Marcus Semien robbed what could have been the Rangers' first hit of the game.
Gallen is DEALING
Four perfect innings to begin a must-win Game 5 for Arizona's ace.
Caught looking
The D-backs stranded another runner in scoring position when Eovaldi struck out looking against Perdomo.
Another great defensive play
Lourdes Gurriel Jr. tracked down this Josh Jung fly ball to rob the Rangers third baseman of extra bases.
Eovaldi continues tightrope walking!
The Rangers right-hander gets out of another jam, keeping the game scoreless heading into the sixth.
Rangers' Nathan Eovaldi escapes bases loaded jam after Diamondbacks' Lourdes Gurriel Jr. grounds out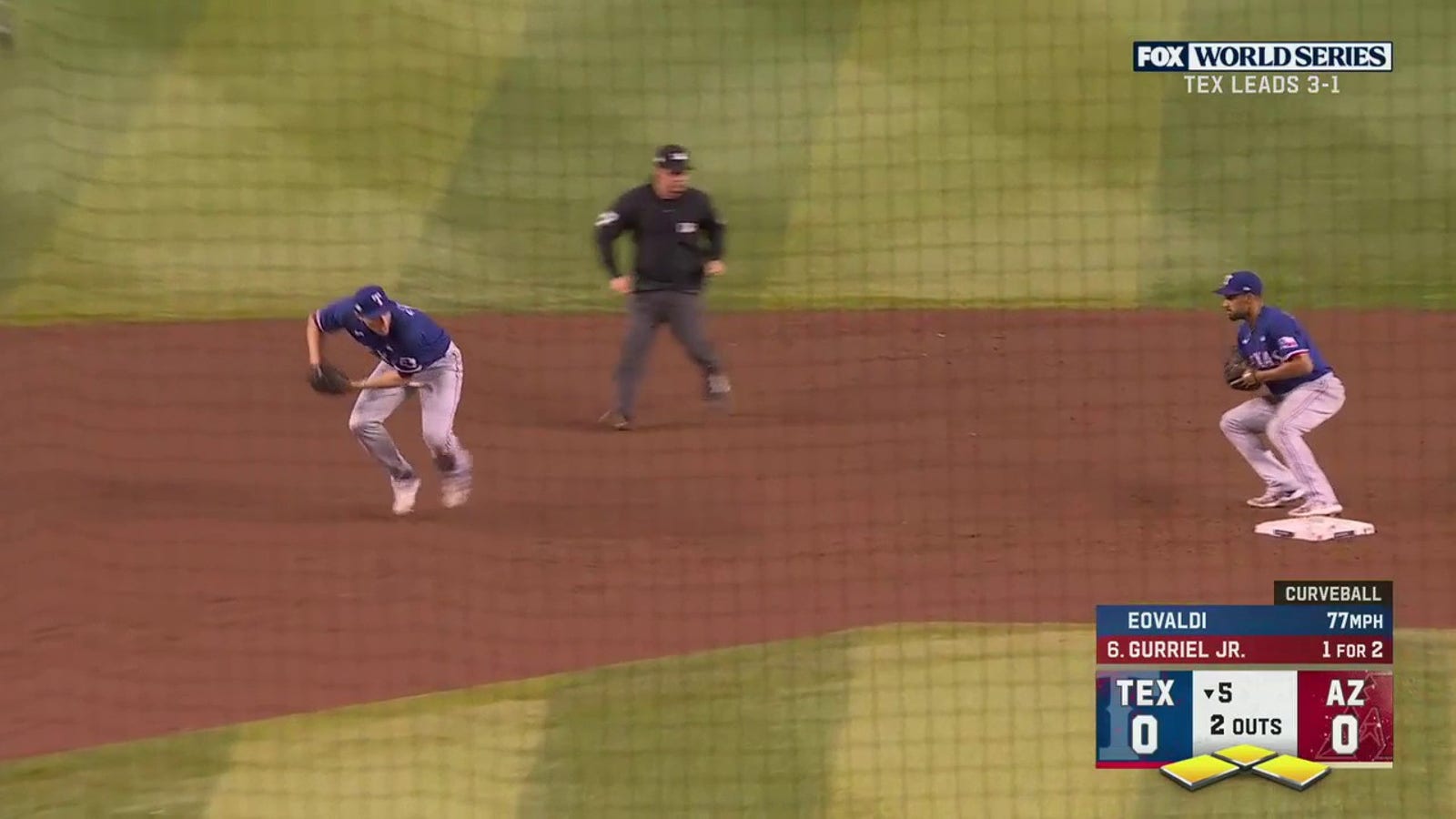 Valley of the Suns!
Devin Booker and Kevin Durant are back at Chase Field, in attendance for Game 5.
Gallen still hasn't given up a hit
1-2-3 sixth finishes Eovaldi's night
Eovaldi finally gets a clean inning to keep the game scoreless and got high-fives in the dugout after his gutsy six-inning performance.
Rangers get first hit — and run!
Corey Seager — of course — snapped Gallen's no-hitter, then Evan Carter and Mitch Garver followed with hits of their own to bring home the game's first run.
Mitch Garver hits an RBI single to give Rangers the first run of the game against Diamondbacks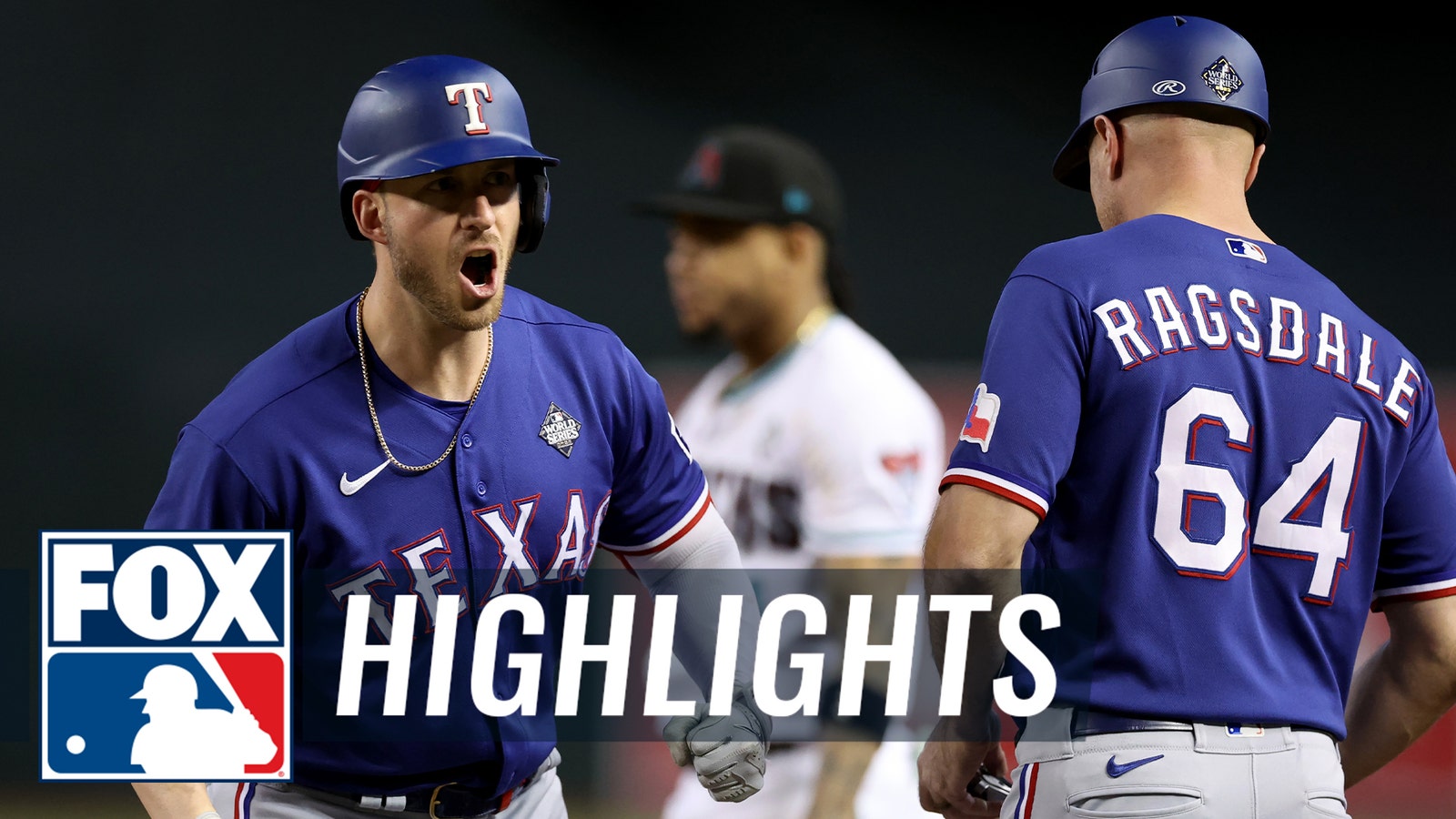 Gallen pulled in seventh after an incredible start
Arizona's ace got a well-deserved standing ovation.
Ginkel gets out of the jam!
Diamondbacks reliever Kevin Ginkel escaped a bases-loaded, one-out jam in the eigth to keep the Rangers' lead at one heading to the bottom of the eighth.
Rangers getting close!
Texas is just three outs away from the first World Series championship in Rangers franchise history.
Rangers tack on some insurance!
After back-to-back singles by Josh Jung and Nathaniel Lowe, Alek Thomas overran Jonah Heim's base hit to allow two runs to score and give Texas some much needed insurance.
SEMIEN SMASH!
Marcus Semien hit a no-doubt home run to increase the Rangers' lead to 5-0.
[Want great stories delivered right to your inbox? Create or log in to your FOX Sports account, follow leagues, teams and players to receive a personalized newsletter daily.]
---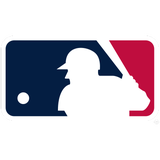 Get more from Major League Baseball Follow your favorites to get information about games, news and more
---