10 Shows That Make Apple TV+ a Must-Have for Sci-Fi Fans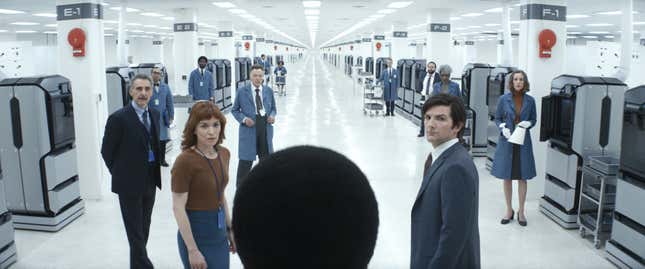 Monarch: Legacy of Monsters is bringing Godzilla to Apple TV+ this week, and sci-fi fans who show up for Kurt Russell and giant monsters will want to stick around after. The streamer is one of the very best around for original content, particularly of the genre variety. Here are 10 sci-fi (and horror) shows to check out on Apple TV+.
So far there have been two seasons of this entertaining adaptation of Isaac Asimov's stories; it has a killer cast (Jared Harris, Lee Pace) and is set in a world where a dynasty of cloned rulers clashes with a genius who uses math to predict the future. So far there have been two seasons, with hope for a third (though it's yet to be officially announced by the streamer). Watch on Apple TV+ here.
This post-apocalyptic series is, to quote io9's own delayed review, really freaking good. It stars Dune's Rebecca Ferguson and is adapted from the Hugh Howey novellas. Season one wrapped up this summer, and there's a second installment on the way. Watch on Apple TV+ here.
Dystopian office drama Severance is one of the best TV shows on any streamer or network, in any genre, in recent years—and if you've already watched its single season (with a second on the way), we're here to tell you it more than holds up with repeat viewings. Plan your waffle party accordingly, and watch on Apple TV+ here.
Filmmaker M. Night Shyamalan's mind-warping domestic thriller ran four seasons, ending its run earlier this year. It stars Lauren Ambrose, Toby Kebbell, Rupert Grint, and Nell Tiger Free, as well as a baby that is also very much not a baby sometimes. Watch on Apple TV+ here.
Speaking of mind-warping domestic thrillers involving maybe-babies, this adaptation of Victor LaValle's novel wrapped up an exciting first season just a few weeks back. (No second season announced yet, but our fingers are crossed.) It stars LaKeith Stanfield as a father becomes unwittingly entangled in a fairy-tale nightmare lurking just beyond the borders of New York City. Watch on Apple TV+ here.
This retro-future series starring Billy Crudup isn't full-on sci-fi, but there's plenty of space-age daydreams sprinkled into its tale of a small real-estate company that's devoted itself to peddling homes on the moon. There's just one season of this early 2023 release, with no news of a return—but it comes to a satisfying ending and feels self-contained within its episodes. Watch on Apple TV+ here.
Another show with one season that satisfies as a limited series, this Elisabeth Moss-starring adaptation of Lauren Beukes' novel follows a woman on the trail of what appears to be a time-traveling serial killer. Watch on Apple TV+ here.
The second season of this series—created by Simon Kinberg (X-Men) and David Weil (Hunters)—concluded at the end of October; as the title suggests, it's about an alien invasion explored through the eyes of different groups scattered around the planet. Watch on Apple TV+ here.
Did you forget that there was a 2020 revival of Steven Spielberg's beloved 1980s sci-fi/fantasy anthology series? There are five installments exploring themes like time travel, life after death, superhero powers, and beyond, and you can watch them all on Apple TV+ here.