22 Year old Nampijja Jane Francis aka Jennie Kaitesi went missing on Saturday in the morning.
Thereafter her WhatsApp contacts started receiving weird messages asking for a Ransom of 5Million Ugx.
According to one of the friends, kidnappers sent out a wave of messages to all the contacts in Kaitesi's phone; Using her very own number which they have been using to demand for ransom.
The Kidnappers released a video of her at around 11pm On Saturday.
In the video,a helpless Kaitesi is seen gasping and struggling to breath with a bitterly battered and bruised body as she cries out for help.
The video that was sent to her contacts.
The kidnappers sent out yet another message at 5am on Sunday.They say that the delivery of the ransom should be quickened or else Jennie will be killed before the end of today(sunday).
The last Message was sent at 9:53 am on Sunday.
The message states, "Bwekiba kiganye, mukime akalambo kamwe e' katende ku lwe'masaka. "
This is loosely translated as "if the ransom delivery has failed, come claim your corpse/body at Katende along Masaka road.
This got many of her friends scared that she might have been killed!
Going by one of the messages sent using her number, she has already been raped by her kidnappers.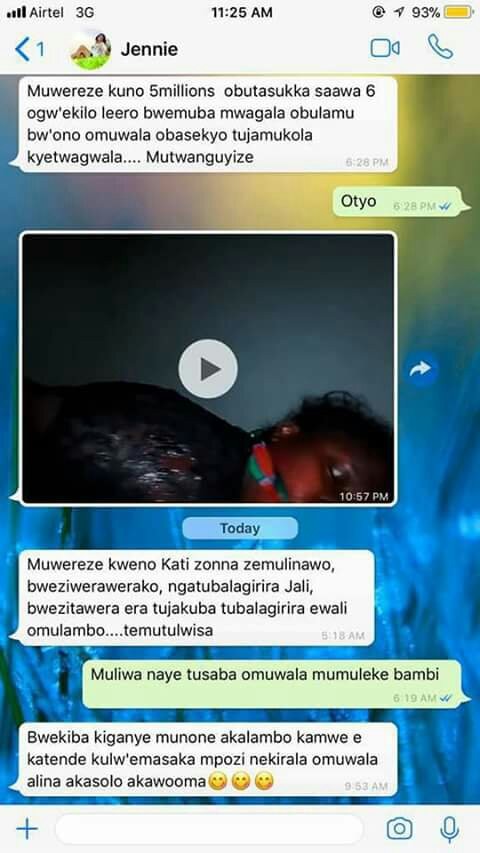 A screenshot of some of the messages sent by the kidnappers.
The phone number is off and offline. However, the kidnappers keep switching it on and off -as well as appearing on and offline whenever they are intending to send out a message to the contacts in Jennie's phone.
Jennie who is in her early 20s studied from St . Mary's senior secondary school, Nkozi, Royal College Wakiso and St . Augustine's college. She works with The Pastry Avenue Company.
On the other hand, a one Stella Star on her timeline revealed of how 5Million is too small a Ransom and wondered if this was serious.
"Hope its real and shes not behind the kidnapping to get money. 5M seems small for anyone to use as ransom. I heard of cases where woman did this to get money.
However if its real then Lets pray shes kept alive." Stella said