Barack Obama Speaks on Israel-Palestine, Both-Sides the Issue
Entertainment
Entertainment

Barack Obama
Speaks on Israel-Palestine
… Both-Sides Issue
11/4/2023 3:51 PM PT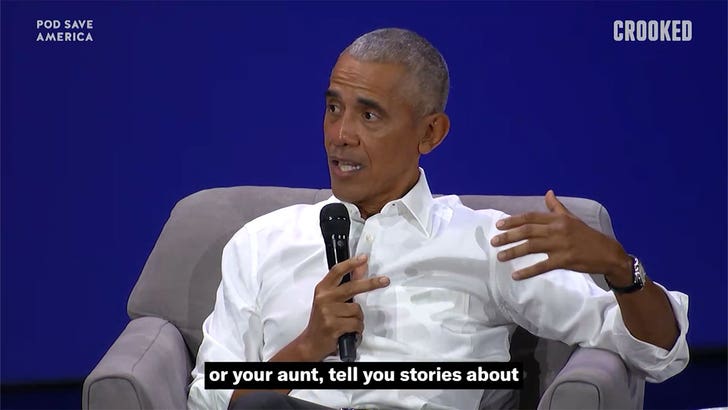 Pod Save America
Barack Obama spoke out about the conflict between Israel and Palestine — and he says two things must be acknowledged as true … on both sides of this thorny issue.
The former President was recently speaking at an event, and his remarks were captured by Pod Save America — which says his full interview is coming out Tuesday. But from the snippet they released, BO says quite a bit … and fully admits, this is complicated.
Take a look for yourself to see what exactly he says … essentially, he condemns Hamas and the Oct. 7 terrorist attack on Israel — but in the same breath, condemns Israel's response.
He says there are innocent people in Gaza who've been wrapped up in this that have nothing to do with Hamas … and yet, also notes the history of Jews being segregated/persecuted over their identity as a people. In other words, there's validity in each POV here.
In terms of folks debating this problem, Obama says it can't be hashed out on social media — and it can't be solved unless everybody tells the "whole truth" about a complex topic.
He also says people have to learn to speak to others on the opposite end and be able to do so civilly … and encourages everyone to see that there's complicity on all fronts of this. It's a word salad, but if you're wondering what he's actually arguing for now … you're outta luck.
Barack doesn't really say what he thinks should happen going forward, nor does he specify what exactly he's calling for at this point … at least not in what's uploaded at the moment. Perhaps we'll hear more from him in the coming days.
Pres. Biden, meanwhile, has called for a "pause" in the fighting .. but Israel isn't budging. Their ground operation into Gaza continues as they seek to hunt down the terrorists.