Big East takeaways: 'Complete' Creighton rolls into semis vs. Xavier
Note: John Fanta is sharing takeaways on the action throughout the Big East Tournament.
Game 4: Creighton 87, Villanova 74
NEW YORK — Greg McDermott kept it simple as he sat inside the Madison Square Garden press room after midnight on Friday morning.
"That was a complete performance by our team. The ball was humming tonight," McDermott said following his Creighton Bluejays' 13-point victory over Villanova.
The 24th-ranked Bluejays looked like the team that started the season 6-0 and made the Maui Invitational title game, commanding a desperate Wildcats team fighting for its NCAA Tournament life from start to finish.
In his Big East Tournament debut, Baylor Scheierman had his finest hour as a Jay, going for 12 points, 12 rebounds and nine assists. Ryan Kalkbrenner led the way with 21 points, while Ryan Nembhard had 17 points and five assists as Creighton advanced to a third-straight semifinal appearance.
Creighton's Ryan Kalkbrenner plays big in the middle
Creighton center Ryan Kalkbrenner got a friendly roll — and-1! — to extend a second-half lead over the Villanova Wildcats.
A Jays team known for its defensive pedigree — sitting at No. 14 in KenPom efficiency on that end of the floor — the factor on this night was shot-making, an irony for a program that's typically been known for it.
On Thursday night, the Jays were on their A-game, shooting 12-for-25 from downtown and 50% from the floor. This was the team that many felt in the preseason could make a deep March run.
It looked the part on Thursday night, with the most complete performance of the conference tournament thus far.
Creighton advances to meet Xavier on Friday at 9 p.m. ET on FS1.
The Bluejays are 4-0 all-time in the Big East semifinals.
Game 3: Xavier 89, DePaul 84
This wasn't Xavier. The Musketeers looked like a shell of themselves at halftime in Manhattan, trailing 10th-seeded DePaul 49-40 and allowing the Blue Demons to shoot close to 70% in the first half.
Where was the team that went 23-8 in the regular season and is ranked 11th in the country?
Sean Miller didn't hold back in his halftime locker room, giving it to his team and getting on junior star Colby Jones, who had been quiet with four points.
"That's the kind of relationship we have," Jones said following the game. "He knows when to get on me, and I know what he means when he's doing that. We've grown a trust."
That trust between Miller and his players was felt late in the game. The Musketeers, who have withered in this spot in recent years, punched back to rally from 13 down and edge DePaul 89-84.
The Blue Demons received inspired efforts from Umoja Gibson (22 points, six assists) and Nick Ongenda (16 points). They led for more than 36 minutes, holding an 80-75 advantage with 3:55 left. But with the game hanging in the balance, Xavier closed.
Xaviers' Jack Nunge posts double-double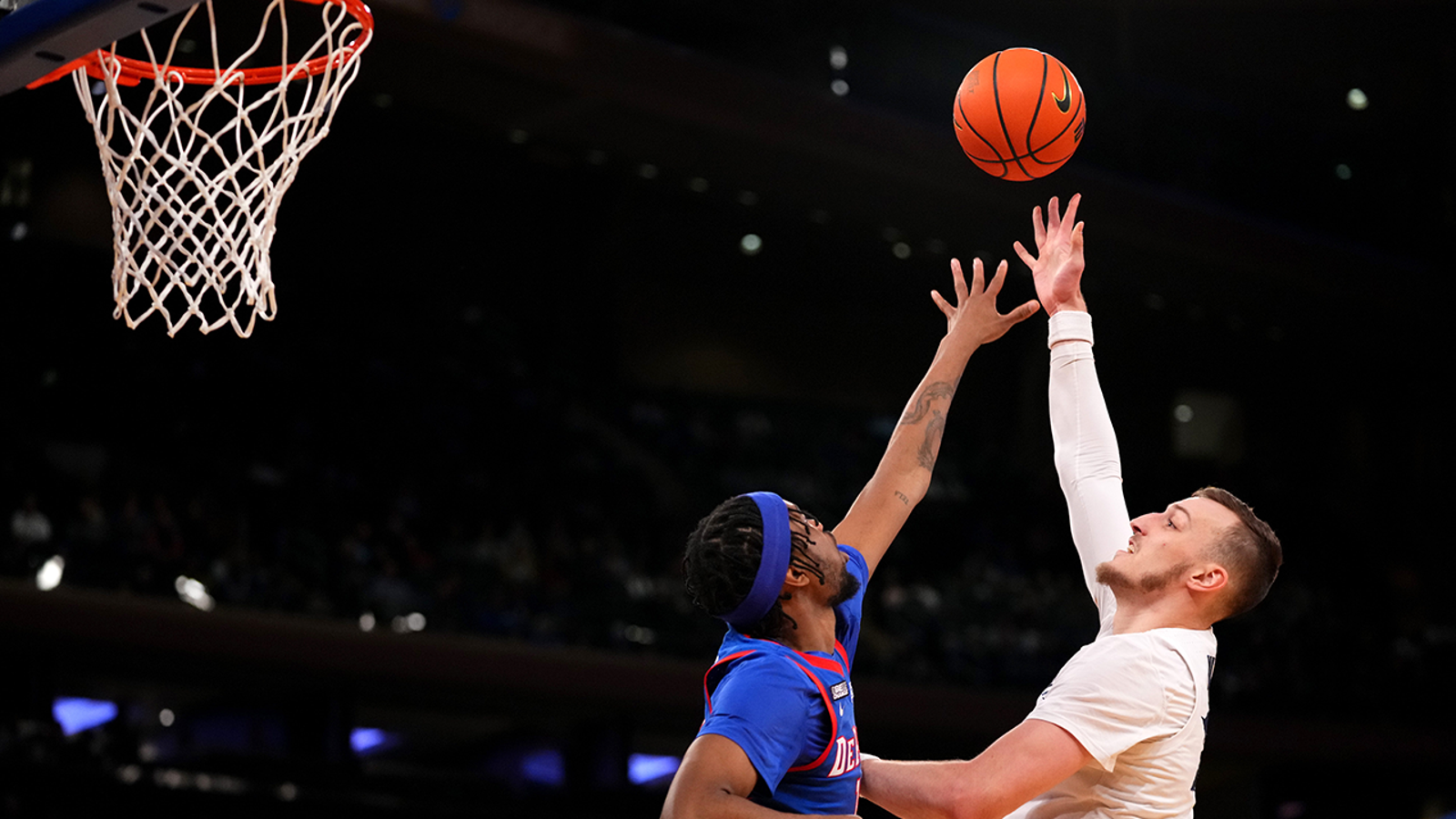 Jack Nunge dominated DePaul with 23 points and 10 rebounds to help Xavier advance to the Big East semis.
Jones hit back-to-back buckets, then off a stop and two straight offensive rebounds, Jack Nunge gave the Musketeers a lead they wouldn't relinquish.
Jones and Nunge combined for 45 points, while Souley Boum and Adam Kunkel each had 16 for the nation's fifth-most efficient offense.
As an aside, the game marked Sean Miller's return to the Big East Tournament. The former Pitt Panthers guard (1987-92) once played in the event.
"I took the time to soak it all in tonight," Miller said. "New York City is a special place, and this building holds a place in anybody's heart who has a chance to be a part of this tournament. For Xavier to be playing on a Friday night at Madison Square Garden, that's what we're here to do."
A nugget: Xavier moved to 7-0 all-time in the Big East quarterfinal round. The Musketeers play at 9 p.m. ET Friday against Creighton.
Game 2: UConn 73, Providence 66
With just over 12 minutes to play inside Madison Square Garden on Thursday afternoon, it looked like a foregone conclusion.
UConn had run Providence off the floor to that point, leading the Friars 58-32. The most highly anticipated game of the tournament looked like it was going to end up being boring … and then, something happened.
It was as if the ghosts of Big East Tournaments past came out to remind the 19,812 inside The Garden that a game's never over at this event. If you don't believe me, just ask Jim Boeheim and Jim Calhoun about a game in 2009.
Ed Cooley's Friars rallied, putting defensive pressure on and mixing in a zone defense. The Providence faithful in the stands went from a state of humiliation to a glimmer of hope, to a developing belief that they could win the game, to downright bedlam in New York.
And when Providence cut the lead to 63-58 with 3:46 on the clock, Connecticut put its grasp on the steering wheel with the formula that this team has gone to in key moments on their recent surge: a deadly Jordan Hawkins triple.
The sophomore, who will hear his name get called at the NBA Draft this June, finished with 19 points in his Big East Tournament debut (missed last year to concussion) as UConn staved off the furious comeback with a 73-66 victory over the Friars.
Jordan Hawkins scores a game-high 19 vs. Providence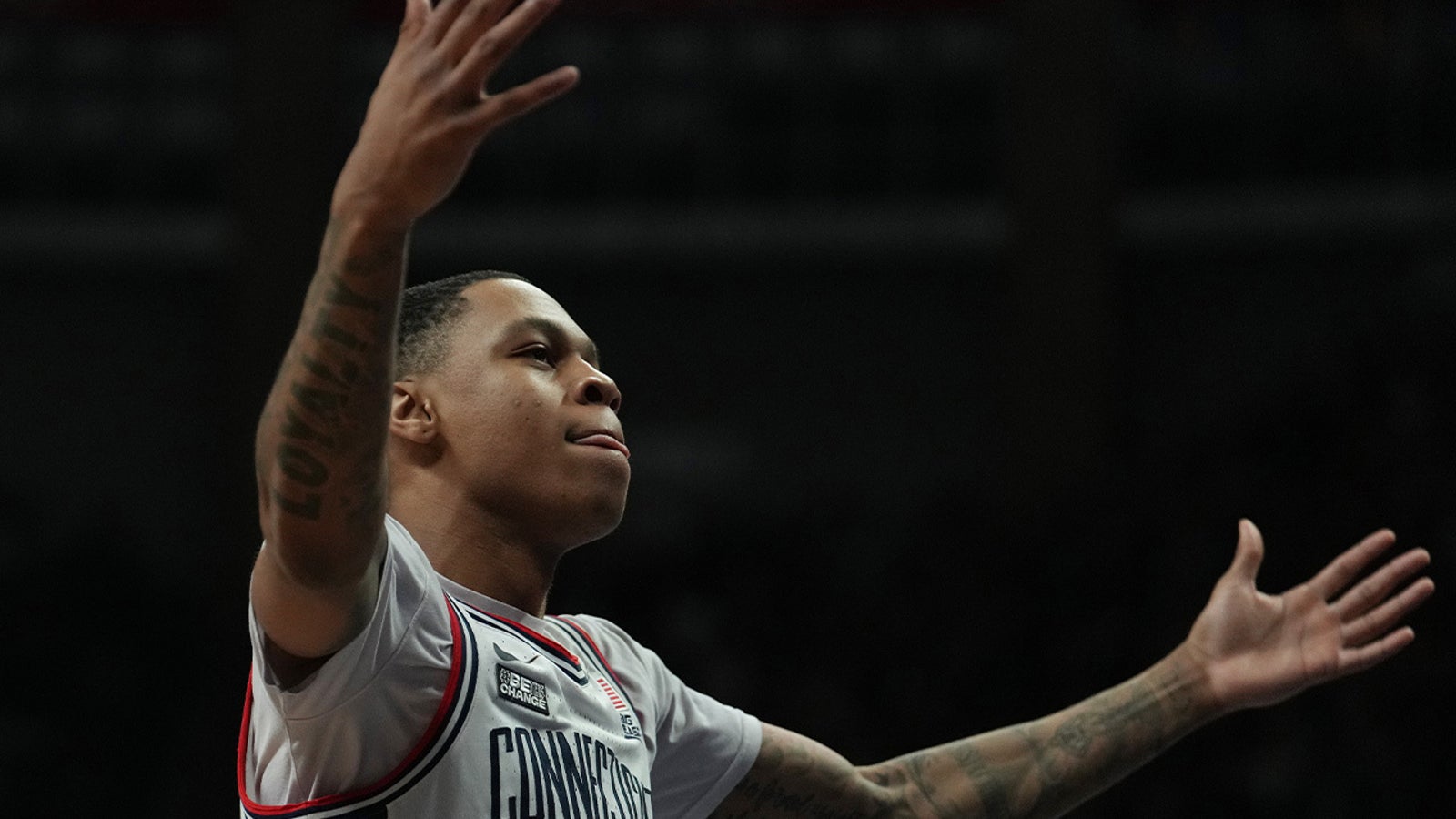 UConn advanced to the Big East semifinals with the win over the Friars.
"We played about as well as you could in the first 28 minutes of the game, and as poorly as you could in the ensuing eight," Dan Hurley said following the 11th-ranked Huskies win. "But I give credit to Providence for not giving in. That's a good team that is well-coached. But I thought we made the finishing plays we needed to win a war."
A war it certainly was, and a showcase of everything that the Big East Tournament is about.
"Tell me another arena in America, another conference in America that has this level of excitement for a game like this," Ed Cooley said after the defeat. "That's why the Big East is special. That's why the relationship between the Big East and Madison Square Garden is unique; there's no other conference tournament in America that' this great — not good, great."
The physicality level was unhinged. Down the stretch, the officials put the whistles in their pockets to let the two teams decide the game. That's the way Dave Gavitt intended it to be back in 1979.
For all the talk of the 'old' Big East and the 'new' Big East, the Thursday afternoon session at the conference tournament was the latest validation point: it's simply the Big East. The league has stood the test of time, and when it is championship week in college hoops, it has the head seat at the table for the vibe it creates from Manhattan.
Taking away more from the performance, Connecticut was a powerhouse in the first half, rolling out a big start and leading 35-19 at the break.
Andre Jackson Jr. was in top form in his do-it-all role for the Huskies, posting nine points, 11 rebounds and six assists. Adama Sanogo had 10 and five rebounds on a perfect 5-for-5 from the floor. But underneath the usual lead contributors for the Huskies lay a big-time performance off the bench from a usual starter, Tristen Newton.
"In terms of the starting piece, our culture is really important. I just felt like a small message needed to be sent to Tristen," Hurley said.
UConn's Andre Jackson Jr. with an amazing dunk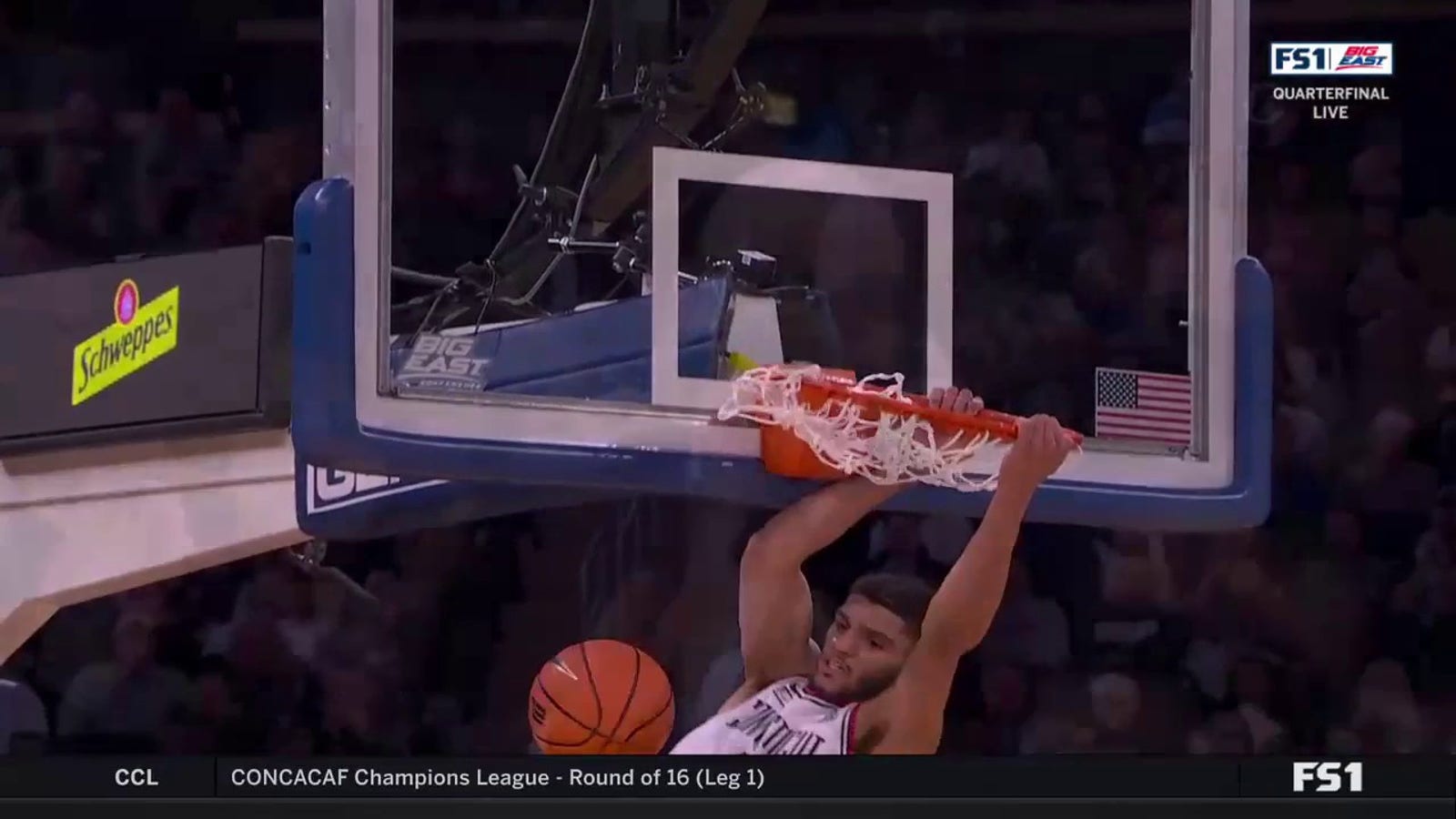 Andre Jackson Jr. couldn't be stopped on the break, as he threw down a wild dunk in the first half for against Providence.
Newton delivered in his point guard role, scoring 16 points with seven assists to just one turnover in 27 minutes.
"Usually when players are put in that situation, they melt," Hurley added. "I was just blown away by his mental toughness and being able to put that behind him and perform at a high level."
The Huskies are known for their defense, length and tempo. But what Thursday afternoon showed was just how dangerous this team is when they get firing from the perimeter. Connecticut shot 13-for-30 from beyond the arc, with Newton and Hawkins combining for seven treys. When those things happen, UConn is Final Four good.
Ed Cooley agreed.
"Tell me a team playing better than that team we just played," he said. "And I'm a basketball junkie. I don't see one team better than the University of Connecticut right now."
The Friars, a projected 9-seed on Mike DeCourcy's latest bracket forecast, have dropped three in a row but should be on the right side of the NCAA Tournament equation on Sunday.
The Huskies will meet top-seeded Marquette on Friday night 6:30 p.m. ET on FS1 for a trip to the Big East championship game. The two teams have never met at the conference tournament.
Game 1: Marquette 72, St. John's 70, OT
With less than two minutes to go in overtime in front of a capacity crowd at Madison Square Garden, St. John's cut Marquette's lead to one again.
Shaka Smart didn't hesitate about who he was going to ride down the stretch, and the Golden Eagles reminded everybody why they earned the top seed at the Big East tournament, as well as the conference's coach and player of the year honors.
Tyler Kolek, the former 3-star recruit who started his college career at George Mason after getting overlooked, had the ball in his hands with a Friday night in New York City up for grabs. But this time, one of the nation's assist leaders wasn't distributing. He was finishing with take after take to the basket, scoring the game's last seven points as the Golden Eagles held off St. John's 72-70 in overtime to advance to the Big East tournament semifinals for the first time since 2019.
"We needed someone to step up and be the guy for our team to finish," Smart said. "If you're in that position, and you've got the best player in this conference, I'm taking my chances with him. We did, and he delivered."
The emotion from the Golden Eagles?
"In the locker room, I'd be lying to you if I said it wasn't a sense of relief from our guys," Smart added. "Being the top seed in this tournament, our plan was to come in here and go on a run this week. Huge credit to St. John's because they had a great game plan and never went away. I give our guys credit because they didn't give in."
Marquette defeats St. John's in overtime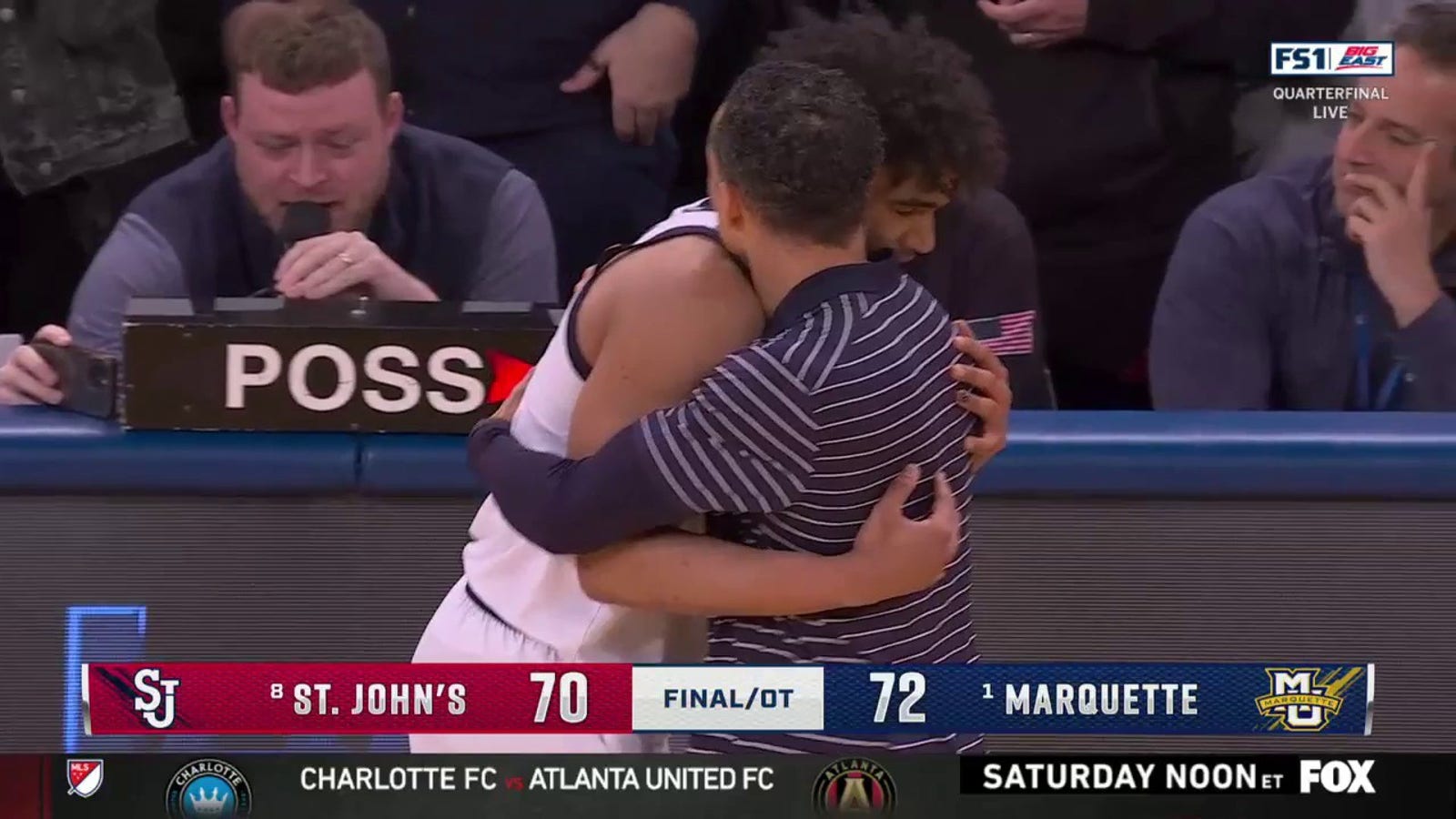 The Golden Eagles held off the Red Storm after Posh Alexander missed a 3-pointer at the buzzer.
The win in overtime marked Marquette's largest comeback from a halftime deficit this season, as the Johnnies set the tone with an inspired effort, racing out to a 36-26 lead at the break. Posh Alexander got a clean look for the win from beyond the arc at the end of the overtime period, but it fell just short. Despite a 16-point effort and clutch shot-making from Dylan Addae-Wusu and double-doubles from Joel Soriano and David Jones, it wasn't enough for a Red Storm team that fell to 18-15 on the season after starting the year 11-1.
It's a familiar refrain for the Johnnies, who have gone four years without an NCAA Tournament under Mike Anderson, leading to the talks that change is on the way in Queens.
Anderson was asked postgame about his future in Queens and deflected the question, wishing everyone a great day.
Soriano, a senior who has another year of eligibility, went to bat for his head coach after the game, stating that he would only return if Anderson is back in Queens.
While one era might be ending in New York, Marquette showed the toughness that Smart has created in Milwaukee with a great defensive second half to get back into the game, holding St. John's to just 25 points in the final 20 minutes.
It will be UConn or Providence for the Golden Eagles at 6:30 p.m. ET Friday on FS1 for a ticket to the Big East championship game. Marquette will be seeking its first appearance in program history.
John Fanta is a national college basketball broadcaster and writer for FOX Sports. He covers the sport in a variety of capacities, from calling games on FS1 to serving as lead host on the BIG EAST Digital Network to providing commentary on The Field of 68 Media Network. Follow him on Twitter @John_Fanta.
Read more:
FOLLOW Follow your favorites to personalize your FOX Sports experience
Big East
College Basketball
---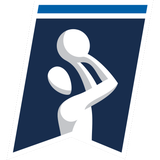 Get more from College Basketball Follow your favorites to get information about games, news and more
---