Big Noon Live: Colorado stuns TCU with long TD, leads in 3rd
We were expecting a doozy of a "Big Noon Kickoff" matchup in Week 1, and that's exactly what we got.
On one side, you had the No. 17 TCU Horned Frogs, the darlings of the 2022 season, who advanced all the way to the College Football Playoff championship game in its first season under coach Sonny Dykes.
On the other side, you had the Colorado Buffaloes, who decided to deal with their 1-11 season by making the splashiest coaching hire of the offseason.
Enter Deion Sanders — aka "Coach Prime" — who not only brought his superstar quarterback son Shedeur Sanders with him from Jackson State, but who completely remade the Colorado roster.
The result was a tight, back-and-forth affair, with Sanders' Buffaloes ultimately coming out on top.
Check below for live coverage, featuring analysis from FOX Sports' Bryan Fischer!
Colorado 45, No. 17 TCU 42
POSTGAME NOTES
Coach Prime said Colorado was coming. Well, they certainly did in Week 1 to knock off a program in the national title game just eight months ago, beating TCU 45-42 in a wildly thrilling start to a new era in Boulder.
Highlights: All the best plays from wild Colorado-TCU game!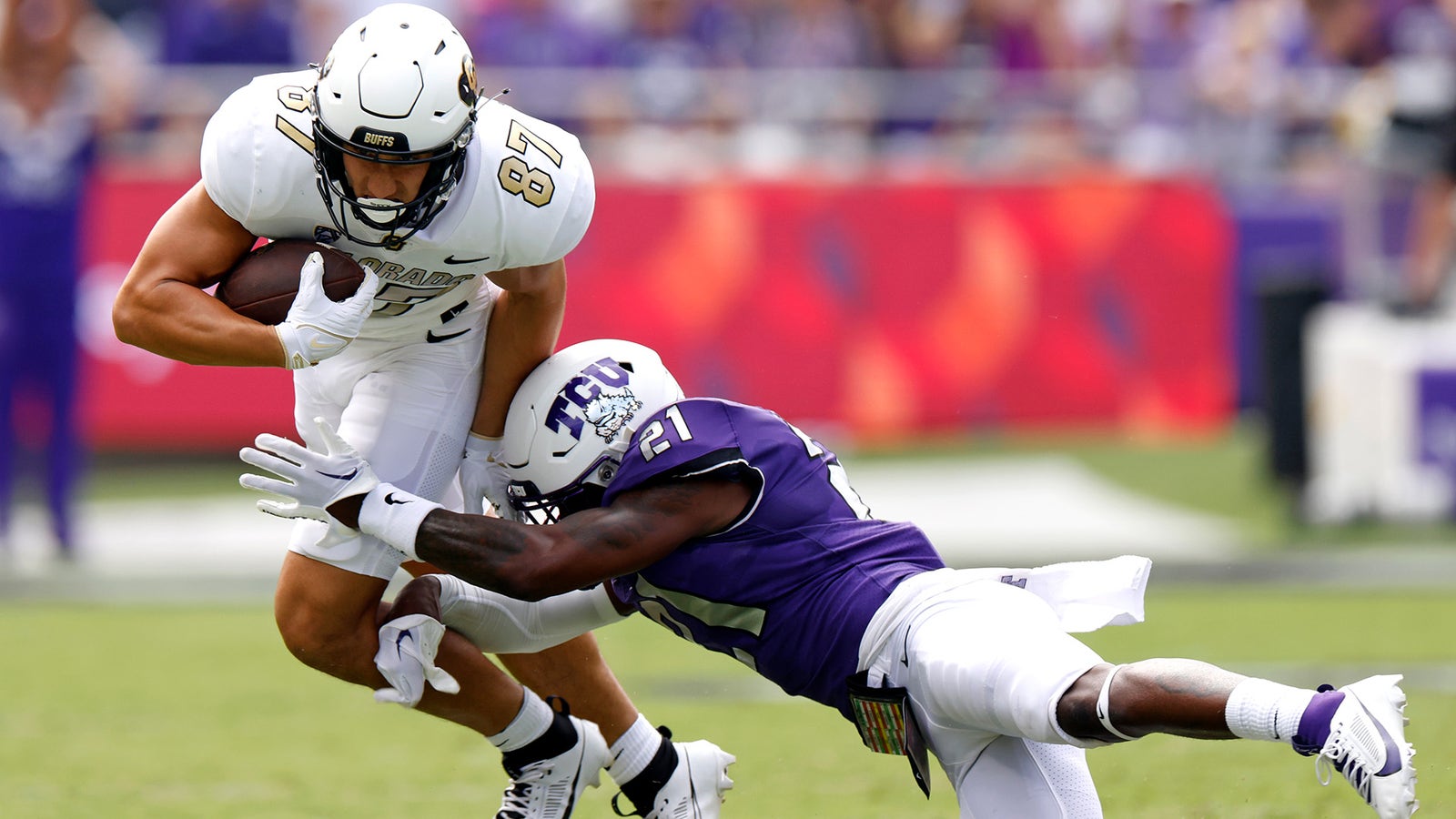 Some postgame thoughts on an incredible effort in Fort Worth:
— Deion Sanders has soaked up all the offseason attention this year, but it's his son Shedeur who might be ready to step into the limelight between the lines during the football season. The quarterback jumped from the FCS to the Power 5 and made it look like it was nothing, throwing for a school-record 510 yards and four touchdowns and letting just nine of his 47 passes hit the turf. The poise he displayed was equally impressive, nailing key throws on third down (the Buffs went 9/15) and using his legs to escape pressure when needed. The Pac-12 has been billing itself as the Conference of Quarterbacks, and the young Sanders has every right to be included in the group right near the top if he keeps this up.
'God this is good:' Colorado's Deion Sanders speaks after stunning TCU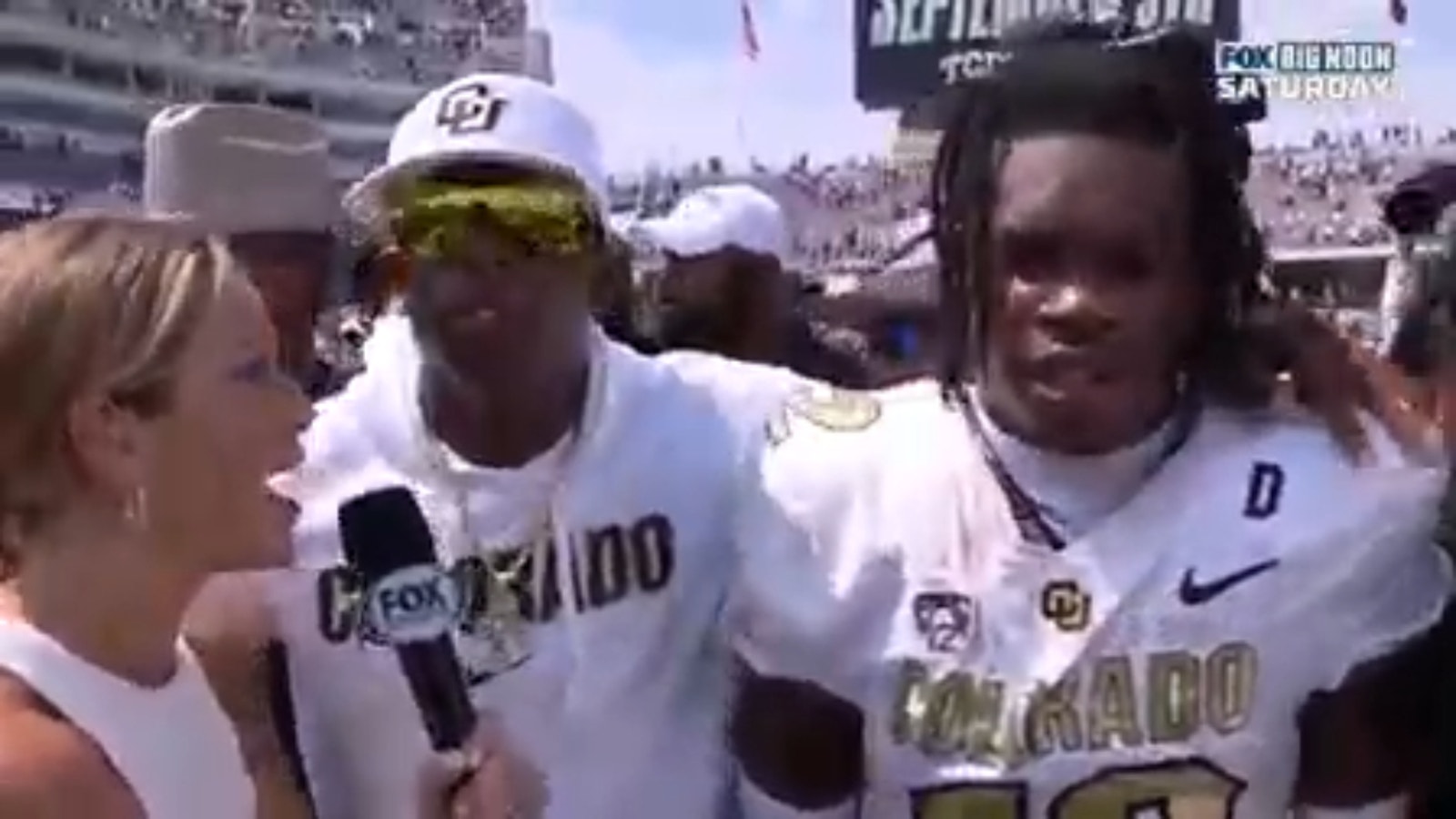 — NFL scouts were already eyeing underclassman Travis Hunter, but the all-everything, two-way player may be moving on up draft boards down the road after such an all-encompassing effort against the Horned Frogs. Playing over 120 snaps on a sweltering DFW afternoon, the former five-star recorded a team-high 11 catches for 119 yards, pulled down an incredible diving interception, and was generally making plays left and right on pretty much every drive. Hunter's body control fighting for the ball on both offense and defense is truly special, and it would be shocking if he's not in the conversation for the Heisman Trophy if he keeps this up.
Deion Sanders, Colorado make a statement!
— Much will be made about this being Coach Prime's first win with the Buffs, but how about the family affair it turned into as he returned to DFW? Not only did son Shedeur set some school records behind center, but Deon's other son Shilo Sanders was the team's joint-leading tackler with 10 stops.
— Chandler Morris' first start at home wound up being a bit of a rough one for the TCU quarterback, as he finished with 279 yards on 57% passing with two touchdowns and two interceptions (both in the red zone). He did use his legs efficiently, but there were just too many errant throws for the team to get into much of a rhythm. He's still a good signal-caller who the staff is high on, but it might take another few outings to start to get back in the fan base's good graces after following school legend Max Duggan.
— Speaking of the Horned Frogs offense, new coordinator Kendal Briles is going to get an earful from Sonny Dykes about not running the ball more and going to the pass too often when the team was finding success on the ground. The fact that TCU averaged 7.1 yds/carry but still ended up losing is an indictment on the play calling.
:55, 4Q: It's OVER!
It's only appropriate that Deion Sanders' first game as a head coach is won via defense, right?
Terrific job of bowing up at just the right time to get a pair of massive stops and force the turnover on downs.
4:20, 4Q: Colorado 45, TCU 42
The one thing that really sticks out about Shedeur Sanders is how poised he is in the pocket. He's never nervous, never rushing to make a throw, just calm and collected even if there is a hand in his face.
It's an impressive debut in front of a record crowd on the road, but no throw was better than the one on fourth-and-short when he tossed it out into the flat on his back foot to find Dylan Edwards for a 46-yard score.
Edwards, a smooth operator himself, might be the star of the show were it not for the presence of Travis Hunter playing both ways. The freshman tailback has 24 yards and a TD on the ground and 135 yards and three scores through the air.
Remarkably, the Buffs have FOUR 100-plus-yard receivers in this game.
7:00, 4Q: TCU in front, for now!
Tailback Trey Sanders punched it in for the third time today on the ground, but that incredible response for the Horned Frogs owes a lot to Major Everhart, who returned the kick 86 yards before being forced out of bounds. It always seems like TCU has a dangerous returner capable of turning on the jets to change a game, and Everhart looks like the next man up in that category.
It's hard to believe we still have seven minutes to go in this one — that's enough for another five or six more scores at this rate!
Trey Sanders punches it in from 1 yard out to give TCU lead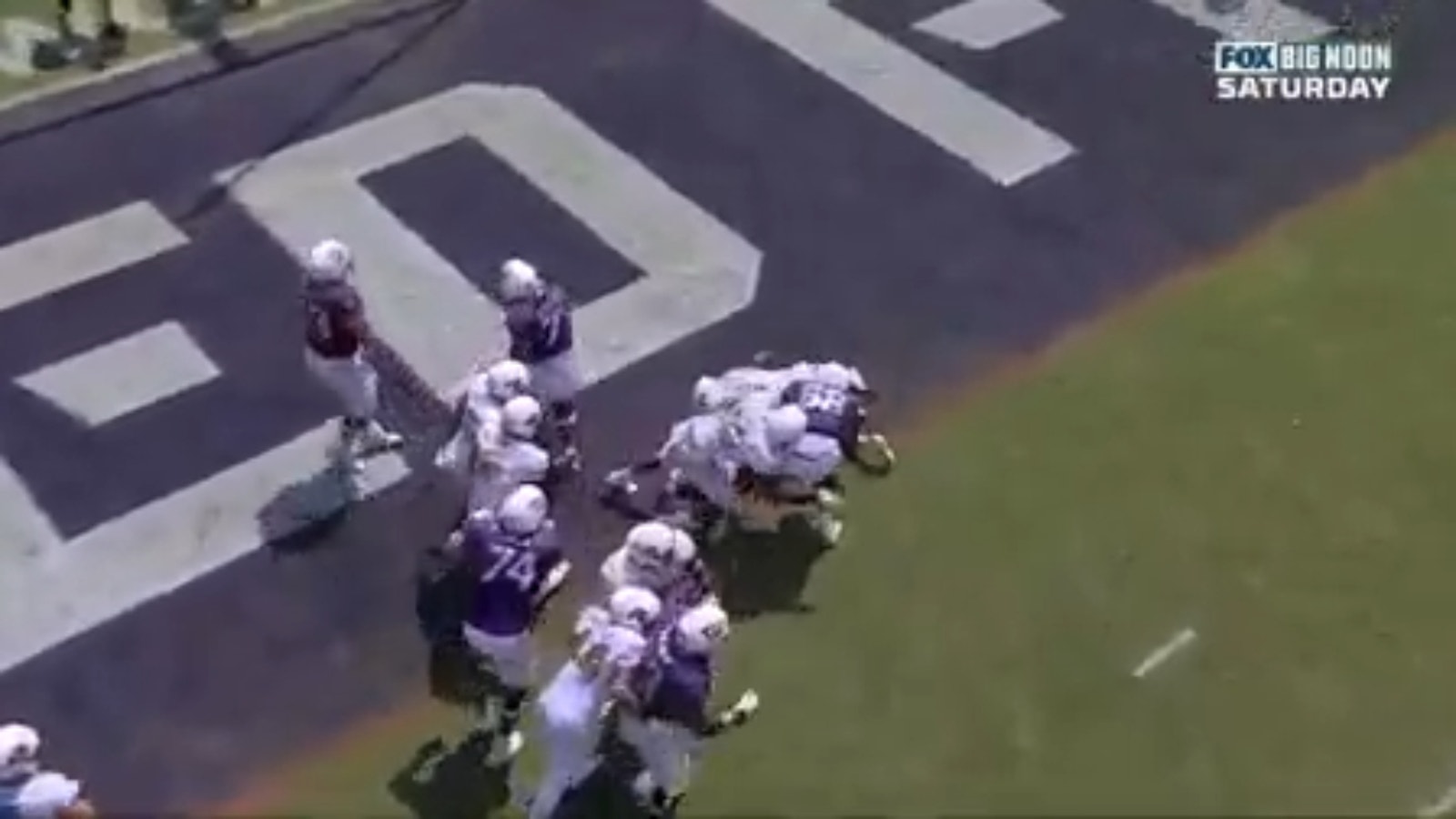 7:36, 4Q: Colorado back in front!
Goodness, the first Big Noon Saturday game of the year is going to be up there in terms of being THE game of the year.
Shedeur Sanders, who became the first Colorado player to throw for more than 400 yards since 2015, was masterful on that six-play, 75-yard touchdown drive as he found a wide-open Jimmy Horn Jr. in the end zone. The transfer receiver ran a great double move to get free.
Is this fun? This is fun. Let's see what TCU does to answer.
Shedeur Sanders connects with Jimmy Horn Jr. on a 26-yard TD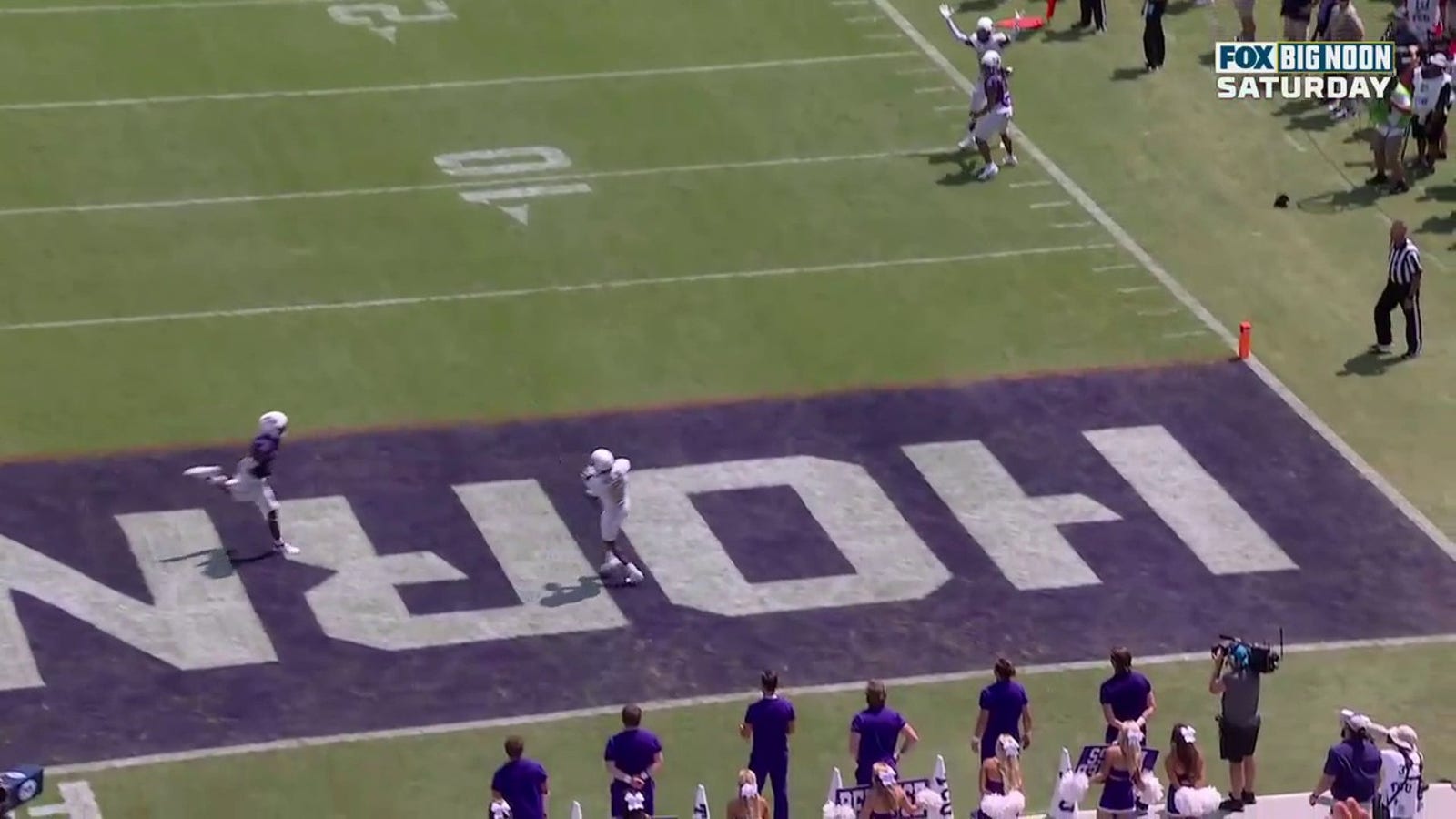 10:49, 4Q: Back and forth we go, as TCU retakes lead, 35-31
TCU went back in front on a remarkable 14-play drive engineered by Chandler Morris, who pulled off a perfect play-fake and scampered 19 yards for the go-ahead touchdown.
The Hyponotoads were masters of the late comeback last season, and they appear to be reverting back to form just when it hits crunch time in Fort Worth.
One area where the team is really starting to take advantage is in the trenches. The offensive line is really mashing in the run game (7.9 YPC) while the defense is now up to three sacks and getting push on just about every Shedeur Sanders dropback.
TCU's Chandler Morris deceives Colorado's defense on electric TD!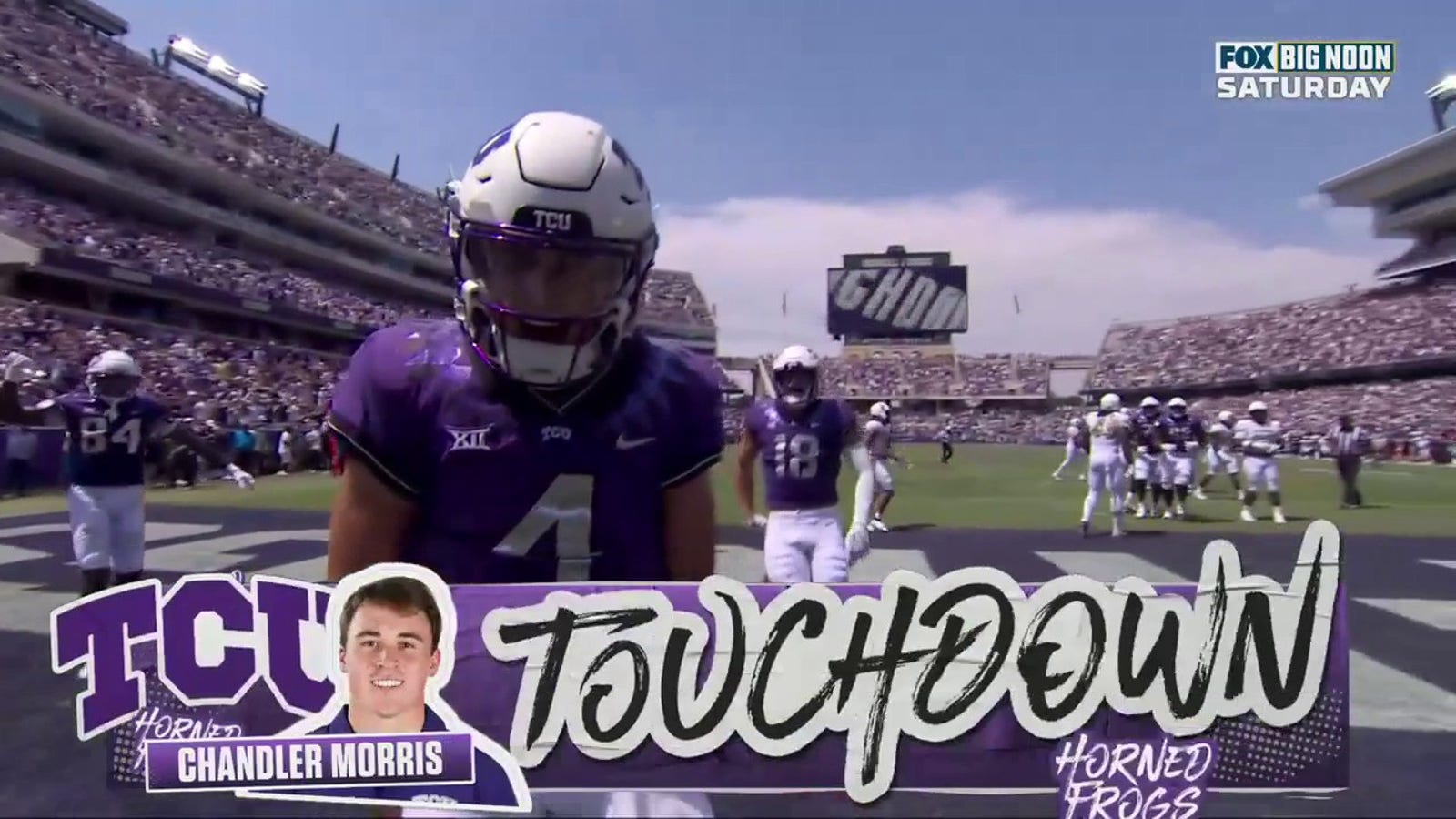 :20, 3Q: Shedeur Sanders puts Buffs back into the lead!
Colorado had just one game with multiple passing TDs last season but is 1-for-1 in the Coach Prime era with son Shedeur Sanders behind center. The signal-caller is up to 351 passing yards and two scores already, giving the Buffs their first 300-plus-yard effort since October of 2019.
Dylan Edwards told the broadcast crew that he wanted to be a freshman All-American, and the talented running back is on his way after scoring a rushing touchdown to go with his two others through the air.
Shedeur Sanders finds Xavier Weaver, setting up a Dylan Edwards TD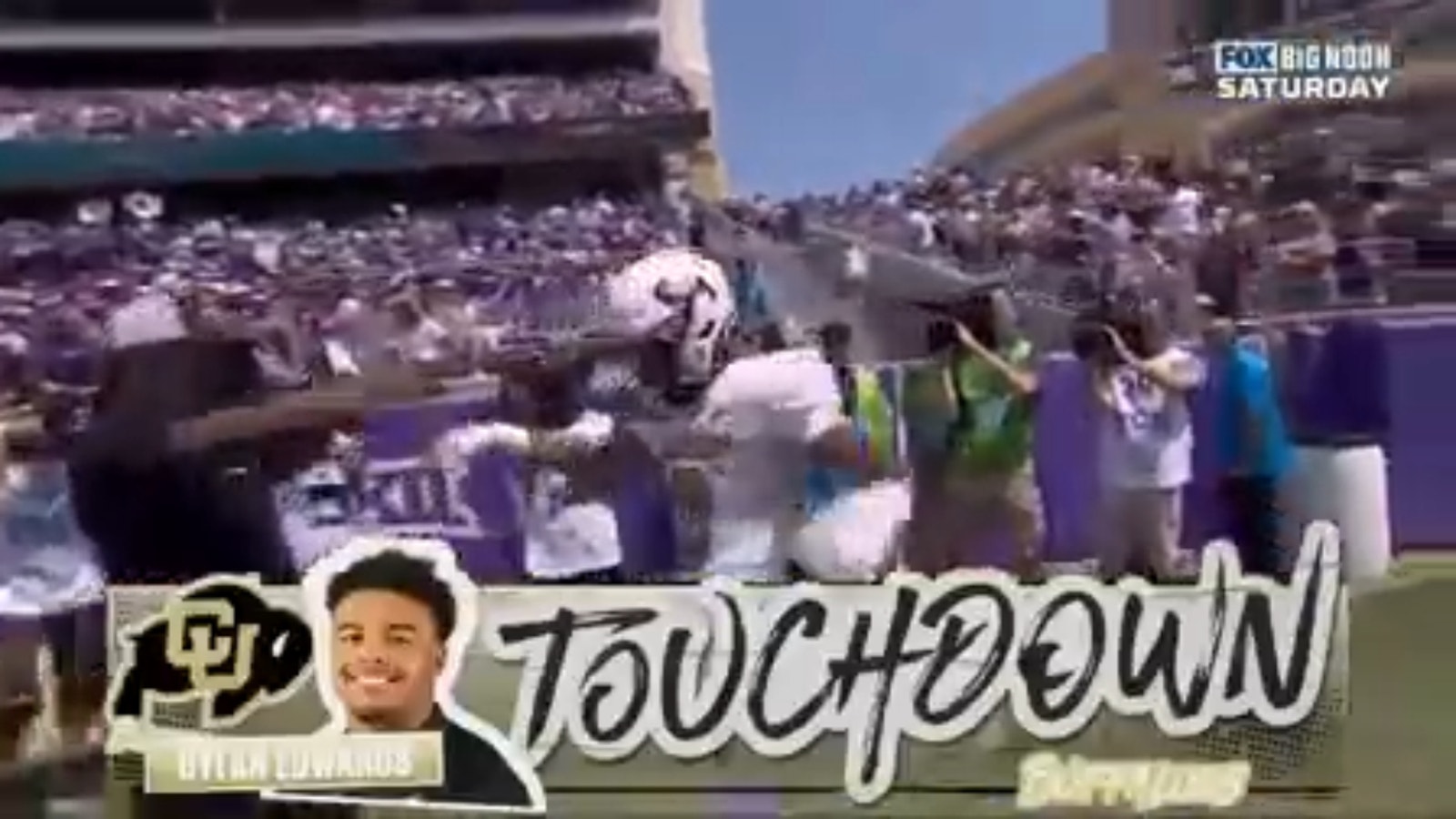 2:32, 3Q: TOUCHDOWN TCU!
After all THAT, TCU finally has its first lead of the day.
Dylan Wright made a few Buffs miss and waltzed into the end zone from 23 yards for a nifty touchdown reception, capping off a seven-play drive. Chandler Morris atoned a little for that interception to Hunter earlier, too.
Still, if I'm Sonny Dykes, I'm going over to the offensive staff in the next few minutes to shout "run the dang ball" the rest of the half as TCU is averaging 8.3 yds/rush.
Chandler Morris and Dylan Wright connect for a 23-yard TD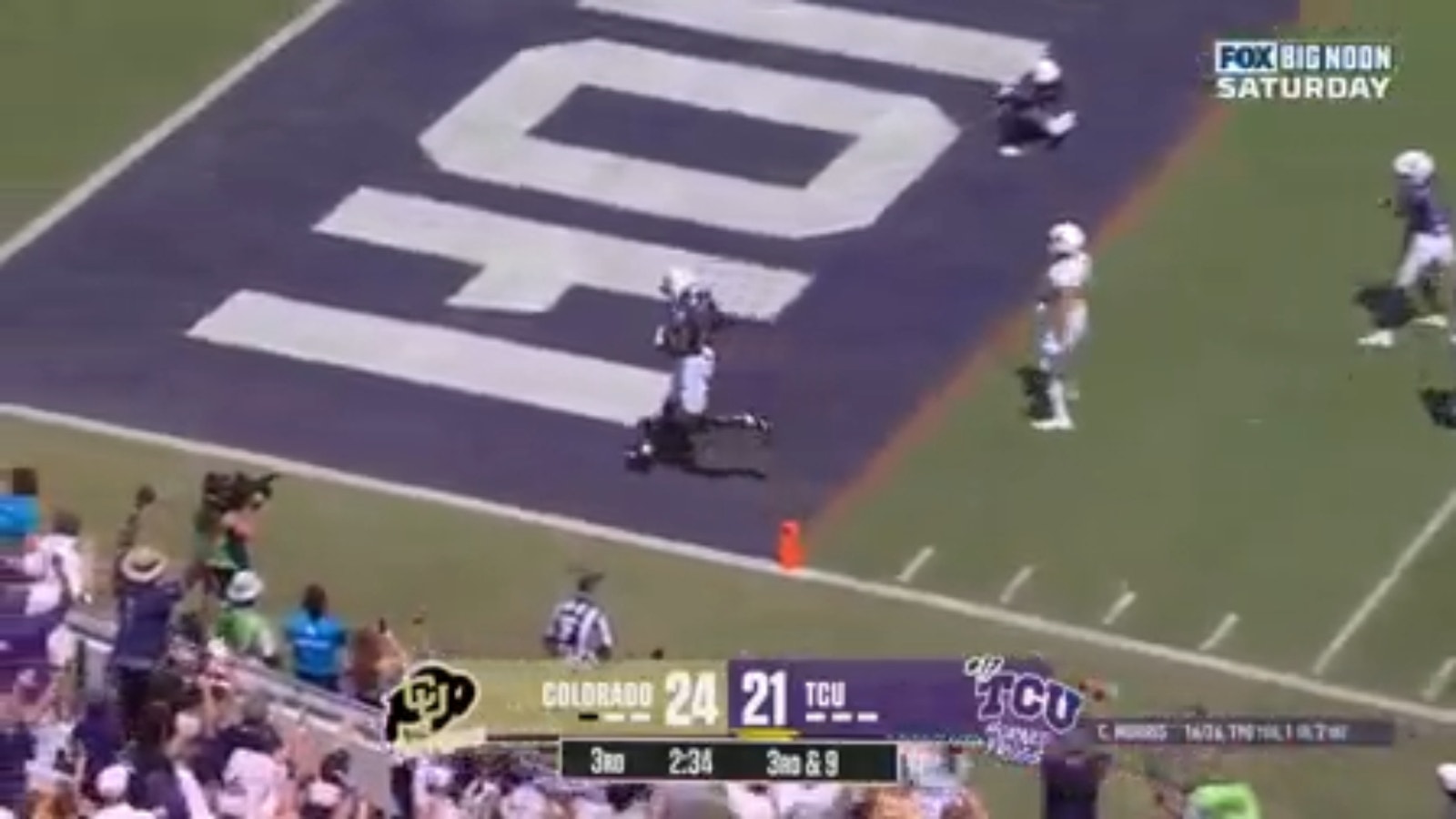 6:05, 3Q: TRAVIS HUNTER IS HIM!
My goodness, the Colorado star is doing everything — on nearly every snap — to make a lasting impact in his first FBS game.
I mean, sorry Caleb Williams but there just might be a new front-runner for the Heisman if the Buffs can keep this going after Hunter's incredible diving interception prevented a potential scoring drive for TCU.
Chandler Morris is now just 13-of-22 with two picks and a touchdown as many folks in purple around Amon G. Carter are missing Max Duggan quite a bit.
13:29, Q3: TCU responds with lightning strike!
Haymakers are being thrown all over today, huh?
If Sonny Dykes was hoping for a response from his team, a three-play touchdown drive would certainly qualify. Emani Bailey had the big rush to set things up on the first play of the half for TCU, but it was Chandler Morris who had maybe his best throw of the day for the touchdown, dropping it in perfectly to the outstretched hands of 6-foot-7 Jared Wiley in the end zone.
As the great Gus Johnson opined, we have ourselves a good old-fashioned Big 12 shootout on hand.
Chandler Morris connects with Jared Wiley on a 21-yard TD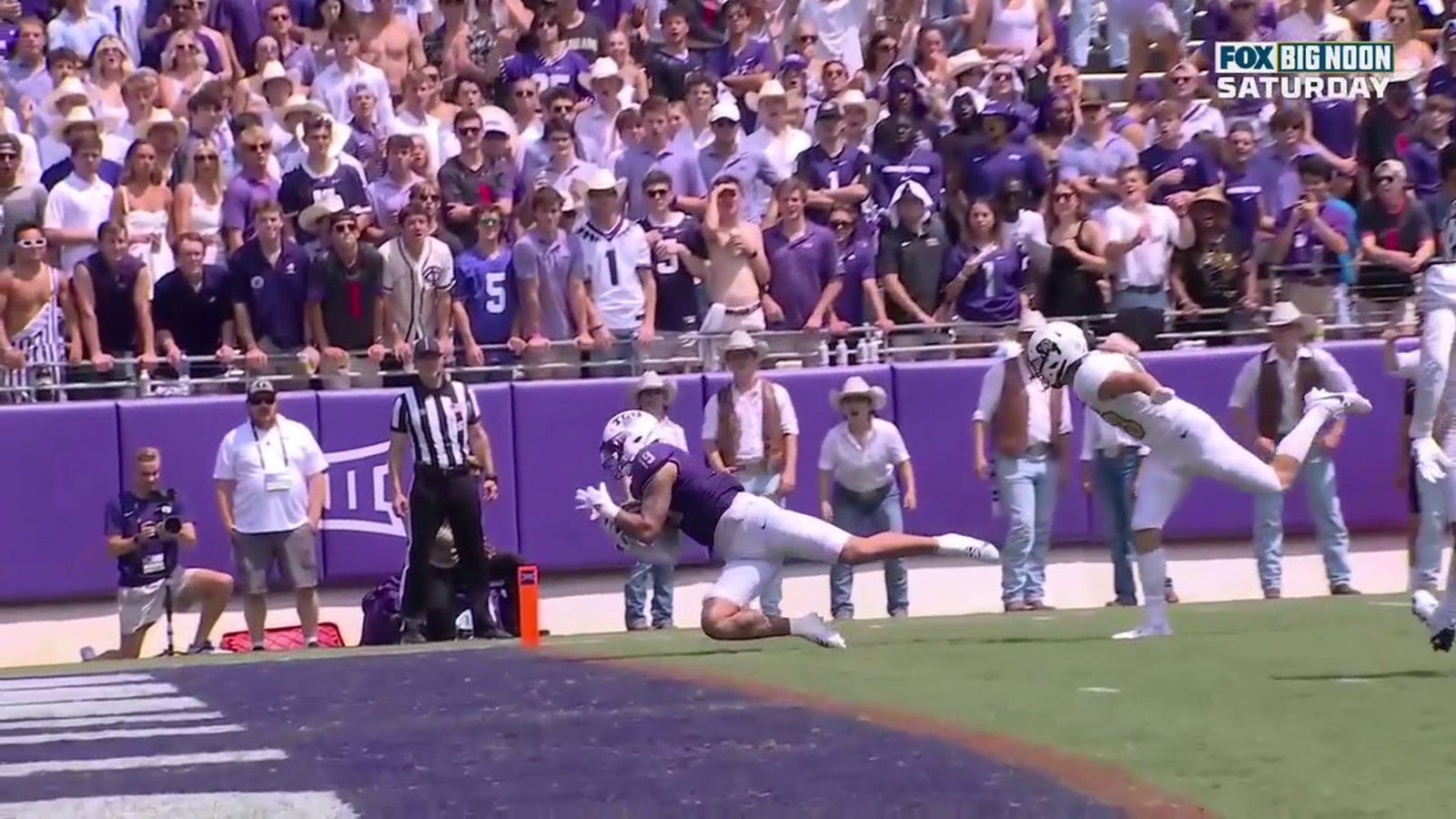 14:24, Q3: TOUCHDOWN COLORADO!
Coach Prime didn't come here to play games, he came to win them — and he got his team pumped up to start each half of his debut game at the Power 5 level, it seems.
Tailback Dylan Edwards, who had a fumble earlier that led to a TCU touchdown mind you, showed why he was one of Sanders' top high school recruits this past cycle by recording a nifty 75-yard touchdown catch-and-run off the screen. The speedster from Kansas had an incredible cutback after pulling in the ball before out-racing the rest of the Horned Frogs D to put the Buffs up two scores and suck the life out Amon G. Carter Stadium.
Shedeur Sanders finds Dylan Edwards for 75-yard TD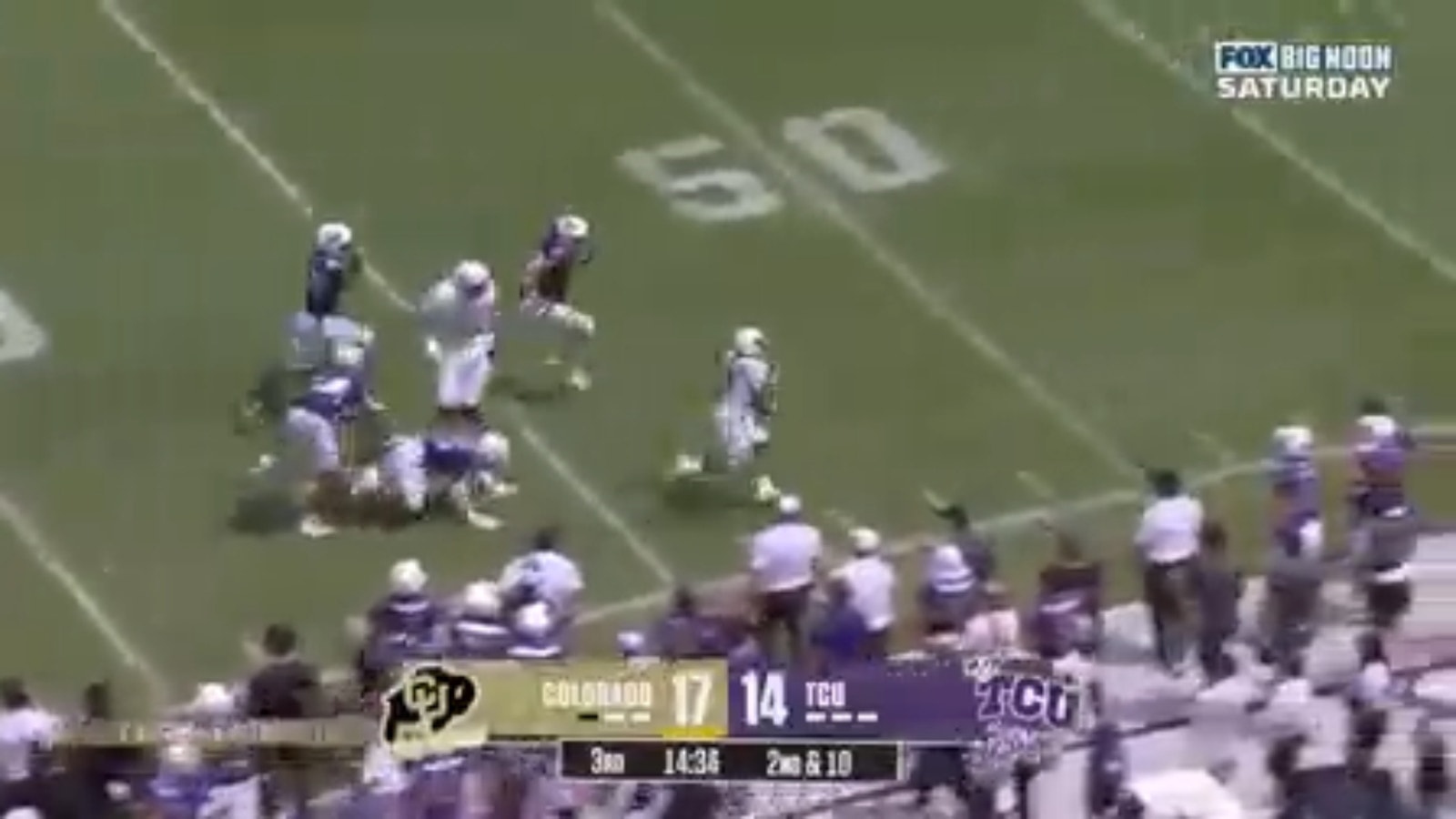 HALFTIME NOTES
It feels like massively hyped college football games rarely live up to such billing, but in the case of TCU-Colorado, we have got the show we were hoping for — and more — as halftime arrives in Fort Worth with the Buffs leading 17-14 following a clutch field goal by Jace Feely as time expired in the second quarter from 49 yards out.
The visitors were really impressive on the offensive side of the ball in particular.
Shedeur Sanders finished the half 22-of-28 for 182 yards and a touchdown pass, and looked like he's been a Power 5 signal-caller for several years already. His favorite target was not surprisingly Travis Hunter (seven receptions on 11 targets), with more than a few highlight-reel catches just barely hitting the ground.
It's a good thing that aerial connection has gotten going too as CU averaged just 2 yards per carry through the first two quarters and didn't have a rush longer than eight yards. A stat that also jumps out? The Buffs ran a whopping 47 plays before the break as they held their first halftime lead since 2021.
As for TCU, Sonny Dykes side seemed to ease into things after a slow start. The defense eventually adjusted to the tempo that Colorado was running, but has had trouble getting off the field on third down.
The good news is that the run game seems to be a strength, as former Alabama RB Trey Sanders has two TDs on the ground and Emani Bailey is averaging 5.7 yards per carry. QB Chandler Morris did throw a pick in the end zone, but has been fairly sharp with his intermediate passes, going 10-for-17 for 124 yards.
Halftime adjustments are going to be key, but don't discount TCU in this spot as the Frogs were very much a second-half team a year ago and pulled more than a few games out at the last minute. Given how competitive Coach Prime's group is, they may need to do just that on a warm afternoon in the great state of Texas.
Added note: Travis Hunter snap count update: He played on 65 of the 80 snaps (41 on offense, 24 on defense) in the first half.
:00, 2Q: Colorado leads 17-14 at half
1:53, 2Q: TOUCHDOWN FROGS!
After Griffin Kell's missed field goal spoiled a promising drive, TCU's defense wound up picking their teammates up with a massive fumble recovery after tailback Dylan Edwards put the ball on the turf for the Buffs.
More importantly, the Horned Frogs were able to capitalize by turning it into points. Their run game seems to have found a groove the past two drives, highlighted by Trey Sanders notching his second touchdown of the day right up the middle. QB Chandler Morris is a respectable 10-for-17 passing, but we'll see if Sonny Dykes opts to keep things on the ground more moving forward given the success they're starting to see against a Colorado defense that might be wearing down.
Fumble leads to Trey Sanders' second TD as TCU ties Colorado
9:28, 2Q: Travis Hunter — certified DUDE
Yes, his touchdown grab in which he mossed corner Josh Newton wound up being ruled incomplete, but wow what an effort to nearly grab six. The two-way star is already up to six catches and nine targets in addition to a couple of pass breakups on defense.
Just as important, the Buffs wound up punching it in for another touchdown, as Sy'veon Wilkerson went nearly untouched up the middle to cap off a 10-play, 75-yard drive. Shedeur Sanders has been pinpoint and, rather surprisingly, been given time to throw so far. Maybe the most impressive part of the first half however might be the fact that Colorado has gone 6-of-8 on 3rd/4th down. That's hard to do for anybody, much less against Joe Gillespie's defense that made it to the national title game a year ago.
Sy'veon Wilkerson punches it in from 2 yards out
13:57, 2Q: All tied up!
It's pretty clear TCU is trying to attack the outside of Colorado's defense to loosen things up. Just about every pass is between the hashes and the numbers as the Frogs are chipping away at things down the field the past two drives. The Buffs linebackers have started to get a little wider, and that in turn has opened a few running lanes for Horned Frogs tailbacks Emani Bailey and Trey Sanders, the latter of which hit the jets to reach the corner and score a touchdown that evens things up on the scoreboard.
Buckle up, this one has all the makings of a fun back-and-forth Big Noon Saturday game.
After blocked field goal, Trey Sanders scores to tie it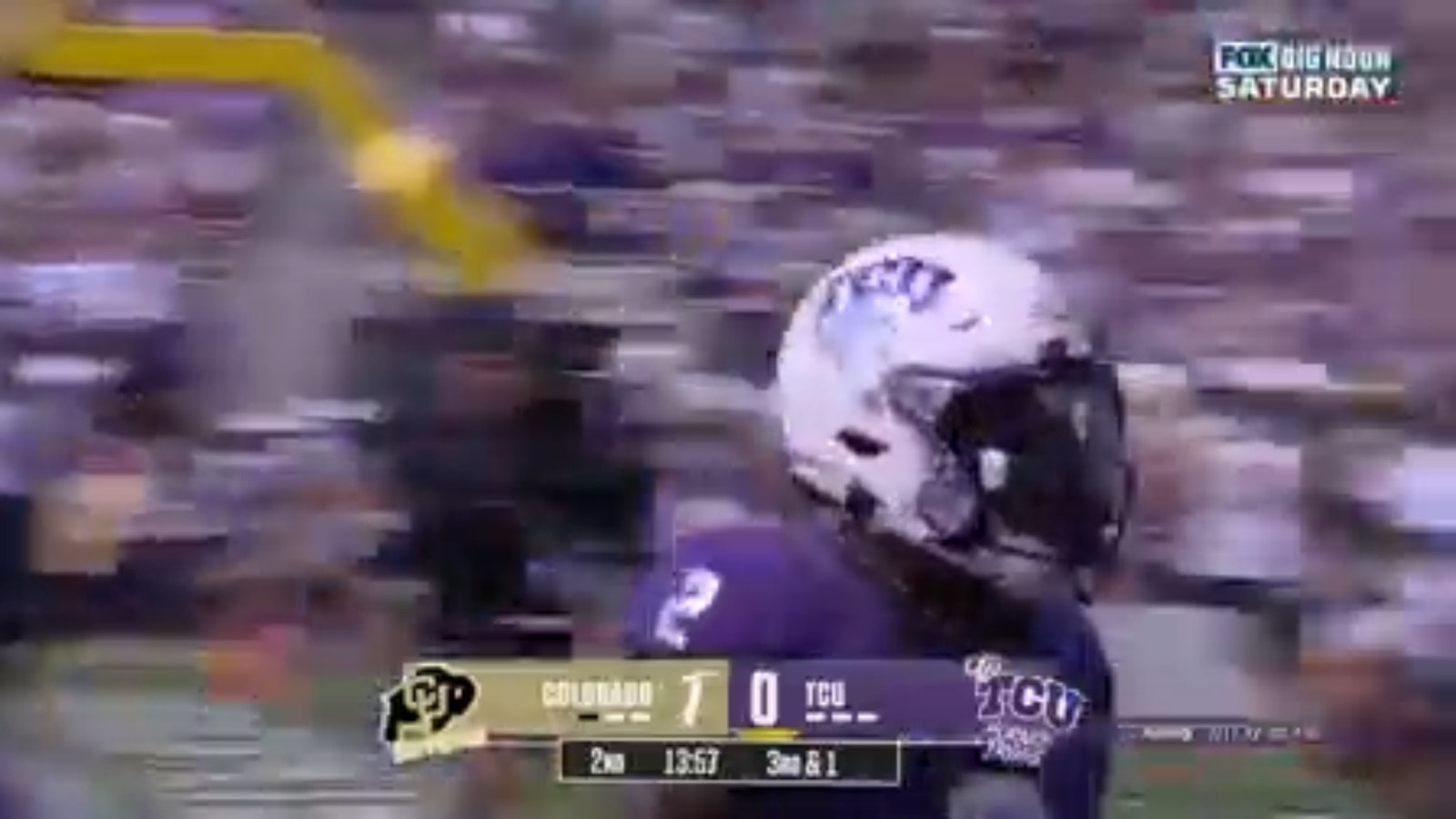 1:14, 1Q: Huge stop for TCU
Finally, some momentum back for TCU, as Namdi Obiazor was a flash of lightning off the edge — so fast that he actually leaped and blocked Colorado's field goal attempt with his stomach.
Kudos to CU's special teamers for at least figuring out what happened quickly enough to bring down Obiazor, because there was nothing but daylight in front of him had he got away cleanly.
6:22, 1Q: Interception!
What looked to be a terrific response by TCU after the early three-and-out instead turned into a disaster as Chandler Morris threw an interception in the end zone on a throw he would certainly like to have back.
In a fun twist for Colorado, the hero wound up being one of the few players who knew what Boulder was like pre-Prime, as Trevor Woods is the lone returning starter on defense and did a great job reading the QB's eyes to come down with the pick. You could not have asked for a better start to the Deion Sanders era.
8:58, 1Q: TOUCHDOWN COLORADO!
Talk about a great start to the Coach Prime era, which begins with a season-opening touchdown drive that was a thing of beauty.
Colorado's Travis Hunter is really making his impact felt early. First, a pass breakup on defense to force a punt and then a couple of receptions the other way (he also beat a DB deep on a pass that was off-target in the end zone). Again, keep an eye on his snap count as the game wears on, but it's clear that he's a problem so far that TCU's defense doesn't quite have an answer for.
The Horned Frogs are also struggling mightily with CU's tempo. Their 13-play, 73-yard drive really opened a bunch of eyes and the defense was all out of sorts, including a penalty for 12 men on the field at one point. The real beauty was the touchdown pass though, as Shedeur Sanders calmly found Dylan Edwards leaking out of the backfield uncovered on third and goal for the score.
Shedeur Sanders finds Dylan Edwards on a 4-yard TD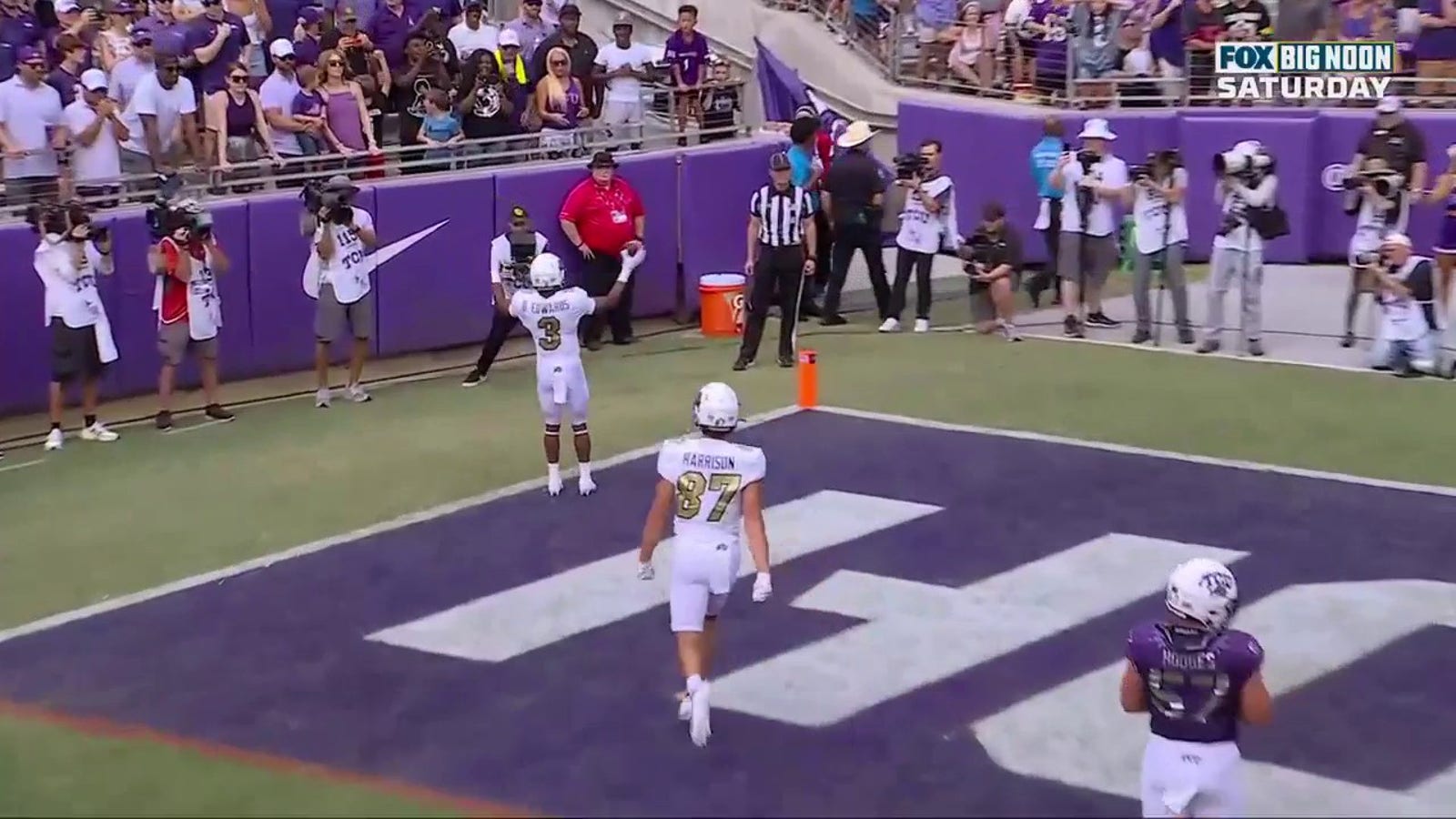 5 things to know ahead of the game
The most interesting game of the young 2023 season is about to get underway and here are five thoughts before kickoff in Fort Worth:
— Yes, all eyes are on Coach Prime's debut, but the guy in a headset to really pay attention to on the Buffs' sideline is offensive coordinator Sean Lewis. The former head coach at Kent State, he's highly regarded for his spread attack, and in past stops it has been one of the fastest groups in the country. While there's been plenty of chatter about the new clock rules taking 8-10 snaps away every game, keep an eye peeled on just how many plays Colorado runs on offense today.
— Speaking of plays, we may need to have a snap count graphic on the broadcast for two-way star Travis Hunter. The former No. 1 overall recruit two years ago, he's set to start at both cornerback and receiver today against the Horned Frogs. It will be interesting to see just how many touches he winds up with on offense given that it's nearly 100 degrees at Amon G. Carter Stadium, and he'll be needed for every play on defense given the lack of depth in the secondary for the Buffs.
— The QB battle in this game is worth the price of admission alone. Coach Prime's son Shedeur Sanders was great at taking care of the ball while running the show at the FCS level but there's an even bigger challenge ahead today beyond the jump up to the Power 5. TCU's 3-3-5 defense loves to disguise things and can be difficult to read so avoiding turnovers is going to be paramount if the visitors want to pull off the upset. On the other side, Chandler Morris, who started in Boulder last year mind you, is coming off a great camp and has the coaching staff really excited about what he can do. Don't be surprised if he uses his legs to pick up a few first downs today.
— If you love defense, TCU corner Josh Newton is going to have a great battle on his hands in trying to contain Hunter and a speedy crop of wideouts in white and gold. A preseason All-American by some, we'll see if the Buffs try to avoid his side of the field completely or if they're confident enough to test him.
— As Urban Meyer will constantly remind you, special teams is always something that is key to the game and this one will be no different. TCU has tons of speed at returner and the edge at kicker in Griffin Kell, who won a few games nearly by himself last season. Colorado return man Jimmy Horn Jr. can equalize things and help his side win the field position battle however after being a real highlight reel at USF in 2022.
Pregame scene
Will Deion Sanders be a success at Colorado?
Will Deion Sanders be successful at Colorado? | Big Noon Kickoff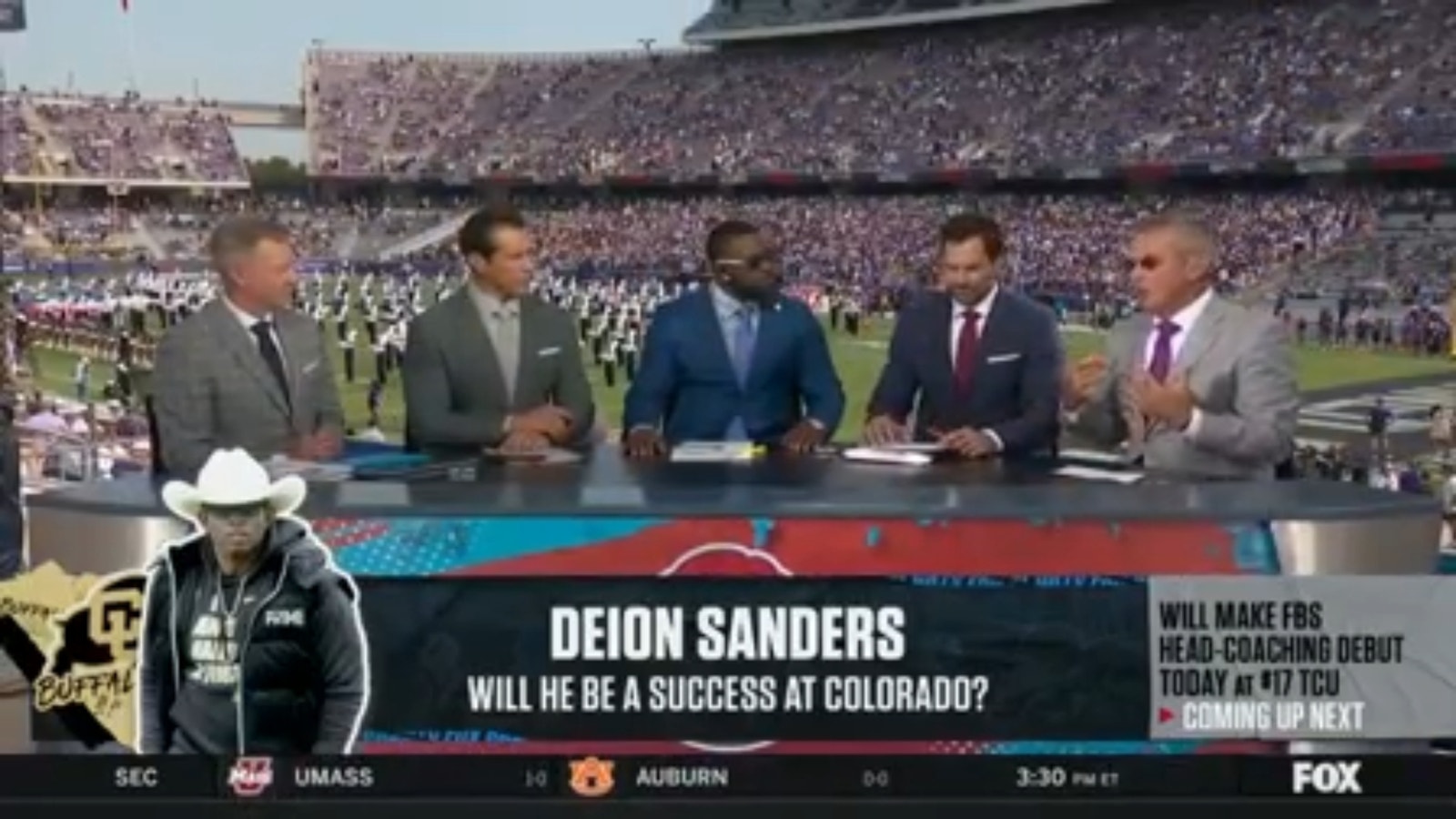 Sanders himself shared his thoughts on the matter with Erin Andrews.
Deion Sanders talks with Erin Andrews about changing the culture at Colorado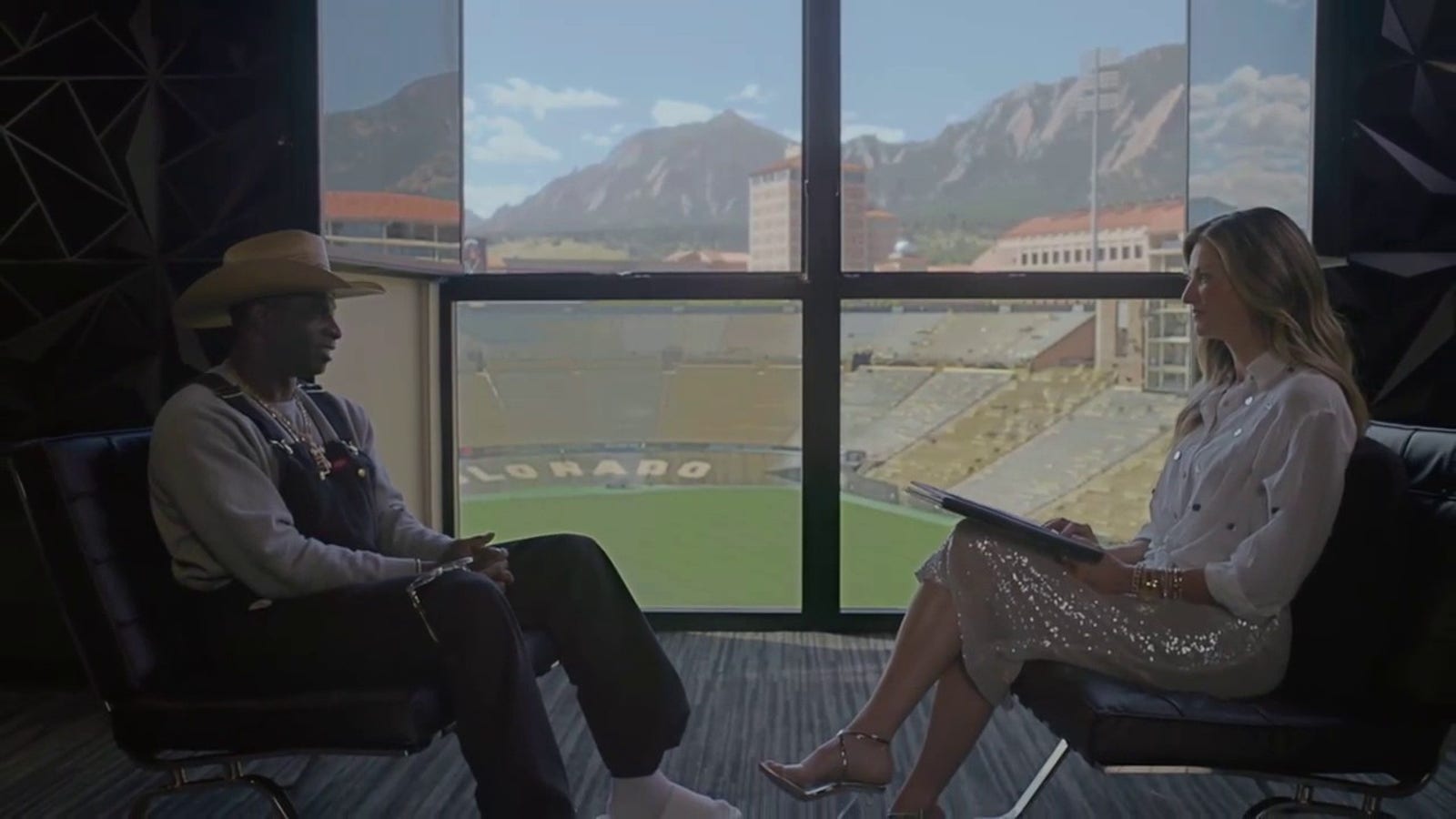 Coach opens up his playbook, and Mark Ingram busts out some moves!
Urban Meyer explained the importance of getting the ball in the hands of a playmaker and why Colorado must do so with Travis Hunter. Mark Ingram, meanwhile, was more than happy to demonstrate with some help from his co-hosts and the fans!
Michael Irvin takes us to CHURCH
Nobody can get fired up like Pro Football Hall of Famer and new "Undisputed" star Michael Irvin, who joined the "Big Noon Kickoff" crew to weigh on his friend Deion Sanders' Colorado program and give a speech to the Buffaloes.
'That's pressure!' – Michael Irvin is FIRED up about Colorado vs. TCU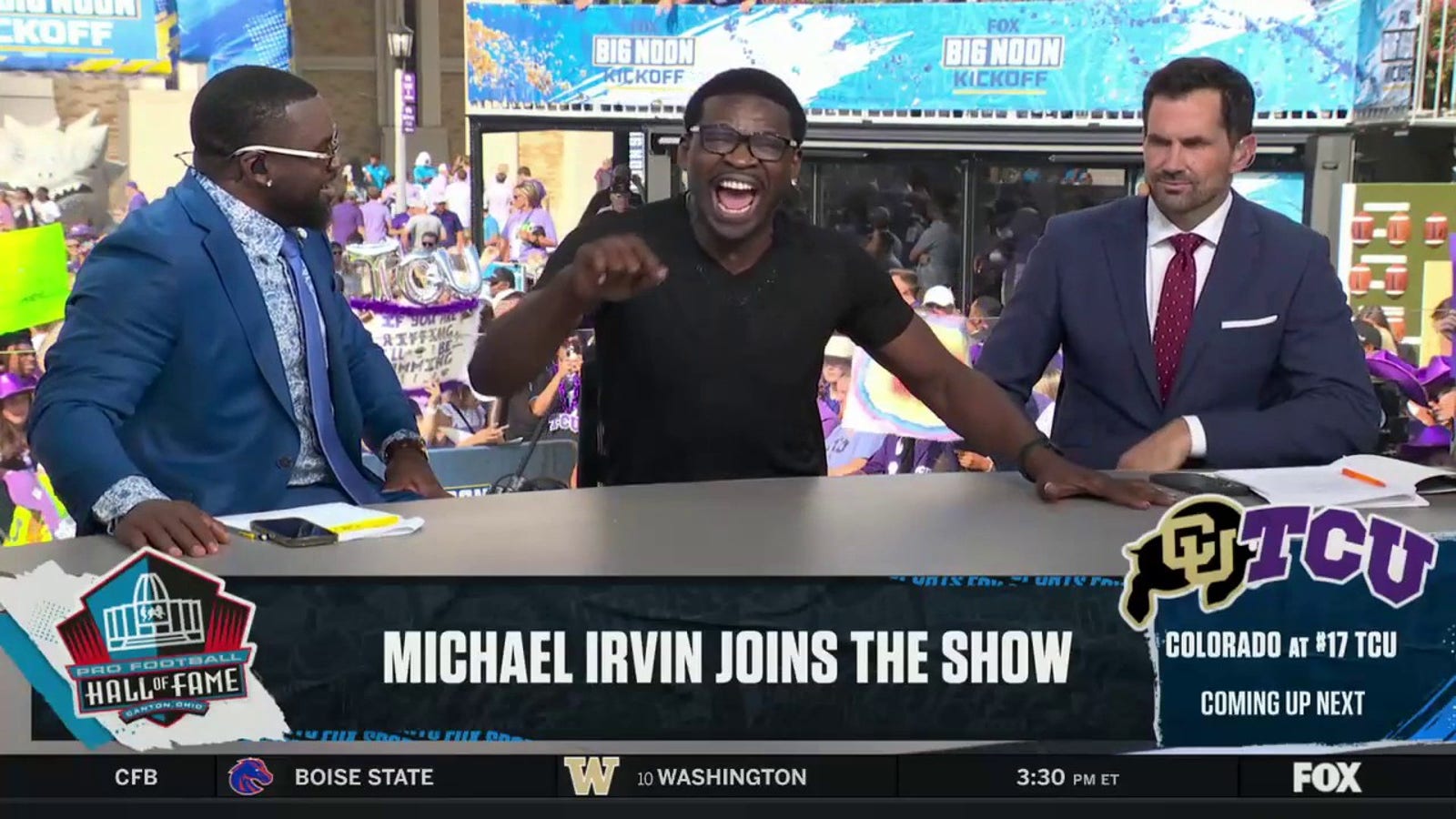 No Colorado depth chart?!?
Colorado has not provided a customary depth chart before the game, yet another unorthodox move from Coach Prime.
Get ready for the 2023 season with a little help from some GOATs!
Deion Sanders, Eddie George and a certain former Michigan quarterback preview the biggest things to watch this year in college football.
Deion Sanders, Michigan, and more headline the biggest storylines entering the 2023 CFB Season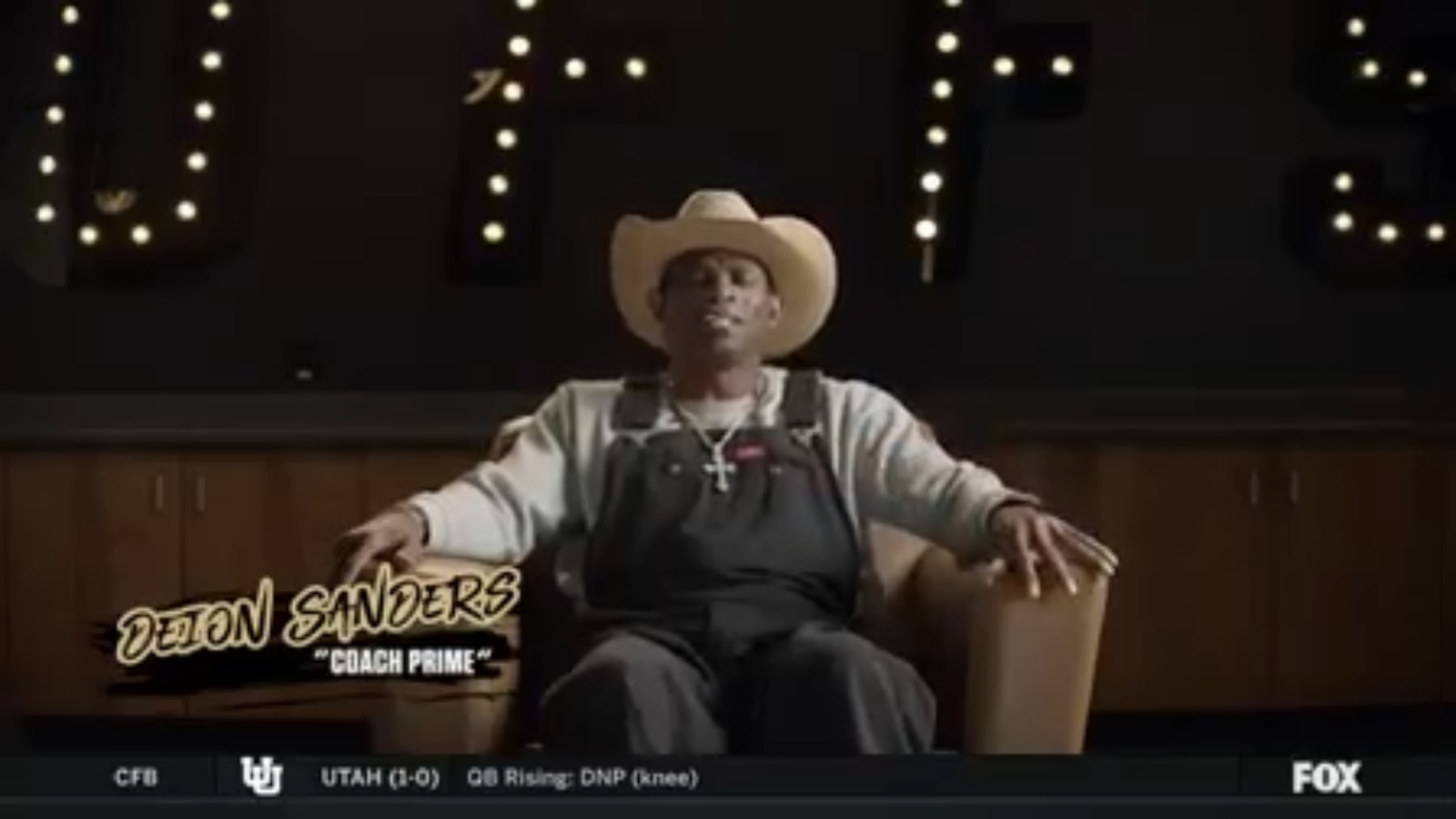 Later, Tom Rinaldi recapped the changes that college football has undergone over the past year.
Tom Rinaldi gets us hyped for the biggest storylines of the season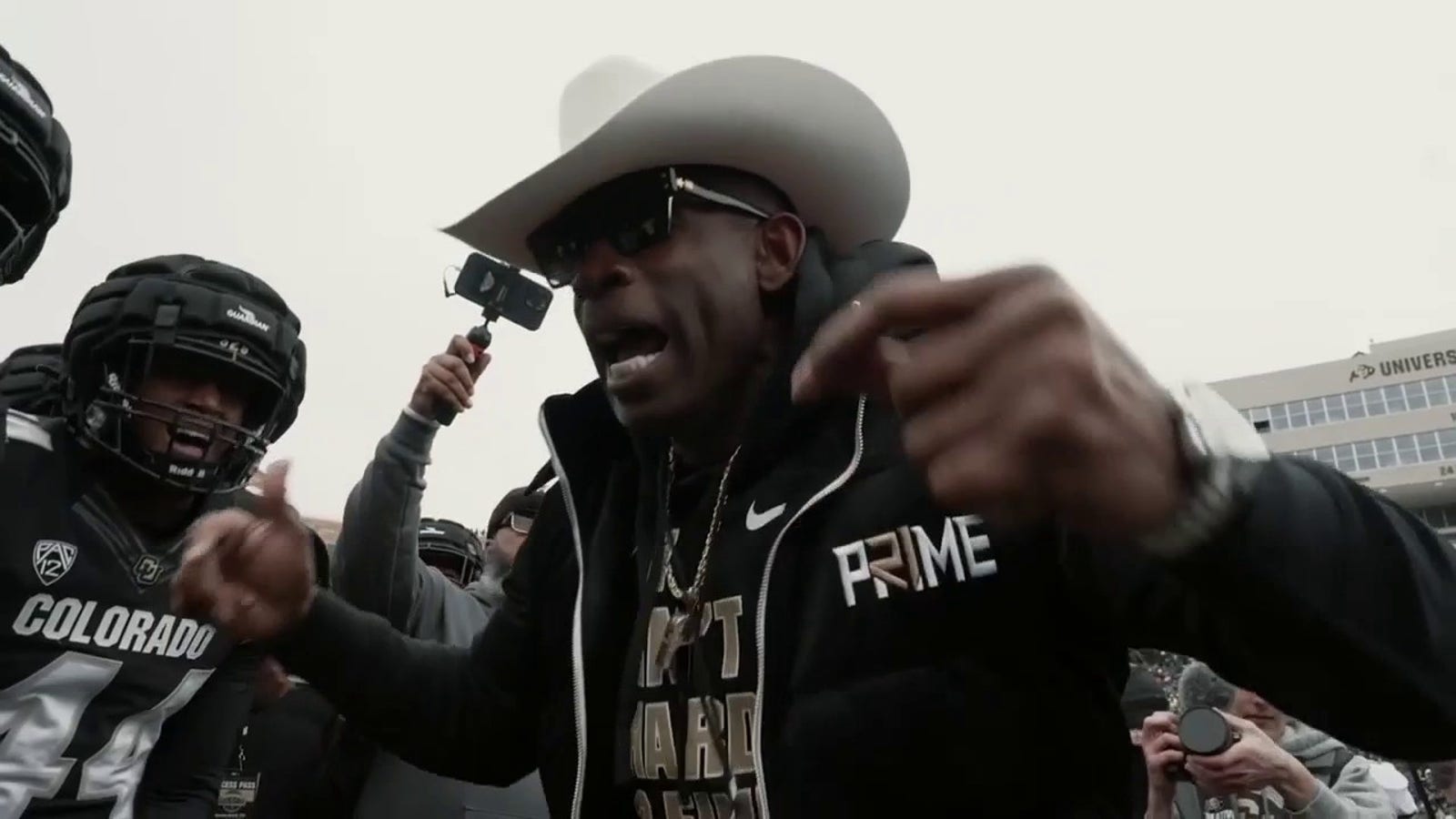 Horned Frogs fans are HYPED!
Rob Stone and Mark Ingram helped get the crowd fired up as "Big Noon Kickoff" started hour two at TCU.
A look inside TCU
Get an exclusive backstage glimpse as Sonny Dykes prepares the Horned Frogs to start building upon their 2022 national runner-up season.
Will TCU Contend for a Big-12 Title? Take a look behind the scenes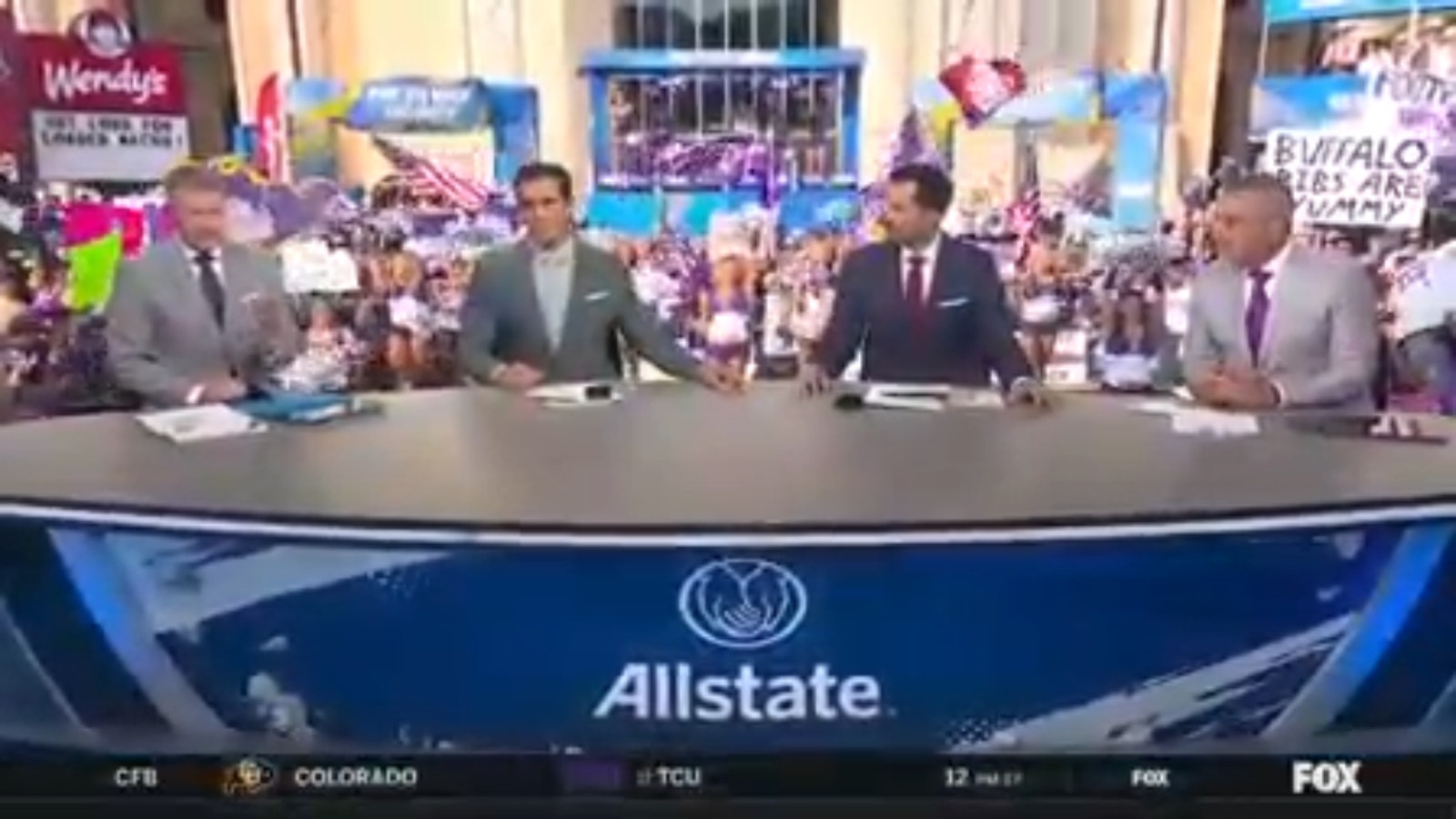 Coach Prime is in the building!
"We've been saying, 'We coming' but now, we here. It's time to do what we do," Colorado head coach Deion Sanders told FOX Sports' Jenny Taft as he arrived at Amon G. Carter Stadium in Fort Worth for his first game leading the Buffaloes.
'It's not about me. It's about us.' – Deion Sanders before Colorado takes on TCU
Checking in on the Heisman race
Coach Prime's Colorado isn't the only big story in the final year of the old Pac-12. USC quarterback Caleb Williams is ready to defend his 2022 Heisman trophy and is a 2023 frontrunner to win the award, which would make him the first back-to-back Heisman winner since Ohio State's Archie Griffin in 1976. Brady Quinn and Matt Leinart discussed Williams' chances.
Can USC's Caleb Williams repeat as Heisman? And teams better than advertised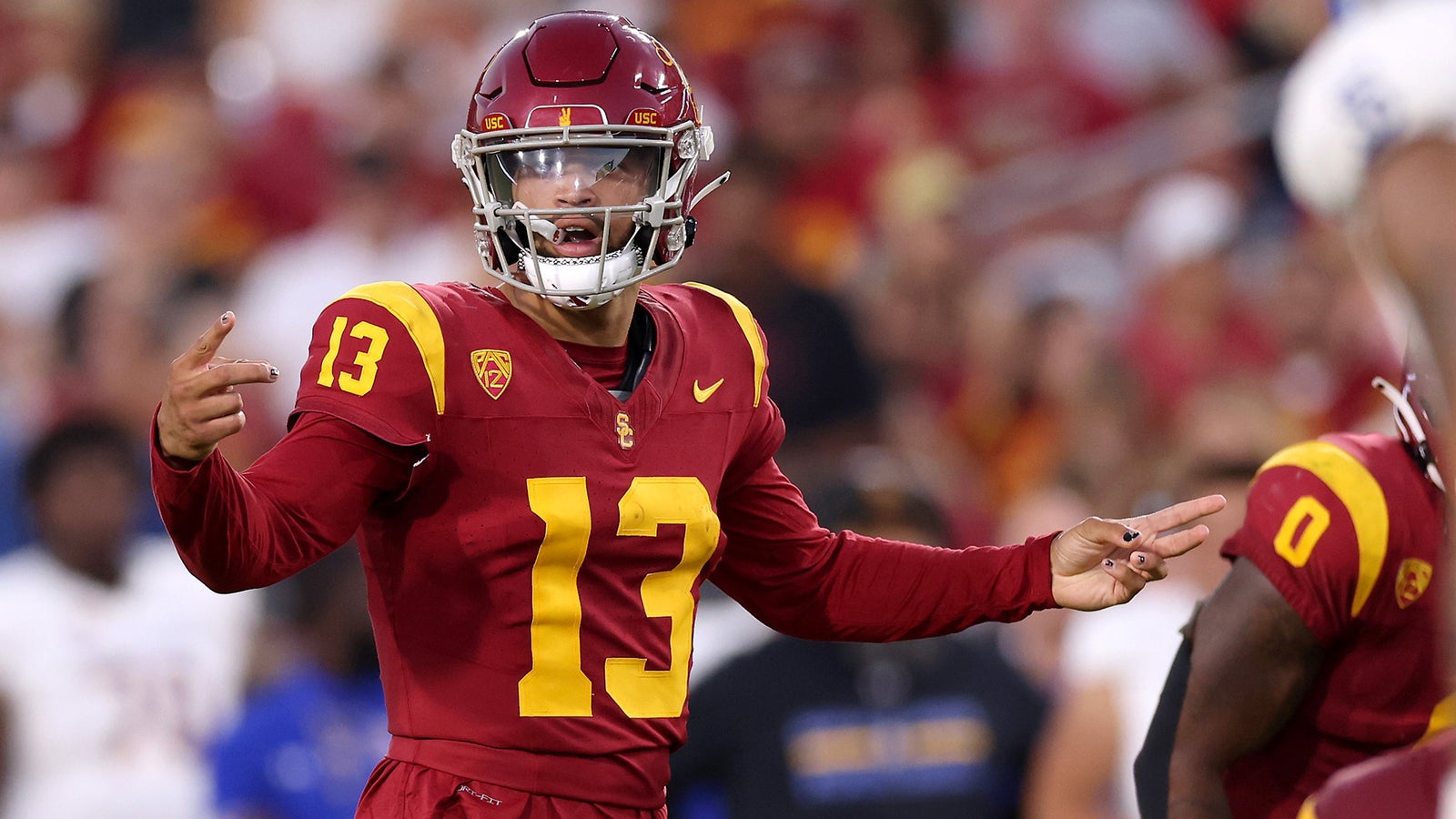 Brett Yormark on Big 12 expansion
The Big 12 commissioner stopped by the Big Noon Kickoff set to talk about the direction of his conference after recently agreeing to add four former Pac-12 schools — including Colorado — effective next season.
Realignment: A matter of 'when, not if'
Bruce Feldman breaks down the latest round of realignment that includes Stanford, Cal and SMU joining up with the ACC, analyzing what might come next.
Bruce Feldman joins the 'Big Noon Kickoff' crew to discuss realignment
Talk about an entrance!
Could a first impression have been done any better than new Big Noon Kickoff member Mark Ingram did it?
Mark Ingram makes his GRAND ENTRANCE to the 'Big Noon Kickoff' crew
Later on in the show, Ingram got a special message from his own college coach, Alabama's Nick Saban.
Alabama HC Nick Saban sends a special message to Mark Ingram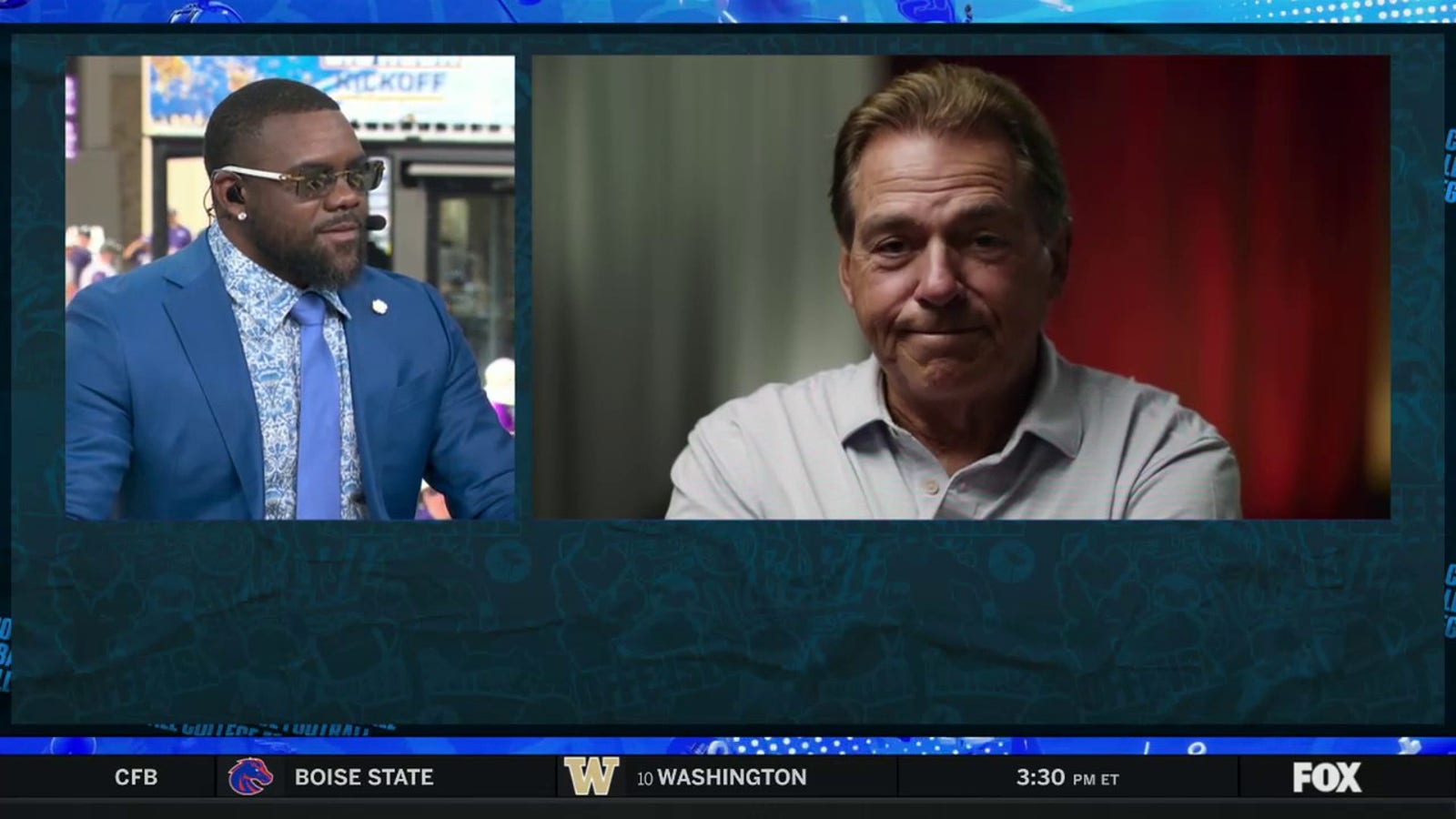 Pregame reading
Week 1 wagering: Chris "The Bear" Fallica shares his predictions from all the top games, including TCU-Colorado. Read more.
Chris 'The Bear' Fallica gives his picks for Week 1 of CFB with a little help from Urban Meyer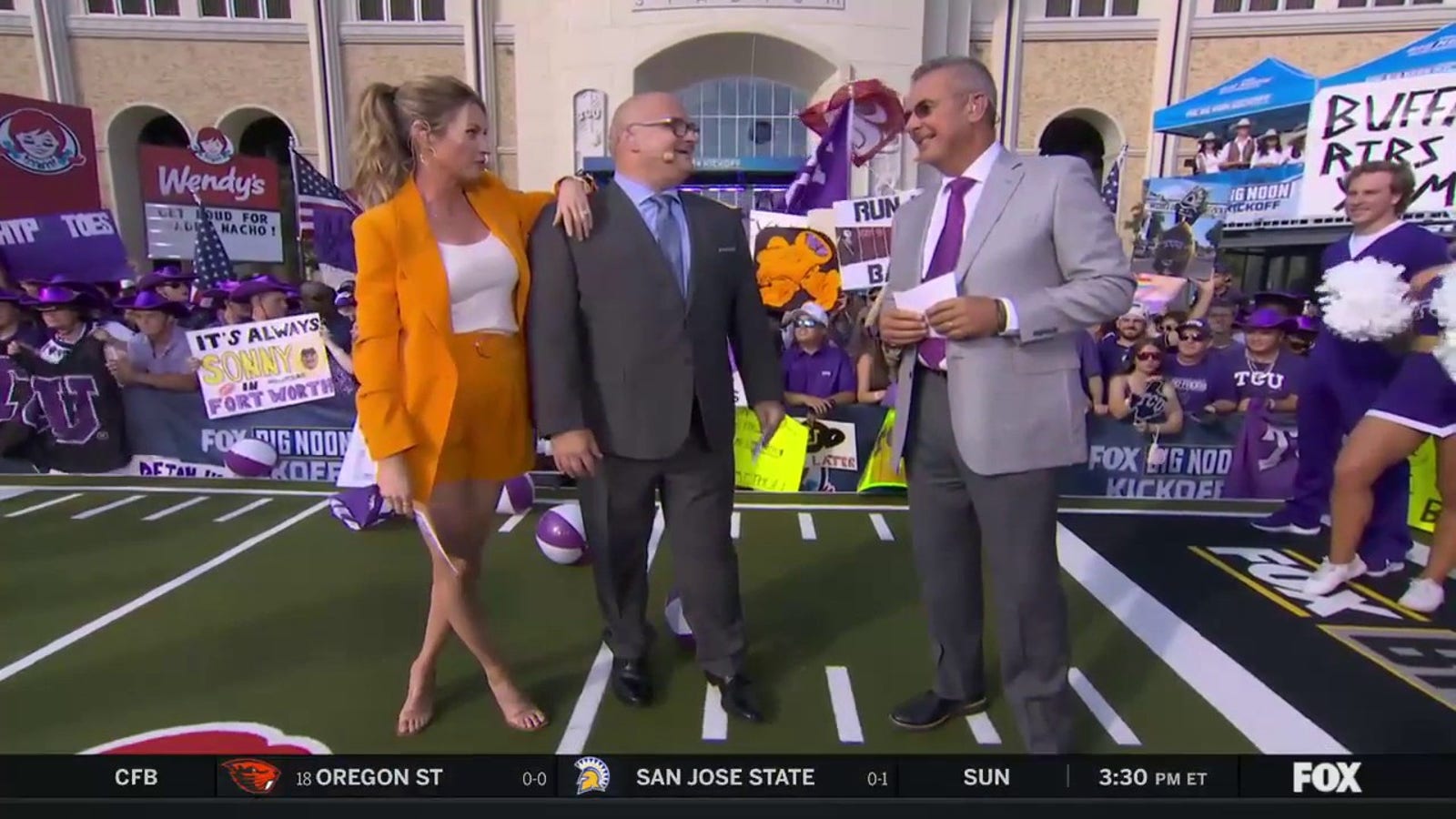 Think the Deion Sanders hype is out of control now? Wait until Colorado wins, Martin Rogers writes.
Is TCU ready for the next step? 'We have to prove it': After leading his Horned Frogs on a magical run to the CFP Championship game, Sonny Dykes believes he is building a program with staying power. We went to Fort Worth this offseason to find out what he's doing to stay on top. Laken Litman has the story.
Colorado's Travis Hunter is poised for stardom on both sides of the ball: NFL analyst and former player Bucky Brooks breaks it down.
Week 1 By the Numbers: All the key stats to know about Colorado-TCU and all the other top games this weekend. Read more.
NFL Scouts will be watching Shedeur Sanders, Marvin Harrison Jr., other top stars in Week 1: NFL Draft analyst Rob Rang explains what makes these players such good pro prospects.
Bonus reading!
How Cade McNamara, a "Michigan legend," found a renewed purpose at Iowa: This story isn't part of the "Big Noon" slate, but it's nonetheless an epic tale from FOX Sports' Michael Cohen that deserves your attention. Cade McNamara helped Michigan become the class of the Big Ten. Now he's at Iowa and happier than ever. Here's how it happened.
Bryan Fischer is a college football writer for FOX Sports. He has been covering college athletics for nearly two decades at outlets such as NBC Sports, CBS Sports, Yahoo! Sports and NFL.com among others. Follow him on Twitter at @BryanDFischer.
---
COLLEGE FOOTBALL trending
---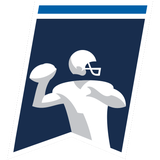 Get more from College Football Follow your favorites to get information about games, news and more
---