Chris 'The Bear' Fallica's March Madness Sweet 16 expert betting picks, trends
"Bear Bets" are real wagers that Chris "The Bear" Fallica is actually making.
The first two rounds of the NCAA Men's Basketball Tournament certainly brought its share of upsets, bad beats and drama.
We didn't have a great first round, but we will try and change it here in the Sweet 16.
Good luck, and enjoy the games!
Tom Izzo on the impacts of analytics and the transfer portal on college athletics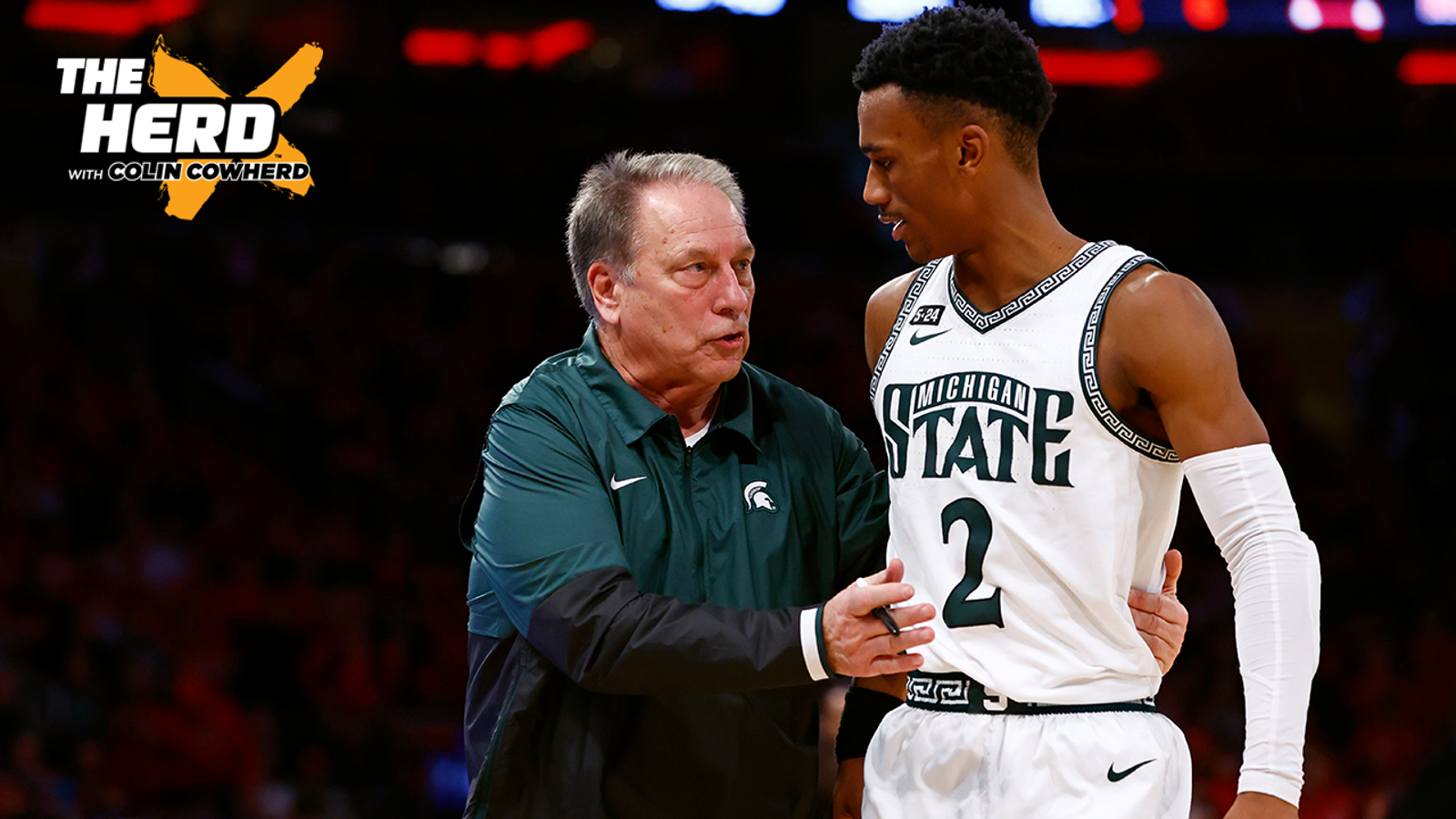 Michigan State coach Tom Izzo weighs in on the challenges in coaching today's athletes, with big influences from analytics and the transfer portal.
BEST BETS
Creighton vs. Princeton
Princeton has been a great story, knocking off Arizona and Missouri to reach the Sweet 16. But the run likely ends here. It's actually amazing the Tigers are here, being Arizona had them down 51-41 with eight minutes remaining. And Princeton made only three free throws and went 4-25 from 3-point range in the game.
The game was over before the Cats completely fell apart in the half court down the stretch. Then in the second round, Princeton got a dream matchup with a Missouri team that struggled to prep for the longshots on the short turnaround.
Creighton should be much better prepped for the Tigers after handling Baylor in a game that was never really in doubt as the Jays knocked down 11 3s and hit all 22 free throws. That type of efficiency will be hard for Princeton to top.
PICK: Creighton (-10 at FOX Bet) to win by 10 or more points
Houston vs. Miami
As a Miami grad, I'm hoping for the best, but it's hard to see what Houston did in the second half – especially the final 10 minutes – against Auburn and be super confident. This is a Miami defense that allows 52% on 2-point shots, and the matchup on the interior here with the undersized 'Canes vs. all of those Houston rebounders could be a very bad one for Miami.
Of course, there's a chance injuries still hamper Marcus Sasser and Jamal Shead, but another week to heal should help them. Miami's guards have kept them in most games this season, but this will be a massive step up against the Cougars defense. Could the Canes pull the outright upset? Sure. But I think a double-digit Houston win is more in the cards.
PICK: Houston (-7 at FOX Bet) to win by 7 or more points
Florida Atlantic vs. Tennessee
There are a lot of historical notes and nuggets which lean in FAU's favor. However, I think there are other factors to consider.
The spot against FDU was brutal for the Owls. Being a 15-point favorite against a 16-seed and expected to win in a building where everyone was rooting against you was a complete 180 from the initial underdog role the Owls had been living.
Tennessee did a great job taking care of the ball vs. Duke, with Jeremy Roach in foul trouble much of the game, but will probably be facing more defensive pressure here from a deep, athletic FAU team. It's also fair to expect the Owls to shoot better than 9-for-31 from 3-point range as they did against FDU.
Against Duke as a dog, it was quite fair to like the Vols against a trendy Final Four pick, but remember this team that struggled to make a shot against Louisiana and let the 13-seed back into the game. It wouldn't surprise me if the Owls pulled the outright upset.
PICK: FAU (+5.5 at FOX Bet) to lose by fewer than 5.5 points (or win outright)
Michigan State vs. Kansas State
The Spartans are here despite shooting just 2-for-16 from 3-point range in the win over Marquette. One would think that can't continue for a team that shot it so well from deep throughout the season. But Joey Hauser and Mady Sissoko had a field day on the glass and after seeing Oscar Tshiebwe grab 18 boards and Kentucky outrebound K-State 44-25, Michigan State has to like its chances here.
Despite not hitting anything, it felt like Kentucky was right there with the game for the taking. But the Wildcats just couldn't grab it – credit K-State for making big shots down the stretch. K-State is 49-for-73 shooting (67%) from 2-point range in two tourney games, but this will be a tougher task against a program that typically peaks this time of year.
PICK: Michigan State (-2 at FOX Bet) to win by 2 or more points
Texas vs. Xavier
Xavier has taken action in this game, but I dunno. The Musketeers were very fortunate to beat Kennesaw State and then got a Pitt team that didn't exactly play well in a win against Iowa State. Then when they repeated that game against Xavier, the result was predictable.
So I'm skeptical about how the Musketeers will fare here against a Texas defense that forces a ton of turnovers and should have a big edge on the interior, as Dylan Disu has enjoyed a great tournament so far. The Longhorns were just 1-for-13 shooting on 3-pointers in the win over Penn State, with Sir'Jabari Rice going 1-for-6 after a 7-for-10 effort against Colgate. Again, that should normalize here. I expect Texas to get good looks and ultimately be too much for Xavier.
PICK: Texas (-4 at FOX Bet) to win by 4 or more points
UCLA, Houston, Gonzaga represent record-tying 11 conferences in Sweet 16
Colin Cowherd shares his reaction to the first weekend of the men's tournament.
SWEET 16 NOTES AND NUGGETS
Seventh-seeded Michigan State is favored over third-seeded Kansas State in the Sweet 16. It's the first time a team seeded seventh or lower has been favored over a top-3 seed since … 2015 when No. 7 Michigan State was a 1.5-point favorite over 3-seed Oklahoma and beat the Sooners 62-58 in a game played in the state of New York.
Since seeding began in 1979, 16 times a 4-seed has faced an 8- or 9-seed in the Sweet 16. Despite dodging the 1-seed, it's been far from a cinch the 4-seed has moved on. Four seeds are just 6-10 facing teams seeded eighth or ninth in the Sweet 16. Since 2000, 4-seeds are just 2-7 against the spread (ATS) when facing a team seeded eighth or ninth in the Sweet 16.
Tom Izzo's teams are 18-6 straight up (SU) in Sweet 16 or Elite Eight games.
Rick Barnes is 2-7 ATS (5-4 SU) as a favorite at Tennessee. All but one of those games came against double-digit seeds. Dating back to Texas, that number falls to 2-11-1 ATS (7-7 SU).
Mountain West teams are 0-6 SU (1-5 ATS) in Sweet 16 games.
In the past 10 years, there have been 18 instances where a team seeded eighth or lower faced a team not a No. 1 seed in the Sweet 16 and weren't facing another team seeded eighth or lower. Those 18 teams went 15-3 ATS with eight outright wins.
If you also eliminate second and third seeds, as is the case this year with FAU facing Tennessee, Princeton facing Creighton and Arkansas facing UConn, each of the past seven teams seeded eighth or lower facing a non-top three seed in the Sweet 16 have covered with six winning outright.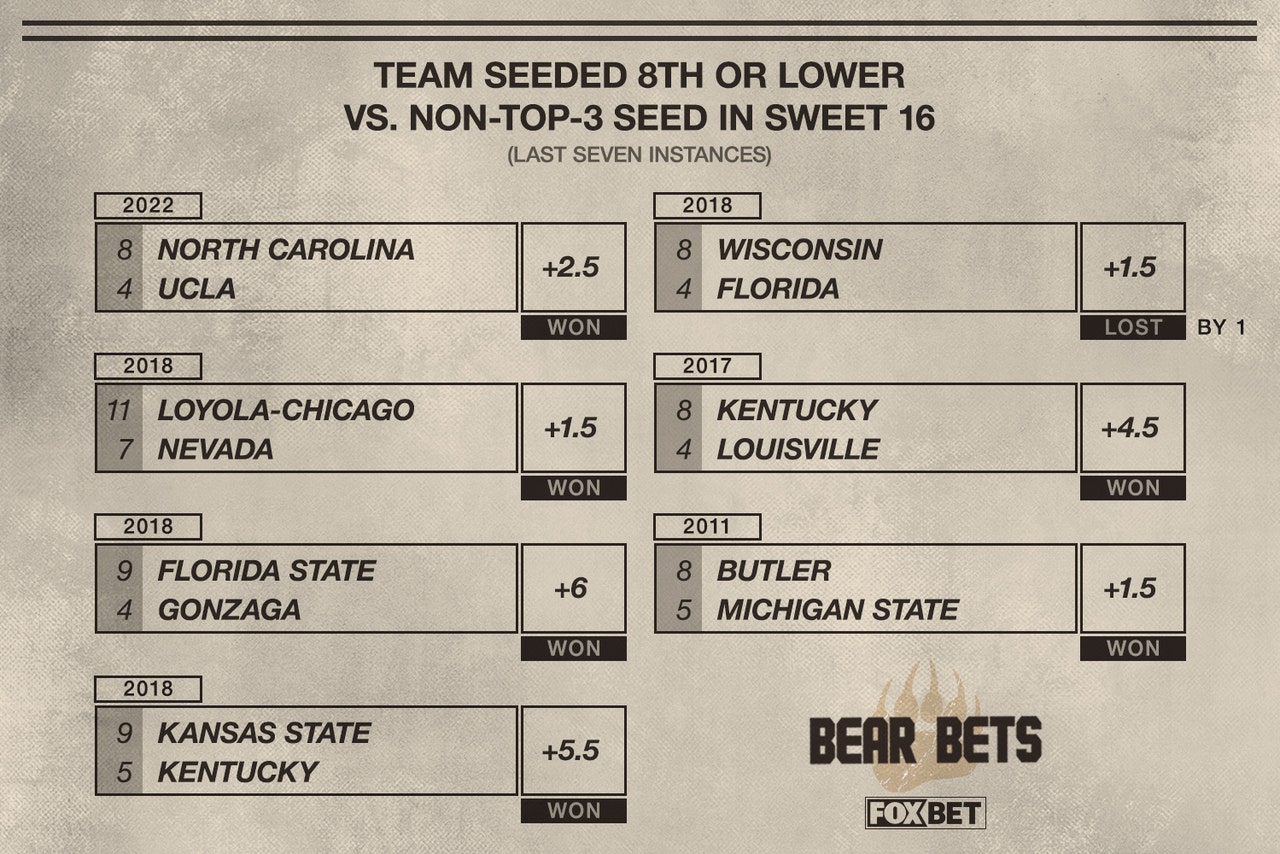 Xavier's Sean Miller has been an underdog six times in Sweet 16 or Elite Eight games. His teams have covered five of the six games, winning two Sweet 16 games outright. The lone non-cover was to No. 1 seed UCLA in 2008 as a six-point dog.
Since 1985, there have been 17 double-digit seeds to reach the Sweet 16 that were a double-digit underdog. Those 17 teams are 1-16 outright, with Saint Peter's win over Purdue the lone win. Over the past 10 years, the last six such teams have covered the number with a win and three losses either by four points or fewer or in overtime.
Over the past 15 years, Duke has been eliminated by 12 teams in the NCAA Tournament. Only three of the 12 went on to win its next game – 2017 South Carolina, 2013 Louisville and 2009 Villanova.
A team seeded fifth or lower has reached the Final Four 33 times. Michigan State under Izzo has done it three times. Other coaches with multiple Final Fours as a 5-seed or lower are Brad Stevens and Larry Brown (two each). If Michigan State reaches the Final Four, Izzo will become the only coach to take two teams seeded seventh or lower to the Final Four.
So there you have it, folks. Thanks for reading, and let's make some money!
Chris "The Bear" Fallica has covered sports for nearly three decades. While college football has been his focus, he also enjoys the NFL, Soccer, Golf, Tennis, MLB, NHL and Horse Racing, with an "occasional" wager on such events. Chris recently won the inaugural Circa Football Invitational and finished in the Top 10 of the Golden Nugget Football Contest. He's a multiple-time qualifier for the NHC Handicapping Championship. Remember, "The less you bet, the more you lose when you win!" Follow him on Twitter @chrisfallica.
Read more:
Play FOX Super 6 every week for your chance to win thousands of dollars every week. Just download the Super 6 app and make your picks today!
---