College football Week 3 top plays: Ohio State leads, No. 1 Georgia holds off South Carolina
Week 3 of the college football season is underway!
Drew Allar and No. 7 Penn State were able to come away with a 30-13 win over Illinois to open up Big Ten play; No. 14 LSU took down SEC foe Mississippi State, 41-14. In an exciting upset, Missouri defeated No. 15 Kansas State, 30-27. The game was sealed by a 61-yard field goal by Harrison Mevis, the longest field goal in SEC history. In other SEC action, No. 1 Georgia came back from a 14-3 halftime deficit to defeat South Carolina, 24-14.
In the afternoon, No. 6 Ohio State got its offense on track, winning 63-10 over Western Kentucky; No. 8 Washington walloped Michigan State, 41-7, and No. 10 Alabama made another quarterback change en route to a sluggish 17-3 win against USF.
Then No. 11 Tennessee was upset by Florida in The Swamp, 29-16, and TCU took down in-state rival Houston, 36-13. Now, Deion Sanders and No. 18 Colorado host Colorado State — and the two teams already began butting heads pregame.
Here are the top moments!
Colorado State at No. 18 Colorado
Sanders arrives
After the pregame scrum, Sanders wore all the attire that Colorado State head coach Jay Norvell criticized him for wearing in front of the media earlier in the week: sunglasses and hat.
Pick-six!
Colorado State went three-and-out to begin the game, which was followed by Colorado quarterback Shedeur Sanders being intercepted. Then the Rams made a 50-yard field goal, but a roughing the snapper penalty gave them new life. That said, quarterback Brayden Fowler-Nicolosi was later intercepted by Colorado safety Shilo Sanders, who ran the pick back 80 yards for a touchdown.
Shilo Sanders takes a pick 80 YARDS to the house as Colorado strikes first against Colorado State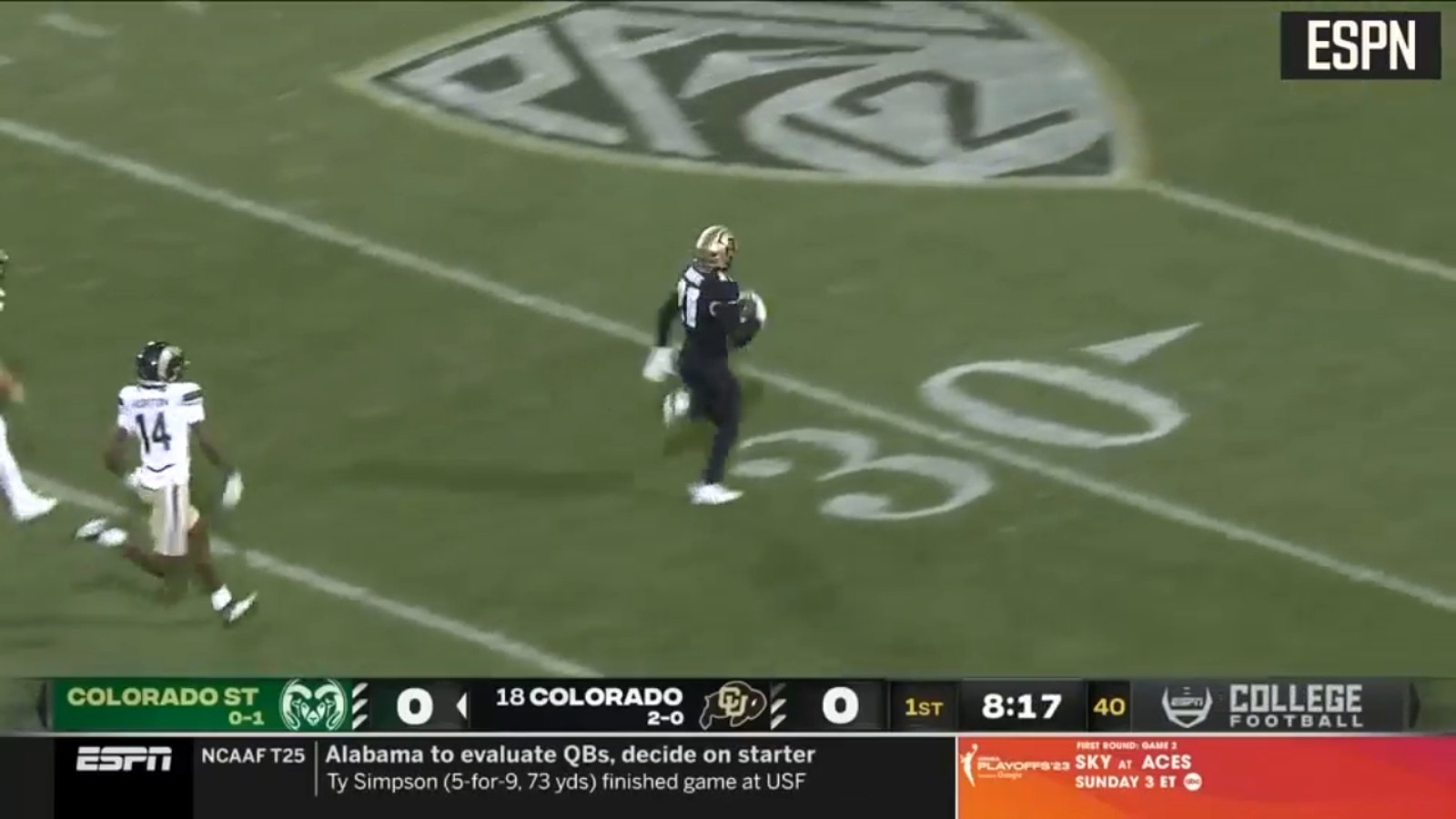 What a response!
On the second play of the ensuing drive, Fowler-Nicolosi hit wide receiver Louis Brown down the field for a 46-yard completion. On the very next play, Fowler-Nicolosi threw a pass behind the line of scrimmage to wide receiver Tory Horton, who then hit tight end Dallin Holker in the back of the end zone for a 30-yard score.
Scoop-n-score!
Travis Hunter made a couple defenders miss to get a Colorado first down before fumbling the ball on his way to the ground, and Colorado State defensive back Jack Howell picked up and ran the loose ball back for a touchdown.
Colorado State forces a Travis Hunter fumble, fueling a 35-yard scoop-and-score TD against Colorado
Buffaloes strike back
Colorado's offense broke through late in the first quarter when Sanders hit wide receiver Xavier Weaver for a 24-yard touchdown.
Rams came to play
Faced with a second-and-goal at the Colorado 15-yard line, Fowler-Nicolosi connected with Brown through a tight window for a 15-yard Colorado State touchdown — and Brown decided to imitate the Buffaloes head coach after the score. The Rams led 21-14 at halftime.
Travis Hunter out
The two-way superstar was sent to a local hospital after taking a rough hit in the first half.
Blocked field goals
Colorado went three-and-out to begin the second half, which was followed by Colorado State getting into the red zone before fumbling and the Buffaloes punting again shortly thereafter. Then Colorado State had a 52-yard field goal blocked, and Colorado had a 39-yard field goal blocked on the next drive.
What a catch — and run!
After Colorado got a field goal on the board, Colorado State pushed its lead to two scores in the fourth quarter. Faced with a third-and-7, Fowler-Nicolosi hit Holker, who caught the pass at his ankles, got the first down and ran his way into the end zone for a 35-yard touchdown. The Buffaloes responded with another field goal, trailing 28-20 with 7:33 remaining in the fourth quarter.
Stay tuned for updates!
FINAL: TCU 36, Houston 13
I'm open!
On the sixth play of the opening possession, TCU wide receiver Warren Thompson got behind the Houston defense, and quarterback Chandler Morris hit him in stride for the 33-yard touchdown.
Big throw sets up FG
Houston got the ball downfield when quarterback Donovan Smith hit wide receiver Samuel Brown for a 53-yard gain. Four plays later, kicker Jack Martin connected on a 44-yard field goal.
Not the way you draw it up
After TCU got a field goal on the board, Houston attempted a flea flicker, but Smith's pass was intercepted by safety Bud Clark near the sideline; TCU later got a 53-yard field goal off the interception.
NOT going down!
On the ensuing kickoff, Matthew Golden ran out of a series of tackle attempts and then all the way to the house for a Houston touchdown.
Matthew Golden takes a kickoff 98 yards to the HOUSE as Houston trims deficit against Horned Frogs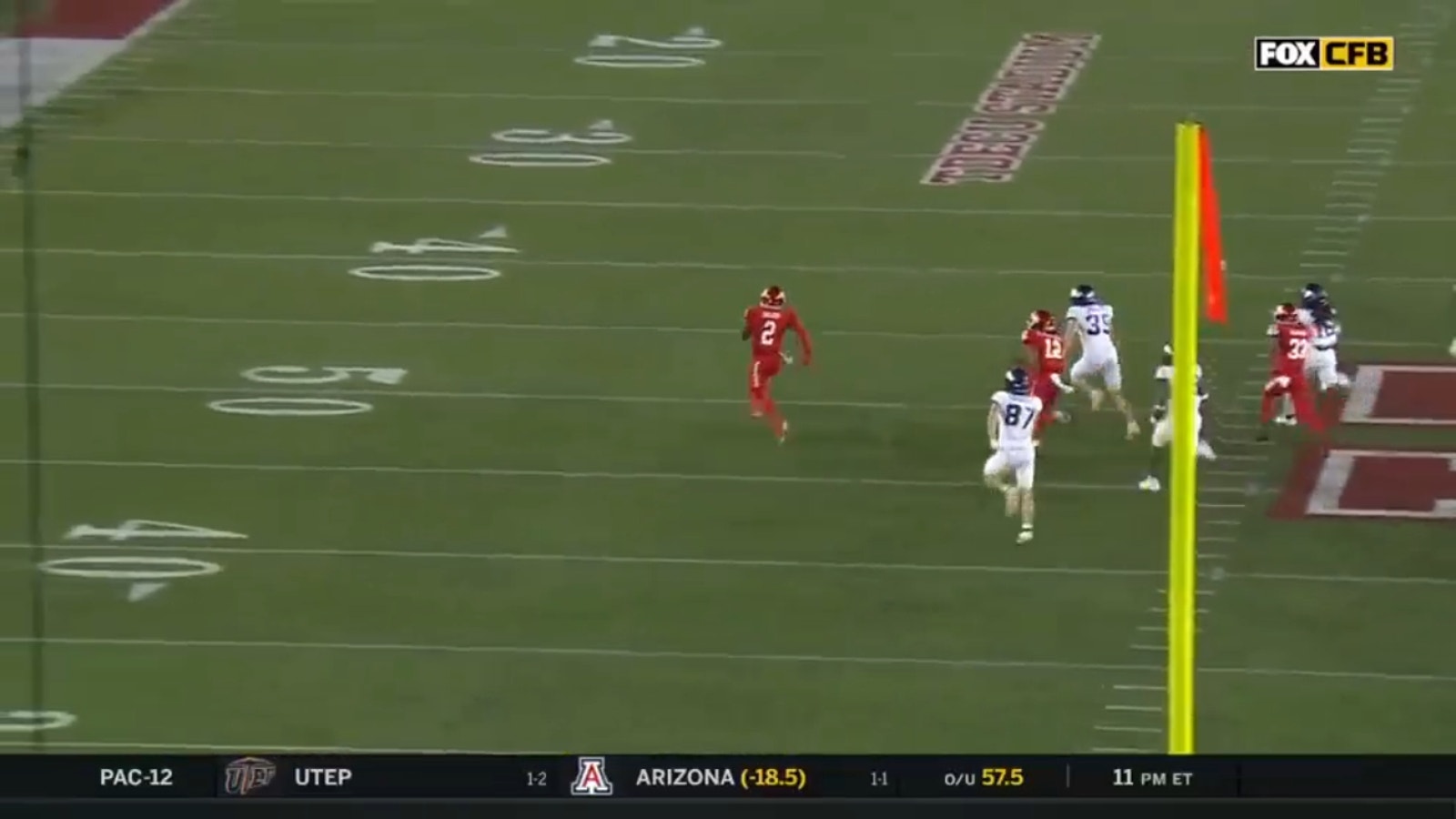 Making 'em dizzy!
After working its way into Houston territory, TCU running back Emani Bailey zigzagged his way into the end zone for a 16-yard score.
Emani Bailey JUKES his way past Houston for a 16-yard rushing TD as TCU extends their lead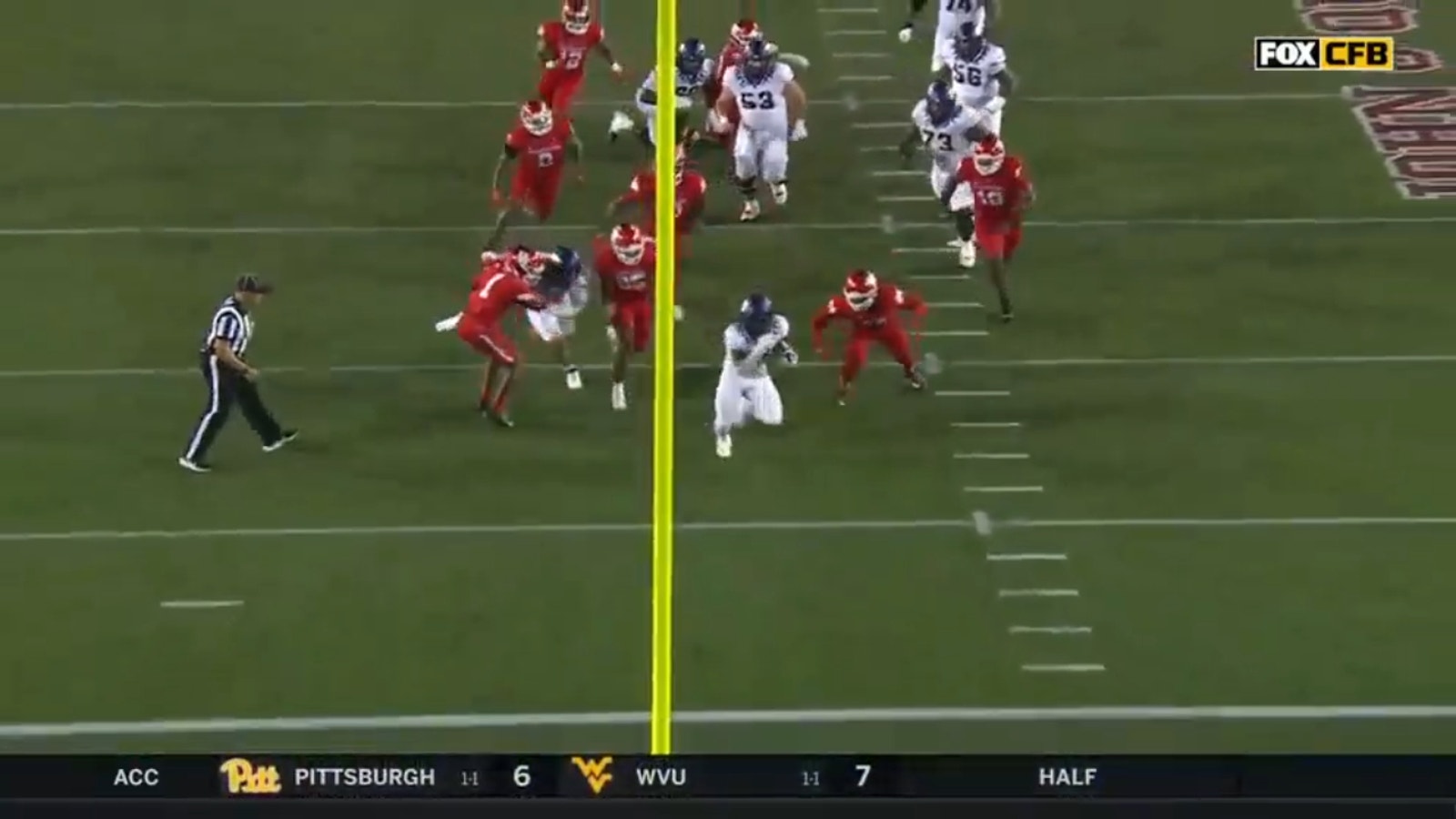 WHAT. A. CATCH.
Morris threw up a deep pass to the left side, and TCU wide receiver Savion Williams hauled it in with only his left arm for a 31-yard touchdown. TCU missed the extra point, though.
TCU's Chandler Morris throws a 31-yard TD DIME to extend lead over Houston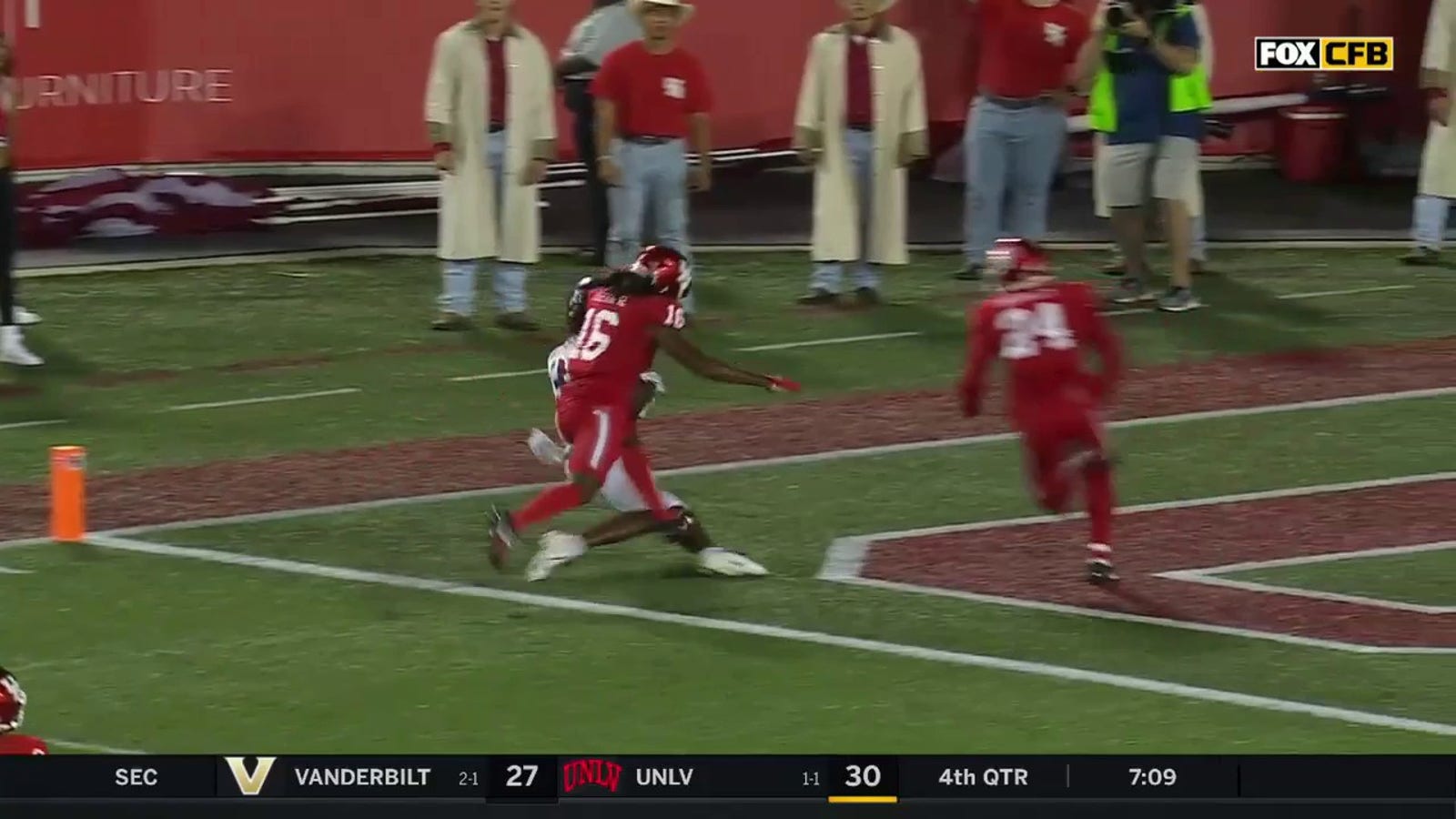 Running away with it
Trey Sanders ripped through Houston's defense for an 18-yard rushing score, giving TCU a 36-13 lead.
FINAL: Florida 29, No. 11 Tennessee 16
Strong start for Tennessee
Florida had its field goal attempt blocked on the opening possession of the game, and Tennessee kept the momentum going shortly thereafter. One play after Joe Milton flicked a 41-yard pass to Squirrel White, the quarterback hit Ramel Keyton for an 11-yard touchdown.
Later!
On the fourth play of the ensuing drive, Florida running back Trevor Etienne thundered through the Tennessee defense for a 62-yard rushing touchdown. With that said, the Gators' extra point attempt was blocked.
Lead change
After forcing Tennessee to punt, Florida found the end zone once again. On the 14th play of the drive, Montrell Johnson got the call on the run for the 4-yard score, but the Gators failed to convert a two-point attempt.
Rough INT leads to 6
About to get hit by the Florida pass rush, Milton unloaded a deep ball, but cornerback Devin Moore was the only player in the area, and he intercepted and ran the ball back to the Tennessee 9-yard line. Three plays later, Florida quarterback Graham Mertz ran in a goal-line score.
I'm gonna get in that end zone
Tennessee went three-and-out after the Florida score, and the latter put the ball in the end zone again on its next drive. After working their way into the red zone, Mertz hit Johnson on a screen pass, and the running back refused to go down, slicing and dicing his way through Tennessee's defense for an 18-yard touchdown. Florida led 26-7 at halftime.
Getting back in it
Trailing 29-10 midway through the fourth quarter, Milton connected with wide receiver Bru McCoy on a 55-yard touchdown pass. Tennessee failed to convert the two-point attempt, though.
No. 6 Ohio State 63, Western Kentucky 10
Try to stop TreVeyon
TreVeyon Henderson found room along the sideline and hit the jets for a 21-yard score to give Ohio State the first touchdown of the game.
TreVeyon Henderson STORMS past Western Kentucky.
Two TD TreVeyon
The Ohio State running back added his second touchdown of the game when he navigated his way through blockers before getting into the end zone for a 7-yard score to extend the Buckeyes' lead to 14-3 in the second quarter. But prior to that play, Henderson leaped over a Western Kentucky defender to help set up Ohio State for the score.
Ohio State's TreVeyon Henderson pulls off a NASTY hurdle.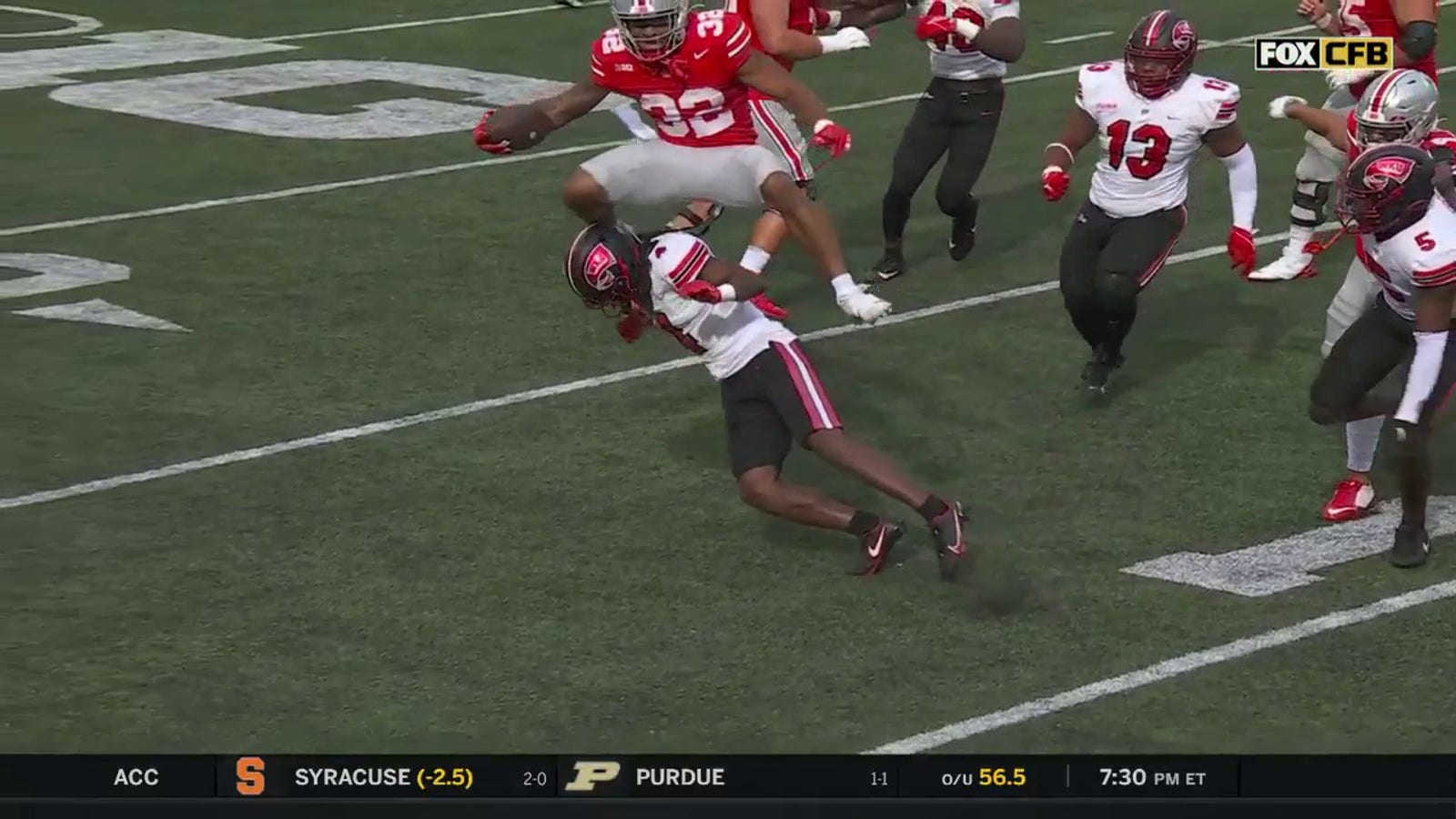 Western Kentucky works its way into the end zone
The Hilltoppers ran a screen pass from the Buckeyes' 2-yard line, with Austin Reed connecting with Malachi Coley to score a touchdown to cut Ohio State's lead to 14-10 in the second quarter.
Austin Reed connects with Malachi Corley for a 2-yard touchdown.
The marvelous Marvin
In its first play with the ball back, Ohio State hit a home run, with Kyle McCord finding Marvin Harrison Jr. open deep for a 75-yard score to give the Buckeyes a 21-10 lead.
Kyle McCord links up with Marvin Harrison Jr. on a 75-yard touchdown pass.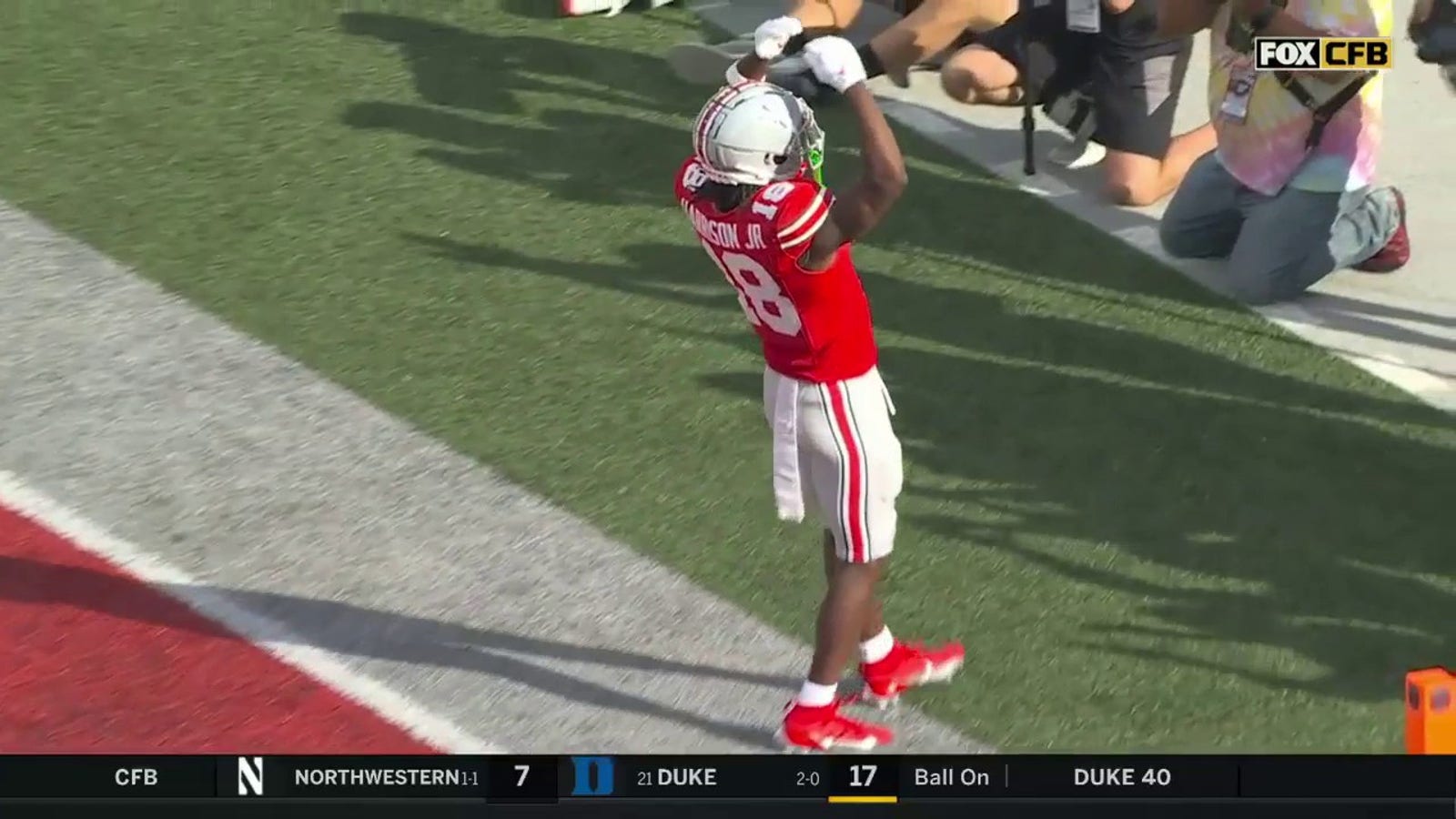 Oh, look at all of those Ohio State TDs
The Buckeyes went on a major scoring run to close out the first half, scoring a touchdown on four consecutive drives to give them a 42-10 lead going into the break.
Following Harrison's touchdown, Chip Trayanum scored on a 40-yard run up the middle with ease to extend Ohio State's lead to 28-10.
Ohio State's Chip Trayanum breaks MULTIPLE tackles.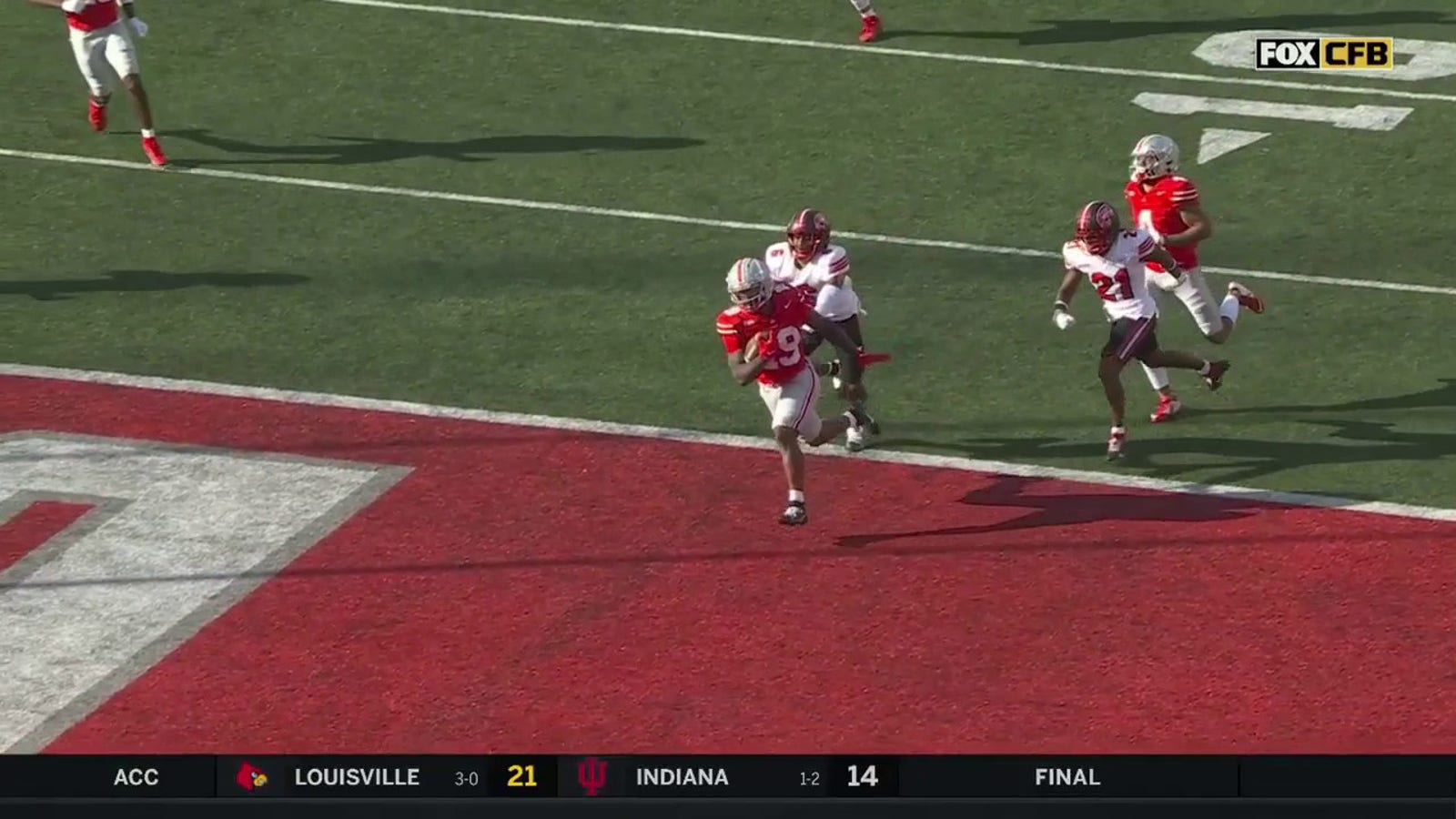 Emeka Egbuka followed that up with two touchdowns of his own. First, he caught a pass over the middle and ran in for a 15-yard touchdown.
Kyle McCord finds Emeka Egbuka on a 15-yard TD pass.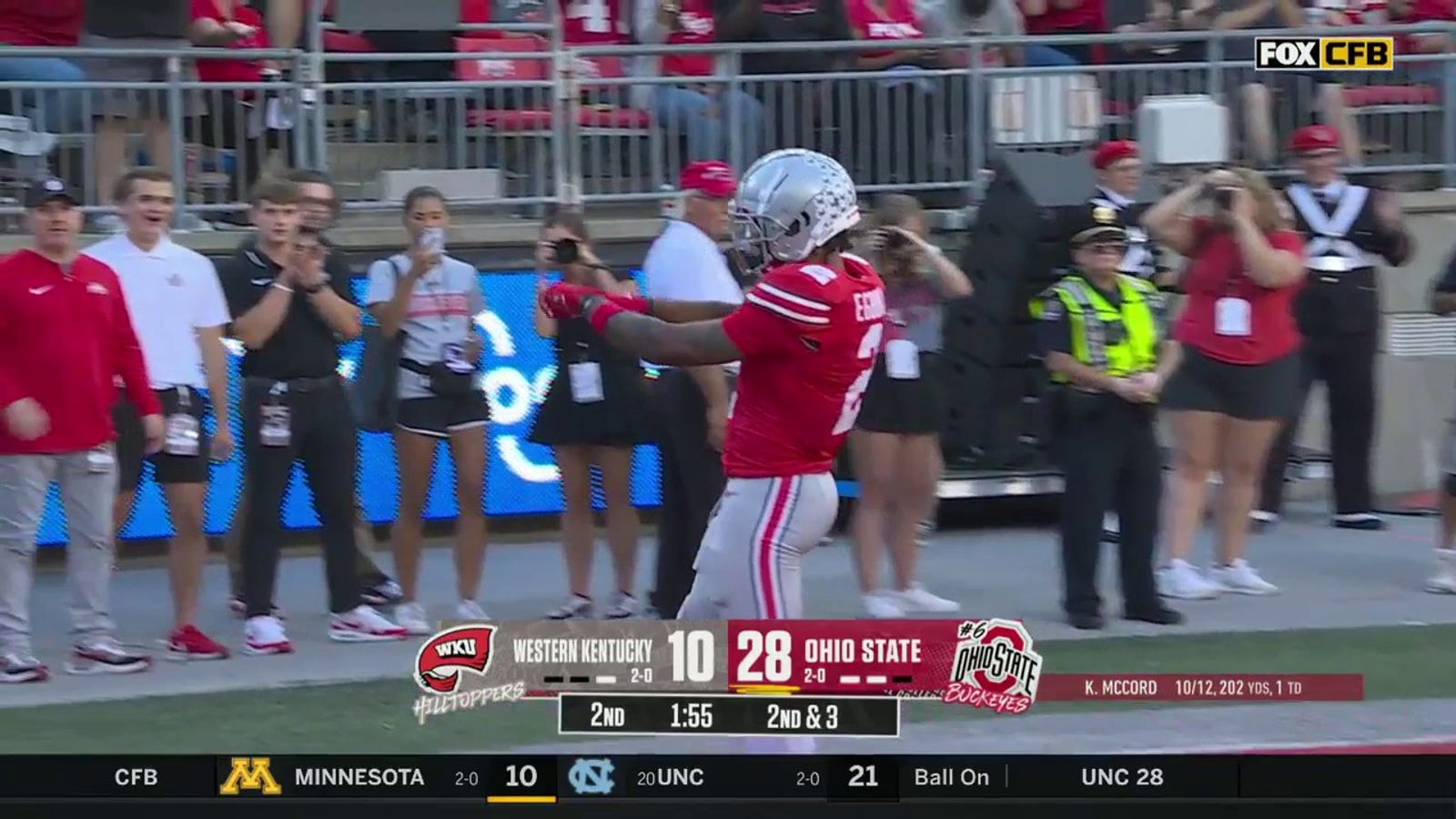 Then, Egbuka added another touchdown with eight seconds left in the half, catching a fade pass from McCord for a 14-yard touchdown as Ohio State's offense finally found a rhythm.
Emeka Egbuka scores his second TD of the game.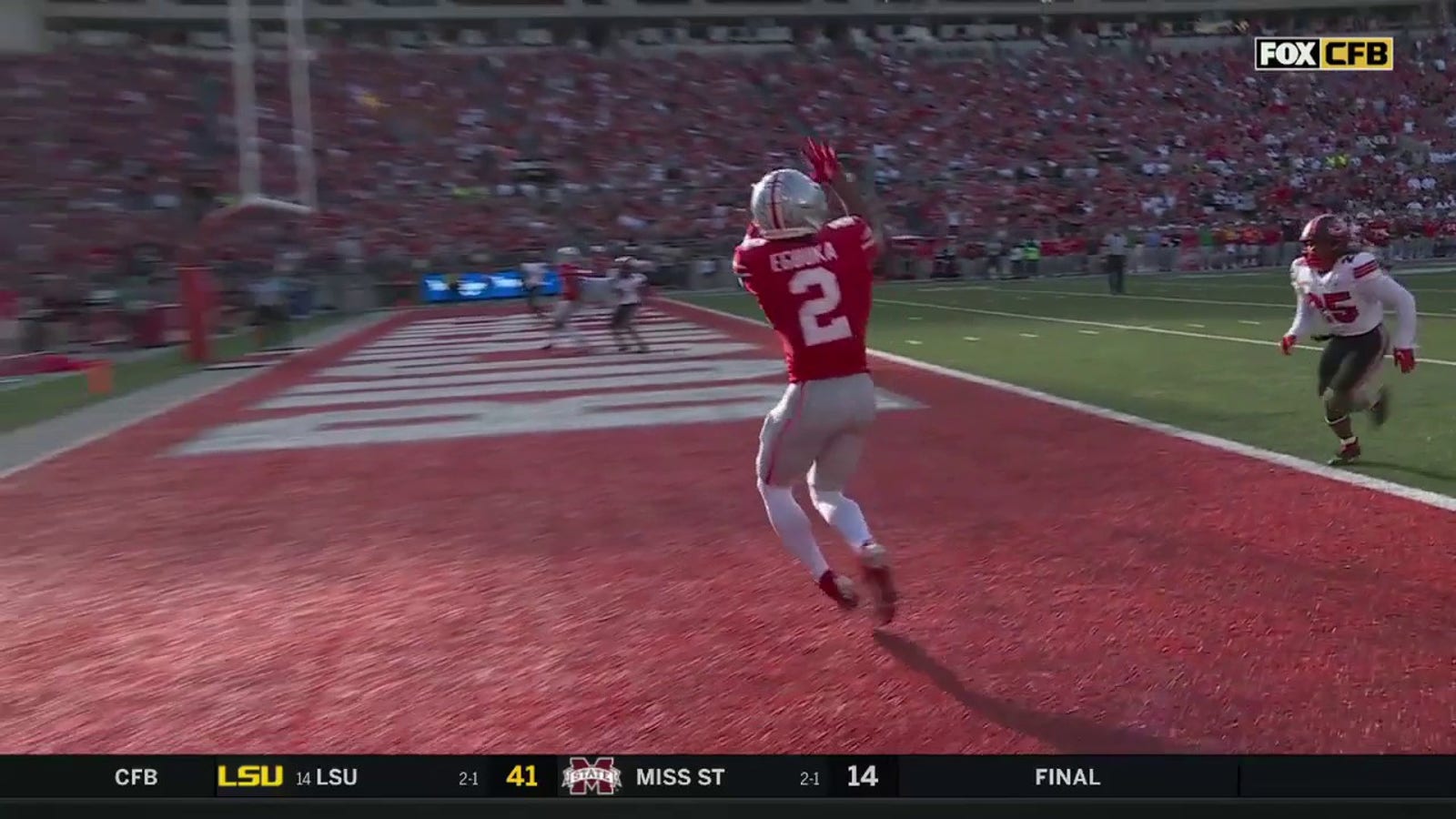 Tate time
Five-star freshman Carnell Tate scored his first collegiate touchdown in the second half, connecting with Devin Brown for the second-half score as the Buckeyes continued to pile it on the Hilltoppers.
No. 8 Washington 41, Michigan State 7
Bernard payback
Germie Bernard opened the scoring in Saturday's game by rushing in for a 1-yard score on the end around, scoring against his former team to put Washington up, 7-0.
Just how they drew it up
Michael Penix's pass over the middle in the second quarter looked prime to be intercepted, but the deflected throw bounced into the arms of Ja'Lynn Polk, who caught the ball and ran into the end zone for a 30-yard touchdown to put Washington up, 21-0.
Penix piles on in first half
The Washington QB made a strong Heisman statement in the first 30 minutes of play, completing 20 of 25 passes for 375 yards and four touchdowns to help give the Huskies a 35-0 lead at the break. His deep pass from his own end zone to Rome Odunze for a 50-yard gain was just one of the many highlight throws Penix made in the first half.
No. 1 Georgia 24, South Carolina 14
Game on, Gamecocks!
South Carolina opened up the scoring in Saturday's game when Spencer Rattler connected with Antwane Wells on a screen pass that went 17 yards for a touchdown, putting No. 1 Georgia in an early hole.
UGA says ugh
Georgia looked to cut South Carolina's 7-3 lead with a chip shot field goal in the second quarter, but the kick went wide left, keeping the score intact.
South Carolina scores again
The Gamecocks added a second touchdown when Dakereon Joyner took the direct snap out of the shotgun and ran it two yards for the score, giving South Carolina a 14-3 lead right before halftime.
Bulldogs bulldoze into the end zone
Georgia finally scored a touchdown in the third quarter, marching down the field in the opening drive of the second half before Daijun Edwards charged ahead for a 7-yard score, cutting into South Carolina's lead to make it 14-10.
Bulldogs battle back
Georgia quickly took the lead in the second half, scoring on each of its first two drives of the third quarter to take a 17-14 lead. Dillon Bell added the second touchdown of the game for the Bulldogs when he rushed in for a 3-yard score.
Cashing in the lead
Georgia extended its lead to 10 early in the fourth quarter when Cash Jones sprinted along the outside for a 13-yard touchdown, giving it breathing room to avoid a potential upset.
No. 14 LSU 41, Mississippi State 14
Too little, too late
A quick pass from QB Mike Wright to TE Antonio Harmon resulted in a 4-yard TD for the Bulldogs in the fourth quarter, but it was not enough to overcome the large deficit.
Roaring on
The Tigers made it 41-7 adding a 1-yard rushing TD from Daniels on first-and-goal. Another deep connection with Nabers set up the scoring play.
5 for No. 5
Daniels' added to his day with a 5-yard rushing TD in the third quarter. The senior was shaken up earlier in the quarter after a hit, deemed targeting, was placed on him by Mississippi State safety Shawn Preston who was subsequently disqualified.
It's good!
Ramos nails a 41-yard FG and put the Tigers up by 20.
Before the half
Lideatrick Griffin got his first career rushing touchdown, and gave the Bulldogs their first score of the game, running 9 yards into the end zone right before the half.
3rd & goal
RB Josh Williams rushed for a 1-yard TD, giving the Tigers a 24-0 lead.
Run it back
It was déjà vu for Daniels and Nabers as the two connected again for another TD to push the Tigers to a 16-0 lead. The extra point was good, making it 17-0.
Touchdown!
Jayden Daniels found Malik Nabers for a 26-yard TD pass to give LSU a 9-0 lead late in the first quarter. The Tigers were first on the board following a 22-yard FG from Damian Ramos early on and ended the quarter 10-0.
FOLLOW Follow your favorites to personalize your FOX Sports experience
College Football
[Do you want more great stories delivered right to you? Here's how you can create or log in to your FOX Sports account, follow your favorite leagues, teams and players and receive a personalized newsletter in your inbox daily.]
---
COLLEGE FOOTBALL trending



2023 College Football, NFL odds: Best bets for Colorado-Colorado State, Raiders-Bills


Big Noon Live: Penn State pulls away to rout Illinois; Deion Sanders led pregame party


2023 College Football Week 3 predictions, best bets by Chris 'The Bear' Fallica





Colorado State vs. Colorado: TV channel, live stream, time, how to watch – September 16


Klatt: What to expect in Penn State-Illinois, Colorado State-Colorado and more


'Big Noon Kickoff' Colorado pregame lineup will feature Gronk, Lil' Wayne, Coach Prime





Colorado's Deion Sanders fires back: CSU coach 'messed around,' made it personal


2023 Colorado Buffaloes football schedule: How to watch, dates, times, TV channel


Betting action report: Bettors expect Chiefs to rebound, Penn State huge favorites

---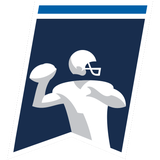 Get more from College Football Follow your favorites to get information about games, news and more
---