Elon Musk's X Tests Verification With a Government ID and a Selfie
X (the social media site formerly known as Twitter) is in the process of launching a new identity verification feature that could prove controversial. The feature, which is currently only offered to/forced on premium "Blue" subscribers, asks users to fork over a selfie and a picture of a government issued ID to verify that they are who they say they are.
Mr. Tweet Fumbles Super Bowl Tweet
The new feature was originally noted by app researcher Nima Owji, who posted screenshots of X's announcement to his profile last week. "Verify your account by providing a government-issued ID. This usually takes about 5 minutes," a screenshot shared by Owji reads. The notice includes a consent form that users must agree to that allows X to store the user's data, including biometric data, for up to 30 data for the purposes of "safety and security, including preventing impersonation."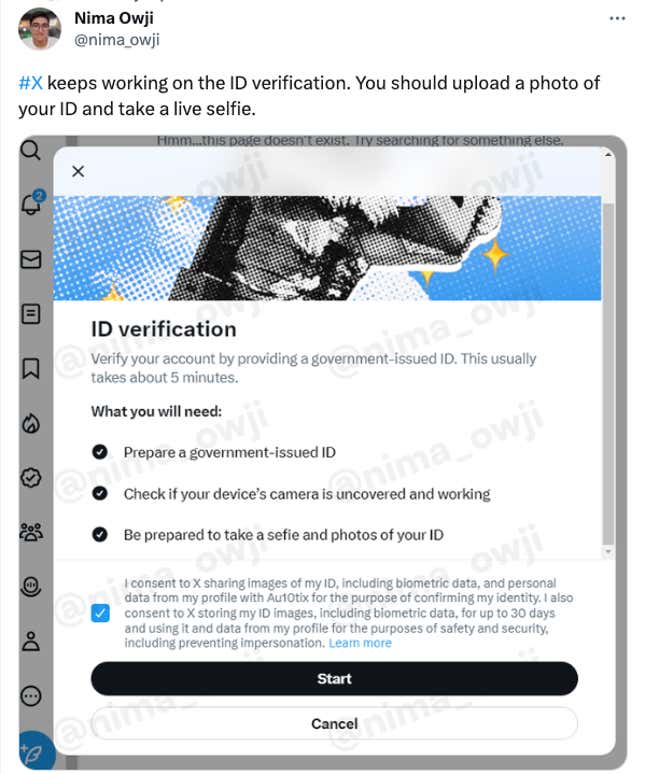 PC Magazine reports that the microblogging site has partnered with Au10tix, an Israeli identity verification and management company, to provide the new service. On its website, Au10tix boasts that it uses "cutting edge AI and machine learning technology" to verify users in 4-8 seconds, and claims as clients a number of large tech platforms, including Google, Uber, Microsoft, and PayPal. The company's site also notes its use of facial recognition technology to "verify the identities of customers and new merchants." Gizmodo reached out to the company for comment and will update this post if we hear back.
Elon Musk, X's supreme leader, hasn't commented publicly on the new feature yet. In what is as close to official comment as you'll get from the platform these days, someone appended a community note to the PCMag article that reads: "ID verification is going to be an optional layer of verification for X Blue users. This is not going to affect non-Blue users in any way." The source for the note is an article from SocialMediaToday, which, itself, is based on Owji's research and states that "XBlue subscribers might eventually need to provide government-ID confirmation to unlock all of the XBlue features."
While the details surrounding X's new verification process are scant, the system seems reminiscent of other web verification efforts that have popped in recent years. Most notably, X's system brings to mind the ID.me biometric verification process that the IRS piloted for its website last year. Like X's new feature, that system also involved submitting biometric data and government-issued documentation to a third-party contractor to verify a user's identity.
The potential and peril of new verification standards
Identity verification on the internet has always been a touchy subject. Critics and civil liberties advocates have widely condemned attempts to institute mandatory ID verification on popular sites because they see it as a privacy infringement. However, nobody's arguing that internet anonymity doesn't have its downsides, too. Historically speaking, Twitter has been an immense vector for mis- and disinformation, much of which has been fueled by the platform's general lack of verification standards (bot accounts and anonymous profiles have always flourished on the site). Some have argued that mandatory identity verification could effectively stamp out this kind of information pollution, though concerns about privacy have largely kept such policies from ever being implemented. Critics maintain that the benefit of anonymity on sites like X greatly outweigh the detriment of unrestrained disinformation campaigns.
Still, the appeal of verification in certain quarters appears to be growing. Child safety, as a political issue, has led to a new focus on the creation of regulations that would force platforms to reveal who their users are, a bevy of right-leaning states recently instituted ID verification requirements for porn sites, and Europe is busy formulating laws that would create new verified identities tied to digital spending. Even crypto—long a web community obsessed with privacy—appears to be lurching towards new identity verification schemes (we're looking at you, Worldcoin).
It's unclear how X's new verification scheme will play out or whether anybody will find the idea of sending a picture of their driver's license to Elon Musk appealing. Still, web users should probably prep themselves for an internet that looks more and more like this verified version of the web and less like the free-wheeling wild west they used to know.