Engine Recall Forces Major Airlines to Ground Planes and Cancel Flights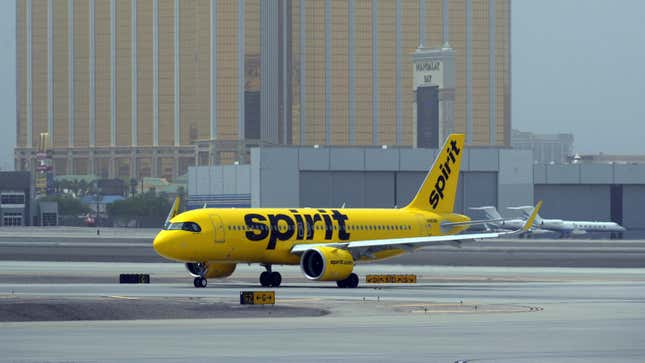 What's a plane without an engine? After aerospace company Pratt & Whitney issued a recall on some of its engine models, airline companies in the U.S. and Europe are scrounging for parts, and doing anything they can to prevent canceled flights.
You Could Soon Get Cash Back for Your Canceled Flight
Financial Times reports that after Pratt & Whitney issued a recall on thousands of engines on Airbus aircraft, major airlines like Spirit, JetBlue, Hawaiian Airlines, and Wizz Air were forced to change their schedules dramatically. The outlet says that Wizz Air—a Hungarian airline that serves most of Europe—is temporarily mulling over scrapping some flights while dealing with maintenance issues as the engine recall overworks staff. Spirit Airlines is facing a slump in revenue with seven Airbuses in its fleet being grounded, potentially through the end of the year, while cutting its planned capacity by 5% according to Reuters.
Wizz, Spirit, Jet Blue, and Hawaiian Airlines did not immediately return Gizmodo's request for comment.
Last month, Pratt & Whitney issued a recall for its Geared Turbofan engines, which are used to power A320neo Airbus jets. Pratt & Whitney said that contaminants were found in the metal used to build the machines. The mishap is affecting around 1,200 engines produced by the company and will require an inspection period that could take as much as two months. The recall is likely to have an impact on the remainder of the busy summer travel season and—if Spirit's estimates of being grounded throughout the year are correct—could impact the holiday travel window as well.
Airline management could be anticipating yet another revolt from a customer base that is fed up with cancellations and delays. Last winter, Southwest Airlines saw a perfect storm of thousands of flight cancellations primarily caused by outdated software that failed to track pilots and flight attendants. Passengers were understandably enraged by the last-minute cancellations during the height of holiday travel, with one passenger even going so far as to sue the airline after passengers failed to receive any compensation. What's more, those cancellations wound up costing Southwest an estimated $800 million.